Amaranth CO2-extract benefits in skincare
Organic quality amaranth seed CO2 extract protected against oxidation with 0.1 percent organic rosemary antioxidant extract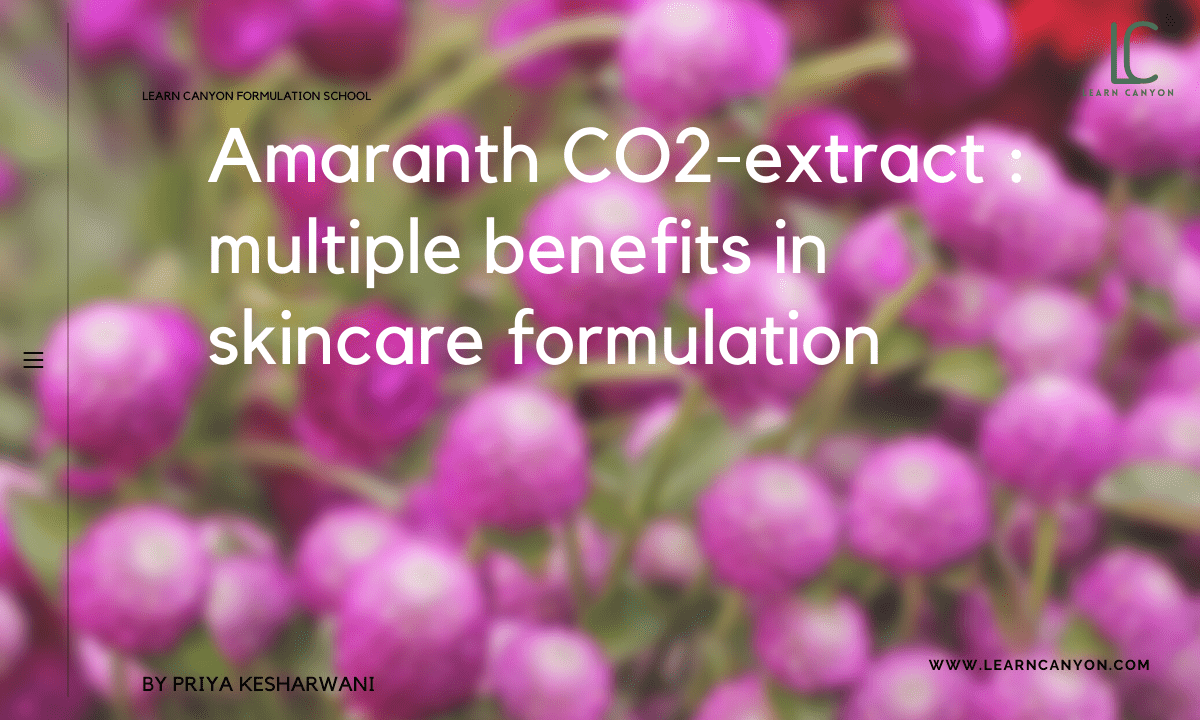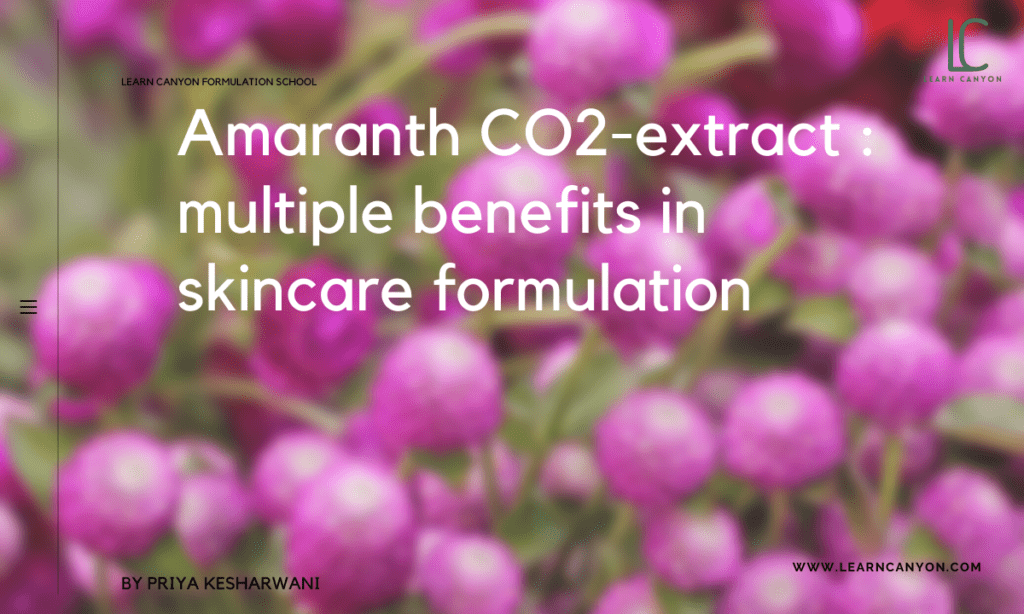 Add a header to begin generating the table of contents
What is Amaranth CO2-extract?
Amaranth CO2 extract is derived from the annual blooming plant Amaranth, which belongs to the foxtail family. Because the plant's flowers persist a long time, the word "amaranth" derives from the Greek word "amaranton," which means "unwilting." Our extract's species (Amaranthus caudatus) is one of the planet's oldest domesticated plants. The extract is light to medium yellow in colour, with a distinct herbal scent. At room temperature, it is liquid and absorbs well.
| What is it? | Organic quality amaranth seed CO2 extract protected against oxidation with 0.1 percent organic rosemary antioxidant extract |
| --- | --- |
| INCI | Amaranthus Caudatus (Amaranth) Seed Extract. |
| Appearance | Yellow oil |
| Texture | Liquid |
| Recommended Usage | 5-20% |
| Solubility | Insoluble |
| Melting point | NA |
| Boiling point | NA |
| pH | NA |
| Aroma | Slightly fruity aroma |
| Why do we include it in formulations? | Skin-nourishing The natural tocopherols in amaranth CO2 extract are abundant. Amaranth Seed CO2 Extract can help to tighten skin and eliminate wrinkles. |
| How to work with it? | Add it to your formulation's water phase. It is possible to process it either hot or cold. |
| Applications | Amaranth CO2 extract is a soothing oil that works well in skin care products. Squalene and phytosterols in high quantities are beneficial to dry, damaged, and sensitive skin and hair, enhancing elasticity and texture. |
| Absorption rate | Fast |
| Strength | It's a one-of-a-kind extract since it contains up to 12% Squalene and is high in natural tocopherols. |
| Weaknesses | Expensive |
| Substitution | NA |
| How to store it? | Stored in cool, dark and dry places. (Preferably between 15-20 degrees). |
| Shelf life | The shelf life of amarnath co2 extract is One year. |
| Type of ingredient | Moisturise, detoxify, soothe and tighten. |
| --- | --- |
| Main benefits | Amaranth co2 extract is a nourishing oil that may be used in a variety of hair and skin care products. |
| Who should use it | Suitable for all skin types |
| How often can you use it? | Daily |
| Works well with | Lavender, clary sage etc. |
| Doesn't work with | There are no known substances that interact negatively with CO2 extract. |
| How to use | Add formulae to the water phase while the temperature is below 100°F/40°C. |
Amaranth extract has a plethora of skin-beneficial properties. It's high in natural tocopherols (Vitamin E) and fatty acids such linoleic omega 6, which makes it ideal for dry, damaged, or ageing skin. It has potent anti-inflammatory and antioxidant qualities, which are beneficial to persons with skin diseases like psoriasis. It's one-of-a-kind because it contains up to 12 percent Squalene, a remarkable ingredient that helps skin maintain its smoothness and moisture retention by inhibiting Trans-Epidermal Water Loss.
Benefits of Amaranth CO2-extract
Fatty acids: – Linoleic acid (omega-6) and oleic acid make up the majority of it (omega-9). This substance has skin barrier mending, antioxidant, and photo protective qualities, making it ideal for moisturising and anti-aging.
Squalene: –   Squalene is a bioavailable lipid produced by our skin that acts as a natural moisturiser. It is non-irritating and slows down the symptoms of ageing on the skin. Botanical squalene is compatible with skin cells, swiftly absorbing and acting as an antioxidant, reducing age spots and UV damage. Its emollient property aids in the retention of moisture in the skin, and its antibacterial characteristics protect the skin while supporting healthy cellular growth.
Side effects of Amaranth CO2-extract
There are no known side effects on skin.
How to use it in formulation?
Skin benefits from the seed include moisturising and healing properties. Amaranth shines in skin care because of its high squalene concentration, which helps to moisturise, detoxify, soothe, increase suppleness, and decrease wrinkles. It penetrates swiftly and deeply into the skin, giving strong hydration without leaving the skin feeling oily. Because it enters the skin so quickly, it can transport other vital components that would otherwise fail to pass through the skin barrier. Amaranth CO2 Extract blends well with other oil-soluble actives in serums that can be used alone or over moisturisers. Add it to the water phase of your formula. It can be cooked in either a hot or cold oven.
Work well with other ingredient
Most of the skin care ingredients.
Share it on Social Media: