Chamomile co2 extract: A popular soothing ingredient
The healing effects of this high-concentrated botanical Chamomile CO2 Extract are well-known.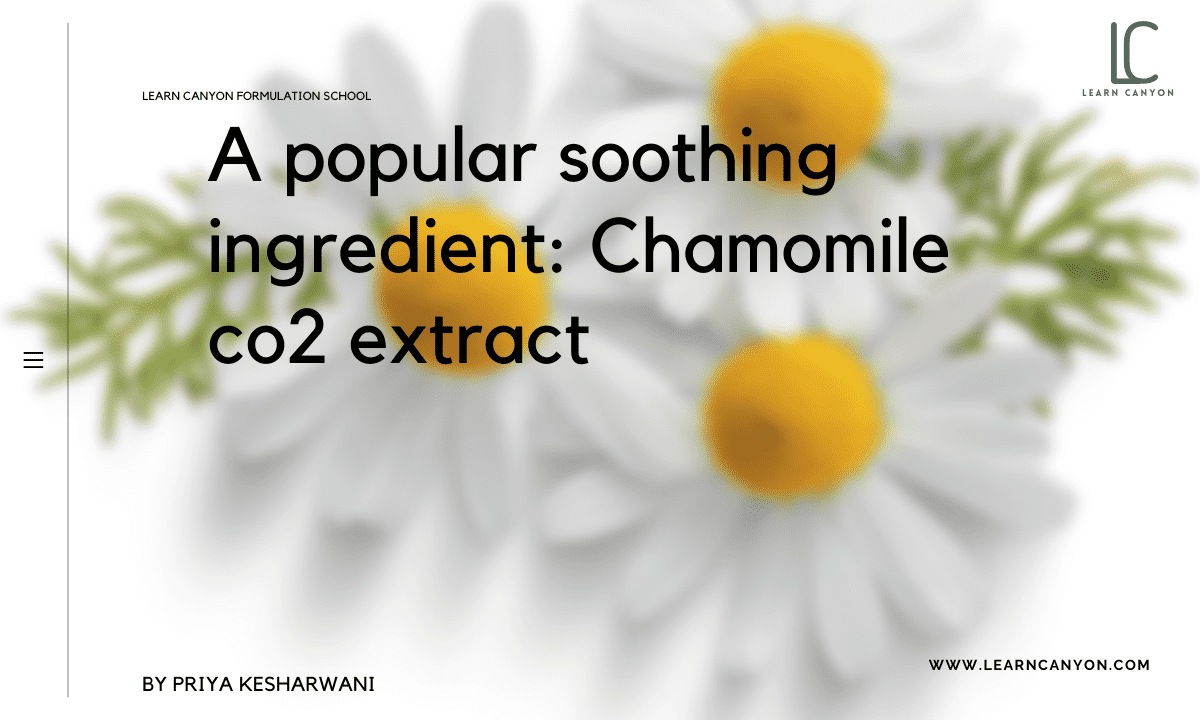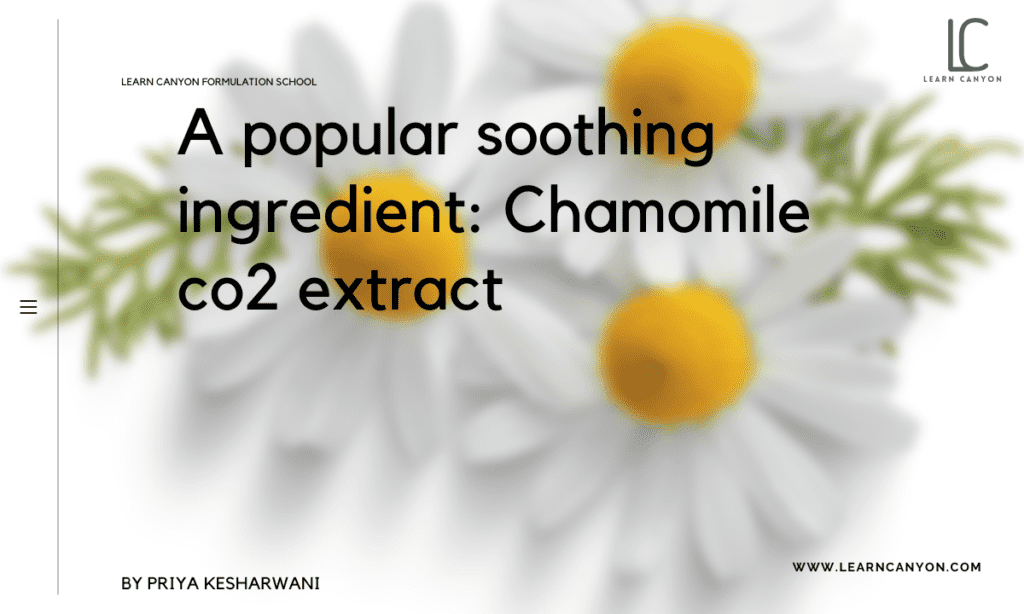 Add a header to begin generating the table of contents
Chamomile is a popular cosmetic ingredient for sensitive skin because of its soothing effects. However, not all chamomile extracts are made equal; are you utilising the most efficient one? Let us discuss CO2 extract and how it can be used on the skin.
What is German Chamomile CO2 (to) extract?
Without the use of heat or solvents, Botanical Extracts are extracted with CO2 gas (Carbon Dioxide). Because this is a thorough extraction, it contains the Essential Oil as well as fat-soluble and water-soluble compounds from the plants. The volatile and non-volatile CO2 soluble components of Chamomilla recutita are present in Organic German Chamomile CO2 Total Extract (synonymous with Matricaria recutita). CO2 Totals are CO2 Supercritical Extracts extracted at a higher pressure than CO2 Selects.
| What is it? | The healing effects of this high-concentrated botanical Chamomile CO2 Extract are well-known. |
| --- | --- |
| INCI | Chamomilla Recutita (Matricaria) Flower Extract, |
| Appearance | Green colour |
| Texture | Thick greenish paste |
| Recommended Usage | 1-10% |
| Solubility | Insoluble |
| Melting point | NA |
| Boiling point | NA |
| pH | NA |
| Aroma | Characteristics odor |
| Why do we include it in formulations? | The anti-inflammatory effects of German chamomile CO2 extract are more effective. |
| How to work with it? | Include it in your formulation's water phase. It can be processed either hot or cold. |
| Applications | Properties that are calming and soothing |
| Absorption rate | Fast |
| Strength | Expensive |
| Weaknesses | It has the potential to cause skin allergies. |
| Substitution | Calendula |
| How to store it? | Store in a firmly closed container away from light and in a cold, dry environment. |
| Shelf life | The shelf life of German Chamomile CO2 is 5 years. |
| Type of ingredient | Antiseptic, Aromatherapy, Anti-inflammatory |
| --- | --- |
| Main benefits | The healing effects of this high-concentrated botanical Chamomile CO2 Extract are well-known. |
| Who should use it | Protect and soothe dry or sunburned skin by using German Chamomile CO2. |
| How often can you use it? | German Chamomile CO2 extract is a versatile ingredient that can be used at any time. |
| Works well with | Lavender, clary sage etc. |
| Doesn't work with | There are no known substances that interact negatively with CO2 extract. |
| How to use | Add formulae to the water phase while the temperature is below 100°F/40°C |
Matricin, a sesquiterpene found in the CO2 extract but not the steam distilled oil, is said to have a better anti-inflammatory effect than Chamazulene. Because Matricin is more effective than Chamazulene, less CO2 is generally required to get the same outcomes and efficacy as compared to using steam distilled essential oils.
Benefits of German Chamomile CO2 (to) extract
The only solvent used in carbon dioxide extractions is pure carbon dioxide. Plant extracts made with CO2 are exceedingly pure. These oils can be applied straight to the skin without causing irritation. CO2 extractions have a unique composition of Chamomile's other components, including Bisabolol and Bisabolol Oxides, in addition to maintaining important Matricin.The vasoconstrictor properties of German Chamomile are also beneficial. This means it can aid in the reduction of skin redness and flare, which is very good for Rosacea sufferers.
Side effects of German Chamomile CO2 (to) extract
 There are no known side effects on skin.
How to use it in formulation?
Heavy metals, bacteria, solvents, and preservatives are not present in this extract. Botanical CO2 Extracts are a cost-effective approach to give your products high-potency medicinal advantages. Can be used in both water and oil-based goods (not entirely water-based products because it is oil-based and hence will not mix). Can also be added to ready-made products such as gels, lotions, creams, shampoos, liquid soaps, and body washes (without heating). Organic German Chamomile Total is thick at room temperature and should be gently warmed before being included into blends and recipes. It can be dissolved in both essential and vegetable oils.
Work well with other ingredients
Bergamot, clary sage, Jasmine absolute, lavender, lemon, neroli, and Ylang-ylang blend beautifully together.
Share it on Social Media: