Cucumber hydrosol: Cool ways to use for beautiful skin
Organic Cucumber Hydrosol Water is made from fresh, organic cucumbers that have been steam distilled.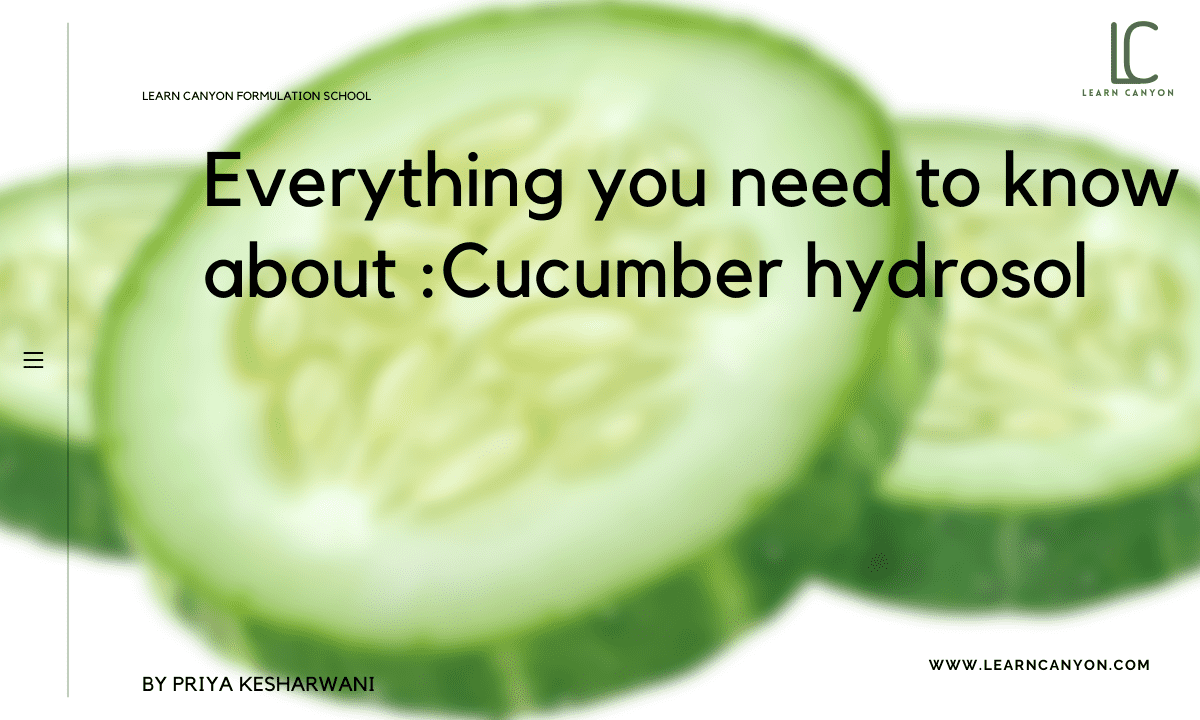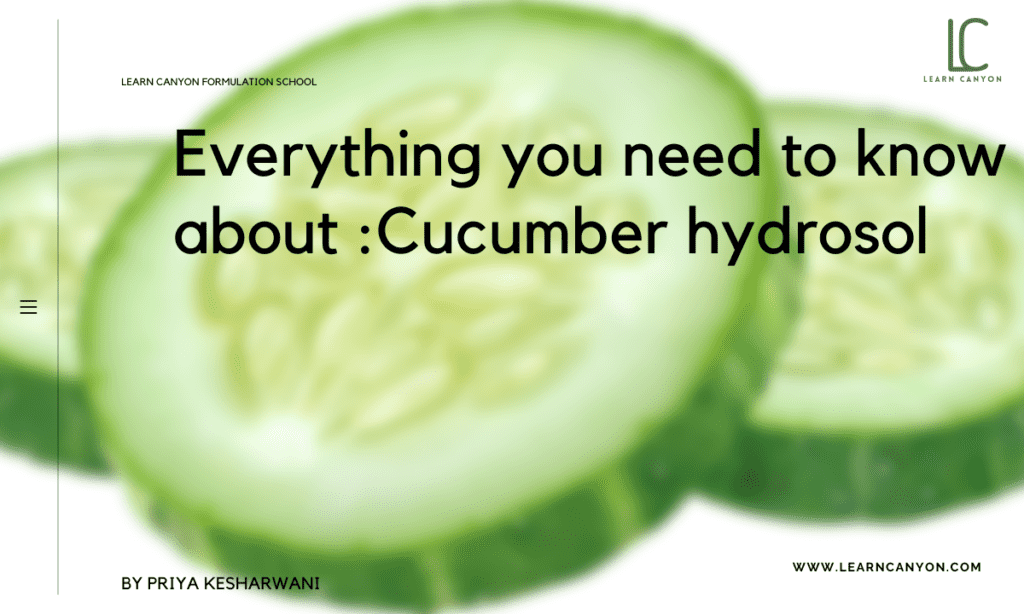 Add a header to begin generating the table of contents
What image do you have in mind when you think of someone applying a face mask or when you hear the words "self-care"? Someone with cucumbers on their eyes and a facial mask or peel! Right? It's not because cucumbers are the perfect size for putting over your eyes. It's because cucumbers have some really amazing skin benefits!
What is Cucumber hydrosol?
Cucumber Hydrosol is derived from the steam distillation of cucumbers. Because the cucumber fruit is mainly water, the Cucumber Hydrosol has a very comparable bright, fresh, crisp aroma to the cucumber fruit.
Cucumber Hydrosol has a refreshing aroma that will have you reaching for it to make appealing body splashes and toners, as well as adding it to lotions and natural room fresheners. Cucumber is an excellent skin conditioner, so it makes a great refreshing face spray as well as a soothing and cooling spray for sun and wind burns.
| What is it? | Organic Cucumber Hydrosol Water is made from fresh, organic cucumbers that have been steam distilled. |
| --- | --- |
| INCI | Cucumis Sativus |
| Appearance | Colourless |
| Texture | Liquid |
| Recommended Usage | Up to 100% |
| Solubility | Water soluble |
| Melting point | NA |
| Boiling point | NA |
| pH | 5.5 - 6.5 |
| Aroma | Characteristic odor |
| Why do we include it in formulations? | Moisturising and calming effect on the skin. |
| How to work with it? | Hydrosols are now in the cooling down phase of the formulation process. Use the formula to determine the miscible solubility. |
| Applications | Cucumber hydrosol has the ability to soften and soothe the skin. Cucumber has inherent astringent qualities. |
| Absorption rate | Fast |
| Strength | Cucumber has a long history of use and is a well-studied and safe skin care herb. It's reasonably priced, readily available, and has a strong label. |
| Weaknesses | Allergic responses are possible with any botanicals. |
| Substitution | Celery. |
| How to store it? | Store in a Cool & Dry place. |
| Shelf life | Cucumber hydrosol has a two-year shelf life when properly stored. |
| Type of ingredient | Hydrosol |
| --- | --- |
| Main benefits | Cucumber hydrosol can be used for skin care that is both relaxing and cooling. |
| Who should use it | This Hydrosol was created specifically for acne-prone skin, although it may be used by anybody who wants their skin to be more hydrated, healed, and calmed. |
| How often can you use it? | Cucumbers are 96% water, so there's no harm in applying this cooling and refreshing veggie on your face every day. |
| Works well with | Most of the hydrosols |
| Doesn't work with | NA |
| How to use | Hydrosols are now in the cooling down phase of the formulation process. |
Cucumber hydrosol is high in vitamins and can be used to make a facial mask that is simpler to absorb and improves the skin's texture, making it smoother and more elastic.
Cucumber hydrosol can aid in skin lightening and freckle reduction. Cucumber hydrosol also contains vitamin E, which helps to postpone skin ageing, hydrate the face, and stretch wrinkles.
Benefits of Cucumber hydrosol
It's fairly uncommon to see women wearing cucumber slices in their eyes while relaxing at home. They do it to get rid of the puffiness and dark circles under their eyes. Cucumbers are well-known for their health advantages.
Aside from their rejuvenating moistness and flavour, Cucumbers can assist to ease pain, soothe skin, and improve our heart's health, among many other health benefits. Cucumber hydrosols are made by combining the qualities of cucumber with those of fresh water, and they have a lot of benefits.
Skin that is youthful
Use the best cucumber hydrosol as a face toner if your skin is showing signs of age and witness the difference. Fine wrinkles will be reduced, and your skin will regain its former radiance. You'll be able to reclaim your youthful glow in no time.
Skin Softening
Cucumber hydrosol has the ability to soften and soothe the skin. Cucumbers have a cooling effect by nature. Cucumber hydrosol, as a result, makes advantage of this characteristic to soften and soothe the skin. It also contains hydrating ingredients, making it suitable for oily skin. There will be no more excessive oil on your skin after using cucumber hydrosol, and it will be able to absorb more nutrients.
Cooling Capabilities
Cucumbers, of course, have cooling characteristics. Cucumber hydrosol, which contains these qualities, can help your skin stay cool even during the hottest summer days. For this purpose, you can apply it as a spray.
For the Treatment of Skin Burns
Aside from being unpleasant, skin burns can also be painful. Apply cucumber hydrosol on your skin to receive relief from this problem. Its remarkable properties might aid to alleviate the discomfort produced by burning feelings. Additionally, it can help the skin regain its natural radiance while also alleviating pain.
for a Skin That Is Flawless
Finally, if you want to have smooth and beautiful skin, cucumber hydrosol can be applied. It will aid in the prevention of blemishes and other skin concerns, allowing your skin to get the desired radiance.
Side effects of Cucumber hydrosol
There are no known negative consequences.
How to use it in formulation?
Cucumber Hydrosol is an aromatic skin care product that may be used to soothe and chill skin. Cucumber Hydrosol can be used as a calming and refreshing face mist. Cucumber Hydrosol is a versatile hydrosol that can be used alone or in combination with other hydrosols. In skin and hair care formulations, it can also be utilised as the water phase.
Work well with other ingredients
Fennel, coriander, basil, and tulsi are among the hydrosols that go well together.
Share it on Social Media: