Eucalyptus radiata leaf essential oil
Eucalyptus oil is derived from the leaves of an evergreen tree.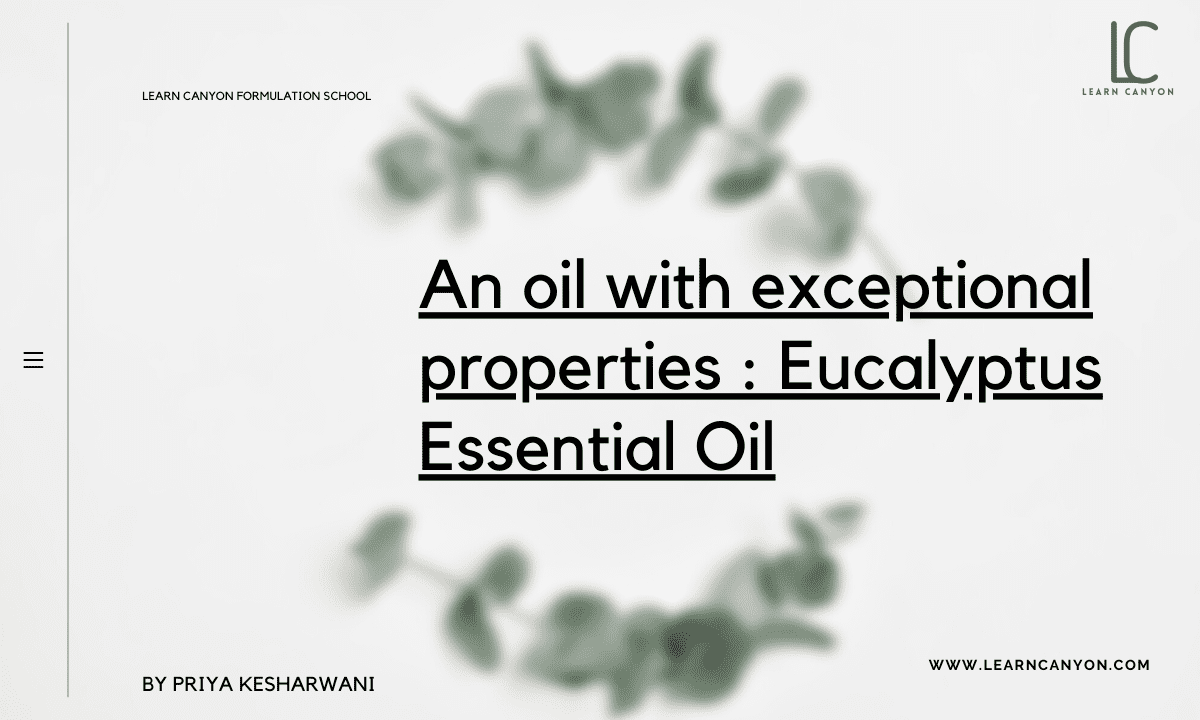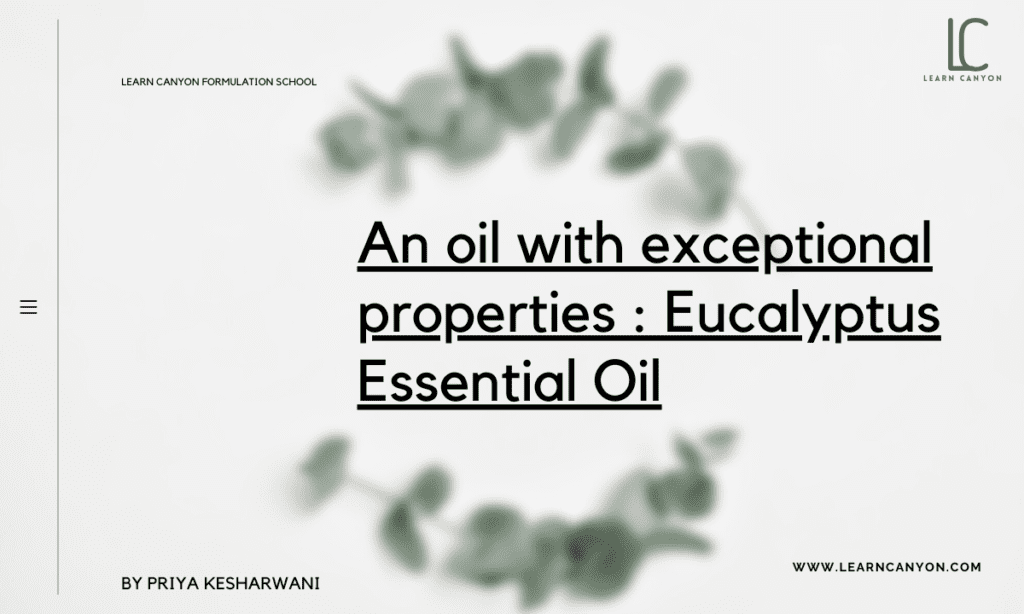 Add a header to begin generating the table of contents
From head to toe, here's how to use Eucalyptus essential oil.
Eucalyptus is known around the world for its exceptional medicinal properties. Its perfume is recognised for calming the senses and fostering relaxation, but did you know that eucalyptus can also help to soothe a pimple?
What is Eucalyptus leaf essential oil?
The leaves and green branches of Eucalyptus Radiata are steam distilled to extract the essential oil. This oil contains 60 to 70 percent eucalyptol and is ideal for use on children because it has a gentler odour than eucalyptus globulus.
Eucalyptus radiata, a member of the Myrtaceae family, is an evergreen tree that can reach a height of 15 metres (48 feet), with some trees reaching 30 metres (97ft). The tree has a lovely weeping habit and a dense, spreading, pendulous crown.
It has a strong aromatic scent and glossy lanceolate (tapering to a point) leaves. The bark is fibrous and grey-brown in colour, with smoother smaller branches.
| What is it? | Eucalyptus oil is derived from the leaves of an evergreen tree. |
| --- | --- |
| INCI | Eucalyptus radiata leaf |
| Appearance | Colourless to pale yellow clear liquid |
| Texture | Light to medium consistency. |
| Recommended Usage | 1-10% |
| Solubility | Oil soluble |
| Melting point | NA |
| Boiling point | NA |
| pH | NA |
| Aroma | Camphoraceous scent |
| Why do we include it in formulations? | Eucalyptus oil can help keep the skin hydrated, minimise irritation, and prevent UVB-induced collagen breakdown by increasing ceramide formation. |
| How to work with it? | Incorporate during the formulation's cooling down step. |
| Applications | Eucalyptus oil can lighten the skin, according to anecdotal evidence. It's also been said to help with wrinkles and skin tightening. It also aids in the lightening of imperfections and dark circles. |
| Absorption rate | Fast |
| Strength | 1,8-cineole (also known as cineole or eucalyptol), flavonoids, and tannins are all natural components found in eucalyptus oil. |
| Weaknesses | Irritation and burning: Before applying oils to the skin, dilute them with a carrier oil. |
| Substitution | Terminalia sericea. |
| How to store it? | Place in a cold, dark, and dry location. |
| Shelf life | Eucalyptus oil has a two-year shelf life. |
| Type of ingredient | Essential oil |
| --- | --- |
| Main benefits | Anti-bacterial and anti-inflammatory E.Radiata, which is high in cineoles, is the most therapeutically versatile of all the eucalyptus oils. |
| Who should use it | Suitable for oily skin |
| How often can you use it? | Use two times each day. |
| Works well with | It pairs well with Frankincense, Peppermint, and other oil-based products. |
| Doesn't work with | It's advisable not to mix it with alcohol-based products because it can be drying. |
| How to use | After the mixture has cooled, add this component. |
The main source of eucalyptus oil used, according to Chang, is eucalyptus globulus. 1,8-cineole (also known as cineole or eucalyptol), flavonoids, and tannins are all natural components of eucalyptus oil.
The antioxidant and astringent qualities of eucalyptus oil are the most widely employed. Astringents impact keratin (a skin protein) that contains salt bonds, which are destroyed by temperature changes.
Astringents have a cooling effect on the skin, causing the salt bonds to rebuild and the skin to tighten. Astringents cool the skin while also improving blood circulation and unclogging blocked pores (tiny sweat or oil glands with very minute openings upon the skin which become choked with their secretions mixed with dust from the air).
The muscular fibres that maintain their outlets closed relax, resulting in blackheads or whiteheads.
Benefits of Eucalyptus leaf essential oil
"What is eucalyptus essential oil excellent for?" people often wonder. The most common response focuses on eucalyptus oil's health benefits, such as its ability to help with calming and relaxing breathing. However, there are numerous other advantages to using the oil.
Eucalyptus Essential Oil's high antibacterial and antiviral characteristics reduce scalp itching by assisting in the elimination and prevention of dandruff flakes when used cosmetically to nourish hair.

Eucalyptus can get rid of lice and nits thanks to its strong aroma and antimicrobial capabilities.

Eucalyptus Oil's astringent characteristics regulate sebum production, preventing hair follicles from being blocked with excess sebum and grime, which can cause hair loss.

It strengthens the hair by enhancing elasticity and avoiding breakage as a hair stimulant, increasing circulation in the scalp and encouraging hair development.

Eucalyptus Essential Oil reduces inflammation and agony associated with blemishes and acne outbreaks. The antibacterial qualities of the oil help to prevent subsequent breakouts.
Side effects of Eucalyptus leaf essential oil
Eucalyptus essential oil is completely safe when used correctly. Eucalyptus Oil should be used in dilution when applied topically, as using it straight or in large doses might cause skin irritation.
Before using, a skin test is suggested. Eucalyptus Oil should never be used to the eyes, inner ears, or any other sensitive skin areas.
How to use it in formulation?
Once the mixture has cooled, add this component. Very helpful components that are commonly used in skincare and hair care preparations.
Eucalyptus oil radiata is quite similar to Eucalyptus oil globulus, however it has a softer perfume than Eucalyptus globulus due to its lower 1,8-cineole content (about 65 percent), resulting in a sweeter aroma, making it more suited to anyone who loves a light Eucalyptus scent.
Works well with other ingredients
This combination goes nicely with essential oils including Frankincense, Peppermint, Lavender, Lime, Lemongrass, Tea Tree, and Rosemary.
Share it on Social Media: