Helichrysum (Helichrysum italicum) flower essential oil
Helichrysum essential oil is derived from the plant Helichrysum italicum, which is native to the Mediterranean and southern Europe.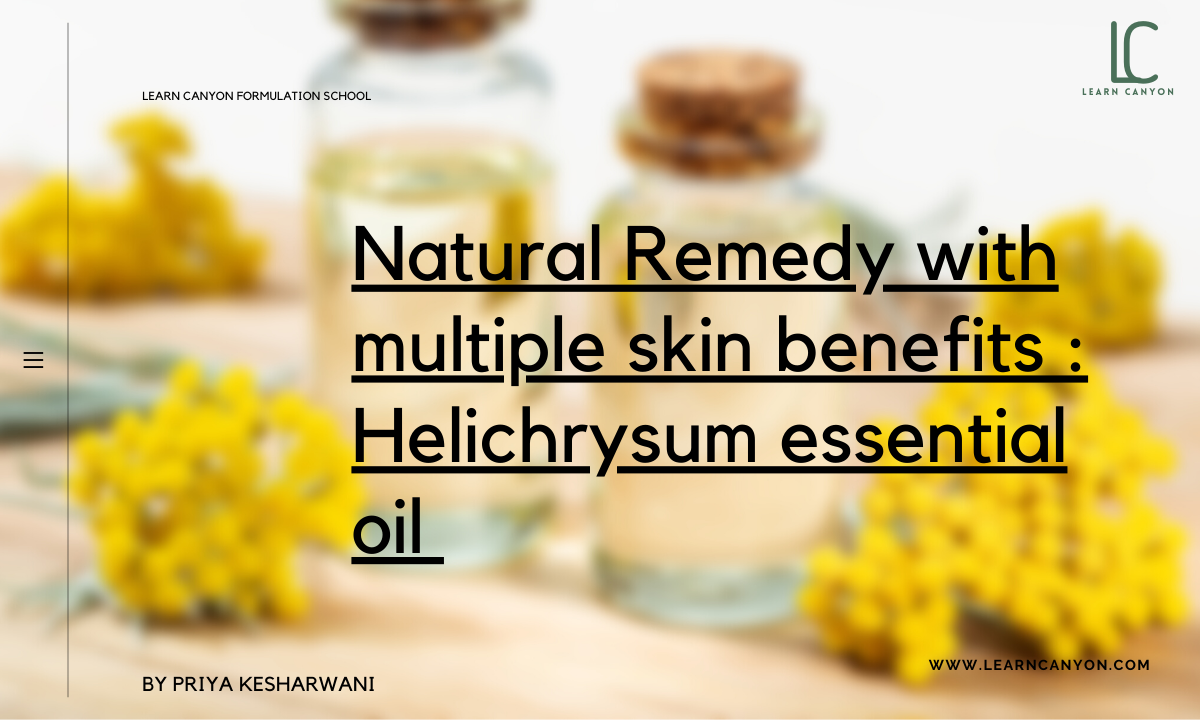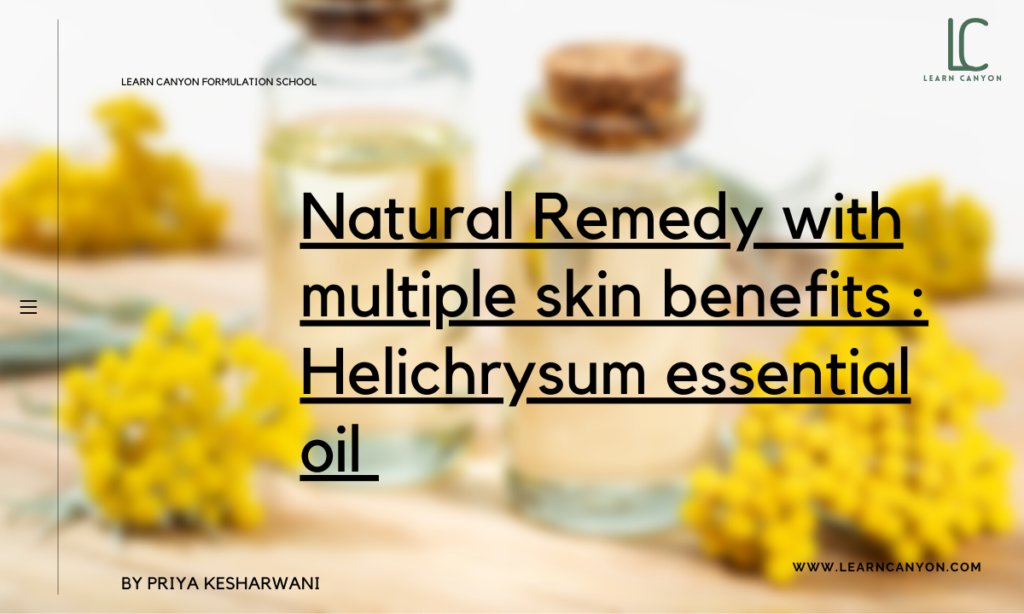 Add a header to begin generating the table of contents
Helichrysum Flower Essential Oil
For millennia, traditional medicine has used the helichrysum herb. So, what is helichrysum flower essential oil, and how does it work? We'd want to share the science behind it with you, as well as how you may incorporate it into your daily routine.
What is Helichrysum flower essential oil?
Helichrysum flowers are relatives to sunflowers and have the same bright yellow colour. Helichrysum gets its name from the Greek words helios, which means sun, and chrysos, which means gold.
The flowers are also known as "everlasting" and "immortelle" because they keep their bright colour after being cut for a long period. What a unique set of names! Because these blooms grow in the sun, they can be found in the Mediterranean, Asia, and Africa.
| What is it? | Helichrysum essential oil is derived from the plant Helichrysum italicum, which is native to the Mediterranean and southern Europe. |
| --- | --- |
| INCI | Helichrysum angustifolium flower oil |
| Appearance | Pale yellow. |
| Texture | Transparent, mobile liquid |
| Recommended Usage | Up to 100% |
| Solubility | Water Soluble (Maceration |
| Melting point | NA |
| Boiling point | NA |
| pH | NA |
| Aroma | Like honey, it has an earthy, fruity, floral aroma. |
| Why do we include it in formulations? | To help the skin heal and soothe. |
| How to work with it? | It's part of the formulation's cool down phase. |
| Applications | To assist in the renewal of healthy skin cells and the maintenance of a youthful appearance |
| Absorption rate | Fast |
| Strength | Helichrysum is a versatile oil that can be used in a variety of ways. |
| Weaknesses | Irritation and burning: Before applying oils to the skin, always dilute them with a carrier oil. |
| Substitution | Lavender, Sandalwood, Jasmine |
| How to store it? | Stored in a cool, dark and dry place. |
| Shelf life | Helichrysum flower essential oil has a two-year shelf life. |
| Type of ingredient | Essential oil |
| --- | --- |
| Main benefits | Anti-inflammatory, antimicrobial, anti-fungal. |
| Who should use it | Skin that is dry and flaky |
| How often can you use it? | Twice day |
| Works well with | It works well with Rosehip and Jojoba Oils to prevent and cure acne scars while also boosting cell regeneration. |
| Doesn't work with | It's advisable to avoid using it with alcohol-based products because it can be drying. |
| How to use | When the formulation is cooling down, this ingredient is added. |
The potent ingredients in this essential oil give it a healthy reputation, and they do a lot for the health of your skin. It contains numerous antioxidants that can help prevent free radical molecular damage, as well as vitamins that your skin cells require to renew properly.
Helichrysum differs from other herbal wellness oils in that it also serves as a powerful immune booster. It also has great cleansing capabilities for sweaty and odorous areas of the body, and is a favourite of athletes to apply on their feet!
Benefits of Helichrysum flower essential oil
When it comes to cosmetics and skincare, helichrysum provides a plethora of benefits to keep your skin looking radiant:
Antioxidant Properties of Helichrysum Essential Oil Help Collagen And Elastin Production In The Skin
Collagen is the most abundant protein in our skin, while elastin is the elasticity protein (skin can return to its original shape after being stretched, pinched, and pulled, etc.) Our skin becomes naturally smooth, firm, and supple when these proteins are adequately maintained.
However, as we all know, as we age and are exposed to more sunshine and harsh conditions, our skin's components weaken.
To be more specific, enzymes known as collagenase and elastase destroy the necessary proteins in our skin, and these enzymes are stimulated by environmental variables such as UV radiation and free radicals.
2.  As An Antimicrobial Skin Healer
Even the most youthful skin is susceptible to cuts, scratches, and blemishes from time to time. Even the most flawless complexions can acquire acne at times! Is there a method to swiftly heal these?
Helichrysum essential oil, to be precise. The extract of this plant contains a chemical called curcumene, which is known for its wound-healing properties. This is one of the main reasons why it works.
Curcumene is a key component of helichrysum oil, according to the New York Institute of Aromatic Studies. You may have heard of it as a component of turmeric.
Curcumene from Helichrysum is anti-inflammatory and antiseptic, so bacteria and fungi have little opportunity of lingering on the wound. When you combine this with the oil's collagen-promoting italidiones, you've got a winning combination.
3.  Tissue-Remodelling Effects
As if the wound-healing properties of helichrysum weren't enough, this essential oil has also been shown to have "tissue remodelling" benefits that aid in the maintenance of clear skin.
If you're not sure what "tissue remodelling" is, it's the last stage of wound healing in skincare terms. This is when scarred skin tissue tries to revert to its previous state. How? By removing the collagen buildup on its surface.
4.  Deep Miniaturisation with a Lightweight Feel. 
The essential oil of helichrysum is a wonderful emollient. It hydrates deeply without leaving your skin oily. Because it's so mild and non-comedogenic, it's suitable for both normal and oily skin types.
Side effects of Helichrysum flower essential oil
Helichrysum is usually considered to be safe to use on a daily basis. You should only apply it to your skin if it has been diluted with a carrier oil or is part of a salve or balm, just like with all essential oils. Furthermore, depending on your body's specific chemical reaction to the helichrysum, there's a minor potential of an allergic reaction, which is more likely if you're allergic to plant-based compounds in general.
How to use it in formulation?
It only takes two to four drops of undiluted helichrysum EO (patch test first!). To make a lovely, soothing rub, we recommend mixing it with a carrier oil. Avocado and coconut oils, as well as jojoba oil, work well with helichrysum. (You can also blend helichrysum with olive oil, like the Italians do.) This ingredient is introduced after the mixture has cooled.
Works well with other ingredients
It works well with Rosehip and Jojoba Oils to prevent and cure acne scars while also encouraging healing and cell creation.
Share it on Social Media: