Geranium (Pelargonium graveolens) flower essential oil
The sweet-smelling essential oil of geranium is the most prevalent reason for its cultivation.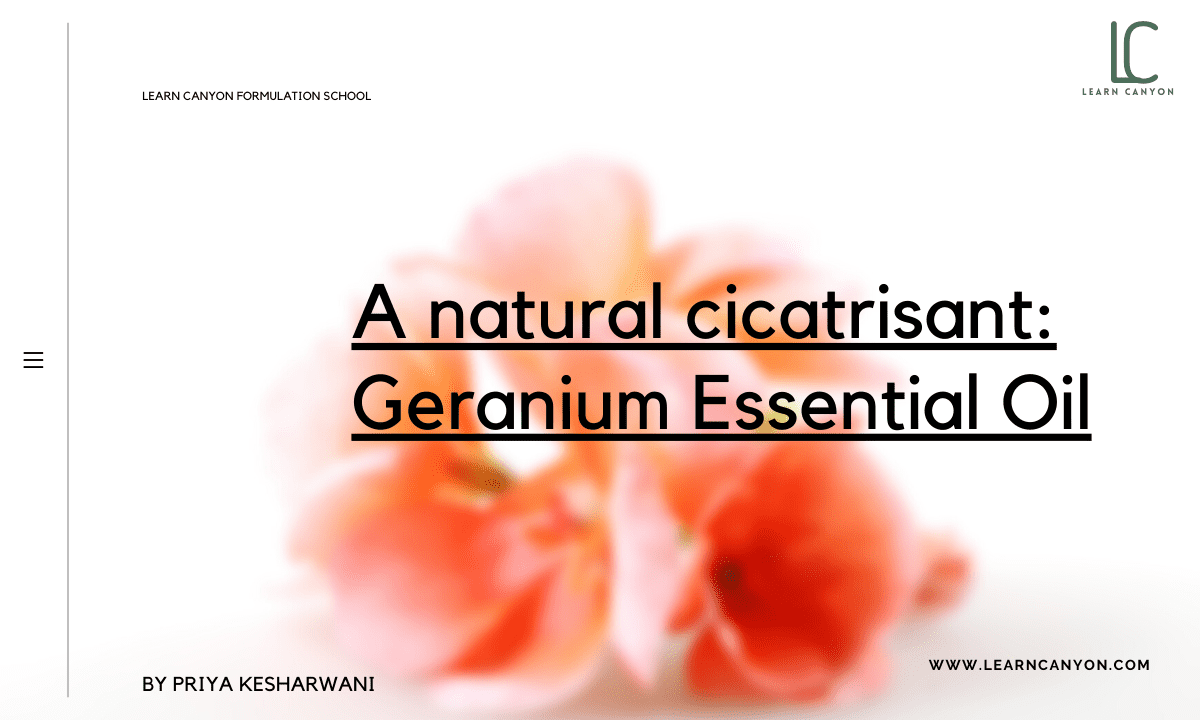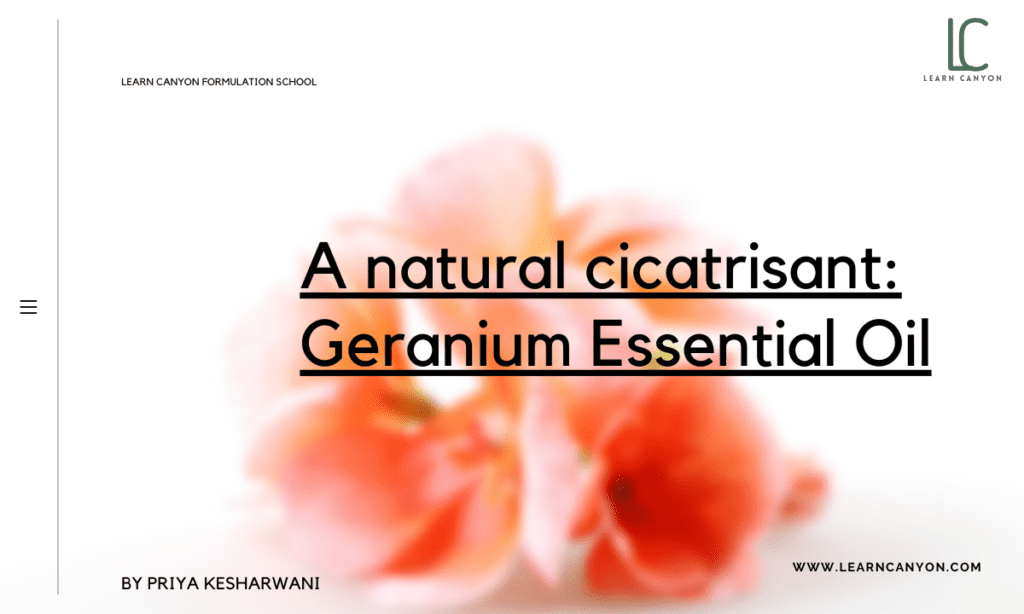 Add a header to begin generating the table of contents
Geranium Oil Has Amazing Skin-Brightening Properties
Geranium is a lovely flower that has been used for hundreds of years as a holistic treatment to improve glowing skin. Is geranium oil worth adding to your beauty routine with all of these famous health benefits?
Let's look at what geranium essential oil is, how to use it, and why it can help your skin.
What is Geranium flower essential oil?
Geranium Essential Oil is derived from the leaves and stems of Geranium plant species by a steam distillation method.
The Geranium plant, which originated in Egypt's dry climate, is now planted all over the world due to its medicinal and cosmetic uses.
| What is it? | The sweet-smelling essential oil of geranium is the most prevalent reason for its cultivation. |
| --- | --- |
| INCI | Pelargonium graveolens |
| Appearance | Pale olive-green colour. |
| Texture | Light to medium consistency |
| Recommended Usage | 1-10% |
| Solubility | Insoluble |
| Melting point | NA |
| Boiling point | NA |
| pH | NA |
| Aroma | The aroma is sweet, lemony, and herbaceous, with a pink floral touch. |
| Why do we include it in formulations? | Essential oil with a pleasant scent |
| How to work with it? | Included in the formulation's cool down step. |
| Applications | Geranium Essential Oil is said to be helpful at removing dead skin cells, tightening the skin, promoting new skin regeneration, and reducing the effects of ageing. |
| Absorption rate | Average to fast |
| Strength | Astringent, Anti-Inflammatory, Relaxing, Balancing. |
| Weaknesses | Always dilute oils with a carrier oil before applying to the skin to avoid irritation and burning. |
| Substitution | Lavender, Sandalwood, Eucalyptus, Tea Tree, Peppermint, or Lemon. |
| How to store it? | Keep cool, dark, and dry while not in use. |
| Shelf life | The Geranium flower essential oil has a two-year shelf life. |
| Type of ingredient | Essential oil |
| --- | --- |
| Main benefits | It has antiseptic qualities and is useful for tightening and firming sagging skin. |
| Who should use it | Skin that has become dry. |
| How often can you use it? | Use every day |
| Works well with | Ideally, it should be used in a combination with other botanicals. |
| Doesn't work with | Products containing alcohol |
| How to use | Added during the cooling down phase of the formulation |
Linalool, Geranyl formate, Citronellol, and Geraniol are the major chemical ingredients of Geranium Essential Oil. The activity of citrollelol  is thought to include: Antimicrobials disrupt and impede bacterial growth at the cellular level.
Antimicrobials function by inhibiting the growth of microbe populations, which protects products from the damage and shortening of their shelf lives caused by bacterial growth.
Products are assured to stay cleaner and fresher for longer due to the integrated antibacterial solution disrupting the environment for germs to proliferate uncontrollably.
Benefits of Geranium flower essential oil
Wrinkles and indications of ageing can be reduced.
Geranium oil is used dermatologically to diminish the appearance of fine lines and wrinkles since it naturally firms up the skin on the face.
Many of the usual signs of ageing skin are minimised since it naturally tightens skin without diminishing hydration and suppleness.
It can have a quick and significant effect on wrinkles when used on a daily basis, ideally in a blend with other botanicals.
Calms and soothes inflamed skin, restoring its radiance.
Geranium oil is an antioxidant and anti-inflammatory oil that actively improves the health and natural radiance of the skin.
It fights against skin afflicted by harsh weather conditions or prone to acne by keeping skin conditioned and soothing inflamed or breakout-prone skin.
Oily skin is controlled and sebum is balanced.
Geranium oil has been demonstrated to assist oily skin maintain a healthy natural balance by reducing excess oil production.
As an antibacterial and antioxidant, it assists in the unclogging of pores and the restoration of the natural sebum balance on the skin's surface, allowing your skin to breathe and look younger.
Side effects of Geranium flower essential oil
Geranium oil has no recognised negative effects. When applied directly to the face, it might induce a burning sensation or a rash, especially in persons with sensitive skin. To avoid this, perform a patch test and apply it to your arm in a diluted form.
How to use it in formulation?
Geranium oil contains antibacterial, antimicrobial, and antiseptic characteristics that aid in the healing of wounds and the soothing of inflamed skin.
This can also be used as a natural cleanser to remove dead skin cells, restore the skin, and renew it. When your mixture is cooling down, add this ingredient.
Works well with other ingredients
We combine geranium oil with over fifty natural essential oils, plant and herb extracts to create easy everyday solutions that provide everything you need for healthy, attractive skin.
For diffusion, Geranium essential oil pairs well with Basil, Bergamot, Cedarwood, Clary Sage, Grapefruit, and Lavender, Lime, Wild Orange, and Rosemary essential oils.
Share it on Social Media: