Rose Extract: Skin Soothing Brightening 101
.Rose extract (Rosa Canina) is prepared by dissolving rose buds and petals in glycerin and water. They are used in tonics and anti-irritant treatments because they contain numerous volatile oils.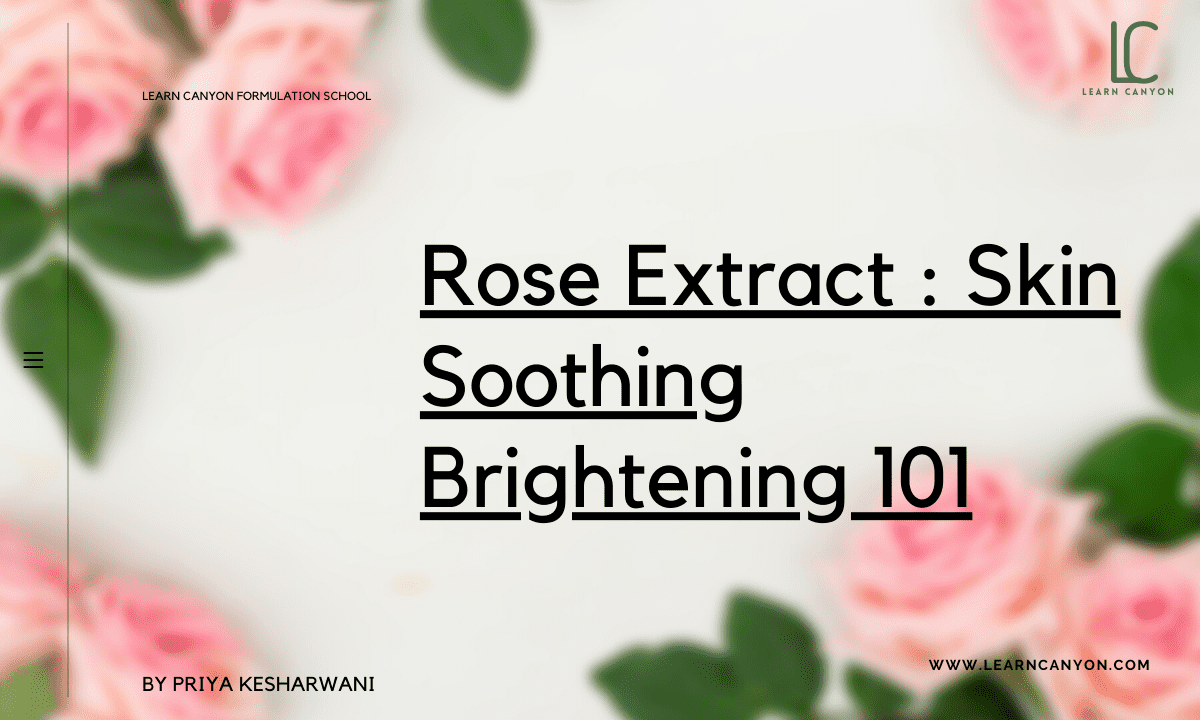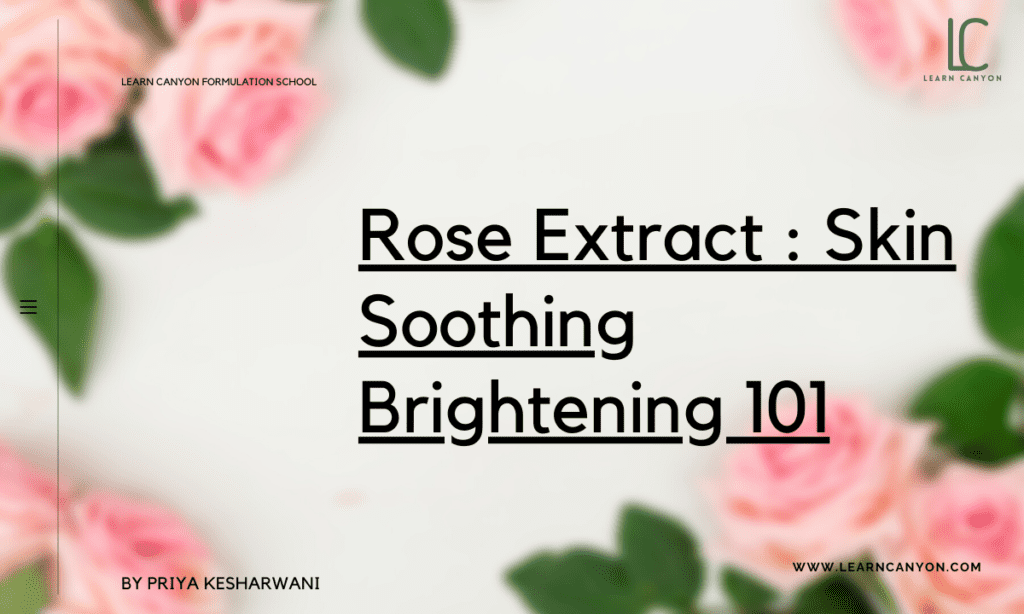 Add a header to begin generating the table of contents
How Does Rose Extract Help Your Skin?
Roses have long been a symbol of love. Regardless of your feelings about the holiday, a bouquet of roses and a heart-shaped box of chocolates have become synonymous with it.
Roses have the same entrancing aroma. It has a seductive and calming sense to it. Roses, on the other hand, aren't just for appearances' sake. Rose oil and rose water contain a wide range of cosmetic applications.
Rose water is manufactured from roses and water, which is as simple as it sounds. It was known as golb — gul (rose) and ab (absorbent) during the Sasanian Empire of Persia and has been used for thousands of years for beauty treatments and skin care (water).
Rose water is extracted  by crushing petals and combining them with boiling water in large containers in most situations. By collecting condensation, rose water is made. One litre of rose water requires between 600 and 700 roses.
| What is it? | .Rose extract (Rosa Canina) is prepared by dissolving rose buds and petals in glycerin and water. They are used in tonics and anti-irritant treatments because they contain numerous volatile oils. |
| --- | --- |
| INCI | Rose Canina (rose) flower extract |
| Appearance | Medium to dark amber liquid. |
| Texture | Soft |
| Recommended Usage | 1-10% |
| Solubility | Water-soluble (Maceration) |
| Melting point | NA |
| Boiling point | NA |
| pH | 4-7 |
| Aroma | Characteristic odor |
| Why do we include it in formulations? | Several cosmetic compositions include antibacterial and aroma characteristics. |
| How to work with it? | In the water phase, add formulae. |
| Applications | Rose extract can assist to reduce redness and irritation. It can help cleanse skin and prevent blemishes by acting as a light antibacterial and astringent. |
| Absorption rate | Fast |
| Strength | Its relaxing and healing properties make it suitable for all skin types (acneic, dry, mature, sensitive). |
| Weaknesses | Skin burning, redness or itching. |
| Substitution | Vanilla extract |
| How to store it? | Store in a sealed container at room temperature in a dry location. |
| Shelf life | Rose extract has a storage life of one to three years. |
| Type of ingredient | Hydrosol / distillate. |
| --- | --- |
| Main benefits | It provides a calming, soothing impact that might help to reduce redness for a short period of time. Its moisturising characteristics also assist in the prevention and treatment of dry skin. |
| Who should use it | It is suitable for all skin types. |
| How often can you use it? | It's perfectly okay to use it twice a day, in the morning and at night. |
| Works well with | Rose extract is a versatile ingredient that can be utilised in a variety of products. |
| Doesn't work with | When using retinoids, be aware that rose extract contains a lot of vitamin A. |
| How to use | Added during your formulation's cooling down phase |
Rose extract contains natural oils that provide gentle hydration and cooling. Rose hydrosol can help people with irritated skin, acne, eczema, and psoriasis by acting as an anti-inflammatory and antibacterial agent.
Rose water contains astringents such as phenyl ethyl alcohol and tannins. Astringents are substances that cause tissues to shrink and tighten, such as the skin. Astringents are used to alleviate excessive oiliness, which can lead to acne.
Rose water may be less prone to produce dryness than stronger astringents such as witch hazel.
Benefits of Rose Extract for Skin
Rose extract is abundant in polyphenols, flavonoids, and ascorbic acid, all of which are effective antioxidants and antioxidant groups that have been studied extensively. At various concentrations, rose extract has been demonstrated to be effective at detecting and scavenging free radicals that can cause cell damage. For thousands of years, rose water has been utilised as a skin care component and nutrient-rich plant, and it's especially effective as a toner for the face. Some of the benefits of rose water include the following:
It restores the skin's natural oil balance.
Rose water is well-known for its ability to clarify and balance your skin, leaving you feeling revitalised and energised.
It can aid in the reduction of the appearance of transient redness.
Rose water can help to minimise the look of redness on your skin, as well as any discomfort it may cause. It's an excellent method for keeping your skin cool and relaxed.
It aids in natural hydration.
Rose water is a natural hydrator that is necessary for glowing, youthful skin. It gives your skin an immediate moisture boost and a healthy glow.
It contains antioxidants that hydrate and preserve the skin.
Since the 7th century, rose water has been used for a variety of purposes and is abundant in antioxidants, which provide the nutrients your skin demands!
It has a rose scent!
Who doesn't appreciate the beautiful, soothing aroma of a rose? Furthermore, it's on your body! Rose water has an edge over many other botanicals because of its beautiful perfume.
It can help prevent fine lines and wrinkles while also reducing the look of existing ones.
The anti-aging benefits of rose water are well-known. It can temporarily fill fine wrinkles and possibly prevent new ones from forming. It can help to unclog pores and give your skin a smoother appearance. When your pores become clogged with everyday debris and impurities, rose water can help to decongest and eliminate pollutants from your pores, giving you a fresh, bright complexion.
Side effects of Rose Extract
There are no side effects.
How to use it in formulation?
While rose water can be used in a variety of ways (some people even drink it straight! ), it's best for caring for the skin on your face and neck, usually as a toner to prepare the skin for additional treatments.
Work well with other ingredients
In general, rose extract is compatible with a wide range of products  and ingredients. 
Share it on Social Media: