Kakadu Plum: Skin-Brightening Vitamin Bomb
Gubinge, Billy Goat, or Murunga are all names for the Australian fruit.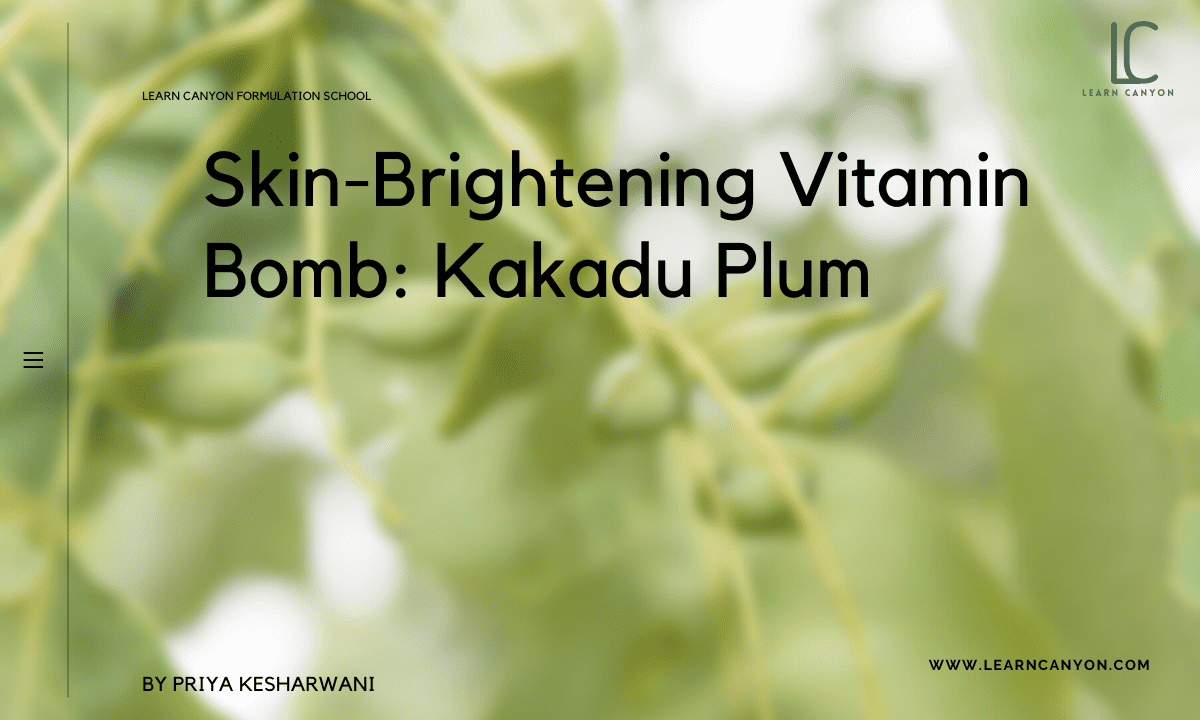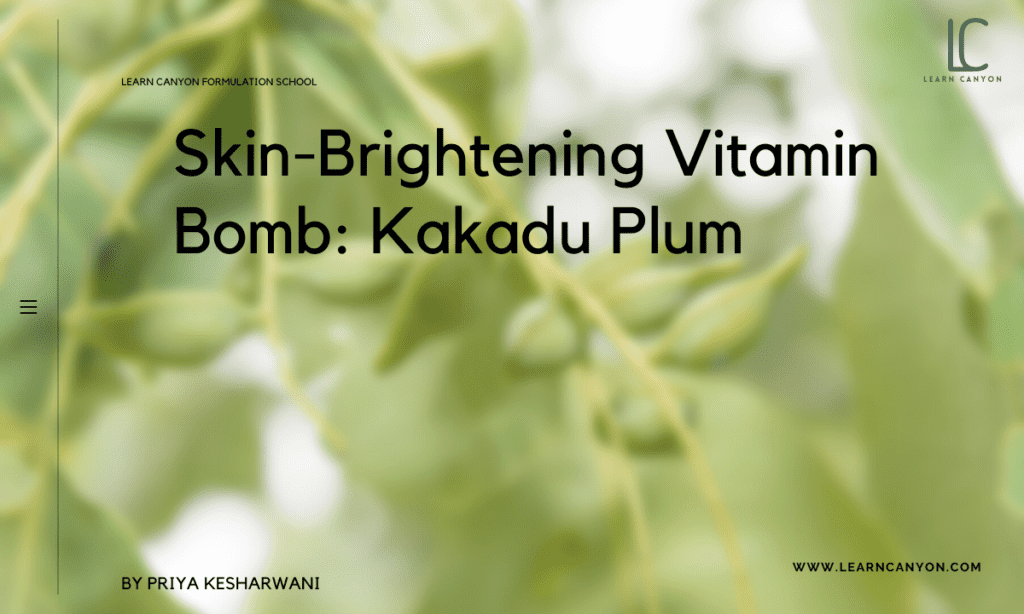 Add a header to begin generating the table of contents
If you thought oranges were the only source of vitamin C, you were wrong. Kakadu plum is another popular skin-care ingredient that comes from Australia. To discover more about Kakadu plum and how this vitamin C-rich ingredient can improve your skin's appearance, click here.
What is Kakadu Plum Extract?
Many natural skincare substances are well-known for their skin-beneficial properties. Kakadu Plum is one such item that has recently seen a boom in popularity. Kakadu Plum, also known as Billygoat Plum, Gurumal, or Murunga, is a little pale green fruit that contains a wide range of minerals and is the world's richest botanical source of Vitamin C. Vitamin C is now frequently used in a variety of natural skincare products due to its skin advantages.
| What is it? | Gubinge, Billy Goat, or Murunga are all names for the Australian fruit. |
| --- | --- |
| INCI | The vitamin C content of the Kakadu plum is the greatest of any fruit. Terminalia Ferdinandiana (kakadu plum) fruit extract |
| Appearance | Yellow to Light Amber Liquid |
| Texture | Liquid |
| Recommended Usage | 1-10%. |
| Solubility | Water soluble |
| Melting point | NA |
| Boiling point | NA |
| pH | 3-5 |
| Aroma | Slight sweet plum odor |
| Why do we include it in formulations? | Vitamins C and E, folic acid, and carotenoids are abundant in the extract of the kakadu plum fruit, which helps to reverse the effects of free radicals and diminish the signs of ageing. |
| How to work with it? | Add formulae to the water phase while the temperature is below 100°F/40°C. |
| Applications | This fruit can help eliminate fine wrinkles and scars by stimulating collagen formation. Gallic acid, an astringent, antimicrobial, antifungal, and antibacterial agent, is also present. |
| Absorption rate | Fast |
| Strength | Highly nutritious |
| Weaknesses | Not easily available and expensive |
| Substitution | Orange |
| How to store it? | Store in a closed container at a dry place at room temperature |
| Shelf life | The shelf life of Kakadu Plum Extract is one year. |
| Type of ingredient | Skin Brightener |
| --- | --- |
| Main benefits | Vitamin C in high concentrations improves the appearance of the skin. |
| Who should use it | The vitamin C content of the kakadu plum is higher than any other natural source, and it is suitable for all skin types. |
| How often can you use it? | Daily |
| Works well with | Although it can be used alone, Kakadu extract is compatible with a variety of compounds. Vitamin B3, hyaluronic acid, and plant extracts are examples of these ingredients. |
| Doesn't work with | If you have any known citrus sensitivities, or if you're already using topical retinol or AHA/BHA medications, use caution with Kakadu plum products." This is because any acid mixed with vitamin C might cause discomfort. |
| How to use | Add formulae to the water phase while the temperature is below 100°F/40°C. |
Vitamin C is plentiful in the Kakadu Plum. It has up to 5,000 mg of vitamin C per 100 gm, unlike 50 mg per 100 gm in oranges. Vitamin C is also important for collagen formation, which reduces fine lines and wrinkles and helps our skin age more slowly. Vitamin C, which naturally lightens the complexion, is also helpful at minimising the appearance of scars and hyperpigmentation. Kakadu Plums oil has long been prized for its antifungal and antibacterial effects, as it contains the phytochemicals gallic and ellagic acids. It reduces the activity of the tyrosinase enzyme, which decreases melanin formation.
Benefit of Kakadu Plum Extract
Brightens skin –
Suppose you have hyperpigmentation, blemishes, or dark patches. In that case, you should apply a face serum containing Vitamin C. Vitamin C has the ability to suppress the synthesis of melanin, which is responsible for skin discoloration, blemishes, and hyperpigmentation. Vitamin C serum is recognised to help with skin whitening when used regularly.
Kakadu Plum's vitamin C can help battle pimple-
Causing bacteria on the skin without damaging it. Kakadu Plum is also anti-inflammatory, which helps to minimise acne and pimple irritation and redness.
Fights early signs of ageing-
Reduces the appearance of fine lines and wrinkles, sagging skin, and loss of elasticity as a result of a decrease in collagen formation due to age and exposure to the sun's harsh rays. Vitamin C, gallic acid, and ellagic acid are all found in Kakadu Plum, and they work together to fight free radicals, moisturise the skin, and protect it from damage. Vitamin C also aids in the synthesis of collagen, which helps to decrease the appearance of wrinkles and fine lines.
Skin protection –
Kakadu Plum contains vitamin C, which neutralises free radicals and protects the skin from the sun's harmful UV rays. Vitamin C also aids in the repair of damage caused by pollution and the maintenance of healthy skin cells. Gallic and ellagic acids are also found in Kakadu Plum, which help to prevent collagen breakdown and early indications of ageing. To provide your skin antioxidant protection, look for a face cream or serum that contains Vitamin C derived from Kakadu Plum.
Skin moisture is improved –
If your skin is prone to dryness, you should use a Vitamin C-rich face serum as part of your daily skin care routine.
Side effects of Kakadu Plum Extract
There are no known side effects on skin.
How to use it in formulation?
Dr. Hu explains, "Vitamin C is also an important role in collagen creation, which is why Kakadu plum can help improve our skin elasticity." When added to goods, phytochemicals found in Kakadu plum, such as Gallic and ellagic acids, may aid in skin barrier repair. "Gallic acid has also shown promise in restoring skin barrier function, whereas ellagic acids can aid in skin suppleness." Many skincare treatments, lotions, and serums contain Kakadu Plum. Kakadu plum-infused skin care products help to give your face a natural radiance.
Work well with other ingredients
This amazing facial serum contains Kakadu Plum, Hyaluronic Acid, and Tasmanian Pepperberry, which is known for its moisturising and anti-inflammatory effects. This beauty serum works wonders for wrinkles, acne, pimples, and dark circles, among other issues. Cosmetics and pharmaceuticals may contain Kakadu Plum as an active component.
Share it on Social Media: