Steam or hydro-distillation is used to extract it from the flowers and plants of the lavender plant.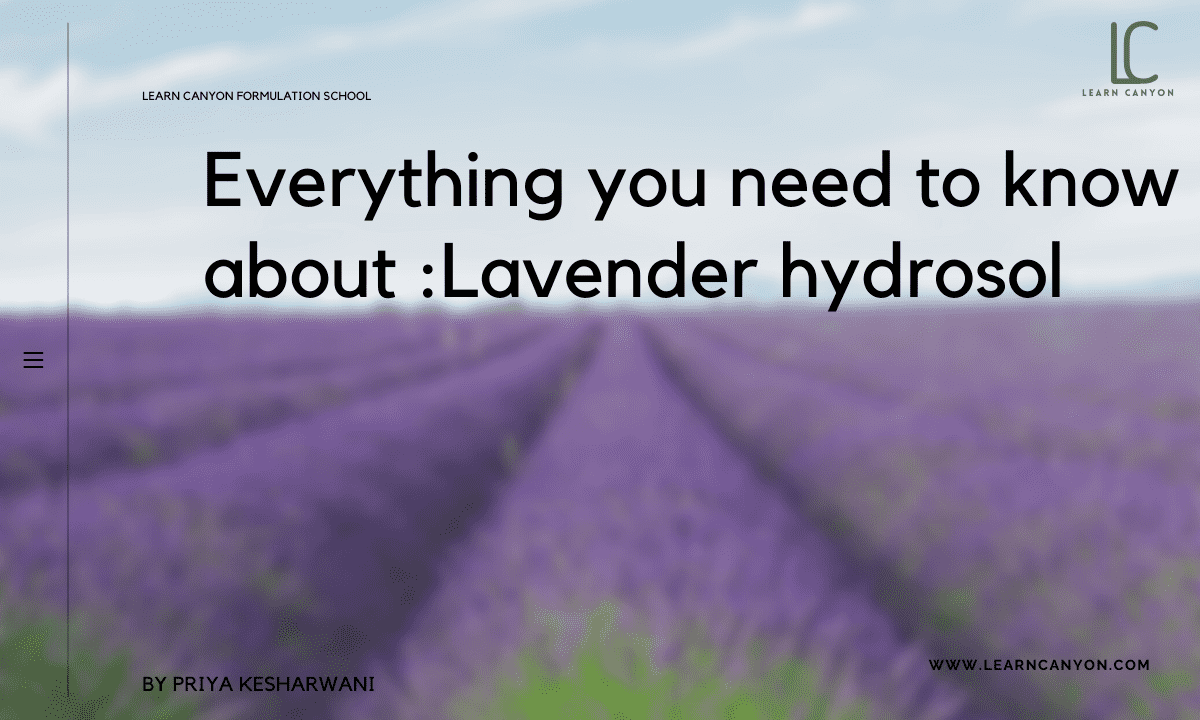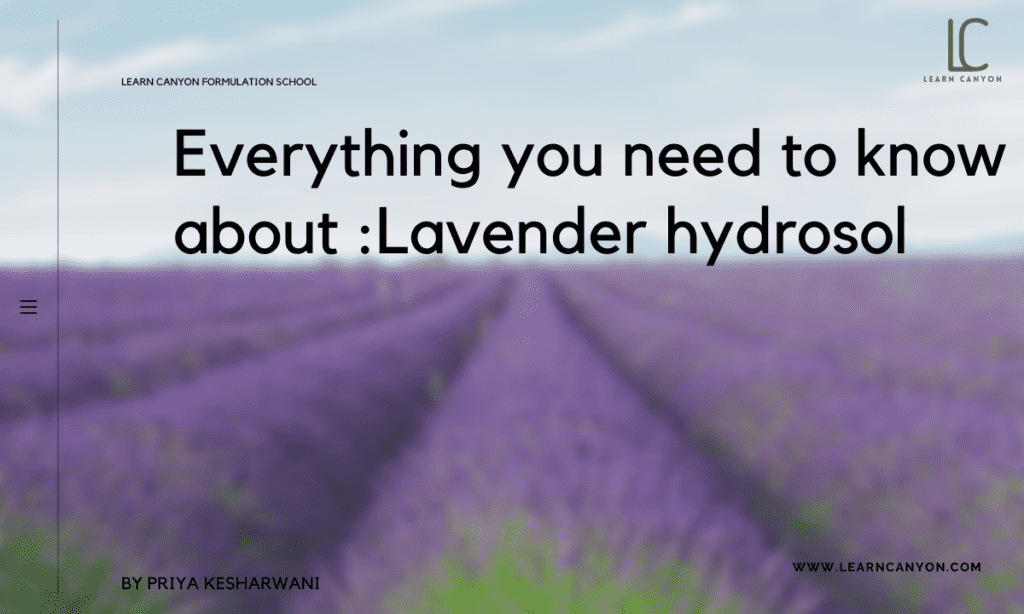 Add a header to begin generating the table of contents
In the winter, use lavender hydrosol to organically pamper your skin.
So, gather your shorts and slacks since winter has arrived, promising you the ideal days and nights to sleep peacefully in your blanket in a warm environment while sipping a nice cup of coffee. Who doesn't enjoy days like these?
Of course, everyone, but winter isn't just about having fun in the snow and constructing a gorgeous snowman; it's also important taking care of your skin and hair, which necessitates a change in your skincare routine, as summer staples will almost certainly not suffice.
Pure and organic hydrosols are one example of a natural replacement. What are the main benefits of lavender hydrosol, and why is it used?
What is Lavender Hydrosol?
If your skin has been looking a little drab recently, lavender could be the answer! Lavender hydrosol, made by steam distillation of renowned Lavender flowers, can give your skin a fresh lease on life. Lavender is a well-known mint family plant.
Lavender is known for its calming aroma and healing properties. The smell of lavender, scientifically known as Lavandula angustifolia, is pleasant and fragrant. This flower was beloved by Queen Elizabeth, who used it in her perfume and even in her tea.
| What is it? | Steam or hydro-distillation is used to extract it from the flowers and plants of the lavender plant. |
| --- | --- |
| INCI | Lavandula angustifolia |
| Appearance | Colourless |
| Texture | Soft and watery liquid |
| Recommended Usage | Up to 100% |
| Solubility | Water soluble |
| Melting point | NA |
| Boiling point | NA |
| pH | 5 |
| Aroma | Anise/Licorice-Like Aroma |
| Why do we include it in formulations? | Lavender hydrosol is a versatile jewel that is both refreshing and relaxing. |
| How to work with it? | Add it to your formulation's water phase. |
| Applications | Natural Lavender Hydrosol has the potential to eliminate blemishes and scars from your face while also hydrating your skin to keep it healthy and fresh. |
| Absorption rate | Fast |
| Strength | It could help with skin rashes, eczema, and dryness. |
| Weaknesses | Allergic responses are possible with any botanicals |
| Substitution | Clary sage |
| How to store it? | Store in a Cool & Dry place. |
| Shelf life | When stored correctly in a sealed container, lavender hydrosol has a shelf life of 12 months. |
| Type of ingredient | Hydrosol / Distillate |
| --- | --- |
| Main benefits | It's an ingredient in mouthwash and skin toner because of its disinfectant, astringent, and cleaning characteristics. It lightens dark stains and blemishes. |
| Who should use it | The hydrosol of lavender is excellent for all skin types. |
| How often can you use it? | Daily |
| Works well with | Work well with chamomile. Rose, tea tree and many more hydrosol. |
| Doesn't work with | NA |
| How to use | Add it in the water phase of your formulation. |
Vitamin A improves the skin's natural capacity to keep hydrated. It helps the skin heal faster by assisting in the creation of collagen. Vitamin A helps the skin's immune system and reduces acne. Lavender has a lot of vitamin A, according to research.
As a result, the skin's ability to retain moisture is improved. Lavender Water is ideal for sensitive, mature, and dry skin types because of this.
Antioxidants abound in Lavender Water. Due to the inclusion of various phytochemicals, it is a good product for resisting age and so providing anti-aging advantages.
Lavender hydrosol firms the face, tightens the pores, and eliminates wrinkles because it also functions as a toner. It removes toxins and free radicals from the skin, resulting in a smooth, young appearance. With regular use, it can also help to restore skin elasticity.
Benefits of Lavender Hydrosol
Gone are the days when lavender was only used to freshen up the powder room by Grandma. It's safe to say that this unique purple bloom is bigger than ever – and has been acclaimed a hero in the skin care world. From milk tea to marshmallows, cleansers to masks, it's safe to say that this singular purple bloom is bigger than ever and has been proclaimed a hero in the skin care world. 
Lavender is a wonderful hydrosol that is well-known for its pleasant perfume and its ability to reduce blemishes and other indications of ageing.
This wonderful flower hydrosol helps to naturally balance out skin tone by eliminating scars, pimples, and acne.
This natural hydrosol has relaxing and calming characteristics that help to relieve scalp inflammation.
Lavender hydrosol works best in combating stress and anxiety problems simply by diffusing the oil in the surrounding due to its scent, which is laden with therapeutic characteristics.
Apart from that, this hydrosol possesses a number of medical characteristics, including the ability to successfully treat minor cuts and burns, as well as bug bites, thanks to its antibacterial capabilities.
Lavender hydrosol is a versatile jewel that is both refreshing and relaxing. The acidic pH of lavender hydrosol is quite similar to that of human skin (about 5.0), making it an excellent antifungal and antibacterial solution as well as a promoter of good skin flora.
Side effects of Lavender Hydrosol
Some people may experience adverse skin reactions after using lavender-based topical treatments. Anyone who uses lavender hydrosol on their skin and develops any negative effects, such as rashes or hives, should discontinue use and consult a doctor. The presence of linalyl acetate, a scent molecule present in lavender, causes allergic reactions in most people. Other research has found that these compounds do not protect against autoxidation.
How to use it in formulation?
Incorporating Lavender hydrosol into your daily skincare routine will provide an immediate boost to your complexion. It contains medicinal properties that help to soothe the senses and even improve mood. Lavender Water-based facial mists, face packs, and body mists could help you get the skin you've always wanted!
  Work well with other ingredients
Combining the two? Yes, exactly. You may do the same thing with your hydrosols as you can with your favourite essential oils to create a new beautiful aroma with incredible benefits. The options are nearly unlimited, just as they are with essential oils. To be honest, it doesn't matter. Let's say you like to spritz your pillow with Lavender Hydrosol before night, but you'd like to try something new. See how you like it with a touch of Chamomile Hydrosol. They each have wonderfully soothing effects and pleasant flowery fragrances, but combining them gives a completely unique scent to fall asleep to.
Share it on Social Media: