Neroli Hydrosol is a water solution that has been infused with the neroli blossom's aroma.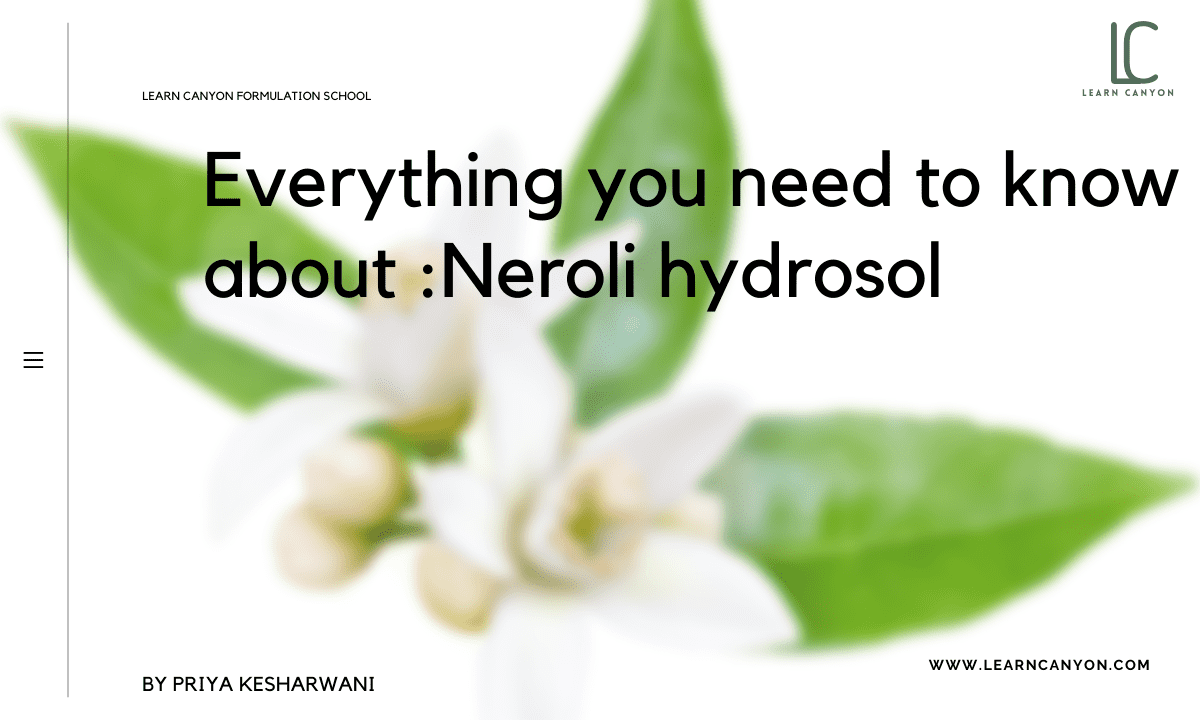 Add a header to begin generating the table of contents
What is neroli hydrosol and how may it benefit your skin?
Even if you consider yourself to be an expert on skin care, you can stumble across a product ingredient you've never heard of that smells unusual. Eminence Organics uses neroli hydrosol in a number of award-winning and perennial best-selling products, but what do we know about it? Let's take a deeper look at neroli oil to see what it is, where it comes from, and what it can do for your organic skin.
Neroli is extracted by steam distillation, whereas orange blossom is extracted through enfleurage, which involves capturing the fragrant molecules produced by the plants using odourless lipids that are solid at room temperature. Who'd have guessed that this glitzy and mysterious chemical is derived from the humble orange?
The bitter orange flower, which is a near relative of the ordinary navel orange, is known as neroli. Bitter oranges, unlike navel oranges, are exactly what their name implies: bitter. In fact, they're known as "marmalade oranges" since they've traditionally been used to produce the tart British spread.
Neroli hydrosol is distilled from the bitter orange flower using hydro distillation (also known as steam distillation) in the same way that rose oil is.
| What is it? | Neroli Hydrosol is a water solution that has been infused with the neroli blossom's aroma. |
| --- | --- |
| INCI | Organic Citrus Aurantium Amara (Neroli) distillate |
| Appearance | Clear to a pale amber colored liquid |
| Texture | Watery liquid |
| Recommended Usage | Upto 100% |
| Solubility | Water soluble |
| Melting point | NA |
| Boiling point | NA |
| pH | NA |
| Aroma | Soft floral / citrus fragrance. |
| Why do we include it in formulations? | Excellent astringent for softening skin and reducing pore appearance. |
| How to work with it? | Include it in your formulation's water phase. It can be processed either hot or cold. |
| Applications | Neroli hydrosol aids in skin renewal and helps to increase skin suppleness. |
| Absorption rate | Average to fast |
| Strength | Expensive |
| Weaknesses | Allergic responses are possible with any botanicals. |
| Substitution | Jasmine or Ylang Ylang |
| How to store it? | Store in a Cool & Dry place. |
| Shelf life | The neroli hydrosol has a two-year shelf life. |
| Type of ingredient | Hydrosol / Distillate |
| --- | --- |
| Main benefits | Neroli can be used as a delicate yet effective astringent in skin care, balancing hair and skin. |
| Who should use it | It's great for acne, oily skin, and even dry skin. I |
| How often can you use it? | t is not necessary to dilute neroli hydrosol before using it. It can be used on a regular basis and applied straight to the hair and skin. |
| Works well with | Vanilla, Ylang Ylang, Rose, or other floral hydrosol. |
| Doesn't work with | NA |
| How to use | Water phase |
Alpha pinene, alpha terpinene, beta pinene, camphene, farnesol, geraniol, indole nerol, linalool, linalyl acetate, methyl anthranilate, nerolidol, and neryl acetate are some of the active ingredients. The skin-healing and nourishing benefits of neroli hydrosol are attributed to these chemicals.
Its alpha hydroxyl content cleanses the skin. It cleans and purifies the skin as well as the pores. It removes deep-seated grime and pollutants from your skin without removing its natural oils. Neroli is high in vitamin C, which promotes collagen production and cell turnover. It aids in healing injured skin, such as sunburns and scars.
Benefits of Neroli Hydrosol
This hydrosol has natural astringent characteristics that help tighten pores and improve skin tone by minimising excess oil secretion.
This wonderful flower water also has anti-inflammatory characteristics, which aid in skin inflammation reduction.
This hydrosol can be used to combat ageing and premature indications of age because it is a powerful antioxidant. Dark spots can also be treated naturally and efficiently with the application of this oil to the skin.
Neroli hydrosol's scent makes it an excellent sleep aid for insomniacs.
Because of its antibacterial, antiviral, antiseptic, and germicidal qualities, this hydrosol can be used to promote skin health.
Side effects of Neroli Hydrosol
There is no known side effects
How to use it in formulation?
Since the days of ancient Egypt, neroli, a pleasant essence produced from orange blossoms, has been employed in perfumery. The original Eau de Cologne from Germany in the early 1700s featured neroli as one of the components.
This hydrosol has a similar aroma to the essential oil but is much less expensive. This astringent hydrosol, which is used extensively in the perfume business, is also a great toner or aftershave. Neroli has a calming and anchoring effect on the emotions, and it is thought to aid with heart healing. Linalool and -terpineol are found in neroli hydrosol, albeit they only make up a minor percentage of the total.
Work well with other ingredients
Neroli pairs well with Vanilla, Ylang Ylang, Rose, and other florals, but it can also be used on its own to smell natural items.
Share it on Social Media: