Steam distillation was used to extract it from the Helichrysum floral tops.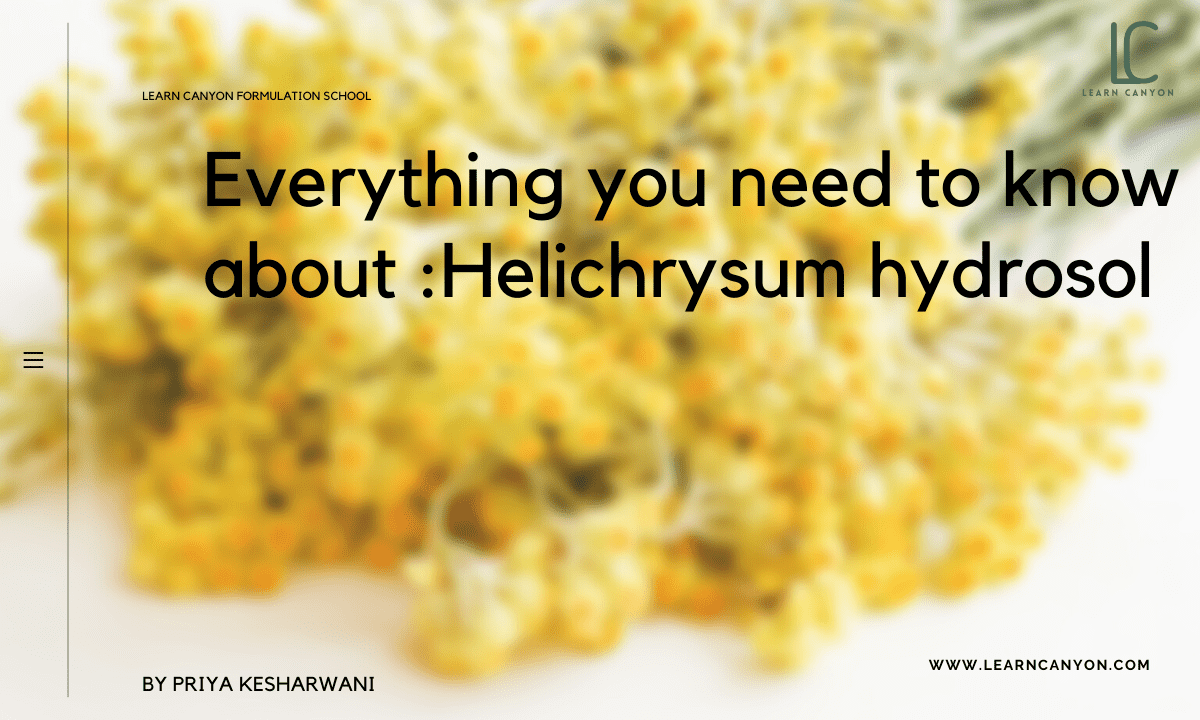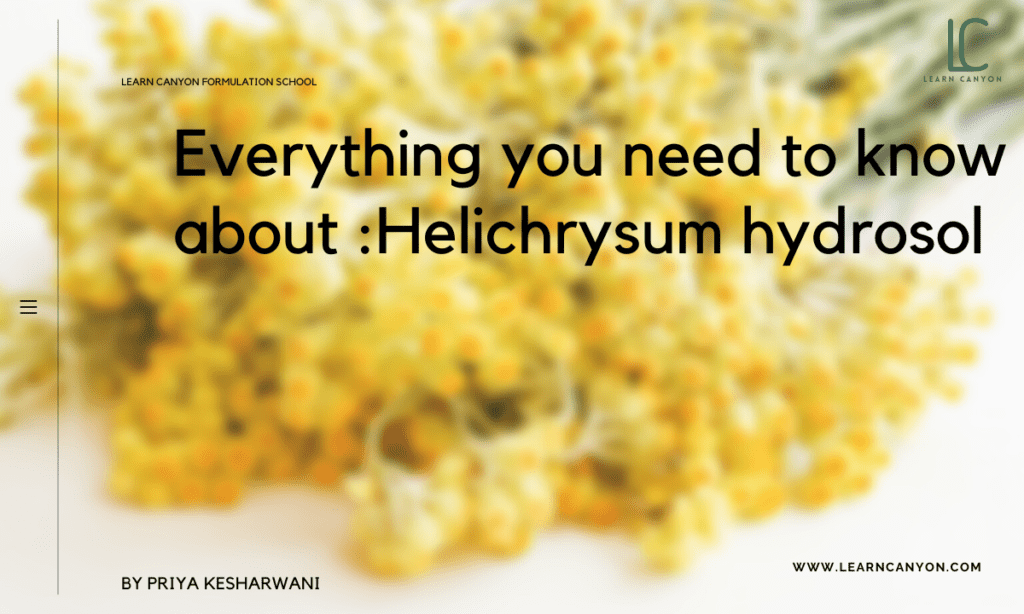 Add a header to begin generating the table of contents
What is Helichrysum hydrosol?
Helichrysum, often known as Immortelle, is a daisy-like shrub with beautiful golden yellow flowers. It's simple to spot, and it's one of the more vivid medicinal plants that has been utilised as an essential oil for thousands of years. Because these flowers stay in full bloom for a long time, picking the plants to extract their hydrosol is simple.
| What is it? | Steam distillation was used to extract it from the Helichrysum floral tops. |
| --- | --- |
| INCI | Helichrysum Italicum |
| Appearance | Colourless |
| Texture | Clear Liquid |
| Recommended Usage | Up to 100% |
| Solubility | Water soluble |
| Melting point | NA |
| Boiling point | NA |
| pH | 4.5-5.5 |
| Aroma | There are earthy and sweet elements in this fragrance. |
| Why do we include it in formulations? | Wrinkle reduction, improved skin healing, and increased collagen production. |
| How to work with it? | Add it to your formulation's water phase. |
| Applications | Helps to promote healthy skin cell regeneration and a youthful appearance. |
| Absorption rate | Fast |
| Strength | Helichrysum is a multi-purpose hydrosol. |
| Weaknesses | Hydrosols are the result of pure distillation, and they may contain plant material that was too fine to be captured by standard filtration. |
| Substitution | Cardamom, Chamomile, Coriander, or Ginger |
| How to store it? | Store in a Cool & Dry place. |
| Shelf life | Helichrysum has a 12-month shelf life if properly maintained in a sealed container. |
| Type of ingredient | Hydrosol/ distillate |
| --- | --- |
| Main benefits | Helichrysum oil can assist promote healthy skin cell regeneration and a radiant, young appearance. |
| Who should use it | Suitable for all types of skin |
| How often can you use it? | Daily |
| Works well with | Most of the hydrosols |
| Doesn't work with | NA |
| How to use | Add it to your formulation's water phase. |
The potent ingredients in this hydrosol give it a healthy reputation, and they do a lot for the health of your skin. It contains various antioxidants that can help prevent free radical molecular damage and vitamins to help your skin cells repair properly.
Benefits of Helichrysum hydrosol
Helps to Heal Wounds
Helichrysum hydrosol skin advantages speed up the healing of wounds and cuts, as well as the disappearance of scars. It's just as good at getting rid of the spots left by pox and boils on your skin. Helichrysum hydrosol, according to some herbalists, can be an important component of a "holistic first aid kit." Helichrysum hydrosol can help fight free radical damage and speed up the healing process for a variety of skin disorders.
Protect yourself from the sun
On those days when you've spent a little too much time in the sun, Helichrysum hydrosol is also beneficial to your skin. Helichrysum hydrosol's diketones may potentially aid in the reduction of age spots, sun damage, and other skin discolorations. Helichrysum hydrosol can be used as a sun soother to calm inflamed skin, whether you spent too much time at the pool or your afternoon trek was sunnier than you planned. When going to exceptionally bright or warm climates, keep a bottle of Helichrysum hydrosol on hand in case of excessive sun exposure.
Wrinkle Appearance Is Reduced
Clinical studies have indicated that helichrysum hydrosol can help diminish age spots, scars, and wrinkles. Helichrysum hydrosol, which contains well-known antioxidants like alpha-pinene, myrcene, limonene, and linalool, can help to quickly eliminate oxidative stress from the skin of your face while also limiting the breakdown and death of healthy cells. It can also speed up the renewal of skin cells, preventing wrinkles from appearing.
Acne Therapy
The skin advantages of helichrysum hydrosol are widely known for their ability to treat and soothe acne without drying out the skin. Helichrysum essential oil is frequently recommended for the treatment of acne, especially acne scars. Acne scars are unsightly lesions on the skin that detract from your appearance and beauty. While some acne scars fade away without treatment, some require more attention.
Side effects of Helichrysum hydrosol
Helichrysum hydrosol is usually thought to be safe and free of side effects. However, there have been few investigations to see if helichrysum hydrosol is safe for humans.
 How to use it in formulation?
These vibrant tiny blooms are named after the sun and can assist you in shining brightly! Helichrysum flowers are distilled into a heavenly botanical water that may be used as a face and body spray or as a healthy ingredient in skin care products.
Work well with other ingredients
Helichrysum blends nicely with other skin-friendly essential oils like Melaleuca, Myrrh, Frankincense, and Lavender when using it in your skincare routine.
Share it on Social Media: