Caprylyl / Capryl Glucoside
Caprylyl/Capryl Glucoside is a non-ionic liquid surfactant synthesised from fatty acids and glucose obtained from Sugars from Fruits and Vegetables.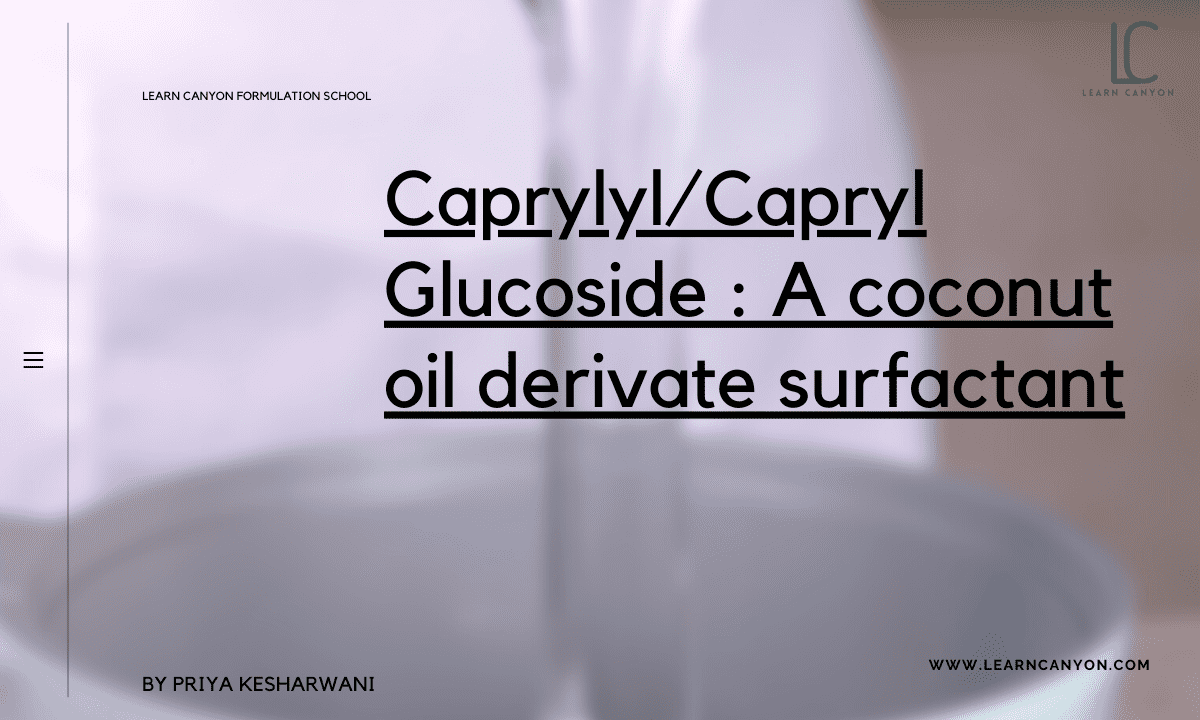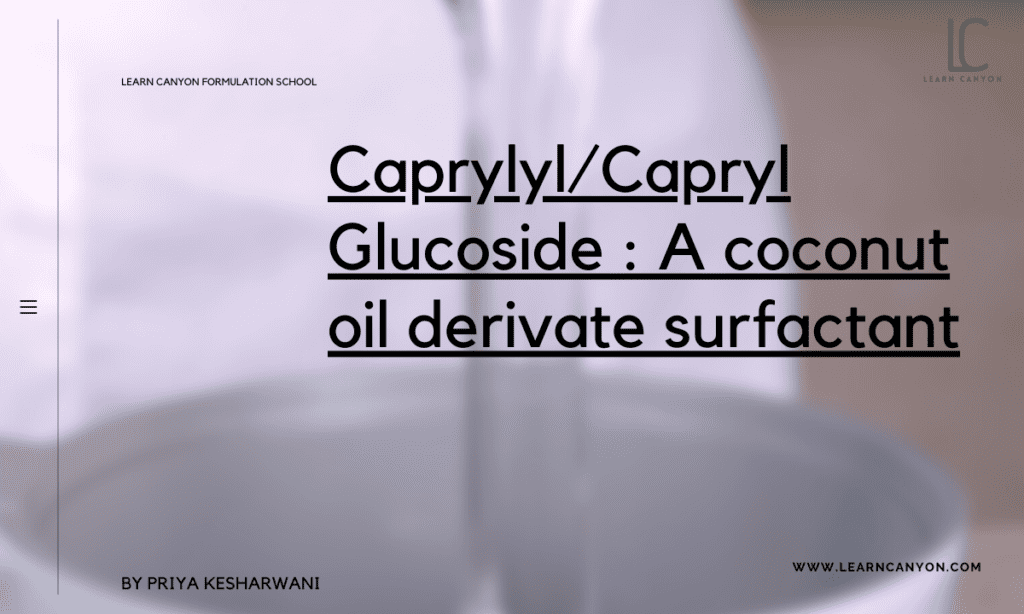 Add a header to begin generating the table of contents
What is Caprylyl/Capryl Glucoside?
A material derived from nature that can be found in a variety of cosmetics. It's made from coconuts and is considered safe to use on the skin with a low risk profile. It's known as a "surfactant" in cosmetics and is commonly used in soaps and cleansers due to its natural foaming reaction when it comes into contact with water.
It's a considerably safer alternative to sulphates, which are responsible for the foamy properties of shampoos, soaps, and other cleaning products. Sulfates, on the other hand, can be harsh, removing essential oils from the skin and scalp far too effectively.
| What is it? | Caprylyl/Capryl Glucoside is a non-ionic liquid surfactant synthesised from fatty acids and glucose obtained from Sugars from Fruits and Vegetables. |
| --- | --- |
| INCI | Caprylyl/Capryl Glucoside |
| Appearance | A viscous, pale yellow liquid. |
| Texture | Slippery, detergent |
| Recommended Usage | Up to 40% |
| Solubility | Water soluble |
| Melting point | NA |
| Boiling point | NA |
| pH | 5.5–6 |
| Aroma | Soapy/detergent-like in aroma. |
| Why do we include it in formulations? | Excellent solubilizer, far superior to many other surfactants. This means that essential and fragrance oils can be used in products such as hand washes without the use of a solubilizer like Polysorbate 20. |
| How to work with it? | It can be utilised in cold-processed formulations because it is liquid, but it can also be heated in the hot water phase. So that you don't make too much lather, avoid aggressive stirring/agitation. |
| Applications | Caprylyl / Capryl Glucoside is a gentle cleanser that's found in many cosmetic formulas, notably those for sensitive skin. It's made from plants, biodegradable, and skin-friendly. |
| Absorption rate | Fast |
| Strength | Solubilizing and a good lather |
| Weaknesses | More difficult to come by than coco glucoside. |
| Substitution | polysorbate 20 and/or polysorbate 80 |
| How to store it? | Stored in a cool, dark and dry place. |
| Shelf life | Caprylyl/Capryl Glucoside has a two-year shelf life. |
| Type of ingredient | Non-ionic surfactant |
| --- | --- |
| Main benefits | Caprylyl/Capryl Glucoside is a non-ionic surfactant that is naturally gentle and solubilizing, making it perfect for all foaming and cleansing applications. |
| Who should use it | All skin types can use it. |
| How often can you use it? | Its fine to apply every day, but it shouldn't be left on for more than a few minutes at a time, like other surfactants, to avoid irritation. |
| Works well with | Cocamidopropyl betaine. |
| Doesn't work with | NA |
| How to use | It's possible to use it in your formulation's aqueous phase. |
Surfactant, often known as a surface-active agent, is a detergent-like chemical. When added to a liquid, it lowers the surface tension, making it easier to spread and moisten. Surfactants break down these interactions as they absorb.
Because the intermolecular interactions between the surfactant and the water molecule are substantially lower than those between two water molecules, surface tension is reduced. Micelles occur when the concentration of surfactant is high.
The critical micelle concentration is the point at which micelles begin to form. The primary function of surfactants is to reduce surface and interfacial tension while also stabilising the interface.
Benefits of Caprylyl/Capryl Glucoside
1.It assists in the manufacturing of foaming products.
Caprylyl Capryl Glucoside is a moderate surfactant with qualities that make it ideal for creating frothy effects in cosmetics. Shampoos, soaps, body washes, and facial cleansers are just a few of the products available. It's a natural product that's both safe and good for your skin. It is non-irritating to the skin and has no negative effects.
2.It aids the mixing of oil with water.
Surfactant is one of the few substances on the market that are used by manufacturers all over the world to combine water and oil. It also aids in the removal of debris and the clarification of a solution. Caprylyl Capryl Glucoside aids in the removal of debris from the face when used in facial cleansers.
3.Its solubilizing properties are exceptional.
Caprylyl Capryl Glucoside is well-known for its high solubility. It works wonders with surfactant solutions that are very concentrated, especially when salt and alkalies are present. It's a naturally generated substance that can be blended with other solutions to maintain them as natural as possible.
4.It is a Safe Polysorbate Substitute
The surfactant is a safe substitute for polysorbates when it comes to solubilizing essential and aroma oils in other liquid compositions. The compound is a biodegradable component that belongs to the Alkyl polyglucosides surfactant class.
5.It aids in the creation of Flash Foam and Denser Foam.
Caprylyl Capryl Glucoside is a mild foaming agent that can be used to create both dense and flash foam. The efficiency of foam can be determined by determining the amount of surfactant to be added to the solution. Coco and decyl glucosides can be combined to form a thick solution.
Side effects of Caprylyl/Capryl Glucoside
It has the potential to irritate the skin at high levels of use. This might irritate the skin and dry out the hair. You won't have this difficulty when using caprylyl capryl glucoside. Although Caprylyl Capryl Glucoside is a safe substance to use, there are a few things to keep in mind when forming a solution with it.
Gloves must be used, eye protection must be worn, and the substance must not be consumed. If ingested by accident, get medical attention right away.
How to use it in formulation?
Caprylyl / Capryl glucoside is one of the simplest surfactants to work with, combining easily with water and other surfactants to produce wonderful Shower Gels, Shampoos, and Face Washes with just a little agitation. Caprylyl/Capryl glucoside can also be used to provide foaming power to cream and cleanser bases. Simply mix in with the ingredients for the cold process. 
Works well with other ingredients
When combined with other glucosides, it creates a complete foaming shower gel/shampoo. Caprylyl/Capryl Glucoside provides a wonderful mix of flash foam and denser foam. Add coco and decyl glucosides to thicken the froth. To make a foamy cleanser, combine it with other surfactants.
When combined with Cocamidopropyl betaine, it produces an outstanding result. Caprylyl/Capryl Glucoside is a highly effective solubilizing agent for essential oils and perfumes, as well as cationic surfactants, in addition to being a great mild cleansing surfactant in your skin care products.
Caprylyl/Capryl Glucoside is a great choice for foaming aromatherapy products because of its dual function.
Share it on Social Media: