Ginger (Zingiber officinale) root essential oil
The root of the Zingiber officinale herb, more often known as Ginger, is used to make Ginger Root Oil.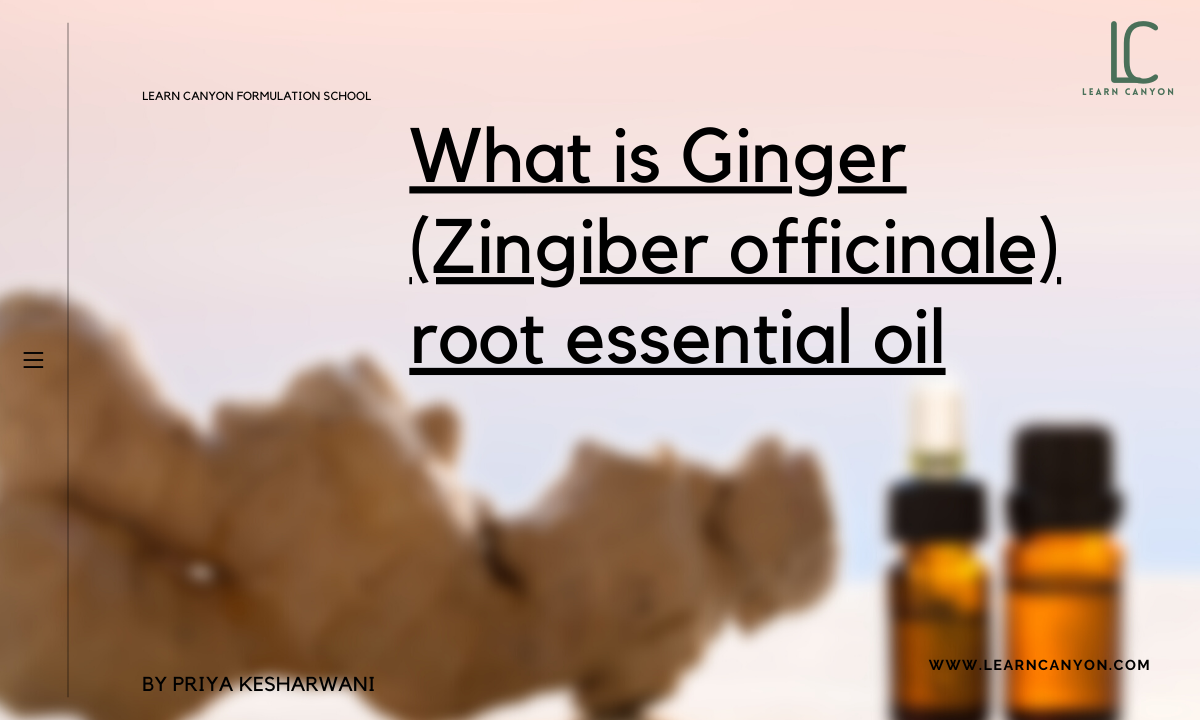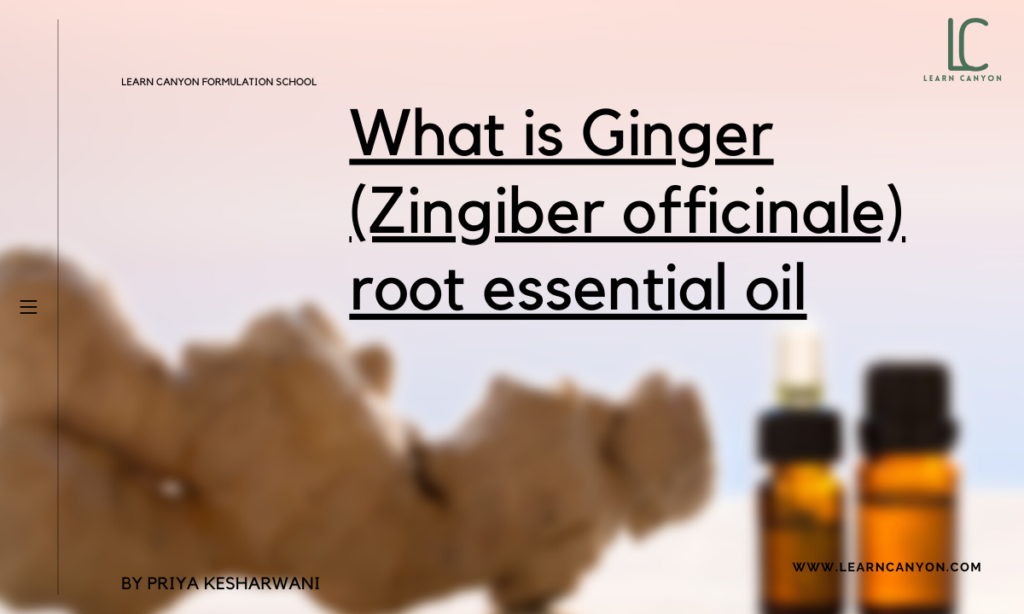 Add a header to begin generating the table of contents
In any Indian cooking, ginger is a common ingredient. What role does it play in skin care formulas?
Fresh ginger root lends a warm, spicy, and downright delightful flavour to cooking, but this rhizome can also be used in a variety of other ways. Ginger has been consumed in India and China for ages.
The root bulb is a fundamental component in Asian cooking and is firmly rooted in the Ayurveda philosophy. It is self-evident why.
There are about 160 valuable compounds in ginger and ginger root. Ginger root essential oil is a genuine gift to the skin, bringing out its natural freshness and purity. It's perfect for adding to high-end cosmetics.
What is Ginger root essential oil?
When you sense a cold coming on, you may know to add a slice of ginger root to honey, lemon, and hot water, but did you know it also offers numerous skin and hair benefits? What is the purpose of Ginger Essential Oil?
The essential oil of ginger, Zingiber officinale, is steam distilled from the tropical plant's rhizome, or fleshy root. It is a perennial herbaceous plant with yellow flowers and spiky leaves. Ginger was one of the first species to cross the spice route,'coming from Asia.
| What is it? | The root of the Zingiber officinale herb, more often known as Ginger, is used to make Ginger Root Oil. |
| --- | --- |
| INCI | Zingiber officinale |
| Appearance | Pale yellow in colour |
| Texture | Watery to the touch |
| Recommended Usage | 1-10% |
| Solubility | Insoluble |
| Melting point | NA |
| Boiling point | NA |
| pH | 4.0-6.0 |
| Aroma | Aromas described as "oriental" have a warm, woody, and fruity fragrance. |
| Why do we include it in formulations? | Improve the appearance of your skin by making it smoother, clearer, and brighter. |
| How to work with it? | It's part of the formulation's cool down phase. |
| Applications | Ginger Essential Oil calms redness, kills bacteria, prevents skin damage and ageing, and revitalises a dull complexion. |
| Absorption rate | Fast |
| Strength | Camphene, one of the main chemical ingredients of ginger oil, has antioxidant and anti-inflammatory qualities. |
| Weaknesses | Irritation and burning: Before applying oils to the skin, always dilute them with a carrier oil. |
| Substitution | Nutmeg, Cinnamon Bark, and Davana |
| How to store it? | Stored in a cool, dark and dry place. |
| Shelf life | Ginger has a two-year shelf life. |
| Type of ingredient | Essential oil |
| --- | --- |
| Main benefits | Firming, Tonic, Stimulant, Warming, Anti-Inflammatory |
| Who should use it | It is suitable for all skin types. |
| How often can you use it? | Every day, twice |
| Works well with | Other essential oils, such as citrus tastes or lemongrass, combine well with it. |
| Doesn't work with | It's advisable to avoid using it with alcohol-based products because it can be drying. |
| How to use | When the formulation is cooling down, this ingredient is added. |
Ginger includes natural oils called gingerols, which help to relieve pain and inflammation.
Gingerols' anti-inflammatory properties can help relieve itchy skin. Camphene, B-Phellandrene, -Pinene, Geranial, Zingiberene, -Bisabolene, -Sesquiphellandrene, and Curcumene are the most important chemical ingredients of Ginger Oil.
It's crucial to understand how anti-inflammatory skincare products function before diving into the ones to look for. "The body's response to any kind of perturbation is inflammation.
It can be caused by irritants, trauma, or germs. Skin inflammation can also be caused by inflammatory skin diseases such as rosacea and eczema, according to Dr. Jeanine B. Downie, a dermatologist at Derm Collective.
"Anti-inflammatory products function by preventing the body's response to these insults by suppressing the actions of particular enzymes that cause swelling and inflammation."
Calming that inflammation turns out to be a huge deal in terms of both skin look and health: " Preventing the effects of inflammation on our skin is crucial for maintaining a youthful appearance and avoiding the development of wrinkles.
Benefits of Ginger root essential oil
Because of its numerous skin benefits, ginger extract is becoming increasingly popular in cosmetics.

Ginger extract reduces inflammation in the body and aids in the improvement of microcirculation, both of which are essential for maintaining healthy and attractive skin.

In addition, ginger is a wonder antiseptic that kills potentially dangerous bacteria.

Ginger root essential oil appears to be the most effective treatment for acne and other skin conditions.

When ginger is used as a mask, it immediately improves blood circulation. The oxygenation of cells is increased, and the skin appears younger and fresher right away.

Ginger root essential oil encourages the natural synthesis of collagen and elastin, resulting in skin that appears younger and more vibrant. The appearance of the skin is improved in the long run.
Side effects of Ginger root essential oil
Ginger oil is generally considered to be safe to use and has few negative side effects. Ginger oil is an excellent alternative when it comes to natural medicines.
How to use it in formulation?
Keep in mind that ginger oil is extremely concentrated, as are all essential oils. As a result, it shouldn't be used undiluted on the skin.
If you're worried about how ginger oil may affect your skin, start with a small patch of skin to see how it reacts. When the formulation is cooling down, this ingredient is added.
Works well with other ingredients
It complements spices like Black Pepper and Cardamom and combines well with the sweeter' citrus essential oils.
Share it on Social Media: