The witch hazel tree (Hamamelis Virginiana) is a tiny deciduous tree that grows wild in eastern North America. For hundreds of years, extracts from its stems have been utilised as an anti-inflammatory and astringent.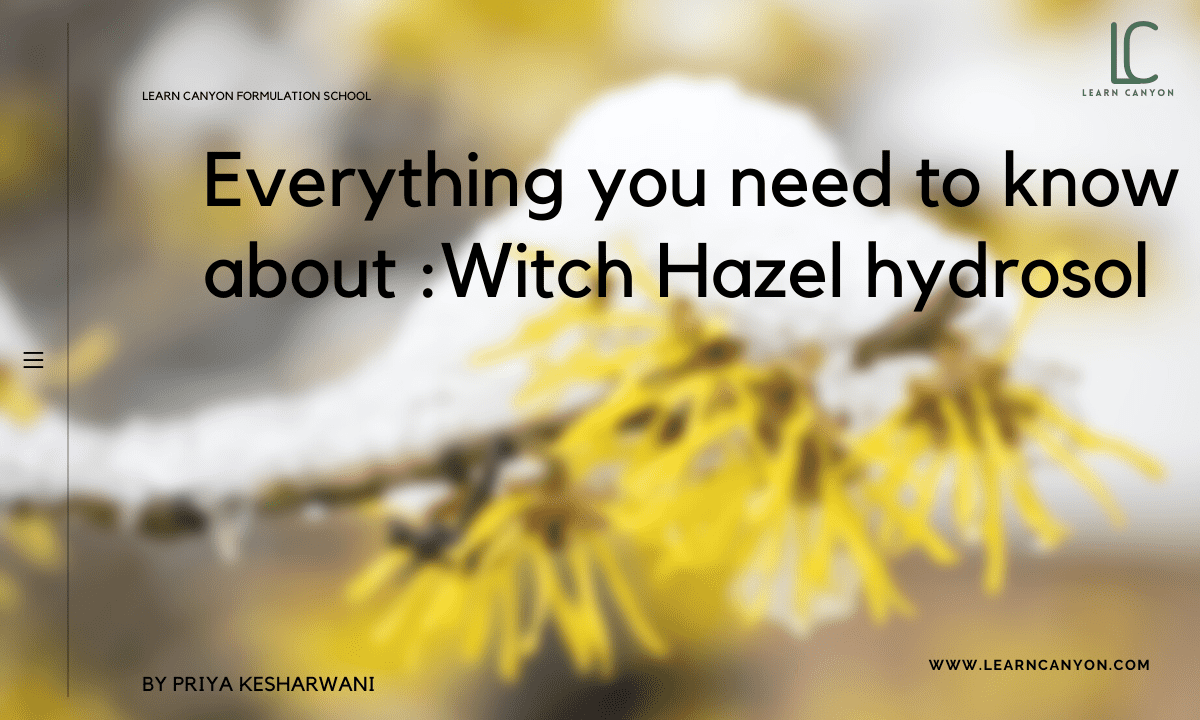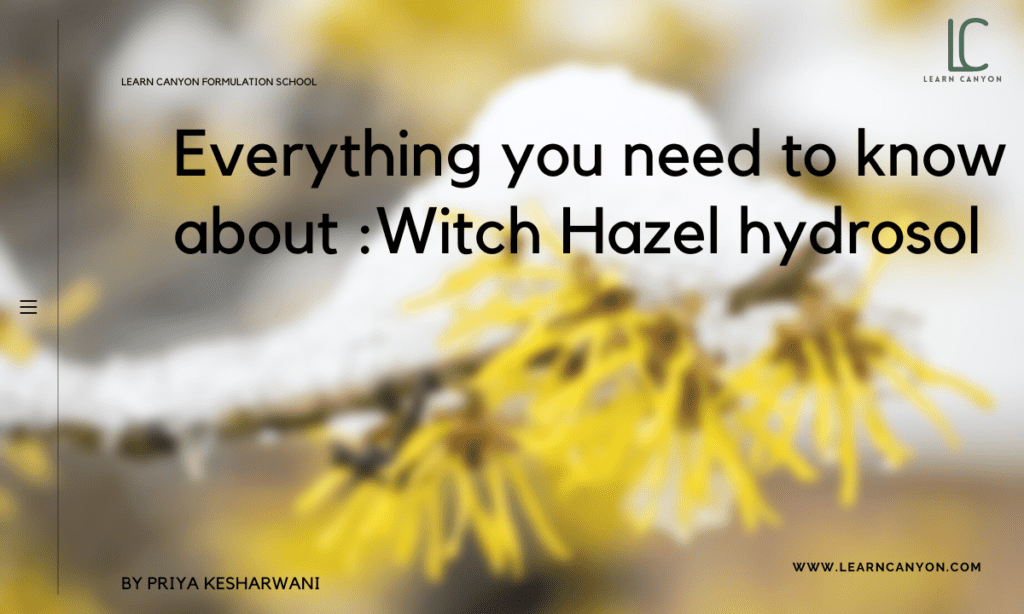 Add a header to begin generating the table of contents
Did you know that Winterbloom is another name for Witch Hazel?
The saying "beauty is in the flora" has become a new favourite of ours. The clean beauty method is built on the foundation of simple, classic florals and herbs that actually heal our skin well.
Botanicals that relax, clarify, and quench our largest organ are frequently the most significant natural ingredients incorporated in skin care products. When it comes to witch hazel, we've all heard how beneficial it is to the skin.
However, we require all of the information on witch hazel's advantages. Take a closer look at this classic. Witch hazel is frequently mentioned in natural skincare routines, and it's frequently seen on Instagram beauty shelfies—but what exactly is witch hazel, and how can you know if it's good for you?
Witch Hazel Distillate, also known as "Witch Hazel Distillate Water" and "Witch Hazel Extract," is made from the bark and leaves of the Hamamelis virginiana shrub. When the Native Americans first arrived.
| What is it? | The witch hazel tree (Hamamelis Virginiana) is a tiny deciduous tree that grows wild in eastern North America. For hundreds of years, extracts from its stems have been utilised as an anti-inflammatory and astringent. |
| --- | --- |
| INCI | Hamamelis Virginiana |
| Appearance | The distillate is a clear, watery liquid |
| Texture | Smooth, watery liquid |
| Recommended Usage | 1.0 - 10.0% |
| Solubility | The distillate dissolves in water. The plant is insoluble on its own, however it can be used to make infusions. |
| Melting point | NA |
| Boiling point | 173.3 °F |
| pH | 4-6 |
| Aroma | Musty/funky |
| Why do we include it in formulations? | The astringent characteristics of the distillate make it popular in facial toners. It also has anti-inflammatory qualities, which can be advantageous. |
| How to work with it? | Include it in your formula's water phase. It can be processed hot or cold. |
| Applications | Witch hazel is astringent, which means it shrinks pores, soothes skin, and reduces irritation. |
| Absorption rate | Fast |
| Strength | Natural astringent at a low cost |
| Weaknesses | It has an unpleasant odour. |
| Substitution | Aloe Vera |
| How to store it? | Stored in a cool, dark and dry place. |
| Shelf life | The shelf life of witch hazel distillate should be around three years. |
| Type of ingredient | Natural Astringent |
| --- | --- |
| Main benefits | Because of its natural astringency, witch hazel can eliminate excess oil from the skin and reduce the appearance of enlarged pores. |
| Who should use it | oily skin |
| How often can you use it? | After cleansing, repeat 2-3 times per week. |
| Works well with | Work well with aloe Vera, Vitamin C. |
| Doesn't work with | Witch hazel should not be used on dry or dehydrated skin since it can irritate it. |
| How to use | It can be used during the heated water phase or the cool down phase. |
When applied topically, witch hazel contains tannins, a natural plant ingredient with strong antioxidant qualities that can help protect your skin from damage.
Witch hazel for acne is an effective solution since these tannins help narrow pores, tighten the skin's surface, and, most importantly, absorb excess oil. For a matte face, witch hazel absorbs excess oil and reduces the appearance of pores.
Witch hazel contains various antioxidants, many of which are beneficial to the skin, but one of the most important antioxidants is a group of molecules known as tannins.
Tannins restrict and dry the skin when applied to it. They compress skin proteins, forming an invisible "film" that can temporarily decrease skin and reduce the appearance of enlarged pores to a moderate extent.
Witch Hazel Distillate, when applied to the skin, can help to regulate oil production, eliminate excess sebum, nourish, tighten, tone, soothe, and lower the likelihood of recurrent blemish outbreaks.
Witch Hazel is a good ingredient for after-shave treatments since it decreases swelling and soothes other indicators of razor burn and irritation.
Witch Hazel is also said to cleanse the skin organically and effectively without drying it out, as well as to reduce the appearance and size of pores, which helps to control blemishes while toning the complexion.
Side effects of Witch Hazel
When used in the proper concentrations with a straight-laced formulation, witch hazel is probably safe and nontoxic for most people. However, in recent years, this substance has gotten a poor rap for being too drying and irritating to the skin.
If you have severely dry or sensitive skin, witch hazel may not be the best ingredient for you, but it does have a place in skincare for oily, combo, and normal skin types. Before using this chemical on a large scale, it is highly advised that you perform a patch test first.
When applied directly to the skin, witch hazel is likely safe for most adults. It may cause slight skin irritation in some persons.
How to use it in formulation?
Witch Hazel Distillate can be used in acne treatments, shaving cream and aftershave, "anti-aging" serums, shampoos, treatment gels, washes and lotions, insect repellants, and even nail treatments because of its antioxidant capabilities. It can be used during the heated water phase or the cool down phase.
Works Well With Other Ingredients
Dr. Chwalek prefers products with hydrating humectants like glycerin and other soothing ingredients like rose extract and niacinamide, which help calm skin irritation and counteract.
When combined with other nourishing substances like aloe vera and jojoba oil, witch hazel can help dry skin. As you can see, Vitamin C and witch hazel are a winning combo for enhancing your regular skincare routine.
Share it on Social Media: