Natural butter for skin and hair care is a big hit among consumers these days.
This is obviously because of the large list of benefits that these cosmetic butter offers!
You may have heard names like shea butter, cocoa butter, and their benefits but the world of cosmetic butter is much bigger than this.
So hold on really tight while we tell you all about these amazing organic butter and their numerous benefits for skin and hair!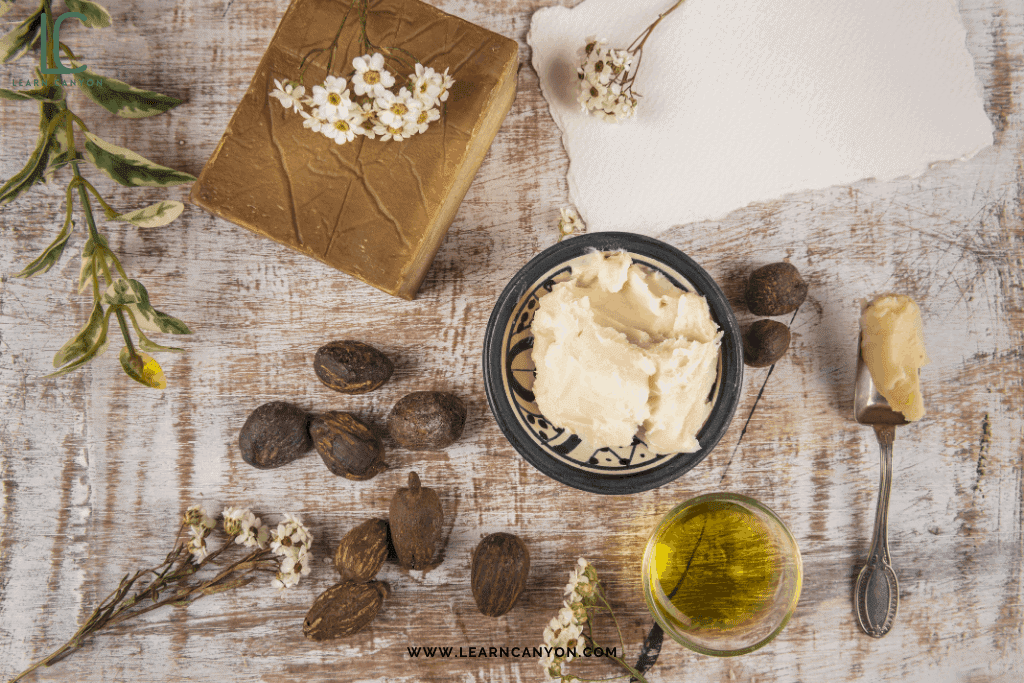 What is natural butter? 
Natural cosmetic butter is obtained from the extracts of numerous natural sources like seeds/kernels, beans, and nuts.
They are applied to the preferred area directly or after being blended into a cosmetic, spa, or massage formulations like lotions, creams, soaps, or lip balms, among other natural products.
Butters melt on coming in contact with body heat, thus adding additional softness and smoothness to skin and relieving dryness, roughness, breakage of hair. When these butter are added to natural product formulations and emulsions, they contribute viscosity, stability, and sometimes hardness.
Either you can directly buy the natural butter for skin and hair or blend them with other formulations. Let us now have also at what these cosmetic butter are made of. 
Composition of natural butter 
Some of the common constituents of natural butters are Essential Fatty Acids, Proteins, Minerals, Vitamins, Antioxidants, Phytosterols, Polyphenols, and Tocopherol.
It is not necessary that these are present in every butter, but yes, mostly they are the same!
For your convenience, we have listed some properties of these compounds present in the natural butters for skin and hair. 
Properties of Essential Fatty Acids: 
They produce and restore the natural oil barrier of the skin
They remove toxins and provide nourishment to the cells 
They prevent loss of water from the surface of the skin
They keep the skin hydrated, giving it a youthful appearance. 
They prevent premature signs of aging like wrinkles and lines by keeping the skin moisturized
They increase the softness and texture of hair and skin and make it silky smooth
They protect the skin against environmental harms and provide an antimicrobial barrier to it 
Properties of Proteins: 
Heal the wear and tear and generate new tissues and cells
Delay the onset of the premature signs of aging, such as wrinkles, lines, and thinning hair
Contribute to the body's immunity and to the development of muscles
Properties of Minerals: 
The minerals present in the natural butters for skin and hair protect them against the stresses and harsh effects of environmental elements, like dryness, frizziness, etc
They promote exfoliation
Minerals regulate oil production and moisture levels, especially for oily and sensitive skin and hair
They exhibit antioxidant properties
They tighten and smooth the skin for a youthful appearance
They help the growth of stronger, thicker, hydrated, and lustrous hair 
Properties of Vitamins:
They have anti-aging properties
They make the texture smooth and tone the skin
Vitamins minimize the appearance of wrinkles and dark spots
Tighten and strengthen skin's protective outer layer to lock in moisture and fight against irritants  
Protect against the harsh effects of UV rays of the sun, such as redness, swelling, and dryness, and in the long run, skin cancer
Nourish and thicken hair
Vitamins reduce inflammation of the scalp and keep it moisturized, thereby preventing hair loss
Properties of Antioxidants: 
Antioxidants boost the growth of new cells, thereby giving a rejuvenated look.
They boost circulation as well as improve cell metabolism, thereby calming inflammation
They tighten and tone the skin to prevent the appearance of wrinkles, blemishes, and heps in the healing of scars
Strengthen hair and maintain its health to prevent hair loss and thinning 
Properties of Phytosterols:
Phytosterols repair skin, maintain cell structure, and promote cell regeneration
They heal dermatitis, psoriasis, eczema, sunburn, scars, wind chapping, and wounds
Phytosterols exhibit photoprotective properties / reduce photosensitivity hence shielding from the UV rays of the sun 
They improve skin cell metabolism and increase collagen production for younger-looking skin 
They have anti-inflammatory properties
Phytosterols prevent itching and irritation of the skin and hair 
They boost overall immunity
Reduce hair loss and increase healthy hair growth
Properties of Polyphenols:
Polyphenols promote antioxidant activity
They increase hair growth
Polyphenols have photoprotective properties that help guard against UV rays of the sun, harmful bacteria, and harsh environmental conditions
Polyphenols help in the growth of new skin cells 
They prevent the breakdown and loss of collagen, thereby maintaining skin elasticity
They Increase moisture levels for healthier  skin and hair
Properties of Tocopherol:
Tocopherol protects the skin and hair against pollutants and harmful UV radiation
It tightens the skin for a firmer look that decreases signs of ageing
Tocopherol is a natural preservative in skin care cosmetics and formulations
Tocopherol exhibits anti-inflammatory activity, which again slows the signs of ageing
They even facilitate the faster healing of wounds
Now that you see that cosmetic butters or the natural butters for skin and hair care have so, so many benefits, let's go on to their types, so you know what and choose and how! 
Classification of cosmetic butter 
Cosmetic butters or natural butters in skincare are classified on the basis of their solidity, ranging from hard to soft. They have varied characteristics and benefits. 
Hard Cosmetic butters: 
Hard butters will not melt on coming in contact with skin. They are brittle in nature and have to be chopped for use, instead of scooping.
They are not properly absorbed by the skin since it is difficult to rub them in. they do not require preservatives when used in formulations.
 Butter names: Pure Prime Pressed or Crude Cocoa, Murumuru (refined), Babassu (refined), Ghana Shea (crude), Sal Seed, Cupuacu (ultra-refined). 
Semi-Hard butters:
 They are neither too soft nor too hard and melt on coming in contact with skin. They are slightly firm in texture. Butter names: Organic cocoa, Ghana Shea organic (crude), Ghana Shea organic (refined), Cocoa (deodorized and ultra-refined), Refined Kokum. 
Semi-soft butters:
 They are softer than semi-hard butters like organic cocoa but harder than butters like soy butter. Butter names: Ghana Shea (refined and deodorized).
Soft butters: 
They are extremely smooth and creamy in texture and melt easily on coming in contact with skin. They spread evenly and can be scooped out easily.
Butter names: Shea, Soy, Ultra-refined Shea, Cocoa, Ultra-refined Mango, Refined Tucuma, Ucuuba.
If all this makes you a wee bit curious about cosmetic butters and organic skincare and haircare, then look up our courses Certificate in Organic Skincare and Certificate in Organic Haircare.
These courses will take you step-by-step through various modules where you will learn everything about your skin and hair, what damages them, what is good for them, and how to formulate organic products professionally.
These courses are designed by professionals who have been in the skincare industry for a long time.
They will also provide one-on-one mentorship to you throughout the course. You can study anywhere, at any time you want, and even pave your way to start your business!  
Quality of natural butters for skin and hair care 
Okay, this is a bit technical side of the natural butters. The quality of cosmetic butters can be determined by few fixed factors:
Aroma
Consistency and Rate of Absorption
Method of Extraction
Natural Fatty Acids and Tocopherols
Sun Protection Factor (SPF).
Though organic butters are of the highest quality, even they can go rancid over long periods of time. 
Aroma: 
Generally, cosmetic butters are either odorless or have a mild, distinctive aroma that is faintly nutty, sweet, and/or represents the plant material from which they are extracted.
Consistency and Rate of Absorption: 
The consistency of various butters can be either hard or soft. The choice of either viscosity is a matter of personal choice. It is also determined by the purpose for which they are used. 
Method of Extraction:
The ideal butter for use in natural products is raw, organic, and unrefined butter. They will have been filtered to eliminate dust and small particles without compromising the oil's benefits.
Conversely, many cosmetic formulations require that the butters are odorless and do not interfere with the scents of the essential oils that are added.
For this purpose, refined butters would be suitable.
Natural Fatty Acids and Tocopherols: 
The natural fatty acids present in butters provide amazing nourishing properties. Since they help restore the skin cells, they make it look younger and healthier. Tocopherols are also natural preservatives.
As some butters are very rich to use on their own, they need to be diluted and added to other products which are lighter and odourless. 
Sun Protection Factor (SPF): 
Certain butters contain elements and compounds that naturally provide protection against the harmful UV radiation of the sun.
They reflect the UV rays, thereby preventing them from burning and penetrating the skin. It is very important for the skin because, in the long run, it can lead to skin cancer.
Though cosmetic butters are not used as replacements for sun protection lotions, they could be used together with other products like sunscreens.
Your guide to using natural butters for skin and hair care
Phew, it has been a long journey till here and finally, we are here to tell you how to choose your natural cosmetic butter according to your requirement.
Most common types of butter:
Nut butter: 
Nut butters are known to hydrate the skin, decrease blemishes and dark spots, and smoothen the skin.
They are ideal for any skin type and boost collagen to retain the elasticity of the skin. For hair, they condition and leave them looking lustrous. Butters to look for: Shea Butter 
Seed/kernel butter: 
Seed butters are especially good for oily skin since they moisturize without being greasy. They offer protection against UV rays of the sun and other harsh environmental elements like frizziness due to humidity.
Seed butters also soothe the skin affected by bites, rashes, stings, or blisters.
They also promote hair growth.
Butters to look for:
Mango
 Babassu – Refined
 Kokum
Ucuuba
Cupuacu
 Murumuru
 Sal Seed
 Tucuma.
Bean butter:
Bean butters show amazing results against dark spots, pigmentation, and discoloration of the skin. They nourish and moisturize the skin. Butters to look for: Cocoa, Soy.
So, Let us summarize with
 benefits of cosmetic butters in general: 
Skin rejuvenation
Growth of new skin cells
Hydrate the skin
Lock in the moisture
Boost collagen production for younger-looking skin
Boost elasticity
Protect against environmental elements
Protect against the UV radiations
Decrease dark spots, blemishes, and discoloration
Soothe rashes, bites, and stings
Promote hair growth
Provide shiny voluminous hair
Now that you all about cosmetic butters, go ahead and give them a try! You can look for organic products that have these butters as primary ingredients- your skin and hair will thank you for this!