It is a fact that skincare products that use Natural and organic ingredients are more than just a FAD or TREND, this statement is substantiated by many surveys.
According to one such survey…
Many skincare Facial Cream users now prefer natural ingredients and green credentials. According to a study, half of UK consumers who purchased beauty products in the previous year preferred items containing natural components.
In the United States, one-third of customers using facial skincare products purchased goods containing natural ingredients; this percentage rises to nearly 50% when younger users of ages 18-34 years are the only contributing subjects.
In China, 45% of female face skincare product users intend to utilise products derived from natural components or plant extracts to improve the health of their skin.
What is an organic ingredient?
Organic ingredients are those that are cultivated free of GMOs. Organic ingredients are the essential purchasing determinant for more than 77% of all personal care consumers.
A certified Organic label signifies that the components and techniques used in their manufacture have been tested and certified in accordance with the strict organic criteria of ECOCERT, COSMOS, and NATRUE.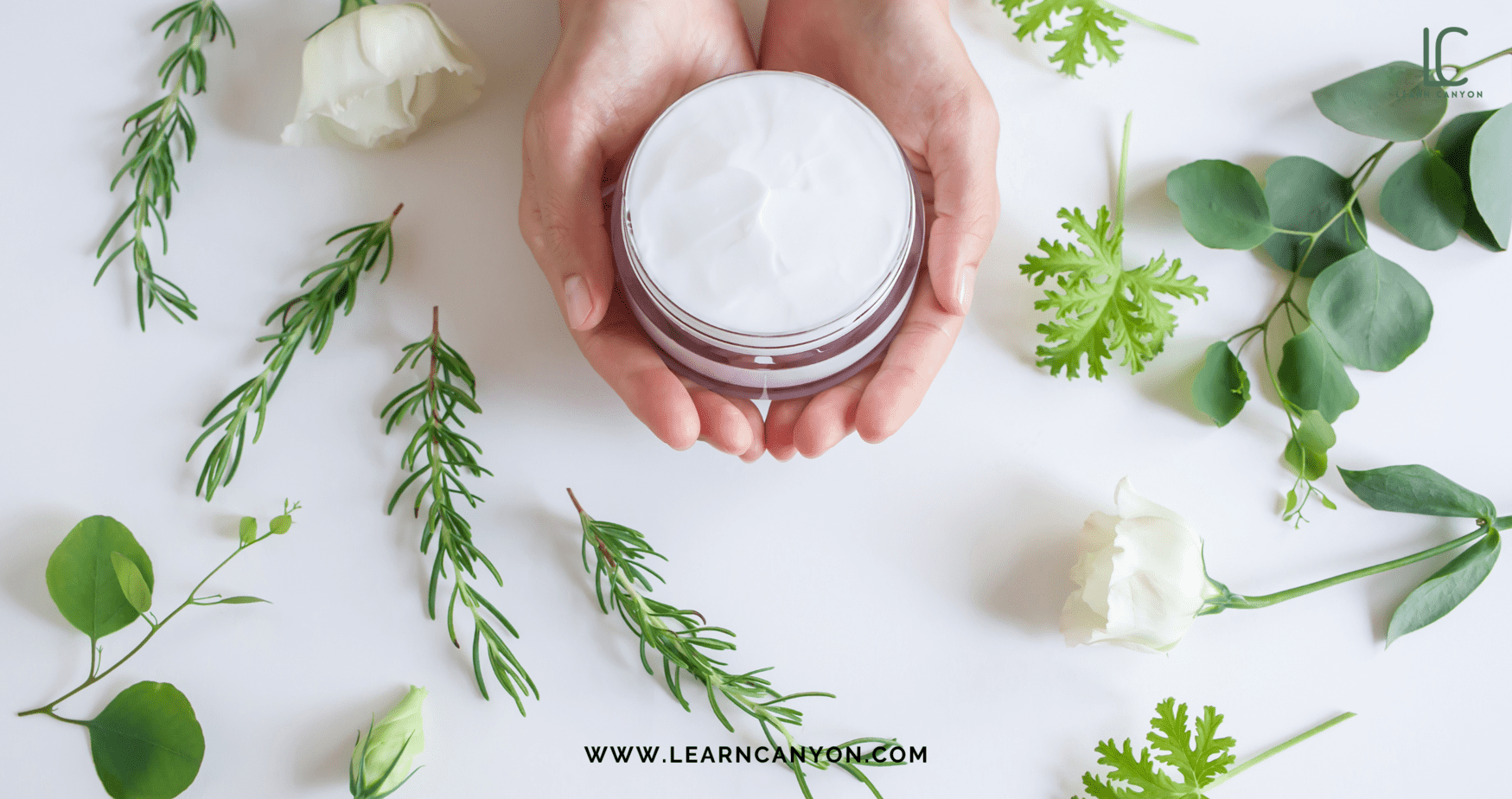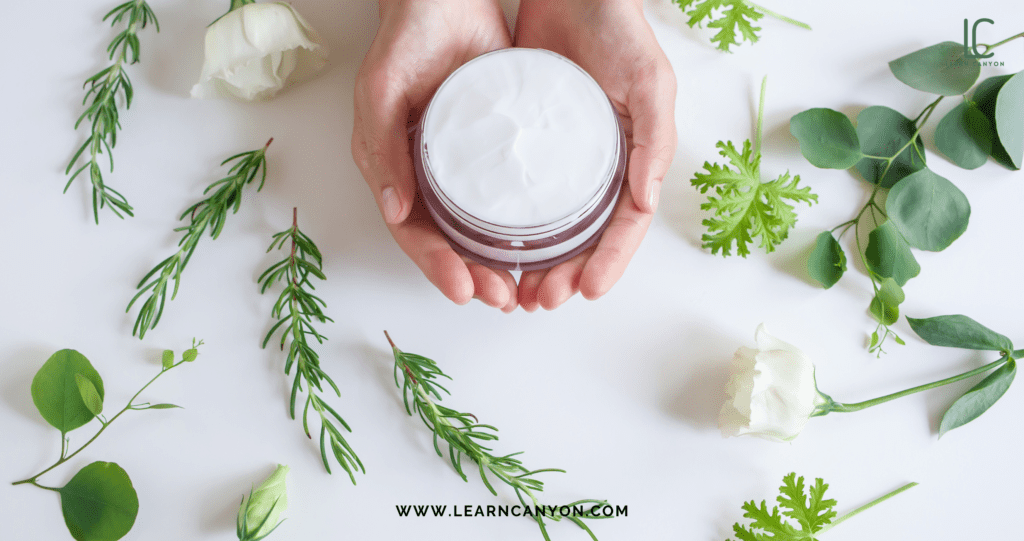 Let us understand the various certifications of ECOCERT, COSMOS And Natrue
ECOCERT is the pioneer when it comes to organic certification. Created as a standard for natural and organic cosmetics in 2002, it now has broad worldwide recognition with a presence in 80 countries. Its goal is to promote natural and organic substances, respect for the environment, and high ethical values.
COSMOS represents a step towards a single European organic standard initiated by the five main European organic and natural standard-setting organizations. The COSMOS-standard was approved in 2010. It aims to promote the use of products from organic agriculture, respect biodiversity, and use clean manufacturing processes that take account of human health and the environment.
NATRUE was founded in 2007 by European manufacturers of natural and organic cosmetics. Its mission is to safeguard and promote pure and authentic, natural skincare
In an age when we are becoming increasingly concerned about the health of our planet, principles such as sustainability, natural origin, safety, and transparency influence and drive people's choice of beauty products around the world.
Unique beauty products made from natural or identical natural ingredients are becoming essential to caring for our looks, our well-being, and the environment as more customers opt for healthier lifestyles.
Since today's topic is the best ingredients for facial Creams, let's start by understanding creams.
The cream is so widely used that it is almost redundant; in fact, creamy is frequently used to describe the texture or look of items or goods that cannot claim to be cream in cosmetics.
The term cream typically refers to a solid or semi-solid emulsion. Still, it can also refer to non-aqueous goods such as wax or solvent-based mascaras, liquid eyeshadows, and ointments. Creams and lotions are also included in the category of creams.
Hence, Cream can be classified based on the raw material used, which makes its base.
Creams are defined as semi-solid emulsions of oil and water. They are of many different types for scientific purposes; like
● Oil In Water
● Water In Oil
● Multiple emulsions
○ Oil in water in oil
○ Water in oil in water
● Nano emulsions
● Micro emulsions
But, generally speaking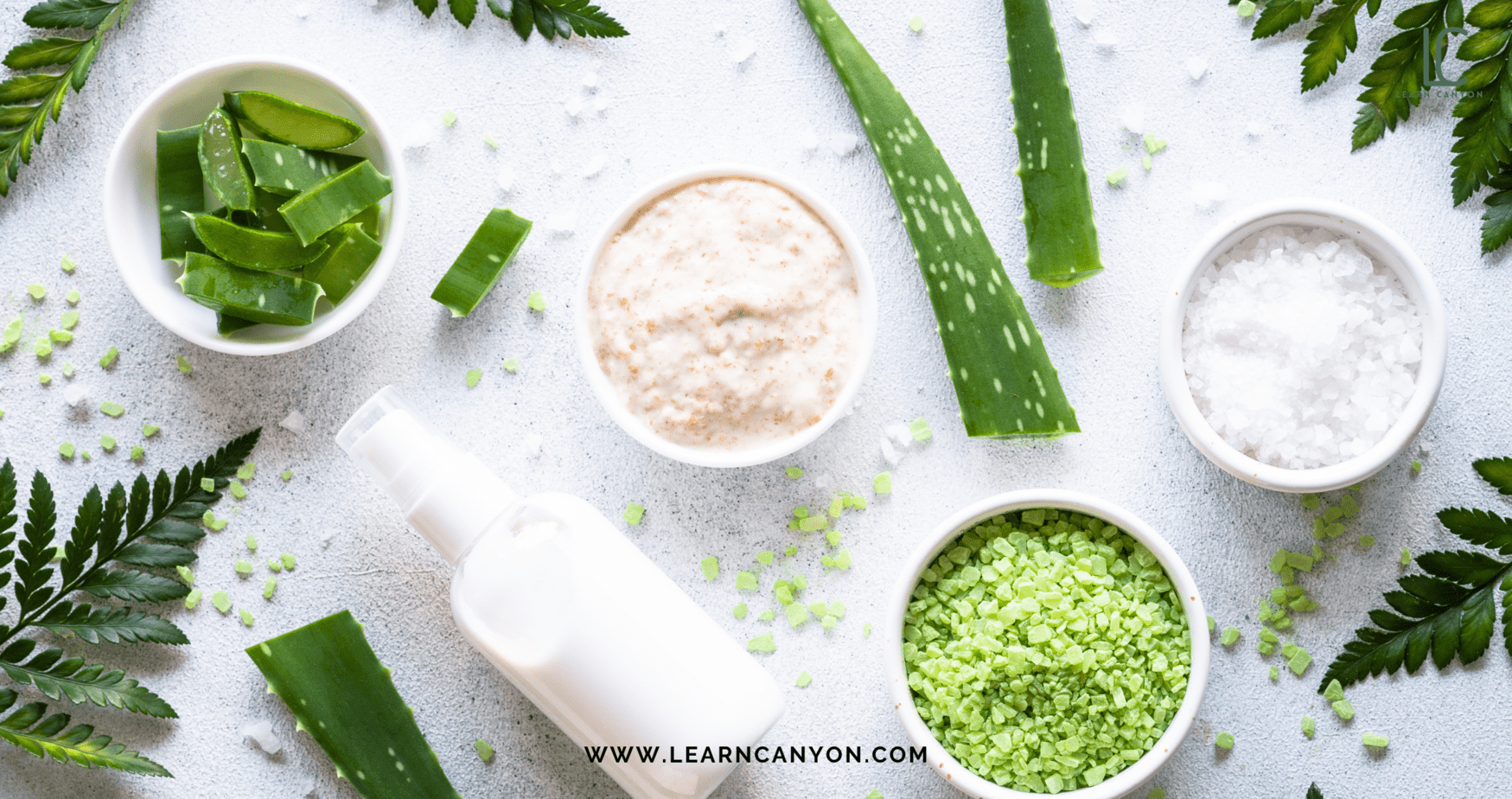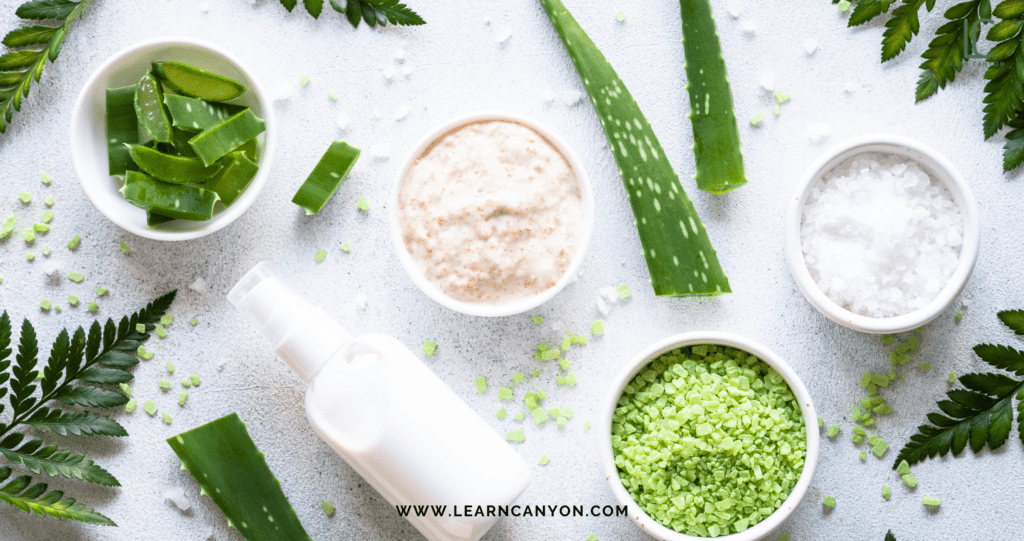 Creams are of the primary two categories:
Oil-in-water (O/W) creams are made up of tiny droplets of oil that are distributed in a continuous water phase,
Oil-in-water creams are more pleasant and cosmetically acceptable because they are less oily and can be removed with water.
And
Water-in-oil (W/O) creams are made up of small water droplets dispersed in a continuous oily phase.
Water-in-oil creams are more difficult to work with, but they are useful when we need to add hydrophobic active components into creams that will be released more readily from a water-in-oil cream than an oil-in-water cream.
Creams are typically made up of 50% oil and 50% water. They also contain heavy substances like waxes, lanolin, and shea butter. In addition, creams contain emollients such as fats and oils that soften skin and/or humectants, which hydrate the skin by attracting water from deeper layers.
Some creams also contain occlusive, heavy ingredients that form a film or barrier between the skin and the environment, preventing moisture from escaping.
The main functions of skin creams are moisturising, providing barrier functions, reducing wrinkles, cleansing, providing nutrition, etc. Creams are also helpful for rough spots such as the elbows and heels and for dry hands.
Creams are classified according to the functions they provide as
Anti-aging
Face moisturizers
Cleansing creams
Massage creams
 All purpose creams
and many others which perform specific actions like whitening, brightening, sunscreen, etc
whatever is the function of the cream, they are a form of an emulsion. They can either be thick or a little light. Oil or water can form its base but, they are semisolid, and hence water is in lesser percentages as compared to lotions.
Creams also contain other ingredients like emulsifiers, emollients, humectants, antioxidants, other actives, preservatives, and fragrances.
If you're like most of us, your skin isn't always one way. It's oilier at times, drier at others, and it most certainly varies with the seasons. Furthermore, you may be more interested in or concerned about purchasing "clean" skincare and cosmetics, which adds another wrinkle to the product-selection process.
When we create an organic cream, we must support the clean skincare trend, which is why we must avoid toxic substances such as parabens, phthalates, SLS, and formaldehyde, to mention a few.
Natural and organic are often synonymous to each other, but they are not the same. Natural products are not always superior or even distinguishable from laboratory-created counterparts.
You should also remember that the phrase "natural" is not regulated. Unfortunately, any cosmetic business can make this claim, so it's critical to thoroughly study labels and ingredient lists.
Natural goods, as a rule, should not contain any artificial components or smell. Natural is a well-known marketing term. Whereas organic means substances that satisfy the regulations as termed above.
To help you narrow down your options, we've identified eight of the most effective, scientifically tested, naturally occurring organic skincare ingredients.
Many of these are also synthesised, which is fine as long as they meet the criteria. Each ingredient's natural origin and how and why it's useful in skincare.
8 best ingredients that can be used in Facial Creams are listed below:
1. Algae extracts:
Algae is the key ingredient in luxury skin care formulations. All kinds of algae contain anti-inflammatory and antioxidant properties. There are many different algae extracts, the ones used in skincare in the most effective manner are given below.
The extract of Ahnfeltia concinna (red algae) is a tried-and-true substance that can cause a 128 percent moisture surge with just one application.
Spirulina contains chlorophyll, which has cleansing characteristics. It also helps your skin retain moisture, keeping it smooth and nourished.
Astaxanthin, a red microalgae extract, is a powerful substance. It is 150 times stronger than vitamin E and 6,000 times stronger than vitamin C, making it one of the world's most potent antioxidants. It aids in the improvement of skin suppleness and the appearance of fine lines and wrinkles.
Undaria pinnatifida protects the skin's natural stores of collagen and hyaluronic acid and helps retain moisture.
Gigartina skottsbergii is moisturising and plumps up wrinkles and fine lines.
Red, green, blue, and brown algae have significant skin-lightening qualities. Brown algae and green algae contain exceptionally high quantities of vitamin C, a powerful skin-brightening antioxidant.
Beta carotene found in red marine algae can help heal blemishes, including as blackheads, whiteheads, and cysts.
Chlorella, a green microalgae, is high in B vitamins, magnesium, and zinc, all of which aid in skin detoxification. It can also aid in the treatment of atopic dermatitis and eczema.
2. Willow Herb:
Willow herb, a wildflower, is a one-of-a-kind anti-microbial, anti-irritant, and natural antiseptic that has long been used to relieve common skin irritations such as rosacea and eczema.
One of the benefits of the small flower is its capacity to fight Propionibacterium acnes bacteria, the unpleasant germs that cause acne, making the natural component an excellent option for treating breakouts. Epilobium angustifolium is another name for willow herb.
Willow Bark Extract has been used to calm inflamed skin for generations. It is known to contain salicin, the precursor to salicylic acid. This versatile component is anti-inflammatory and antibacterial, and it is used to effectively clear pores and relieve acne and inflammation.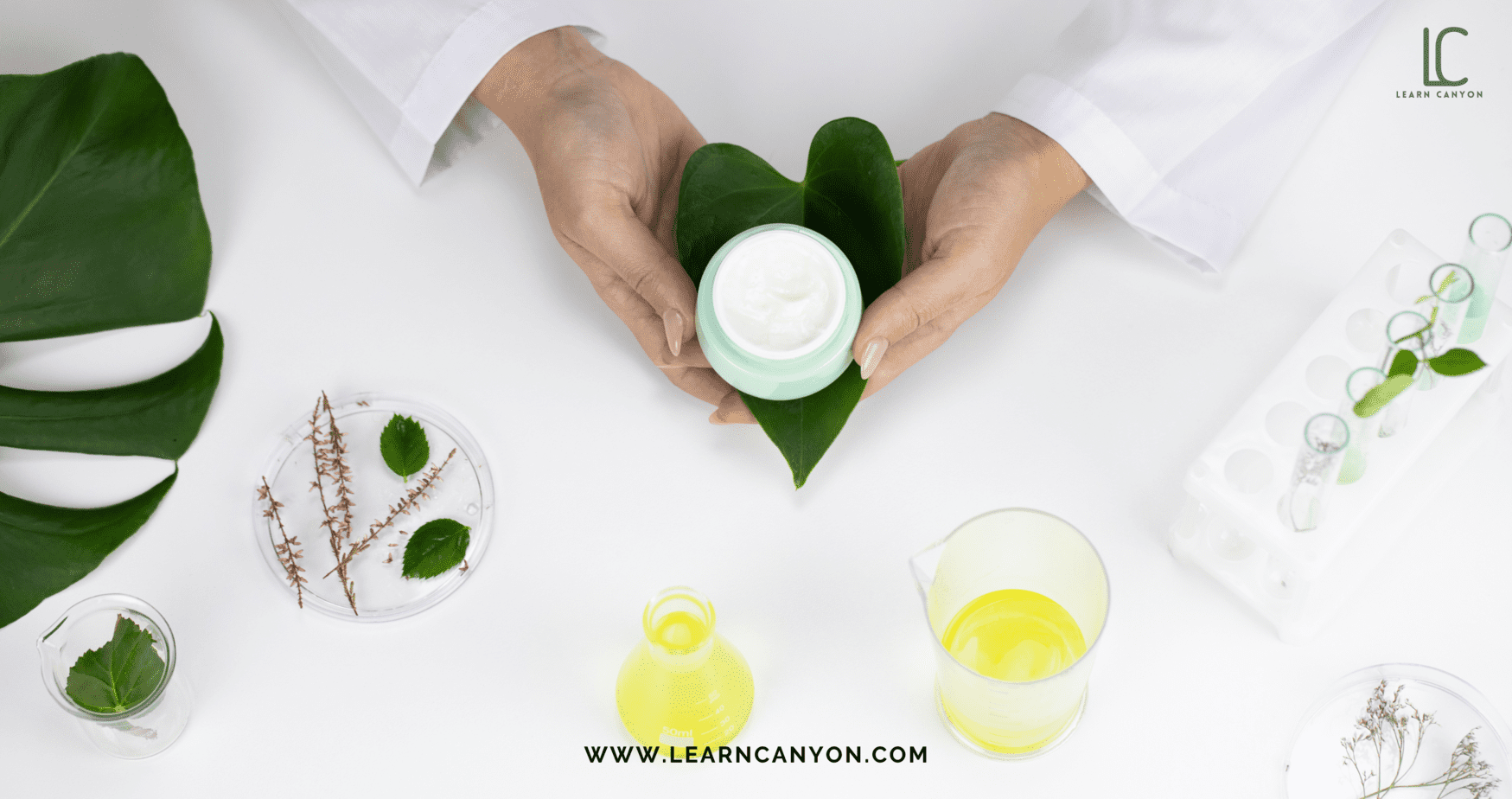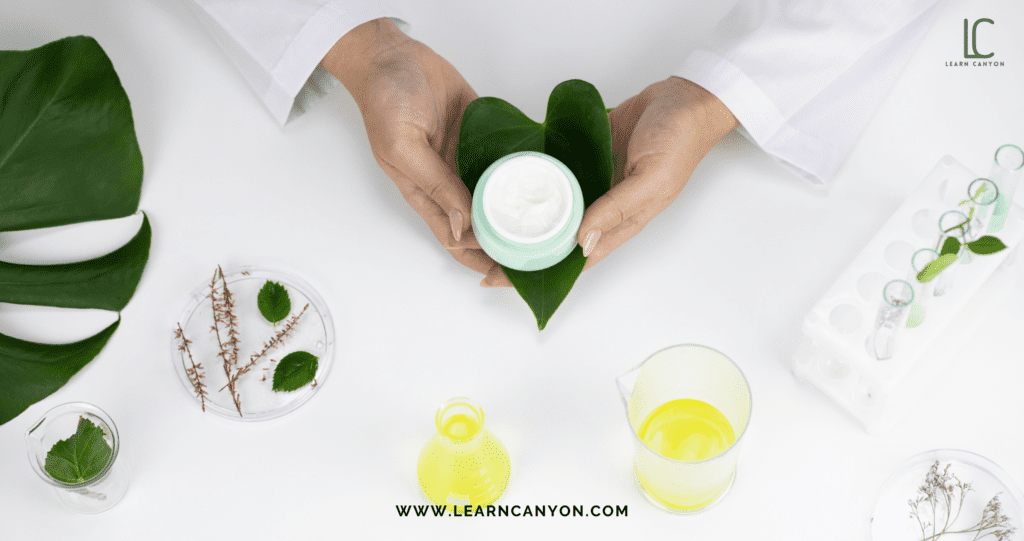 3. Beta Carotene
Red, orange, and yellow fruits and vegetables, such as carrots, sweet potatoes, and pumpkins, are high in beta carotene, a vitamin with numerous skin advantages.
Your body turns beta carotene into vitamin A, a vital component for wound healing, sun protection, and cell turnover.
Topical beta carotene has antioxidant properties and has been shown in studies to improve melasma discolouration.
Beta-carotene contains vitamin A, a powerful anti-aging and anti-acne substance required by both the upper and lower layers of the skin.
It promotes cell regeneration and collagen formation, as well as the reduction of fine lines and wrinkles, the improvement of skin texture, and the reduction of acne.
4. Kale extract:
Kale extract is abundant with Vitamins C, E, and K. These vitamins work together to make your skin look younger and healthier.
Vitamin C is an antioxidant that improves the appearance of your skin by whitening the complexion (goodbye, dark spots!) and erasing fine wrinkles and free radicals.
Vitamin E, an antioxidant, moisturises and protects your skin from the sun, while vitamin K heals scars and dark spots.
Kale's phytonutrients make it an excellent skin-care ingredient since they protect your skin from free radicals, heal UV damage, and keep it nourished and firm.
5. Mango Butter
Also knowm as Mangifera Indica (Mango) Seed Butter.
It is a conditioner, emollient, and emulsifier found in cosmetic products.
Mango Butter is a natural, renewable emollient derived from the fruit of the Mangifera Indica tree, which is abundant in C18 fatty acids and triglycerides.
It contains a little amount of tocopherol to prevent rancidity, stabilises emulsions and softens the skin, has less drag and a longer shelf life than shea butter, and comes in the shape of a soft solid that melts at room temperature.
Skin care, massage creams, make-up, lip care, sun care, hair conditioners, shampoos, and foot care products can all benefit from it.
6. Kokum Butter
Kokum butter is created by extracting kokum oil from the seeds and blending it with vegetable butter. Kokum butter has a light grey or yellowish colour and is firmer and crumblier than other butters.
When it comes into contact with your skin, it melts.
This vitamin and nutrient-rich moisturiser is light and non-greasy. Kokum butter, the most stable skincare butter, is one of the most emollient butters, rich in healing, and has exceptionally moisturising properties that encourage skin regeneration.
Kokum Butter hydrates dry skin while also being deeply nourishing and softening. It immediately melts into the skin and absorbs without leaving any oily residue. It has skin regeneration properties too.
Read the Benefits, Mechanisms of action of Kokum Butter
7. Ceramides:
Think of the cells in your skin as bricks, and the ceramides are long-chain lipids that serve as the mortar to hold the cells together and protect them from external irritants. It's necessary to use additional Ceramide to keep skin supple and smooth because the issue emerges when these levels decline with age.
Even in their regularly used synthetic and phytoceramide forms, which are generated from plants, the ceramides in cosmetics are practically skin identical—that is, they are skin identical to the genuine skin cells.
They are quite effective, according to the science, which is pretty apparent. Using ceramides has been proven in several Japanese research to enhance skin moisture content by more than 100%.
Ceramides are crucial for constructing and preserving the skin's ability to serve as a water-permeable barrier.
8. Argan oil:
This plant oil, which is derived from the kernels of the argan tree, has numerous advantages for all skin types because it contains Vitamin E, ferulic acid, carotenoids, and a balanced ratio of oleic and linoleic acid, making it lighter than some other natural oils.
It also contains ferulic acid, which is a fatty acid. Argan oil is a powerful anti-inflammatory and antioxidant that moisturises skin while assisting in the prevention and treatment of sun damage symptoms.
Additionally, it works effectively to lessen stretch marks, scarring, and the visibility of wrinkles and fine lines.
Argan oil softens the skin and helps to reduce wrinkles. It has also been demonstrated to improve skin suppleness and tightness.
It works well on normal to oily skin that is prone to acne. We advise using a thicker oil, such coconut oil, if your skin is extremely dry.
So there you have it – the best 8 key ingredients for the best facial creams that can help you in your skincare routine.
While this might seem like a lot to remember,
Don't worry! We've got your back.
We're here to help you explore high-performance skincare ingredients that have numerous skin benefits and are use in effective organic products that are made with all of these important elements.