Lip balm is a semi-solid product of oil & wax that is used on the lips to moisturize and alleviate chapped or dry lips, and cold sores.
Lip balm's main function is to create an occlusive layer on the lip surface that seals moisture in the lips and protects them from the harsh effect of sun rays and the environment.
Dry air, chilly temperatures, and wind all take moisture away from the body, causing the skin to dry out. Lips are especially susceptible because of their thin and sensitive skin, and they are frequently the first to show indications of dryness.
Waxes and jelly are occlusive materials that prevent moisture loss and keep lips comfortable, while flavorings, colorants, sunscreens, and other medications can provide extra, specific benefits.
Lip balm can be applied with a fingertip to the lips, or it can be applied with a thin, clean makeup brush.
When conventional remedies for cracked lips have failed, this earwax cure has proven to be effective.
It's one of those therapies that's bound to be ridiculed, yet I've personally witnessed its effectiveness.
Lip balms can be prepared in a variety of shapes and sizes.
Lip balms are classified according to the ingredients they contain or for which it is used.
Read the Article on How to make a simple yet effective eye gel?
1. Lip balm with UV sunscreens:
This sort of lip balm can be used all year, but especially in the summer or when visiting a location with high solar activity.
2. Lip balm that nourishes the lips: 
This type is best for the winter or in cold places.
3. Lip balm that moisturizes:
If you use this lip balm in the cold, your lips may not feel comfortable because the balm gets absorbed quickly. This variety is best used in the summer.
4. Lip balm with medicinal properties:
It should be used with caution. It has antibacterial and softening properties.
Generally beeswax and natural candelilla and carnauba waxes are used to make lip balms. Natural edible oils, camphor, cetyl alcohol, and lanolin are other common constituents of herbal lip balm.
Natural colors, flavor, and aroma are used as other ingredients.
Large scale lip balm manufacturing technology covers the following stages:
The quality of the raw material is examined i.e. cosmetic products must comply with the strict safety standards
The ingredients are treated, melted, then blended together,( this stage involves special equipment and facilities)
A vacuum is used to treat this combination (this is the stage when the bubbles are removed from the lipstick)
Crystallization occurs in the combination
The substance is melted.
The substance is molded (it is cut into pieces which are shaped as required or made into sticks by adding them on molds when hot)
Why formulate a Lip Balm?
Sticks of lip balm are a wonderful alternative when you need a little shiny boost. They're lightweight and portable, allowing you to apply moisture on the go. Because they're so loaded with lip-soothing naturals, they're extremely effective.
Lip balms don't contain any water; therefore they provide lubrication directly to your lips. They also don't require preservatives due to their formulation.
This fact will be significant to you if you are looking for lip balms that are free of harmful substances. Today we will be discussing lip balms that are preserved with essential oils and/or vitamin E.
Lip balm has a number of advantages in addition to being lightweight and convenient to use.
You can use less of this product to have better results obtained if you use cream, lotion or petroleum jelly.
Lips have thinner skin than the rest of your body, allowing for faster recovery. It can mend faster because of the added moisture.
SPF Protection: SPF protection in lip balms protects your lips from UV damage, keeping them healthy and youthful-looking.
When can you use a lip balm?
When your lips are frequently subjected to extreme weather and chemically influenced lip products, resulting in lips that are dull, chapped, and unhealthy in appearance. Then you can try this lip balm.
How to use lip balm?
Remove the container's cap.
Apply a pea-sized amount to your finger from the container.
Apply the product on the bottom lip.
Apply to the top lip in the third step.
Make a rubbing motion with your upper and lower lips. This aids in spreading the balm evenly around your lips.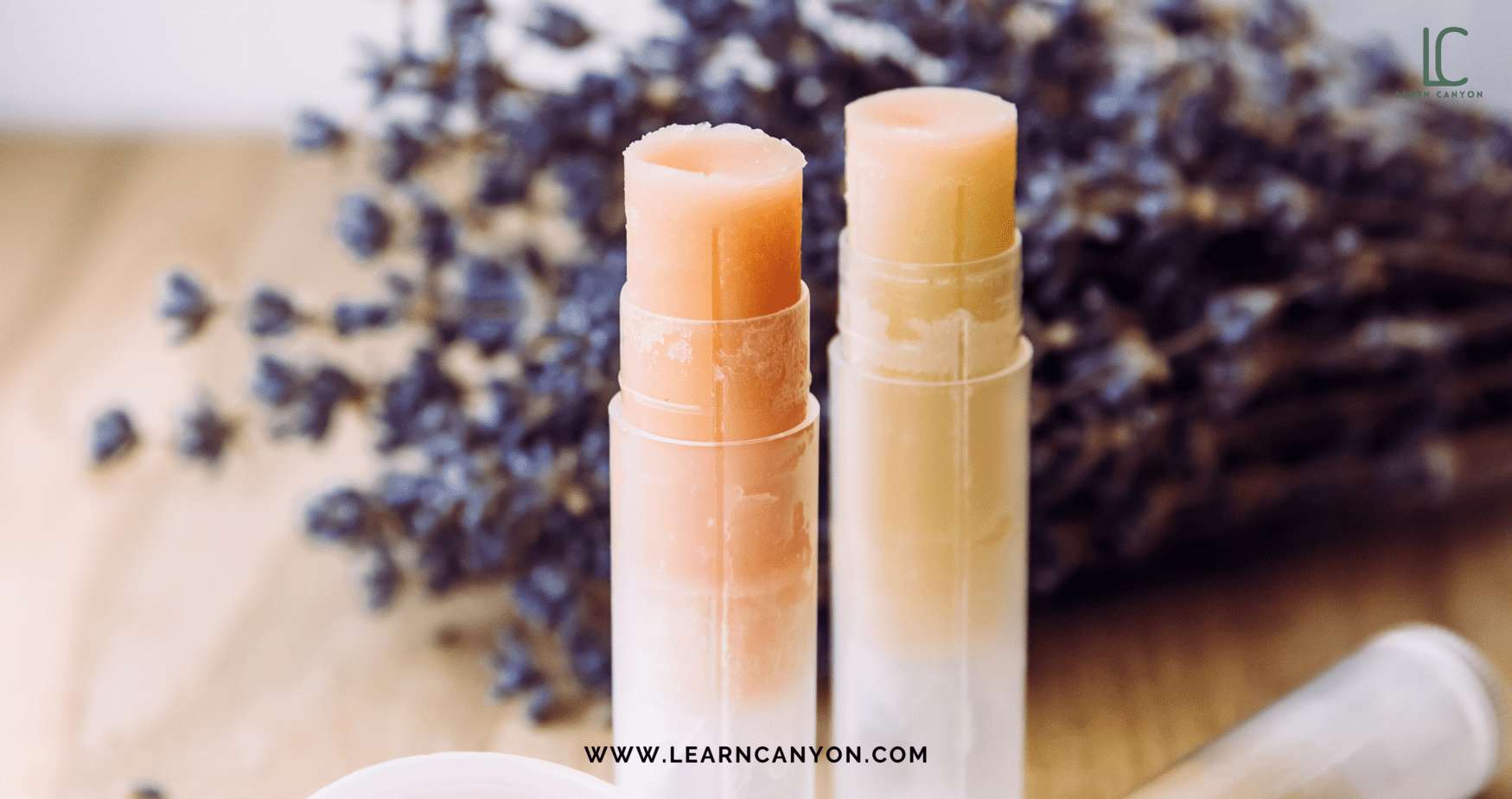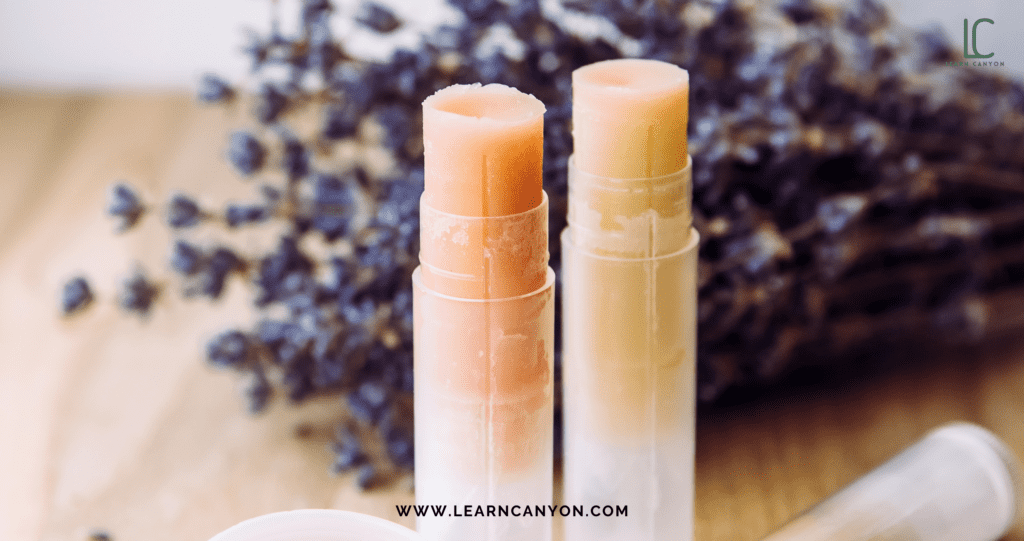 What are the ingredients required to make a simple Lip balm?
Lip balms are made using beeswax, natural candelilla, and carnauba waxes. Other common ingredients in a lip balm include natural edible oils, camphor, cetyl alcohol, and lanolin. Other additives include natural colors, flavors, and aromas.
Let's try Lip Care Balm
| | | | | |
| --- | --- | --- | --- | --- |
| Sr.No | Ingredients | Percentage(%) | Weight in grams | Purpose in short. |
| | Phase A | | | |
| 1. | Beeswax | 28% | 14g | Thickener |
| 2 | Lanolin | 0.5 % | 0.25g | Emollient |
| 3 | Sweet almond oil | 70.5% | 35.25g | Emollient |
| | Phase B | | | |
| 4 | Vitamin E | 0.5% | 0.25g | Antioxidant |
| 5 | Essential oil (fruity. Chocolate, vanilla of your choice) | 0.5% | 0.25g | Aroma |
Beeswax:
Beeswax is particularly a base which when combined with different oils make the product usable(semisolid).
Beeswax is a moisturising component to use on dry, chapped lips because of this. Beeswax for lips is becoming increasingly popular due to its ability to preserve the delicate skin of your lips from damaging UV rays.
 Beeswax has the power to protect your lips from all of the damage that sun exposure can do, much like sunscreen does for your skin. Beeswax for lip balm is a great ingredient because it possesses antimicrobial properties that perform wonders in protecting the lips.
 If you're looking for a natural lip product that's free of parabens, alcohol, and other chemicals, beeswax is a very good option. Beeswax has a delicious flavor and scent, which is one of its main advantages. 
Because of its flavor and smell, natural beeswax will make wearing it on your lips a pleasurable experience. Beeswax for lips should therefore be at the top of your priority list if you're seeking a natural lip balm.
Lanolin:
In lip balms, lanolin is a popular ingredient. It has a waxy feel that prevents further chapping by covering your scaly lips.
It also absorbs moisture from the air and aids in the rejuvenation of your lips' tissues.
Lanolin is traditionally used to improve cracked and sore lips during winter.
Sweet almond oil:
Sweet almond oil Improves the condition and color of the lips. Due to its emollient properties, almond oil has the potential to improve the texture of the lip surface.
Treats dry lips. Almond oil has been used for centuries to treat dry lip conditions, and moisturize. The oil's fatty acid content helps dissolve excess oil on the skin, while the retinoids in the oil may reduce the appearance of greasiness and improve cell turnover.
Sweet Almond oil helps in spreading the balm on your lips evenly.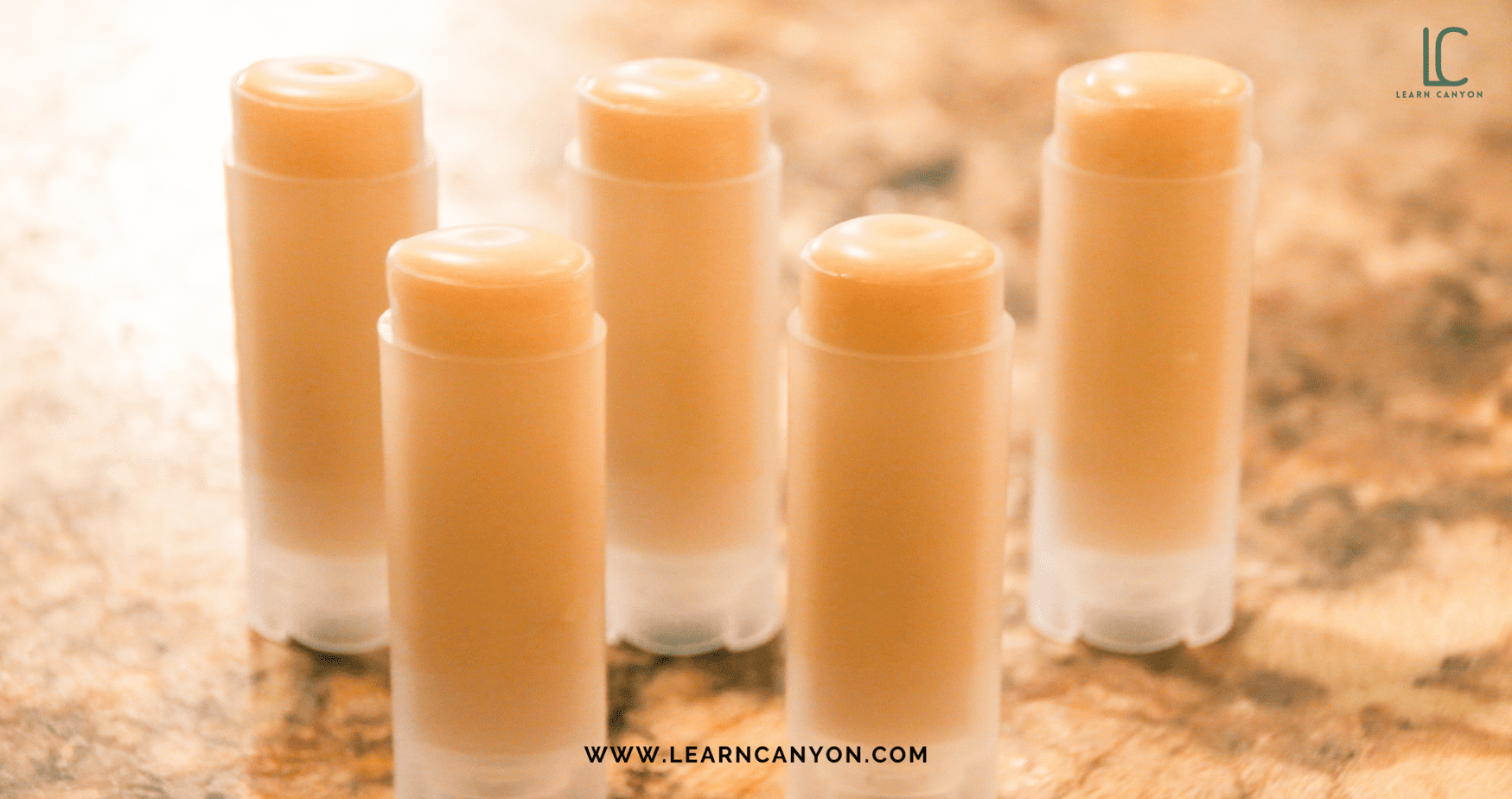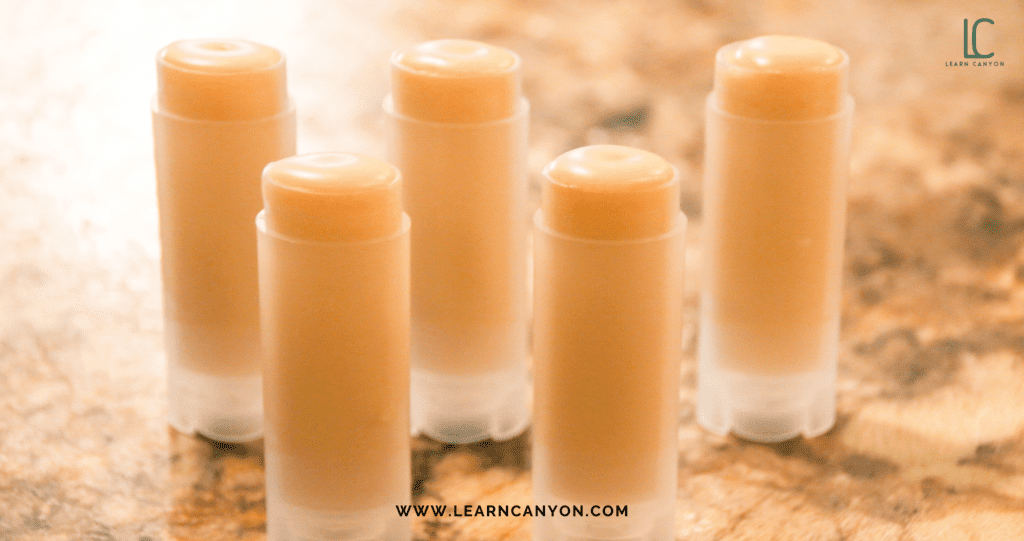 Essential oil:
Acts as flavouring agent in the formulation and makes the product more acceptable. Essential oil (fruity. Chocolate, vanilla of your choice) Vanilla/chocolate/fruity essential oil can be used in lip balm to protect lips from dryness and peeling.
Vanilla is recognized for its luxurious smell, but it can also be used to protect lips from dryness. Vanilla is a treasure trove of health; it replenishes natural lip moisture and makes lips appear plump and nourished.
Lip balms, chapsticks, and lip glosses frequently contain vanilla essential oil. Furthermore, it's employed in lipsticks of many textures, including bullet, liquid, and mousse lipsticks. Because of its uplifting and calming scent.
Any fruit essential oil can also be used, which helps in preserving the product and protects consumers.
Vitamin E
Vitamin E has a number of advantages for the lips, they are:
Vitamin E is an excellent moisturizer that restores skin hydration and keeps it soft and supple. It's great for chapped or cracked lips.
Vitamin E improves blood circulation and creates new skin cells, making your lips smoother, according to research.
Vitamin E's regenerative properties can help to protect the lips by revitalizing skin cells and bolstering the body's natural defense mechanism.
Vitamin E's anti-inflammatory qualities aid to repair and soothe damaged lips.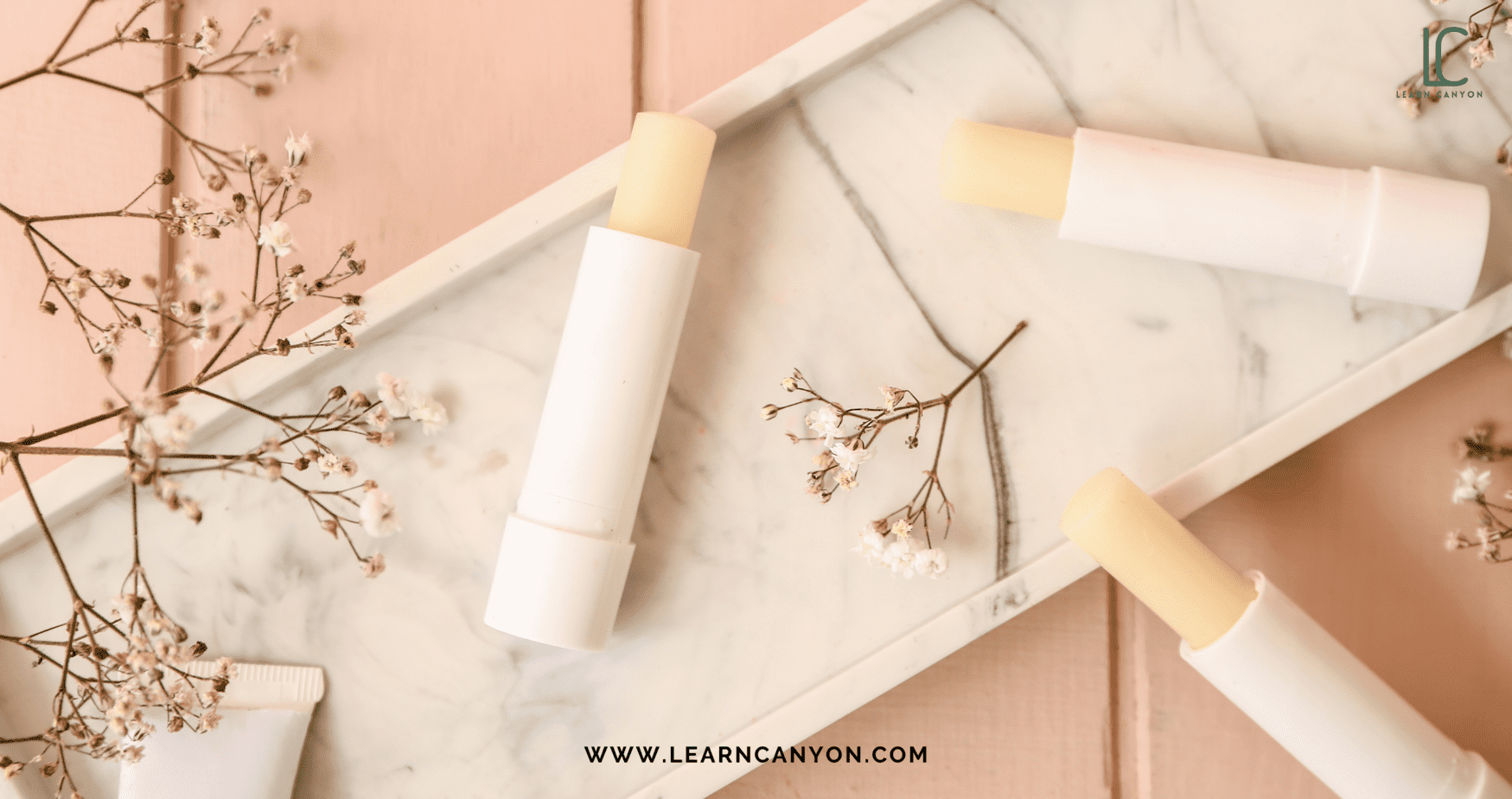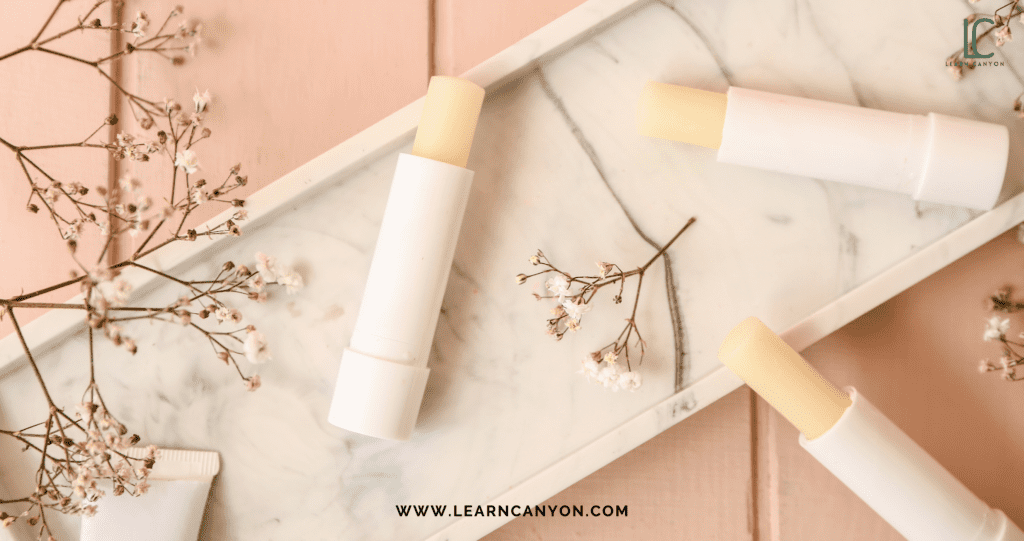 What is the correct procedure of preparation?
Calculate the ingredients as per batch size.
Collect all the ingredients required in the formulation.
Using an appropriate weighing scale accurately weighs the ingredients separately.
Now add the ingredients of phase A in a stainless steel kettle.
Heat kettle on a water bath with gradual stirring using a spatula.
At 600C stop heating.
Mix them together with constant stirring.
At 450C add phase B
·Fill in a wide-mouth glass jar with a tight lid.
Store in a cool, dry place.
 Frequently Asked Questions
1. What is Lip Balm and Why should we use it?
Lip balm is a soft waxy product that you apply to your lips to penetrate them and relieve the pain of cracked or dry lips.
Because your lips have delicate skin, they are more prone to dryness than other parts of your body. This waxy coating protects your lips against dry air, wind, and, in particular, frigid temperatures.
Lip balms are frequently used by both men and women to treat chapped lips throughout the winter. As previously stated, An excellent lip balm will help to reduce dryness while also giving your lips a soft, glossy appearance.
 A terrible one, on the other hand, will not alleviate your problems and will make your lips look greasy. That's why, in the winter and throughout the year, finding the correct lip balm is crucial.
2. What are tinted Lip Balms?
Tinted lip balm adds a hint of color to your lips while also hydrating, moisturizing, and occasionally delivering additional skincare advantages such as UV protection and anti-aging characteristics
 Lip balm with a tint might be an alternative to lipstick or plain lip balm. The tint of tinted lip balm may offer a subtle flash of color to your lips, suitable for a day look or a night out. 
Begin by selecting a tinted lip balm with an SPF of 15 and a list of the purest and most useful botanical ingredients.
3. Can lip balms applied in place of lipsticks?
Lip balms aren't just for looking good; they're a protective barrier, leaving your lips nourished and moisturized. 
During the winter, your lips can lose their natural moisture and oils, resulting in a chapped pout that not only looks bad but can also be unpleasant.
 Lip balm is one of the few lip care products that can rapidly moisturize and repair your lips.
4. Should I Use Lip Balm Every Day?
Lip balm should only be used a few times a day. I suggest that you apply it in the following situations, 
When you first get out of bed in the morning,
After every meal or beverage, When it's time for you to go to bed for the night.
5. Can I use flower EO instead of any fruity EO?
Yes, you can use but I personally suggest that in lip care products you should use flavors and not perfumes or fragrances.
There are many essential oils for a lip balm that may be used for a variety of objectives and effects, such as lightening dark lips with orange or lemon, supple lips with strawberry, and so on.
 Each essential oil has a unique set of qualities that can be used to treat a variety of ailments