How frequently do we mention our under-eye bags, puffiness, or dark circles while we're talking about our skin-care routine with our friends and family?
Know that you're not alone if you stand in front of the mirror every morning and look at your panda eyes, regretting all the times you skipped out on your 8-hour sleep and drank endless cups of coffee.
We spend a lot of money and time on our skin and hair, yet we often overlook one of the most crucial and noticeable features of our faces: our eyes. – eye gel
Whether we like it or not, the earliest signs of ageing emerge near our eyes, and if we ignore them, it becomes exceedingly difficult to maintain them once the area has been impacted.
The skin surrounding your eyes is extremely sensitive and thin, which is why we age more quickly there.
The skin around our eyes is exceedingly thin and sensitive in comparison to the rest of our bodies. As a result, an under-eye cream is an essential and much-needed component of our skin-care routine. You no longer need to visit a salon for your under-eye treatments. You can easily make your own under-eye creams at home.
The crucial ingredient here is gelatin or an ingredient which is collagen rich, which will help hold all of the other ingredients together. Collagen aids in the suppleness of your skin.
On the contrary, if you enter any beauty store looking for a new eye cream, you'll be confronted with a bewildering selection of alternatives. There's a lot to think about when it comes to brands, ingredients, ostensible or perceived benefits — and potential negatives like cost.
It may appear like eye creams costing a few hundred dollars are a sure thing, but if there's one thing we know about eye cream, it's that the holy grail of answers is yet to arrive. Furthermore, the science behind disappearing circles and wrinkles isn't fully developed.
However, you might not have to pick between beauty and money. If you decide to take care of the dark circles and puffy under-eye bags by making your own product.
Dark circles and swollen eyes can be tough to get rid of, so why not try making some effective all-natural under eye solutions yourself. You can learn how to develop them, by following these instructions…
Alternatively if you are interested in designing your own natural cosmetics and understanding the science behind them you can join one of the following courses from LEARN CANYON….
Instead of using harsh chemicals around your eyes, use your own natural eye gel to heal your skin.
You can find a number of DIY's on the net which will tell you about kitchen ingredients, these can be good and effective but they cannot be stored longer and if you intend to go commercial these are not a solution.
Many times, experimenting with homemade cosmetics may seem daunting, but if you want to know exactly what you're putting on your skin, making your own can be a great option.
Also, it is also incredibly customizable because you're doing it yourself. As an added incentive, you're reducing the quantity of waste you generate!
For sensitive skin types, this eye gel can also be used as a face serum. The appearance of puffiness and dark circles around the eyes might reveal a lot about our health.
It could indicate that you don't get enough sleep, have allergies, or are worried.
Instead of applying harsh chemicals around your eyes, nourish your skin with our refreshing and cooling all-natural eye gel.
Formulation:
Phase A
Rose water: 30%
Distilled Water: upto 100
Caffeine: 0.5%
Allantoin: 0.5%
Dermofeel pa3: 0.2%
Phase AA
Xanthan Gum: 0.7%
Glycerine: 4%
Hyaluronic acid: 0.5%
Phase B:
Vitamin E: 0.5%
Preservative of your choice: 1%
Symbio solv xc: 2.5 %
Bakuchiol: 0.1%
Phase C:
Sea Buckthorn oil: 1%
Coenzyme q10: 0.5%
This eye gel formulation is meant to not only reduce the under eye dark circles but also hydrate and rejuvenate the skin so that the collagen levels are improved which help in tightening the skin and improve its elasticity. This results in reduction of the laugh lines and wrinkles.
Let us now understand the importance of each ingredient.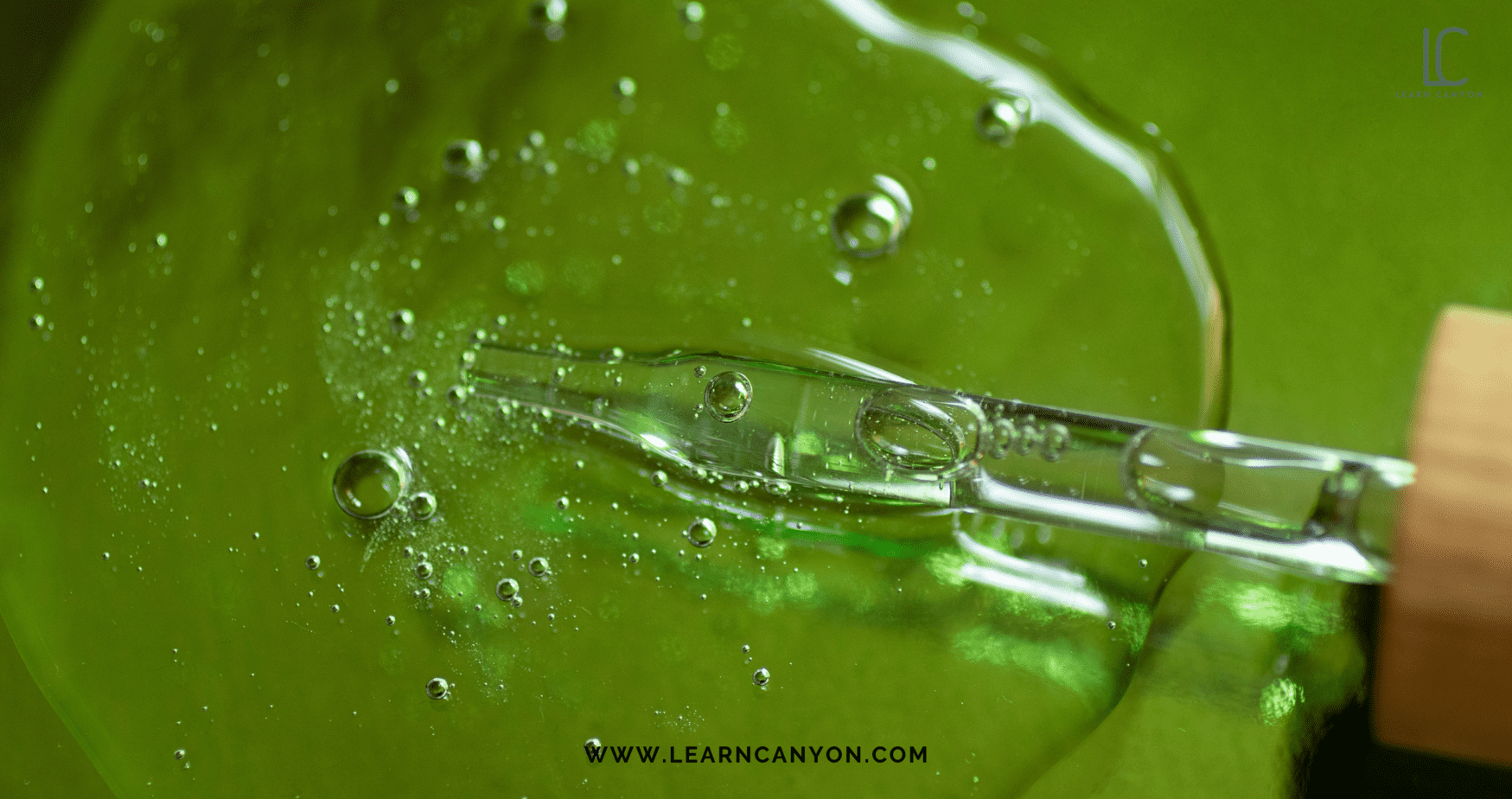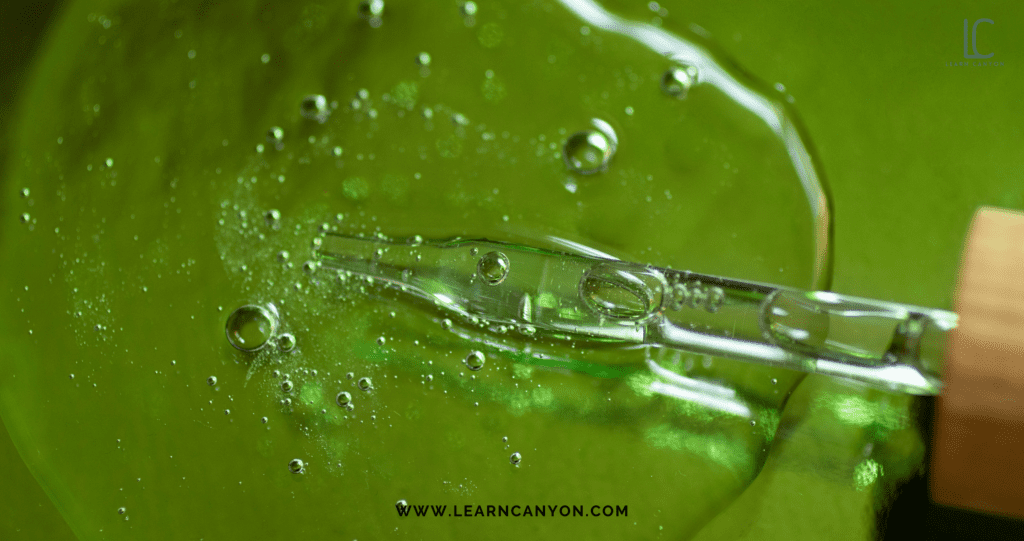 Importance of Eye Gel ingredients:
Rose water:
Rose water is anti-inflammatory, moisturising, and relaxing, and it has numerous skin advantages. Its astringent and antibacterial characteristics make it suitable for all skin types. The rosewater will separate from the oils as it is stored, so give the bottle a good shake before using to blend them.
Want to know more about Rose Water: Skin Soothing Brightening 101
Distilled Water:
It acts a major solvent for the water-soluble components of the formulation. We only use water that is free of toxins,
pollutants and microbes in the formulation of cosmetics and personal care
products. We all know by now that distilled water has exceptional purity and
has had all impurities removed from it.
Caffeine:
The addition of caffeine is done to help de-puff and brighten the appearance of dark circles under the eyes and to brighten the skin in general by effective depigmentation.
Allantoin:
Allantoin is a miracle ingredient for sensitive skin that is sourced from plants or microorganisms. It has the chemical formula C4H6N4O3 and is a 5-ureido hydantoin of glyoxyldiureide. Allantoin contains calming, hydrating, and anti-inflammatory properties.
It is moisturising, exfoliating, soothing, hydrating, wound healing, has cell proliferation, and anti-aging qualities.
It is a common ingredient for its anti-aging properties in the eye gel formulation.
Dermofeel pa3:
It is a natural chelating agent that can be used instead of EDTA. When used in the formulation it has a synergistic effect of the antioxidants.
Chelating agents are substances that bind with metal ions that may be present in the water (as water hardness) and are essential for formulation stability and efficacy.
Chelation is a method of stabilising metal ions by preventing them from interacting chemically with other compounds of the formulation ingredients.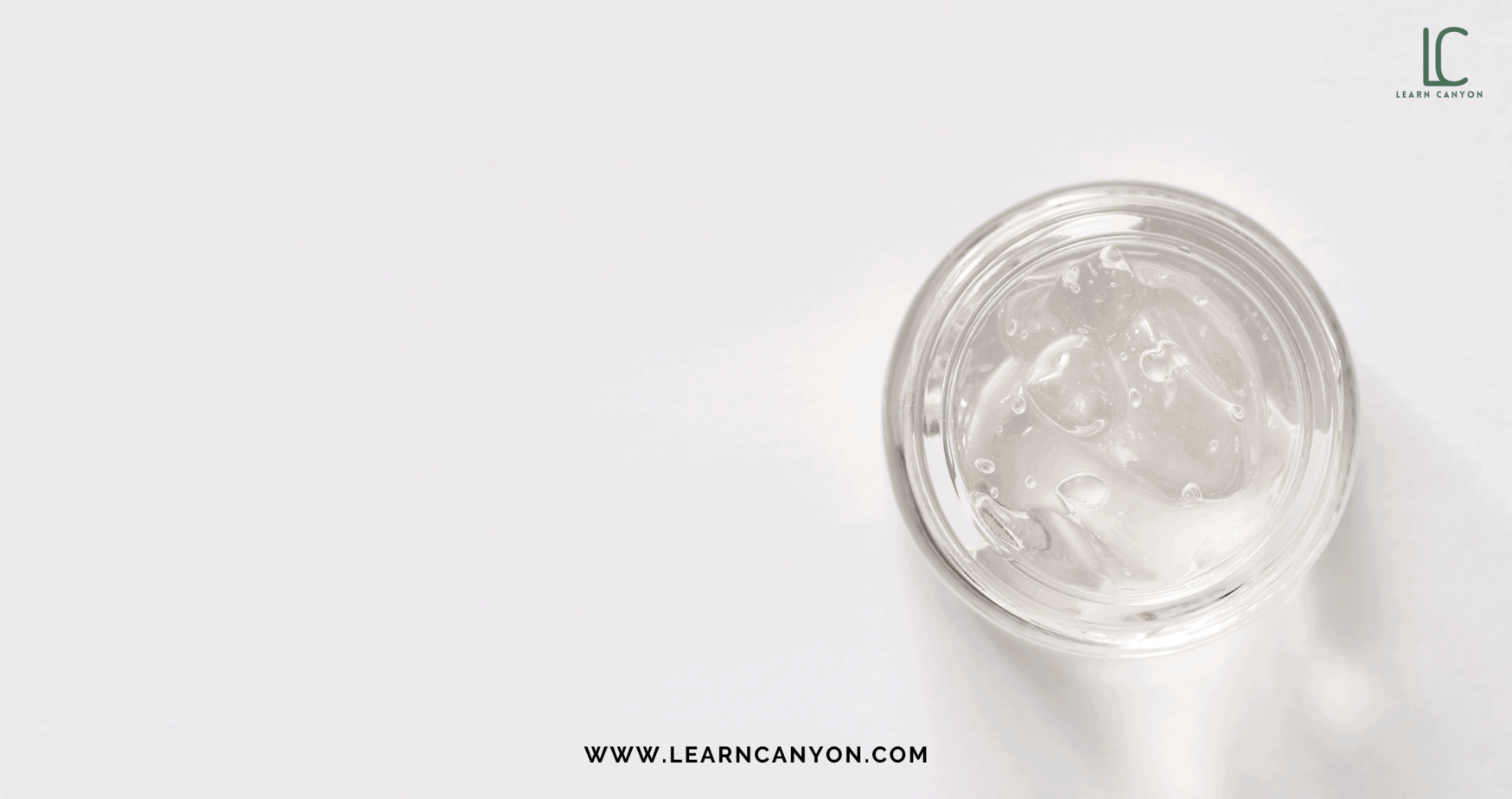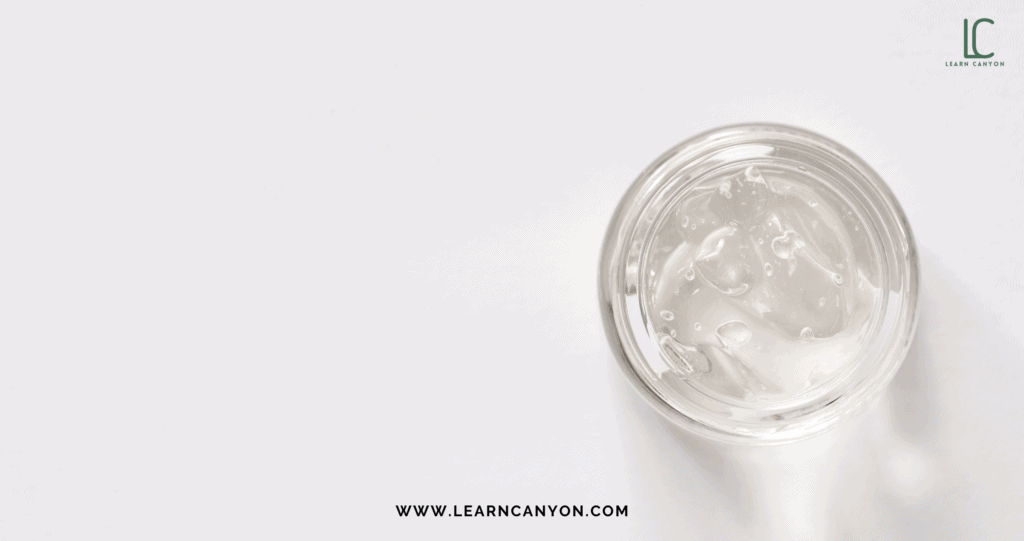 Xanthan Gum:
Xanthan gum is used as a natural thickening agent. It helps in the formation of the gel and improves the consistency of the products. It has been shown to be particularly effective at moisturising the skin.
It has the ability to produce a textured result that is smooth and balanced.
Glycerine:
Glycerin is a humectant, which means it attracts water to the skin's surface from both the deeper layers and the atmosphere. Glycerin aids in the retention of moisture in the skin. This provides hydration to the skin.
It helps to hydrate the skin, reduce dryness, and rejuvenate the skin's surface.
It is also an emollient, meaning it softens the skin.
Glycerine moisturises, creates a calming sensation, tightens and firms the skin, provides protection by creating a barrier, smooths the skin, exfoliates, brightens and improves the complexion.
Can be used on all skin types.
Glycerin also has antibacterial qualities thus it can help to keep the skin healthy.
Hyaluronic acid:
Hyaluronic acid is a powerful hydrator that keeps your skin looking plump, bouncy, and healthy. External factors dehydrate your skin, yet this naturally occurring sugar molecule attracts and retains moisture.Hyaluronic acid calms and rejuvenates your skin.
It will instantly brighten and moisturize your skin. the skin stays moist, supple, and hydrated when you use hyaluronic acid. Hyaluronic acid is a natural humectant. This enables it to absorb moisture both from deep within your skin and from outside the skin barrier, resulting in optimal hydration.
Reduces wrinkles and fine lines when applied on skin externally.
Preservative of your choice:
It offers effective broad-spectrum protection against gram- positive and gram-negative bacteria, yeast and mould. It is used in most cosmetic formulations like lotions, serums, emulsions, creams, etc. to maintain the stability of the water-based product and lengthen its shelf life.
Symbio solv xc:
This is a PEG-free solubilizer. It is a light yellow solubilizer which has low viscosity that makes it easy to handle and work at room temperature, under low stirring. Helps in solubilizing the vitamin E giving clear solutions. It will also solubilize perfume oils and essential oils. It is non-sticky and alcohol free. It is Ecocert approved. The low odour of the solubilizer reduces its impact on the product. Has no incompatibility with natural gelling agents or gums like Xanthan gum like in this formulation?
Bakuchiol:
Bakuchiol helps with pigmentation, elasticity, and firmness, as well as preventing fine lines and wrinkles. Because it uses the same receptors as retinol, many people refer to it as a natural retinol alternative. It is particularly safe to be used on the delicate skin under the eyes.
Sea Buckthorn oil:
The Siberian pineapple (Hippophaes rhamnoides) is a blooming shrub or tree that produces berries that can be cold pressed into pulp or oil.
Because of the flavonoids, vitamins, and omega fatty acids in it, it is high in vitamin C and antioxidants. Improves skin elasticity, aids skin regeneration, lowers inflammation, prevents dryness, and removes skin toxins while providing hydration, evens out skin tone, and improves the appearance of fine lines and wrinkles near the eye cavity.
Coenzyme q10:
The most common type of enzyme found in humans is coenzyme Q10, also known as ubiquinone-10. Coenzyme Q10 replenishing levels can maintain the skin's normal processes and protect it from harm that might otherwise cause apparent ageing.
Provides the Energy that Skin Requires for Natural Repair and Regeneration.
Skin that is more energized has a more radiant complexion.
Sun Damage Can Be Helped by Coenzyme Q10.
Collagen and elastin production is boosted when used in the formulation.
Reduces the appearance of fine lines and wrinkles.
Promotes a more even skin tone.
How to make this gel?
To start formulating we need to follow a few steps before doing the actual formulation. We have talked about these a number of times.
The first step is to write down the formulation correctly in percentages and calculate it accordingly in grams.
Collect the ingredients according to the formulation and have them ready on the working table.
Collect all the equipment like measuring cylinders, weighing balances, mixing equipment, beakers, heating mantles, thermometers, etc.
Sterilise all the equipment appropriately.
Accurately measure all the liquids and weigh the powders.
Next slowly add the gelling agent i.e Xanthan gum in a petri dish and allow it to swell completely in glycerine. Add warm water upto 1/3rd the total quantity with continuous stirring.
Mix other ingredients of the formulation according to the phases with constant stirring in different beakers.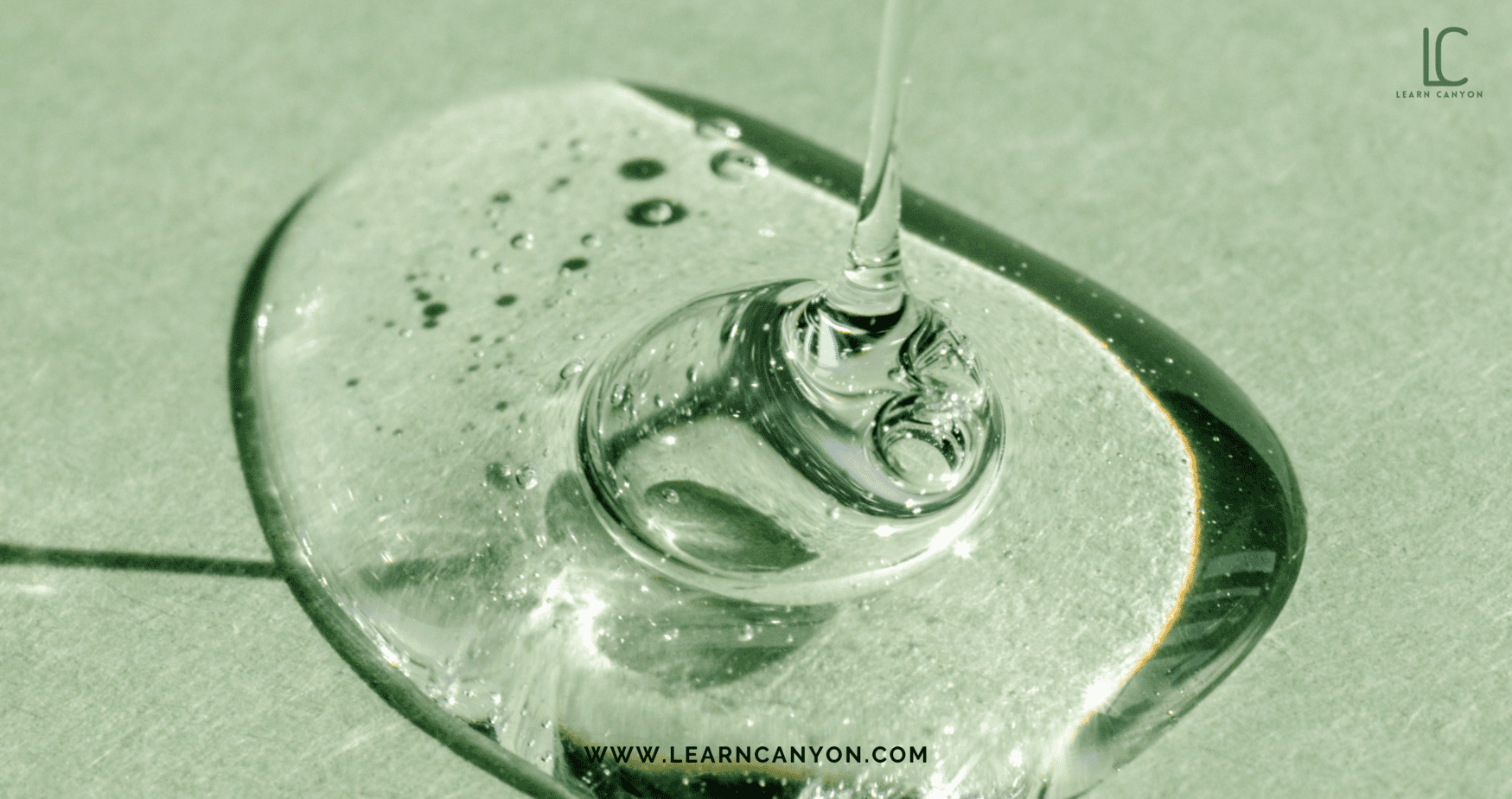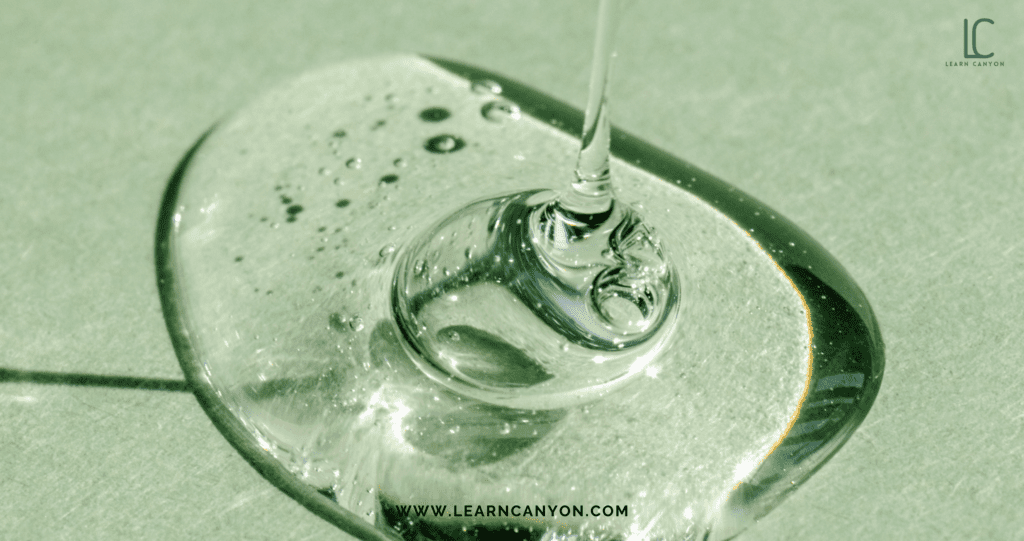 When mixing the last phase make sure you mix the coenzyme Q10 with sea buckthorn oil and then add the phase in the phase B
Make sure you add the oils with the solubilizer and then mix it with the remaining phases.
Mix well and allow to stand overnight properly covered. Fill in an appropriate container and store under ambient conditions.
How to use it?
Take a small quantity of the gel and with your fingertips apply it of the affected area. You can apply this gel in the morning as well as at night. When applied overnight the result will be better visible.
Frequently Asked Question
Is Coconut Oil Effective in Treating Dark Circles?
Coconut oil is an effective method for lightening dark under eye circles because it is a powerful natural and gentle anti-inflammatory. It also helps to prevent wrinkles and fine lines beneath the eyes by moisturising while lightening. This can be used with the solubilizer in phase B in the formula in small quantities up to 2%.
Can we use Aloe Vera as an Effective Treatment of Dark Circles?
Coconut oil is an effective method for lightening dark under eye circles because it is a powerful natural and gentle anti-inflammatory. It also helps to prevent wrinkles and fine lines beneath the eyes by moisturising while lightening. This can be used with the solubilizer in phase B in the formula in small quantities up to 2%.
Can we use Aloe Vera as an Effective Treatment of Dark Circles?
Yes, the use of aloe vera to alleviate dark circles is a well-known therapy. Aloe vera gel is high in antioxidants, which aid in the reduction of dark circles and the improvement of skin tone.
Which Vitamin Can Help You Get Rid of Dark Circles Under Your Eyes?
Vitamins K, C, E, A, B3, and B12, which can be found in pharmaceuticals or naturally, are effective in removing dark circles. As a result, it is suggested that you begin consuming important vegetables, fruits, and dairy products in your diet for the purpose of healing dark circles.
Can oversleeping be the cause of dark circles?
Dark circles are caused by lack of sleep. Excess of anything, on the other hand, is harmful. As a result, sleeping excessively might cause dark circles. It results in a build-up of fluid all over your face. So, the next time you intend on sleeping through the weekend, think twice.