When you have a monster sunburn or you have reached home tired from a tiring day at your workplace, you need something refreshing. Face Gel are water-based compositions that are compatible with most skin types and offer a unique set of benefits. 
There are hundreds of options available in the market, from which you can choose the best face gel for your skin. We suggest why not make one yourself!
You could use all the ingredients that are natural extracts and are free from skin-harming substances such as parabens, sulphates, chemical preservatives, etc.
You can design your own formulation and back it up with the goodness of nature, and you are ready to tackle a wide range of issues that lead to a dull face.
What is a gel?
A gel is usually translucent and has the look of a jelly. It is neither a solid or a liquid but has the appearance of a solid and the behaviour of a liquid. Because gels are largely made of water, they are closer to liquids than solids. Gels are now widely used in cosmetics. Gel absorbs more quickly into the skin.
When applied, a gel is clear, mainly colourless, and disappears.
Gels are usually water-based and do not include any oil. Gels are available in a variety of hues. Gels offer their own set of benefits, and you should choose one based on your preferences and needs.
Types of gels:
Gels for cleansing and removing makeup. These are mostly aqueous and oily in nature and are good for removal of makeup and can be rinsed of easily after rubbing thoroughly into the makeup. They are light to use.
Water supplying and moisturising gel. These are mostly the aqueous gels and contain a lot of moisture supplying and cooling properties.
There are also oily gels that are used to supply oils to the skin layers and are applied with the lotions mostly for dry skin types.
What are the properties that a Gel must have?
A facial gel must be non-oily and hydrating.
It should be easily absorbed and should not leave a sticky or oily residue.
It must soften the skin.
It must be easily retained by the skin.
It must protect the skin from environmental pollutants and must effectively remove them from the skin.
Be it normal skin, dry skin, or sensitive skin, or a combination of all skin types, face gel, crafted with a naturally driven formula works with all skin types.
Why should you use a face gel?
Face gel can be used for a number of reasons like;
Moisturization by hydrating your dry facial skin
Giving it a bright clear oil free look
Improving the skin texture by softening it
It may have anti-inflammatory properties that help in healing the damaged skin.
Helps to reduce and remove acne, wrinkles, sunburns, blemishes, scars, etc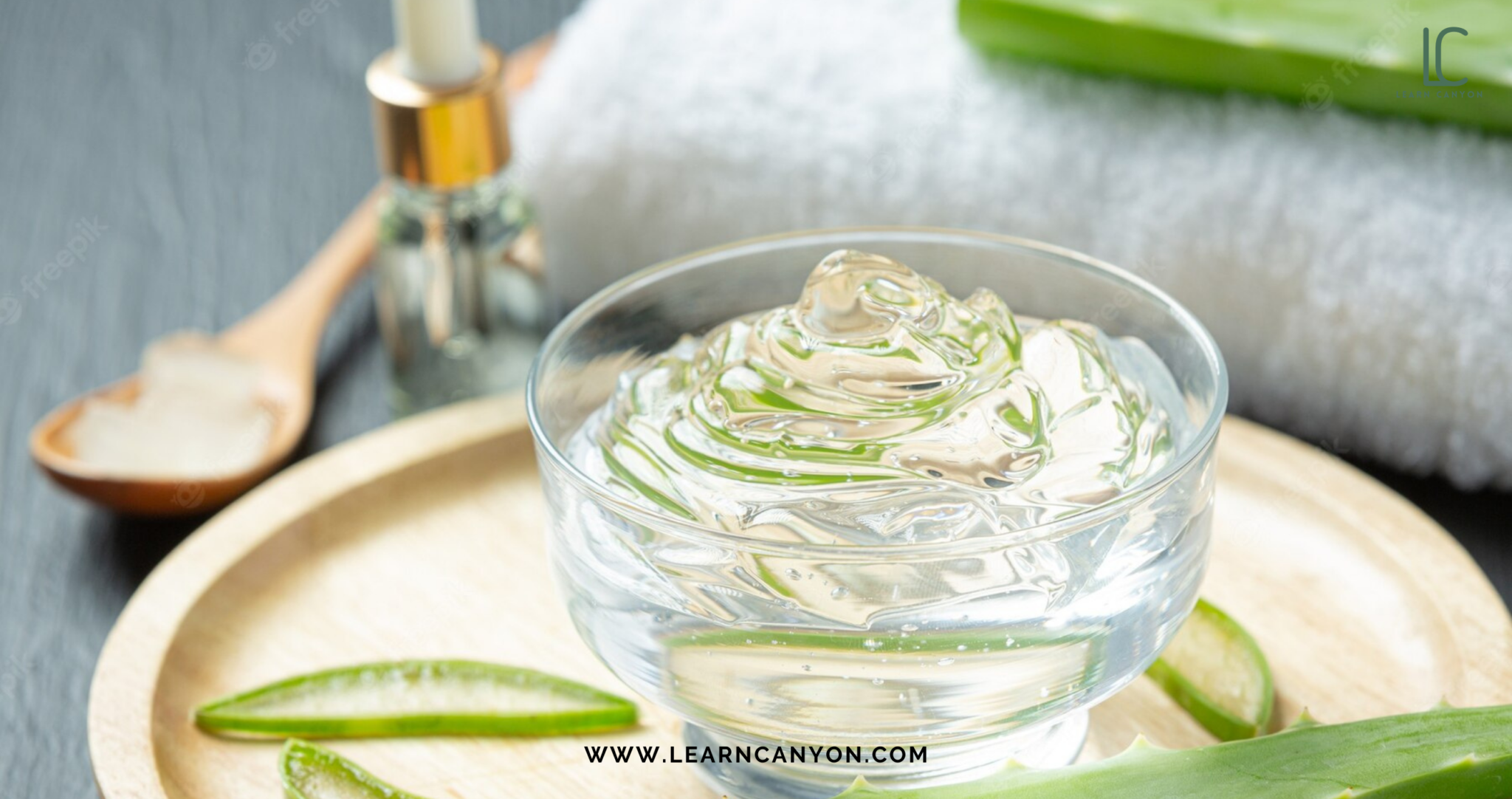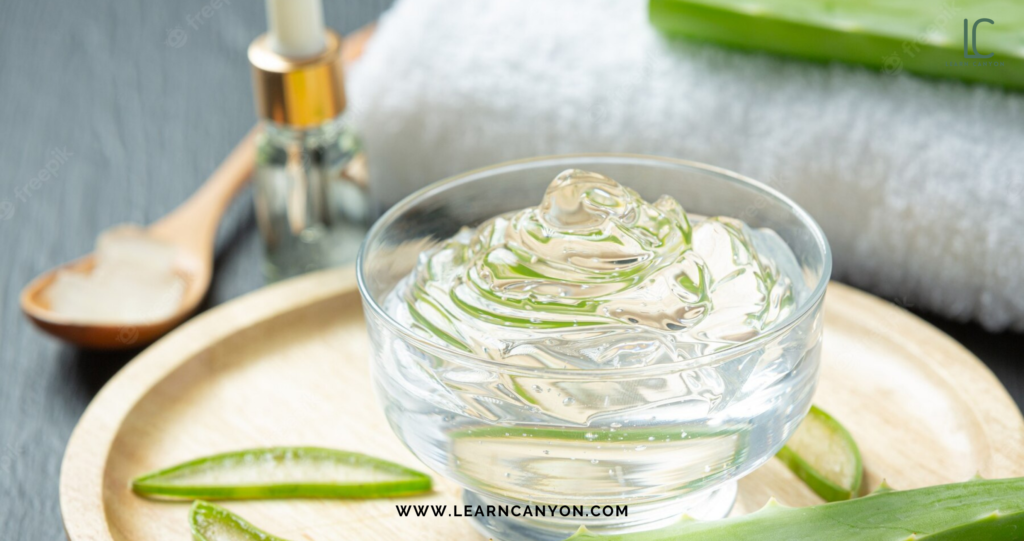 What are the basic elements of a gel?
The major element of the gel is a gelling or thickening agent which has a gelling property. Along with this it also contains humectants, emulsifiers, preservatives, active agents, coloring agents and fragrances
Now let us formulate a gel that can be made at home.
Read the formula carefully and follow the instructions of how to obtain a successful product.
Formulation: to make 100%
Xanthan gum – 2%
Glycerine – 4%
Water – q.s to make 100
Aloe Vera juice: 10%
Watermelon extract: 4%
2% Hyaluronic acid concentrate: 10%
Dermofeel pa3:
Vitamin E: 0.5%
Preservative: 0.8%
Symbiosolv xc: 4.5%
In this formula let us first understand the use and properties of each ingredient.
Xanthan Gum:
Xanthan gum is used as a natural thickening agent. It helps in the formation of the gel and improves the consistency of the products. It has been shown to be particularly effective at moisturising the skin.
It has the ability to produce a textured result that is smooth and balanced.
Glycerine:
Glycerin is a humectant, which means it attracts water to the skin's surface from both the deeper layers and the atmosphere. Glycerin aids in the retention of moisture in the skin. This provides hydration to the skin.
It helps to hydrate the skin, reduce dryness, and rejuvenate the skin's surface.
It is also an emollient, meaning it softens the skin.
Glycerine moisturises, creates a calming sensation, tightens and firms the skin, provides protection by creating a barrier, smooths the skin, exfoliates, brightens and improves the complexion.
Can be used on all skin types.
Glycerin also has antibacterial qualities thus it can help to keep the skin healthy.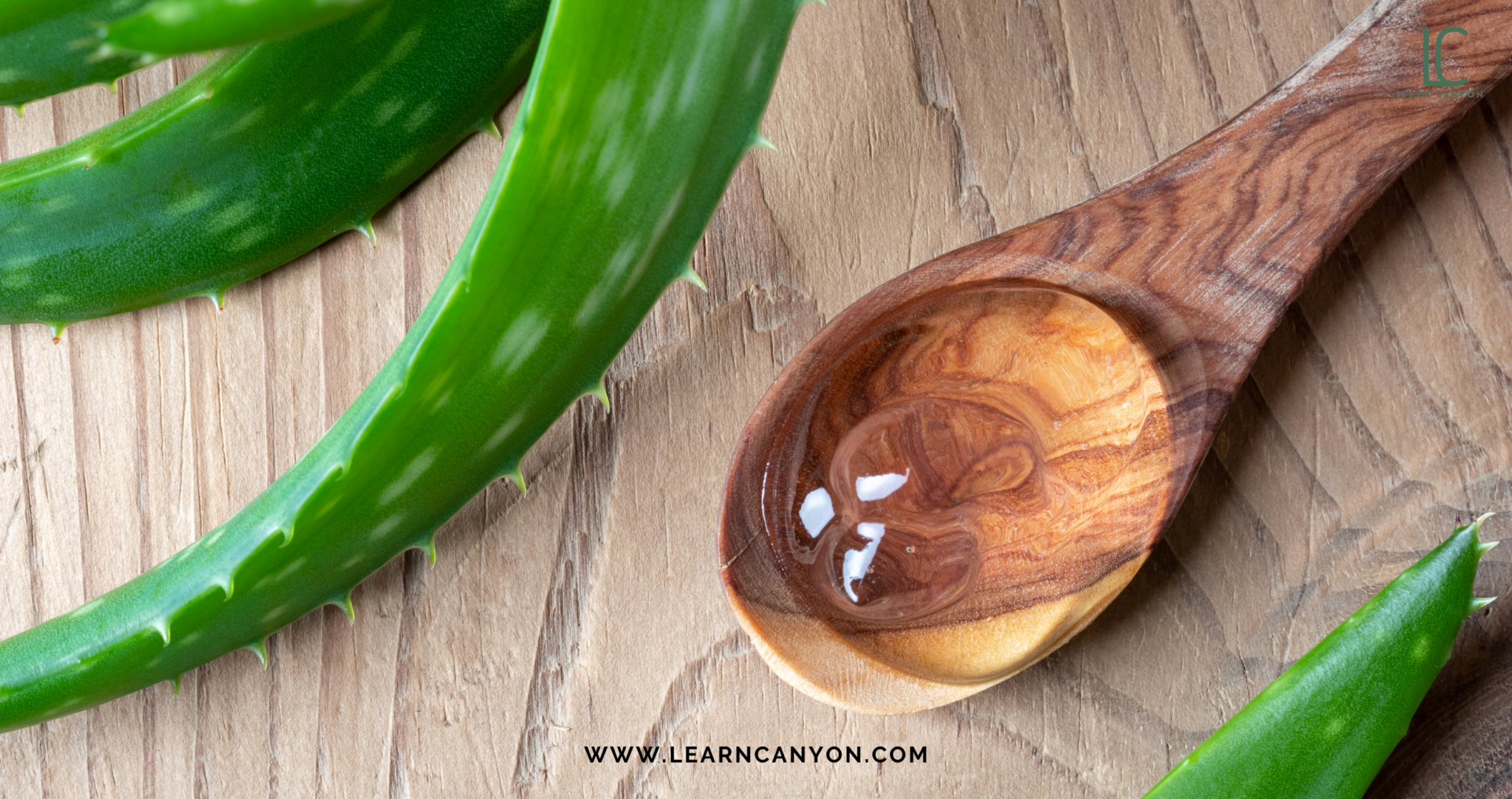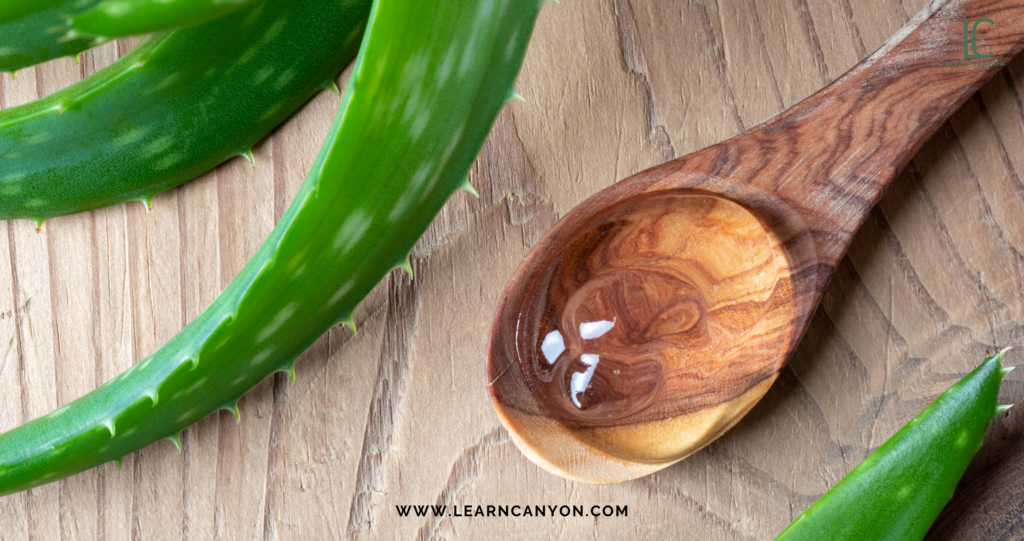 Water:
It acts a major solvent for the water-soluble components of the formulation. We only use water that is free of toxins, pollutants and microbes in the formulation of cosmetics and personal care products.
We all know by now that distilled water has exceptional purity and has had all impurities removed from it.
Aloe vera juice:
Aloe vera is one of the most commonly utilised herbal treatments for skin disorders. This is due to the fact that the plant's gel-like components are known to heal the skin from a range of minor diseases.
You may have even used aloe for sunburn, tiny wounds, or minor abrasions in the past.
It is known to be effective in case of burns, sunburn, tiny abrasions, scrapes, dry skin, frost bite, cold sores, inflammatory acne, etc.
Water melon extract:
The newest skin-care superfood that your face craves is watermelon. This luscious superfruit is high in potassium, vitamins A, C, and B, amino acids, and lycopene, a potent antioxidant that helps reduce wrinkles, fine lines, and age spots.
Hydrated skin is healthy skin. Our skin becomes flaky as it becomes dry. Our skin is more prone to irritation and inflammation, and fine wrinkles are more noticeable.
Amino acids are widely utilised not only for their conditioning properties, but also to keep our skin nourished.
Amino acids from water melon extract contribute to our body's Natural Moisturizing Factor (NMF) to maintain optimum hydration levels, in addition to being the fundamental building blocks of all proteins. Watermelon's amino acids can aid in the maintenance of healthy, moisturised skin.
2% hyaluronic acid:
Hyaluronic acid is a powerful hydrator that keeps your skin looking plump, bouncy, and healthy. External factors dehydrate your skin, yet this naturally occurring sugar molecule attracts and retains moisture.
Hyaluronic acid calms, rejuvenates, and tightens your skin pores when used in a toner. It will instantly brighten and moisturize your skin. It's simple to apply as a spray and is suitable for all skin types.
Body stays moist, supple, and hydrated when you use hyaluronic acid.
Hyaluronic acid is a natural humectant. This enables it to absorb moisture both from deep within your skin and from outside the skin barrier, resulting in optimal hydration.
Reduces wrinkles and fine lines when applied on skin externally.
Dermofeel pa3:
 It is a natural chelating agent that can be used instead of EDTA. When used with cosmetic antioxidants, it has a synergistic effect.
Chelating agents are substances that bind with metal ions and are essential for cosmetic stability and efficacy. Chelation is a method of stabilising metal ions by preventing them from interacting chemically with other compounds.
Vitamin E:
Vitamin E in the form of alpha-tocopheryl acetate (ATA) is commonly found in skin care products. Tocopheryl acetate, tocopherol acetate, and vitamin E acetate are some of the other names for Vitamin E.
Vitamin E is an antioxidant, which means that it can stop or reverse the damage that free radicals cause to cells. It can also reduce inflammation around the body.
Preservative:
It offers effective broad-spectrum protection against gram- positive and gram-negative bacteria, yeast and mold. It is used in most cosmetic formulations like lotions, serums, emulsions, creams, etc. to maintain the stability of the water-based product and lengthen its shelf life.
Symbiosolv XC:
This is a PEG-free solubiliser. It is a light yellow solubilizer which has low viscosity that makes it easy to handle and work at room temperature, under low stirring.
Helps in solubilization giving clear solutions with perfume oils and essential oils. It is non sticky and alcohol free. It is Ecocert approved.
The low odour of the solubilizer reduces its impact on the perfume when used. Has no incompatibility with natural gelling agents or gums.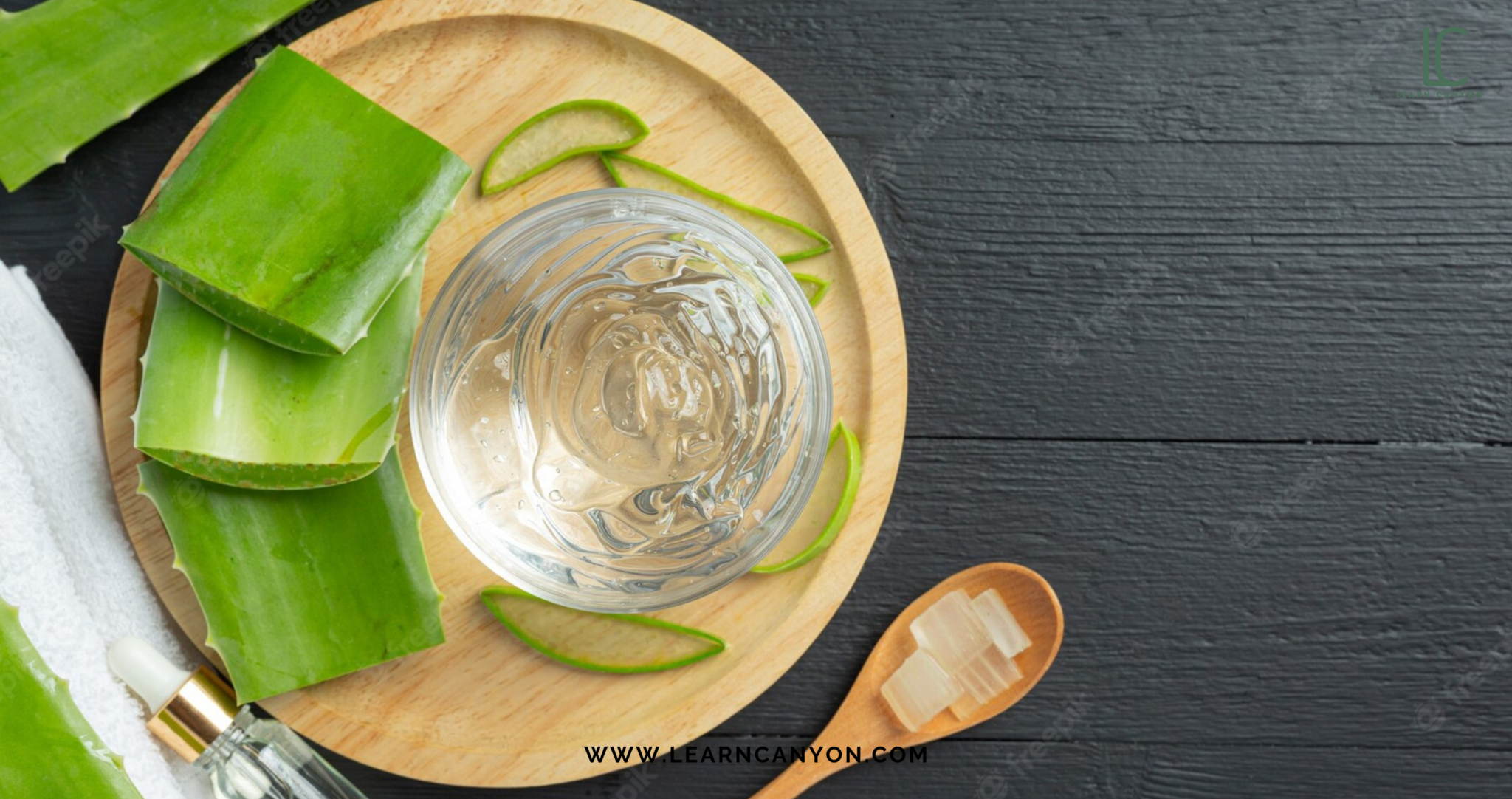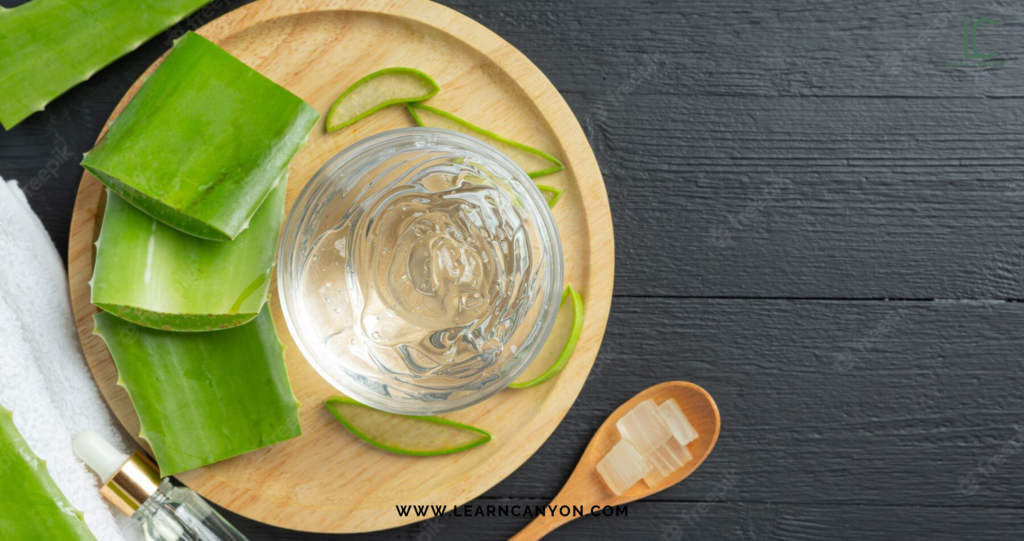 How to make this gel?
To start formulating we need to follow a few steps before doing the actual formulation. We have talked about these a number of times.
The first step is to write down the formulation correctly in percentages and calculate it accordingly in grams.
Collect the ingredients according to the formulation and have them ready on the working table.
Collect all the equipment like measuring cylinders, weighing balances, mixing equipment, beakers, heating mantles, thermometers, etc.
Sterilise all the equipment appropriately.
Accurately measure all the liquids and weigh the powders.
Next slowly add the gelling agent i.e Xanthan gum to a petri dish and allow it to swell completely in glycerine. Add warm water upto 1/3rd the total quantity with continuous stirring.
Mix other ingredients of the formulation with constant stirring.
This aloe vera and watermelon gel will moisturise your skin deeply while also keeping it healthy and radiant. This hydration lasts all day and all night, so there's no need to reapply.
Aloe Vera relieves itching and irritation caused by rashes, shaving, and sunburn. To get the best effects for skin irritation and inflammation, use a liberal amount overnight.
Frequently Asked Questions
What is the purpose of face gel?
They soften skin – Face gels can hydrate your skin while also making it look invigorated, bright, and clean. It aids in the softening and smoothing of your skin's texture. They are readily maintained – Unlike thick oily moisturisers that slip off the skin, face gels absorb quickly and leave no residue.
Is it possible to use gel on oily skin?
Gel moisturisers, true to their light-weight reputation, are beneficial on a wide range of skin types. Because they don't add oil to the skin's existing oily surface, they're especially beneficial for acne-prone or oily skin.
What is the best way to apply face gel?
After cleansing your face with a face wash, apply a tiny amount of the Natural Face Gel evenly across the entire face. It can be used both in the morning and at night.
What is the difference between a gel and a cream?
The difference between a Gel and Cream is very simply that the gel is transparent, and a cream is not. When applied, gels are typically colorless and disappear. Creams, despite having a colour base, are not visible once applied, but gels get absorbed more rapidly than creams. The majority of gels are oil-free.