Bergamot oil comes from the rinds of bergamot orange trees' citrus fruit (Citrus bergamia).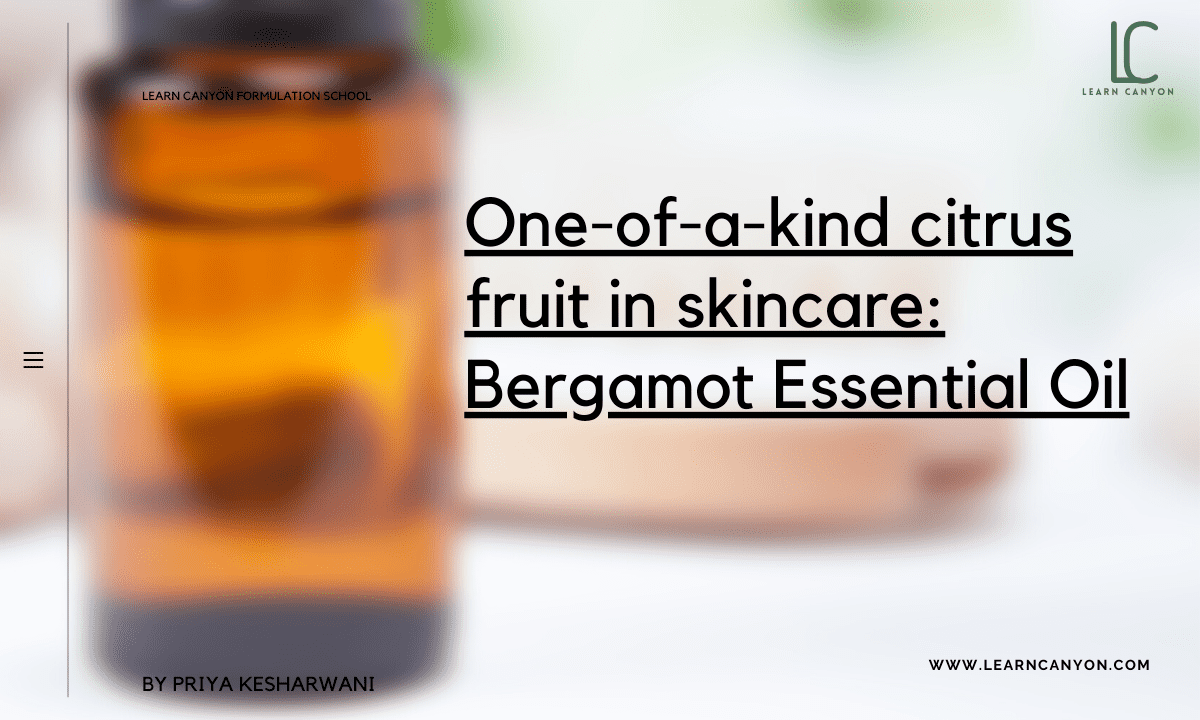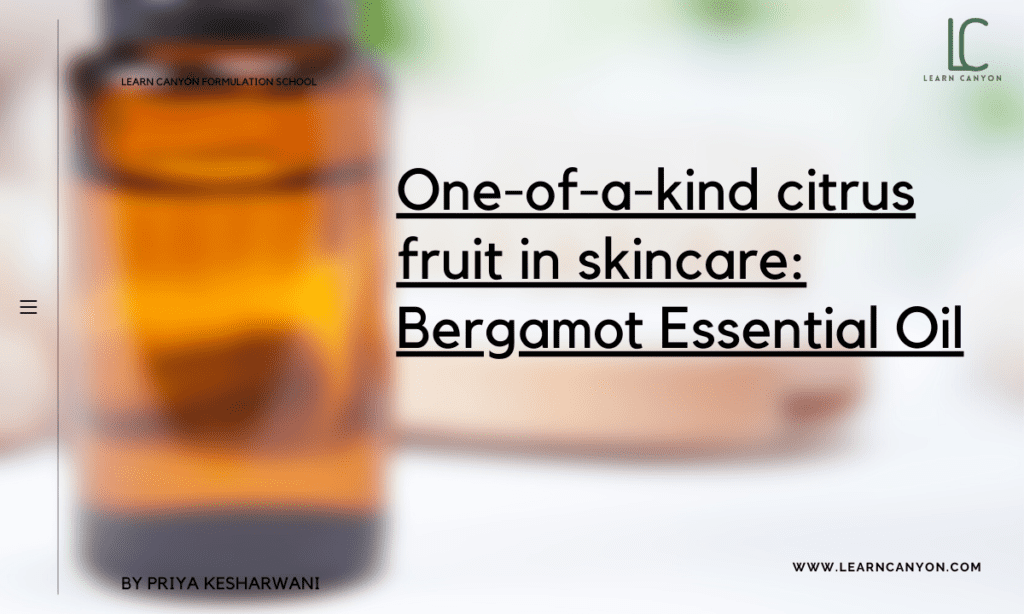 Add a header to begin generating the table of contents
What this one-of-a-kind citrus fruit can do for your beauty routine?
Even if you've never heard of bergamot oil, there's a good chance you've had Earl Grey tea. And if you like the distinct aroma of Earl Grey tea, you'll love bergamot oil on your skin.
Many essential oil users consider bergamot oil to be one of their favourite aromatherapy oils, as well as a flavour for their favourite drink or a significant ingredient in their skincare combination.
We know it's difficult to choose a favourite, but bergamot oil has several benefits to incorporate in your regular skincare routine. So, let's talk about what bergamot oil is, what it's made of, and how it can help your skin.
We'll also go over the precautions and negative effects to be aware of when putting bergamot oil on your skin, as well as how to use it properly in general.
What is Bergamot fruit peel essential oil?
Bergamot oil is made from the bergamot plant (Citrus bergamia), a Rutaceae (Citrus) family member. Bergamot essential oil is derived from the fruit of a little tree known botanically as Citrus aurantium bergamia.
The skin or peel of the Bergamot fruit is removed via cold pressing. A hundred fruits can provide up to 3 ounces of oil each. Bergamot is a fragrant citrus fruit that is roughly the size of an orange and has a yellowish-green blush to it.
It has a genetic profile that is a cross between a lime and a lemon. This sour and bitter citrus fruit is produced by the citrus bergamia tree, which grows in tropical climates in Southeast Asia, Southern Italy, and the South of France.
| What is it? | Bergamot oil comes from the rinds of bergamot orange trees' citrus fruit (Citrus bergamia). |
| --- | --- |
| INCI | Citrus aurantium bergamia fruit oil |
| Appearance | Golden yellow amber clear liquid |
| Texture | Slippery |
| Recommended Usage | 1-10% |
| Solubility | Oil soluble |
| Melting point | NA |
| Boiling point | NA |
| pH | NA |
| Aroma | Citrus |
| Why do we include it in formulations? | Limonene, a powerful antioxidant, is included in the oil. |
| How to work with it? | Included in the formulation's cooling down phase. |
| Applications | Bergamot essential oil has toning, cleaning, and antibacterial properties. It relieves skin irritations and reduces the appearance of scars and other skin marks. |
| Absorption rate | Fast |
| Strength | It comprises the aromatic chemicals limonene (37%) linalyl acetate (30%), and linalool (25%) and is a common top note in perfumes (8.8 percent ). |
| Weaknesses | Before applying an oil to the skin, always dilute it with a carrier oil. |
| Substitution | Grapefruit, Lemon, or Lime essential oil. |
| How to store it? | Keep them somewhere cool and comfortable. |
| Shelf life | Bergamot has a minimum of a two-year shelf life. |
| Type of ingredient | Essential oil |
| --- | --- |
| Main benefits | Bergamot essential oil is a balancing oil that helps to keep the production of oil in check. Toning, cleaning, and antibacterial properties. |
| Who should use it | All skin types can benefit from bergamot oil. |
| How often can you use it? | When bergamot oil comes into contact with the sun, it can produce phototoxicity. This is why it's better to use it at night or in the evening. |
| Works well with | Bergamot oil, like most essential oils, should be diluted in a carrier solution such as a fatty oil before usage. |
| Doesn't work with | Before using Basil essential oil, tell your doctor about any prescriptions you're taking or items you're using. |
| How to use | When your mixture is cooling down, add this ingredient. |
This oil can readily clean your skin because it's a natural astringent. It has oil-reducing effects, therefore it's perfect for people who have excessive sebum production.
This oil can unclog pores by penetrating deep into the skin. It does not, for example, disrupt your skin's lipid barrier. This implies it only addresses oily skin and won't dry up your face. Linalool is an anti-anxiety, sedative, and anti-inflammatory compound found in bergamot essential oils.
Linalyl Acetate helps to balance our skin's natural oil, making it a good choice for both dry and oily skin types. It also treats rashes by reducing irritation and redness.
Benefits of Bergamot fruit peel essential oil
 Bergamot oil is a natural astringent with clarifying and oil-reducing properties. 

 It's also good for hyperpigmentation, which can be a long-term side effect of acne scarring.

When applied to post-blemish patches, bergamot oil promotes skin cell regeneration and pigment distribution, resulting in a more even and toned complexion.

Bergamot also has antibacterial and antimicrobial properties, making it an excellent tonic for blemishes on the skin and bacterial pore blockage.

 Instead of using hand sanitizer on a daily basis, consider carrying bergamot oil. It's not as drying as alcohol, but it kills bacteria and refreshes your hands just as well.
Side effects of Bergamot fruit peel essential oil
Bergamot oil has a number of possible drawbacks, so use it with caution:
Because plant essential oils are so concentrated, they should be used sparingly and in small amounts, usually in combination with other components to dilute the potency of the mixture. 

Although some multi-layered merchants may apply essential oils directly to the skin, for topical application, we recommend diluting them with a carrier oil, lotion, or ointment.

When exposed to direct sunlight, Bergapten (Furocoumarin) in Bergamot essential oil can cause skin irritation. FCF bergapten (Furocoumarin-free)

A small patch test is recommended before applying to sensitive areas of the body, such as the face. It's best not to use it near your eyes.
How to use it in formulation?
There are a variety of ways to use bergamot oil on the skin, but to be safe, start with little amounts in skincare products. Bergamot oil, like all essential oils, is heat sensitive, so use it in your skincare product only when the temperature is below 40°C.
Many people find Bergamot's scent energising, while others find it overbearing or reminiscent of commercial eau de cologne.
If you desire the benefits of Bergamot but want a gentler citrus scent, try adding orange, red mandarin, or lavender to your diffuser blend for a softer, herbaceous fragrance profile. To avoid burning or toxicity, dilute your bergamot oil with a carrier oil (like coconut).
Work well with other ingredients
Bergamot essential oil goes nicely with citrus oils like lemon and lime. It also pairs well with earthy aromas like Patchouli or Vetivert, giving these oils a lighter edge.
Combine Bergamot with essential oils like Yuzu, Petitgrain, and Neroli for an uplifting, refreshing scent.
Bergamot pairs well with lavender and frankincense to provide an aromatherapy mixture that can soothe people who are worried. It also has many skin benefits for those who want to use bergamot as a cosmetic ingredient in their skincare formulations.
Share it on Social Media: