Palmarosa (Cymbopogon martinii) leaf essential oil
Palmarosa oil is steam distilled from dried grass gathered before it blossoms.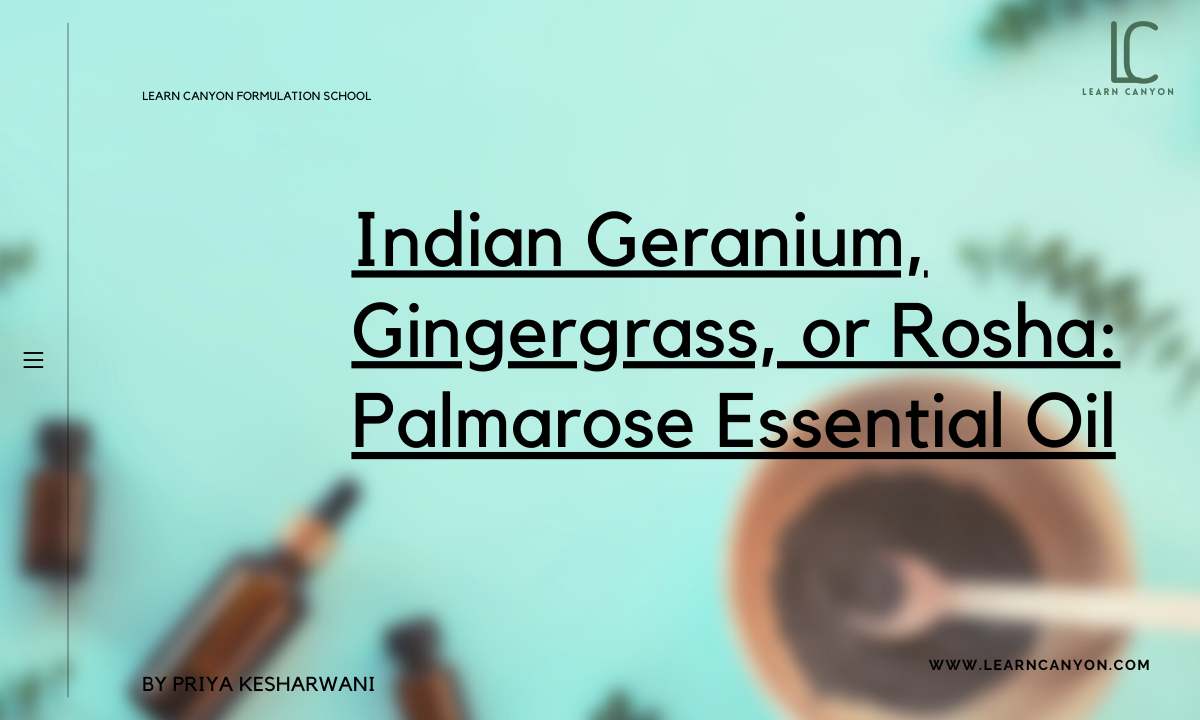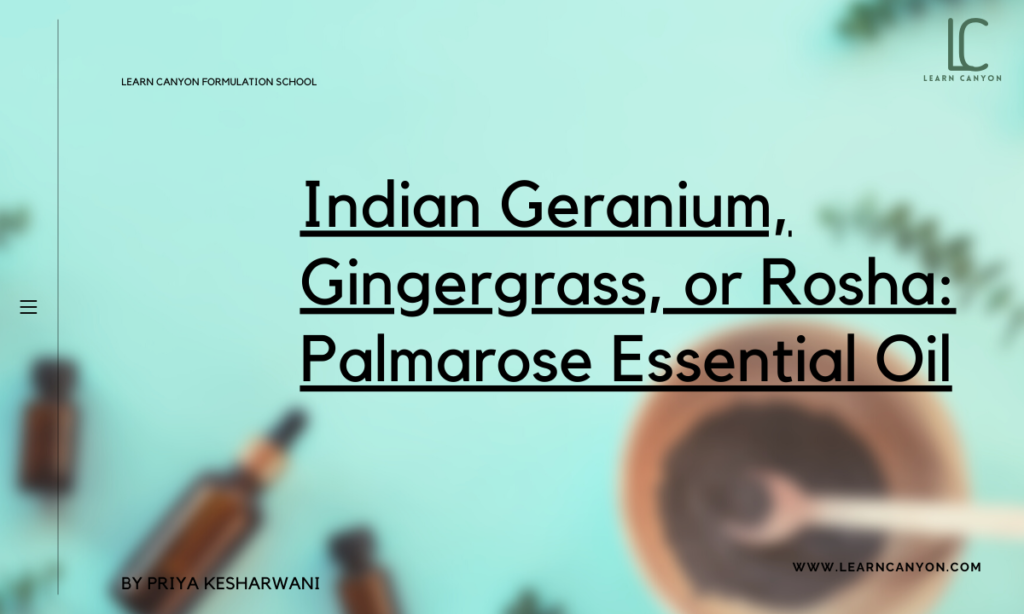 Add a header to begin generating the table of contents
What are the benefits of using palmarosa leaf essential oil in a skincare formula?
Let me introduce you to your new bestie. Essential oil of palmarosa Cymbopogen Martinii, or Indian Geranium, Gingergrass, or Rosha, is the scientific name for this plant.
This strong chemical has been used for thousands of years in Ayurvedic and Chinese medicine, and the western world has now embraced it and its many applications. Palmarosa is clearly a great ally for modern living, from cosmetics to anti-mosquito repellent.
So, how can you use this calming, reassuring essential oil in your everyday self-care routine? You'd be astonished to learn that it's probably already in a lot of your items.
What is Palmarosa leaf essential oil?
Palmarosa Oil comes from the Cymbopogon Martini plant, which is a lemongrass relative. This plant is a wild-growing, herbaceous green grass with flowering tips that is native to India but widely grown around the world.
Its long, narrow leaves provide a rose-like aroma when crumpled. It has geranium-like flowers that are grouped in plumes. Palmarosa Essential Oil is extracted from the plant's leaves using a steam distillation process.
| What is it? | Palmarosa oil is steam distilled from dried grass gathered before it blossoms. |
| --- | --- |
| INCI | Cymbopogon martinii |
| Appearance | Light yellow to yellow-brown |
| Texture | Mobile liquid |
| Recommended Usage | 1-10% |
| Solubility | Insoluble in water |
| Melting point | NA |
| Boiling point | NA |
| pH | NA |
| Aroma | orange with a greenish woody aroma. |
| Why do we include it in formulations? | Reducing inflammation and dehydration |
| How to work with it? | Include in the formulation's cool-down step and prevent heating if at all possible. |
| Applications | The moisturising qualities of palmarosa oil are well-known. |
| Absorption rate | Fast |
| Strength | Expensive |
| Weaknesses | Irritation and burning: Before applying oils to the skin, always dilute them with a carrier oil. |
| Substitution | Lavender, Rose, Ylang Ylang, Bergamot, or Jasmine |
| How to store it? | Stored in a cool, dark and dry place. |
| Shelf life | Palmarosa has a one to two year shelf life. |
| Type of ingredient | Essential oil |
| --- | --- |
| Main benefits | Antioxidant, antibacterial, and antimicrobial qualities found in nature. |
| Who should use it | Palmarosa Oil is excellent for oily, acne-prone skin. |
| How often can you use it? | Moisturiser for use during the day or at night. |
| Works well with | geranium, bergamot, rosemary, lime |
| Doesn't work with | Palmarosa is generally compatible with most, if not all, other skincare substances. |
| How to use | When the formulation is cooling down, this ingredient is added. |
Palmarosa Oil, which is high in nutrients and moisture, penetrates deep into the tissues to replenish skin cells. Palmarosa Essential Oil helps to lock in hydration and restore shine to your skin by strengthening and nourishing the epidermis.
Flavonoids, polyphenols, and phenolic acids are all present in the oil. It has strong antioxidant properties, scavenging harmful free radicals in our bodies.
Benefits of Palmarosa leaf essential oil
Palmarosa essential oil has this as one of its calming qualities. It can aid in the retention of moisture in the tissues and the maintenance of a healthy moisture balance throughout the body. As a result, this can help with inflammation and other dehydration symptoms, and it's especially helpful for the skin. It keeps the skin soft, supple, and youthful-looking.

Because of its antiseptic and antibacterial characteristics, palmarosa essential oil is frequently used in traditional medicine to treat wounds and infections. The oil contains natural regenerative characteristics, which means that when applied to the skin, it boosts cell regeneration, allowing the skin to heal faster.

This oil has been found to help minimise acne breakouts by regulating oil production in the top layer of the skin. To lubricate the skin, the skin produces sebum, a natural oil. Acne and other skin disorders are caused by persons producing too much sebum. Palmarosa inhibits the formation of oil on a cellular level. Palm rose oil is therefore a fantastic option for oily skin.
Side effects of Palmarosa leaf essential oil
When used correctly, palmarosa oil is considered safe. However, when administered topically, some people may feel a burning sensation or develop a rash. Before using it on your skin, make sure to dilute it with a carrier oil.
How to use it in formulation?
Palmarosa oil can be added to your usual skin care lotions to make them more interesting. Simply mix a few drops into your day or night moisturiser. It can also be mixed with a carrier oil and applied to psoriasis or eczema spots. Just make sure it's okay with your dermatologist first.
Works Well With Other Ingredients
Geranium, bergamot, rosemary, lime, and ylang-ylang essential oils combine beautifully with palmarosa essential oil.
Share it on Social Media: