Bisabolol: Natural Ingredient with Soothing properties
Bisabolol (or -bisabolol) is a naturally occurring antioxidant, calming, anti-inflammatory, and anti-irritant. It can be obtained naturally or synthetically.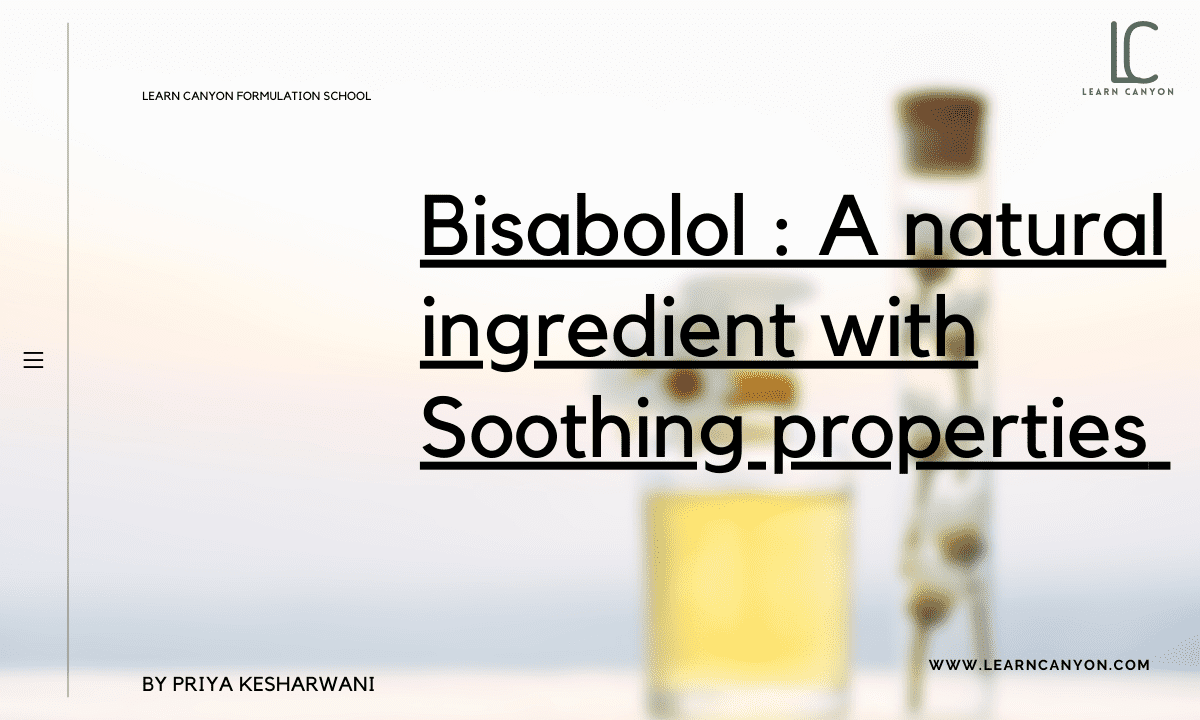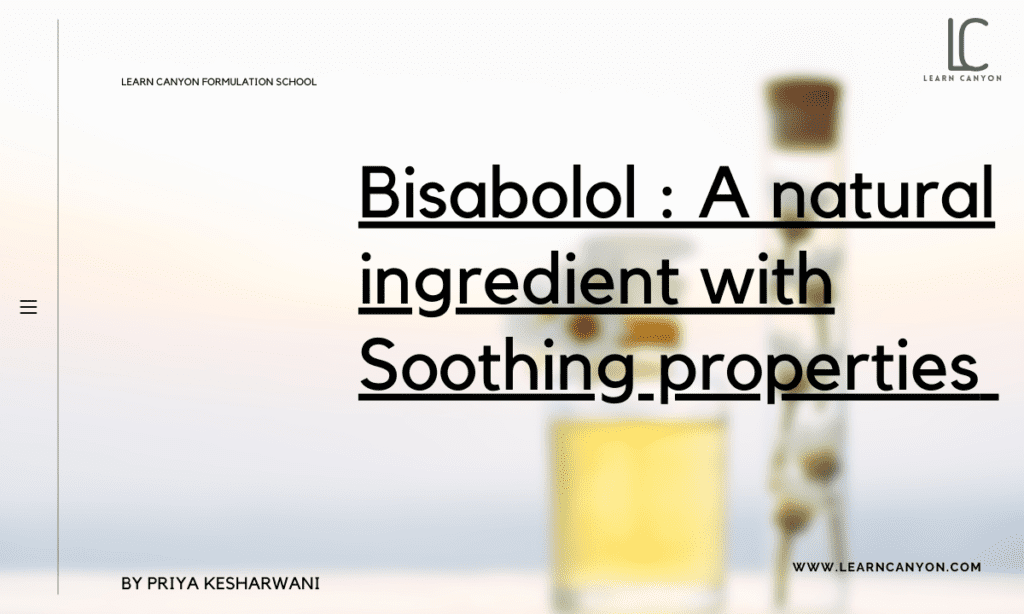 Add a header to begin generating the table of contents
Bisabolol, commonly known as alpha bisabolol or a-bisabolol, is the active ingredient in chamomile.
This oil is derived from chamomile, namely German chamomile, and is commonly used in cosmetics and personal care products. Bisabolol, which is produced from chamomile, shares many of the same anti-inflammatory characteristics as chamomile.
It also has a light floral scent, which is why it's used in so many cosmetic and skin care products.
| What is it? | Bisabolol (or -bisabolol) is a naturally occurring antioxidant, calming, anti-inflammatory, and anti-irritant. It can be obtained naturally or synthetically. |
| --- | --- |
| INCI | Bisabolol |
| Appearance | Clear to pale yellow liquid |
| Texture | Medium to light consistency |
| Recommended Usage | 1.0-10% |
| Solubility | Oil soluble |
| Melting point | 25°C |
| Boiling point | 154-156°C |
| pH | 5.5-7.5 |
| Aroma | Weak floral scent |
| Why do we include it in formulations? | Bisabolol's calming and anti-irritant qualities. |
| How to work with it? | It's usually added to a formula with the essential oil blend during the cool down phase. |
| Applications | Bisabolol is a good source of panthenol, a type of vitamin B that profoundly moisturises the skin. This is a natural humectant, which means it aids in the retention of moisture in the skin, making it less prone to drying out. |
| Absorption rate | Fast |
| Strength | At low doses, this chemical is quite soothing. |
| Weaknesses | It is not widely distributed. |
| Substitution | Chamomile essential oil or a calendula or chamomile extract that is oil-soluble. |
| How to store it? | Stored in a cool, dark and dry place. |
| Shelf life | The shelf life of bisabolol is stated to be 24–36 months after production. |
| Type of ingredient | Soothing properties |
| --- | --- |
| Main benefits | Antibacterial, hydrating, healing, and protecting properties. |
| Who should use it | All skin types in general. |
| How often can you use it? | Routine for daily skincare |
| Works well with | Bisabolol can be safely mixed with the majority of other substances. |
| Doesn't work with | Because bisabolol is derived from chamomile, which belongs to the ragweed family, it's advised to avoid it if you have a ragweed allergy. |
| How to use | Added during your formulation's cooling down step. |
Bisabolol is high in panthenol, a type of vitamin B that moisturises thoroughly. This is a natural humectant, which means it helps skin retain moisture and prevents it from drying out. It can help minimise the appearance of fine lines and wrinkles by penetrating deep into the lowest layers of skin.
Bisabolol is a chamomile derivative commonly used in skincare, yet few people are aware of its existence. It's used in skincare for a variety of reasons, but it doesn't get nearly enough attention.
It's best known for its ability to alleviate inflammation and irritation by inhibiting the generation of inflammatory cytokines. Bisabolol is a popular skin care component since it offers a host of benefits to people who use it. Some of the most notable bisabolol skin advantages are as follows:
Hydration, which aids in flakiness and dryness decreases. Using bisabolol-containing products can assist whether your skin is dry all year or is experiencing a dry spell.
It's an excellent addition to your anti-aging skin care routine because it fights free radicals and helps to prevent wrinkles and fine lines.
It has calming effects, making it an excellent choice for those with sensitive, easily irritated skin.
Antimicrobials are bacteria-killing chemicals that can help with outbreak prevention and containment. 
Scars and blemishes are reduced thanks to the stimulation of the skin's healing response. This can help you achieve a more even and clear complexion.
Side effects of Bisabolol
There are no side effects 
 How to use it in formulation?
It's a completely natural, renewable resource with numerous multifunctional, medicinal, and protective characteristics. We love finding natural gifts that are not only safe and effective, but also easy to obtain and transform into raw materials for industrial use. During the cool down phase of a formula, it's frequently used with an essential oil combination.
Work well with other ingredients
Bisabolol works well with a variety of different substances.
Share it on Social Media: