Vitamin C: Your Day-to-Day Skincare Ingredient
Vitamin C is a type of antioxidant that occurs naturally in the environment. Vit. C can be synthesised by most plants and animals.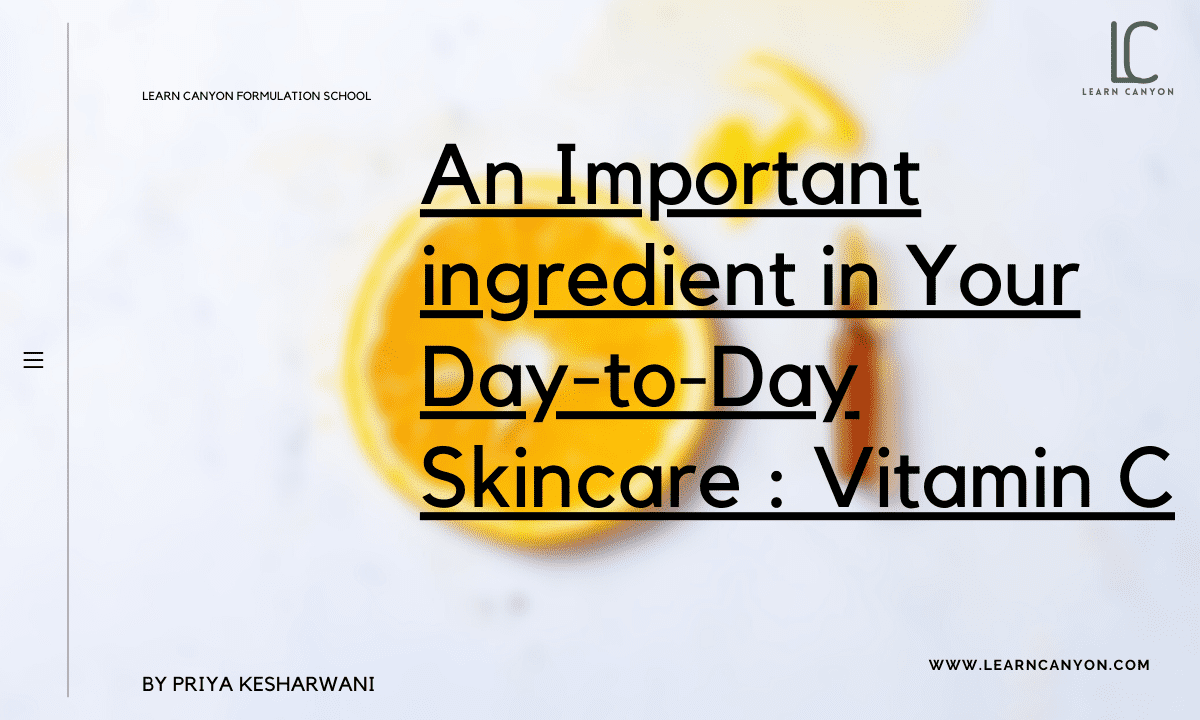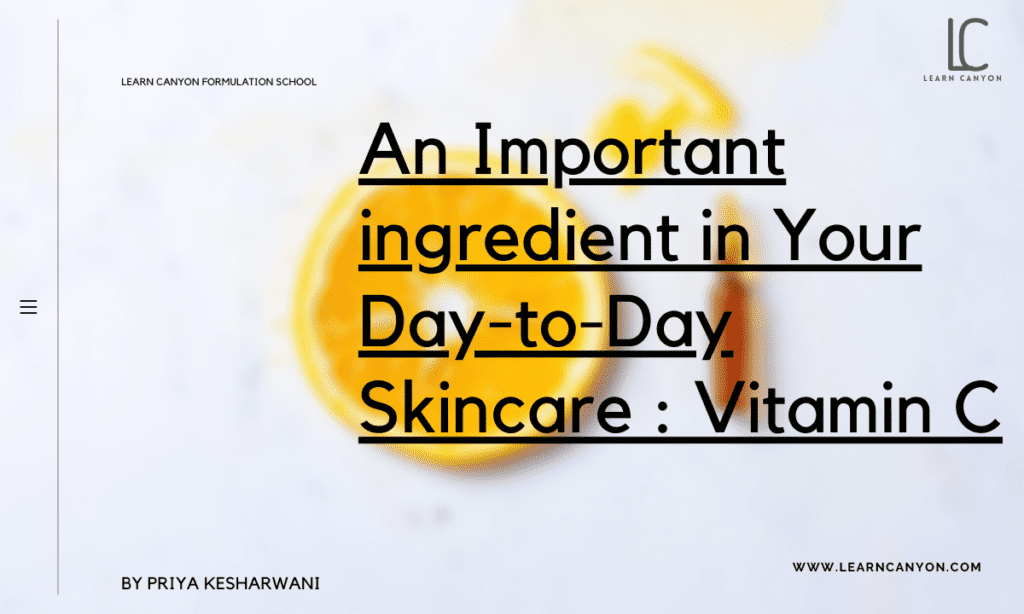 Add a header to begin generating the table of contents
Vitamin C is here to stay, as it has been demonstrated to be effective in the skin care market time and time again. (It's also one of the most researched skincare ingredients.) Look up the components of this potent molecule if you're unsure! Vitamin C provides a number of advantages, including evening out skin tone and rebuilding collagen-depleted skin. Let's get started by learning everything there is to know about this amazing skin-beneficial vitamin.
Vitamin C is found in citrus fruits, berries, potatoes, tomatoes, peppers, cabbage, Brussels sprouts, broccoli, and spinach. Vitamin C is also available in capsules or chewable pills that can be taken orally. Most people get enough vitamin C from a healthy diet.
But how does it help your skin in particular? Vitamin C, also known as ascorbic acid. The epidermal and dermal layers of your skin have significant vitamin C concentrations.
Physical factors like sunlight, pollution, smoking, and ageing, on the other hand, deplete its layers. When taken or administered, vitamin C is a powerful antioxidant that neutralises free radicals.
| What is it? | Vitamin C is a type of antioxidant that occurs naturally in the environment. Vit. C can be synthesised by most plants and animals. |
| --- | --- |
| INCI | L-ascorbic acid |
| Appearance | White powder, ultrafine, odorless |
| Texture | Fine and soft |
| Recommended Usage | 0.5-10% |
| Solubility | Water soluble |
| Melting point | NA |
| Boiling point | NA |
| pH | 4.5 – 6.5 |
| Aroma | A bit citrus aroma |
| Why do we include it in formulations? | Vitamin C plays an important function in the body's natural collagen synthesis, which helps to prevent indications of ageing. |
| How to work with it? | Add to the formula's water phase. |
| Applications | Vitamin C is an antioxidant that protects skin cells from UV-induced free radical damage. It also helps to lighten hyperpigmentation and brown spots, even out skin tone, and improve skin radiance by inhibiting melanin formation in the skin. |
| Absorption rate | Fast |
| Strength | Improve the appearance of your skin, and maintain and heal damaged skin and cartilage. |
| Weaknesses | When applied, it causes itching, redness, skin irritation, and a tingling sensation. |
| Substitution | Citrus fruits, tomatoes, kiwifruit, and broccoli are all good choices. |
| How to store it? | Stored in a cool, dark and dry place. |
| Shelf life | Vitamin C has a two-year shelf life if stored properly. |
| Type of ingredient | Antioxidant |
| --- | --- |
| Main benefits | Free radical protection, skin tone evening, and collagen formation are all benefits of these ingredients. |
| Who should use it | Vitamin C is not advised for those with extremely sensitive skin, and it may be problematic for those with oily skin. |
| How often can you use it? | Vitamin C should be taken everyday or every other day. |
| Works well with | Vitamin C works well with other antioxidants, such as vitamin E and ferulic acid, to increase the molecule's potency and stability. |
| Doesn't work with | Avoid taking it with benzoyl peroxide, which, according to herrmann, can quickly oxidise vitamin C and render it worthless. It's best not to mix it with other acids because it can irritate your skin, especially if you use it every day. Finally, avoid using it with retinol because it will make vitamin C more unstable and less likely to penetrate the skin. |
| How to use | Added to your formula during the water phase. |
The most abundant antioxidant in human skin is vitamin C, which is part of a complex group of enzymatic and non-enzymatic antioxidants that work together to protect the skin from reactive oxygen species (ROS). Because vitamin C is water soluble, it works in the cell's aqueous compartments.
When the skin is exposed to UV light, reactive oxygen species (ROS) such as superoxide, peroxide, and singlet oxygen are produced.
By consecutively contributing electrons to eliminate free radicals, vitamin C protects the skin from oxidative stress.
The oxidised forms of Vit. C are relatively non-reactive. In the presence of glutathione, they can also be converted back to vitamin C by the enzyme dehydro ascorbic acid reductase.
UV light reduces the availability of vitamin C in the body.
Vitamin C (ascorbic acid), an antioxidant that also plays a part in collagen synthesis, has been discovered to help keep your skin looking young and healthy.
Vitamin C is well-known for its incredible benefits. To mention a few benefits, vitamin C improves immunity, prevents cancer, and is good for the skin.
Antioxidant properties are present in this ingredient.
Vitamin C is photoprotective, which means it helps to reduce the negative effects of exposure to the sun. With its potent antioxidant activity, its major method of action is to neutralise free radical damage.
Helps Collagen 
Vitamin C improves the formation of collagen by stabilising it. External ageing symptoms such as fine lines, sagging, and deep wrinkles are reduced, resulting in younger-looking skin.
Enhances the appearance of the face
With vitamin C, the overall tone of the skin can be evened and brightened. It acts by inhibiting the oxidation of melanin in the skin and thereby reducing melanin levels.
Side Effects of Vitamin C
Taking vitamin C every day is generally safe. However, in big doses, especially when coupled with other acids, it can be unpleasant.
According to Herrmann, those with extremely sensitive skin may be unable to tolerate it and should avoid it.
Many vitamin C pills are also oily, which might cause problems for people who have oily skin. Herrmann recommends consulting with a board-certified dermatologist to find the right brand or product for your skin type.
How to use it in formulation?
Antioxidants and other minerals abound in Vitamin C. There's no guarantee that vitamin C will make it to your skin even if you ingest it through your diet. For improved skin advantages, it must be administered topically.
Lotions, moisturisers, serums, and creams containing vitamin C are among the products available. Many dermatologists, on the other hand, prefer serum to moisturiser for the best skin outcomes because serum is a lighter formulation that absorbs quickly.
Also, don't forget to use vitamin C sunscreen before heading outside.
Work well with other ingredients
Vitamin C enhances the efficacy and stability of the molecule when combined with other antioxidants like vitamin E and ferulic acid.
Share it on Social Media: