Fullers Earth: also known as Multani Mitti
The clay Fuller's Earth/Multani Mitti is found in nature. It's been used as a brightening and purifying face mask for a long time in skin care.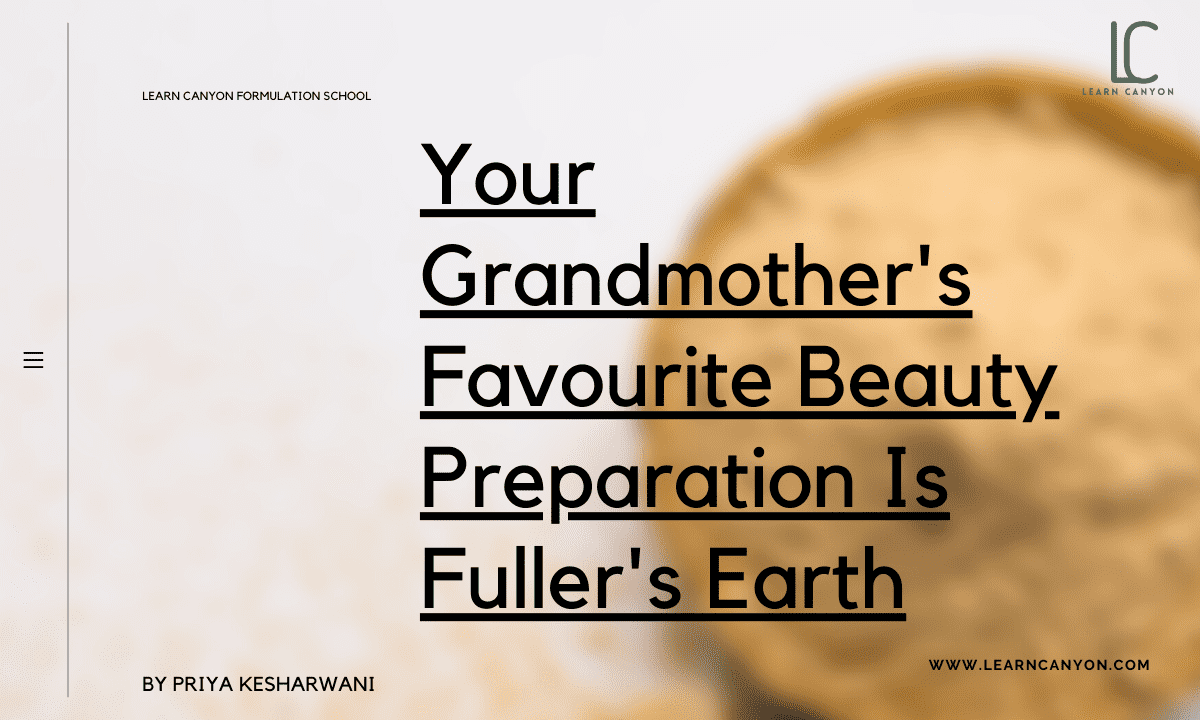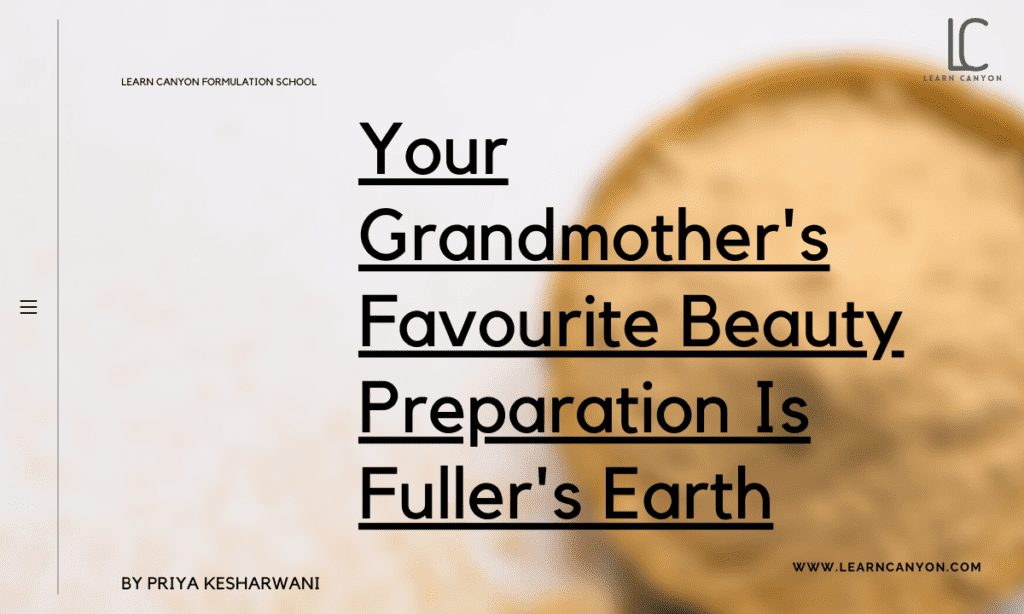 Add a header to begin generating the table of contents
Here's Why Your Grandmother's Favourite Beauty Preparation Is Fuller's Earth.
You might be wondering how "Multani Mitti- Fuller's Earth Clay" got its name. Surprisingly, the two-part name has been related with historical components for a long time!
Fuller's Earth, also known as 'Multani Mitti,' is a miraculous ingredient that has been passed down the generations, and you've almost certainly seen it in your mother or grandmother's beauty cabinet. Many people revere this amazing substance. It remains their go-to ayurvedic component for skin and hair care, despite the abundance of products on the market.
Fuller's Earth, also known as Multani Mitti, is a mineral-rich clay that has been utilised for millennia for a number of uses.
It is an effective adsorbent and astringent because it contains hydrous aluminium silicates of diverse compositions as well as natural components including montmorillonite, kaolinite, and attapulgite. This miraculous ingredient can help with a wide range of skin and hair problems.
| What is it? | The clay Fuller's Earth/Multani Mitti is found in nature. It's been used as a brightening and purifying face mask for a long time in skin care. |
| --- | --- |
| INCI | Fuller's Earth |
| Appearance | Cream to beige fine powder |
| Texture | Smooth, fine powder |
| Recommended Usage | Up to 100% |
| Solubility | Insoluble |
| Melting point | NA |
| Boiling point | NA |
| pH | 3–4.5 |
| Aroma | A bit dusty |
| Why do we include it in formulations? | It can be used as a light physical exfoliator or abrasive, and it can also be used to make soap creamier. |
| How to work with it? | When blending, start with little amounts of clay and whisk until smooth before adding more. |
| Applications | Fuller's earth is known for its capacity to absorb oil and other impurities, making it a good face cleanser for greasy or congested pores. It is also known to soften the skin and improve skin tone and complexion. |
| Absorption rate | Fast |
| Strength | Clay that is simple, smooth, and has a long history of use. |
| Weaknesses | It doesn't appeal to me as much as the other clays. |
| Substitution | Kaolin clay and French green clay. |
| How to store it? | Stored in a cool, dark and dry place. |
| Shelf life | Fuller's Earth/Multani Mitti clay is a long-lasting clay. |
| Type of ingredient | Exfoliates skin, Controls oil production. |
| --- | --- |
| Main benefits | Pores should be tightened. It works well as an absorbent and gives off a natural glow. |
| Who should use it | For people with oily skin, fuller's earth is great. |
| How often can you use it? | No more than twice a week is recommended. |
| Works well with | The majority of the other ingredients |
| Doesn't work with | Drying agents |
| How to use | Added to your formulation during the water phase |
Aluminium silicate in Fuller's earth absorbs excess oil from the skin. It also contains a lot of lime, which deeply cleanses the skin. Because it is high in magnesium chloride, fuller's earth eliminates dead skin and minimises acne scars and blemishes. It also helps to calm inflamed skin by reducing inflammation.
The benefits of Fuller's Earth
Fuller's Earth is a clay that can be used in a variety of applications. Fuller's earth is used in a variety of situations, including at home, in cosmetics, and as an absorbent. The best part about fuller's earth is how inexpensive it is and how easy it is to purchase. As a result, many people use it in their daily lives. It is one of the most efficient adsorbents.Let's take a closer look at a few of fuller's earth's applications and advantages.
Masks for your face
One of the most common and effective uses of fuller's earth is as a face pack or mask. Acne, pimples, blemishes, skin reddening, and a range of other skin problems affect everyone. Exposure to pollution or the buildup of dirt and oil in our skin's open pores is the underlying or core cause of all of these skin ailments. As a result, it is critical that we keep our skin clean and healthy. One of the most helpful ingredients for addressing such difficulties and skin blockages is fuller's earth. It helps to absorb the extra toxic oil that has built up on our skin.
Skin that is in good condition
Fuller's earth is one of the best components for healthy skin. It aids in the preservation of oil-free, healthy skin. It's used in a number of different face masks and face packs. Fuller's earth face masks help to remove oil from the skin, reduce the size of pores, improve the skin's quality, and are effective for a range of other things. It also functions as an antioxidant for our skin when mixed with neem and turmeric. It helps to remove debris from the skin and increases the brightness and shine of the skin. During the winter, many people suffer from dry skin. This problem can also be solved by making a pack of fuller's earth, water, and honey and applying it.
Scrub for a Healthy Body
It is critical to use fuller's earth as a body cleanser. We should be as vigilant about what we put on our bodies as we are about what we put on our faces and hair. Soaps and body washes on the market nowadays dry out our skin excessively while also absorbing its natural oils. As a result, our skin becomes dehydrated due to a lack of nutrients. A simple body scrub made with fuller's earth and oats can assist to not only exfoliate but also organically moisturise our skin. Oatmeal helps to hydrate the skin while also providing it with the necessary nourishment. It also works gently on the skin, eliminating dead skin cells and maintaining the health of our skin.
Side effects of Fuller's Earth
The high absorption rate of fuller's earth might cause skin to become dry. Excessive application is thus discouraged, especially for those with dry or sensitive skin.
How to use it in formulation?
One of Fuller's Earth Clay's best advantages is that it can be used in a variety of ways. Multani Mitti has long been used by Indian ladies to maintain a clear complexion. Added to your formulation during the water phase.
Work well with other ingredients
By mixing fuller's earth with water, you can use it on your face and body. Honey, tomato, rose water, almond milk, and coconut water can all be used with it to make beauty masks and creams. It is recommended that you mix Fuller's Earth with another product before applying it to your skin. Apply it only once or twice a week for best effects. Your skin could become dry if you do not do so.
Share it on Social Media: