Orange – sweet (Citrus sinensis) peel essential oil
Sweet Orange Essential Oil is made from the fruits of the Citrus sinensis botanical.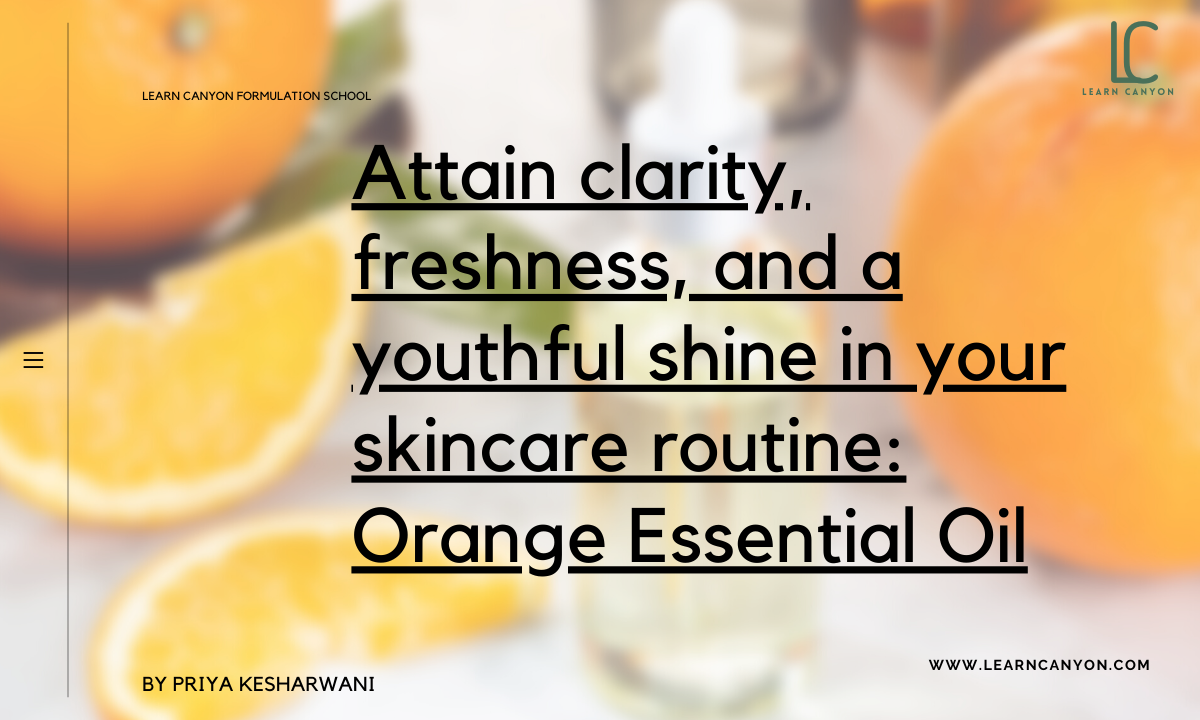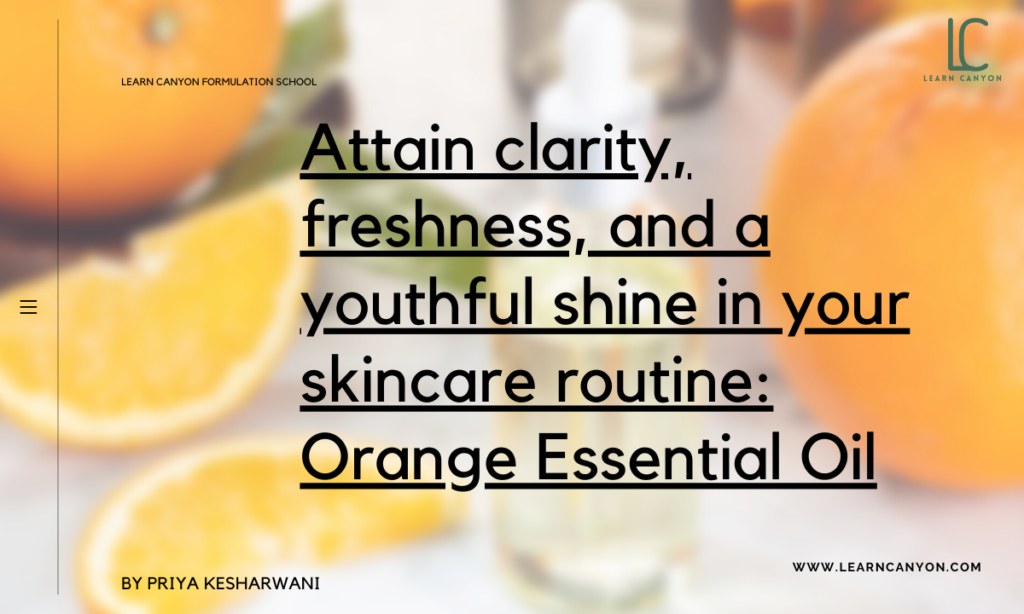 Add a header to begin generating the table of contents
Orange - Sweet (Citrus Sinensis)
Have you ever heard of someone with beautiful skin who doesn't follow a skincare routine? Everyone's skin is diverse, with various beautifications and flaws. It's just as crucial to have a skincare routine as it is to eat your bread every day.
There are many organic substances with varying properties that can be used to care for the skin. Sweet orange peel contains a lot of necessary nutrients and vitamins.
Citrus sinensis was the scientific name for sweet oranges. The peel of an orange is its most vital component for skincare purposes, which most people are unaware of. It helps to nourish the skin in a variety of ways.
What is Orange sweet peel essential oil?
Orange oil is classified as an essential oil, which means it contains a significant amount of volatile components. It has a nice, zesty scent and is derived by steam distillation from orange peel.
Sweet orange oil (Citrus Sinensis) and blood orange oil (Citrus Aurantium Dulcis) are the most often used orange oils in skincare. Orange oil comes in two varieties, both of which are high in antioxidants that protect your skin from free radical damage.
| What is it? | Sweet Orange Essential Oil is made from the fruits of the Citrus sinensis botanical. |
| --- | --- |
| INCI | Citrus sinensis |
| Appearance | Light yellow-orange oil |
| Texture | Liquid |
| Recommended Usage | 1-10% |
| Solubility | Insoluble in water |
| Melting point | NA |
| Boiling point | 349°F |
| pH | 3-4 |
| Aroma | Aroma is fresh, fruity, and invigorating. |
| Why do we include it in formulations? | Stimulant, Tonic, Anti-Oxidant, Anti-Inflammatory, Cleansing |
| How to work with it? | Include in the formulation's cool down phase and prevent heating if at all possible. |
| Applications | Moisture and oiliness of the skin should be balanced. For those with oily skin and congested pores, this is an excellent cleansing agent. |
| Absorption rate | Slow |
| Strength | Low-cost and readily available |
| Weaknesses | Irritation and burning: Before applying oils to the skin, dilute them with a carrier oil. |
| Substitution | Lemon, Grapefruit, or Oregano. |
| How to store it? | Stored in a cool, dark and dry place. |
| Shelf life | The shelf life of sweet orange essential oil is at least one year. |
| Type of ingredient | Essential oil |
| --- | --- |
| Main benefits | Anti-inflammatories, relaxants, and circulatory stimulants |
| Who should use it | All skin types benefit from orange oil |
| How often can you use it? | At bedtime |
| Works well with | Citrus essential oil |
| Doesn't work with | Orange-oil-based products have a low risk of phototoxicity when used within dermal limits. When going outside in the sun, though, exercise caution. |
| How to use | When the formulation is cooling down, this ingredient is added. |
Because it encourages collagen formation, orange essential oil is also excellent for preventing symptoms of ageing such as wrinkles and dark spots. Its antioxidant properties reduce the pace of skin damage caused by UV light, pollution, and toxins.
The oil's high limonene concentration aids in the scavenging of free radicals that may destroy healthy cells. It can also stop bacteria and fungi from growing. When applied to the skin, orange oil promotes clarity, reduces inflammation and acne, and maintains our skin looking youthful.
Benefits of Orange sweet peel essential oil
Monoterpenes including linalool, d-limonene, and a-pinene, as well as other volatile and non-volatile molecules, are found in orange essential oil. Orange oil possesses antibacterial, antifungal, pain-relieving, antioxidant, anti-inflammatory, and insecticidal effects.
Calcium and vitamin c are both highly concentrated
The peel of a sweet orange is commonly used in skincare products to rejuvenate beautiful skin. Vitamin C concentration is much higher than that of an orange. It smoothes and rejuvenates the skin.
Orange peel contains calcium, which helps to rebuild skin cells and renew the skin. Orange peel can also be used to cleanse the face and freshen the complexion.
2.  Solution for the anti-aging problem
Orange peels are high in magnesium, which protects cells from oxidation, which causes skin to age. It is high in Vitamin E, which is an anti-aging ingredient.
Oranges include antioxidants that fight free radicals, which help slow wrinkle growth and prevent premature ageing. It unclogs pores and removes blackheads. It also aids in skin tightening and microcirculation.
3.  Natural radiance is improved
It works wonders when it comes to decreasing facial scars and discoloration. The peel of an orange acts as a natural skin bleach. Because of its bleaching properties, the peel can be used on a wide range of imperfections and brightens the skin of the affected area, making the spots disappear.
Citric acid is abundant in the fruit peel, which effectively highlights the skin tone. It gives the skin a dazzling glow, which helps to brighten it. It's an astringent, exfoliant, moisturiser, and toner cleanser all in one. It also produces a pleasant scent.
Side effects of Orange sweet peel essential oil
Phototoxicity is a property of sweet orange essential oil. As a result, after applying the oil, avoid exposing your skin to sunlight. If your skin is sensitive to the oil, perform a patch test before using it.
How to use it in formulation?
Orange oil can be used in a variety of ways to benefit your skin. This uplifting essential oil can be used in a variety of ways in your skincare routine. Use it as a body massage oil by diluting it with cold-pressed almond oil.
To combat free radical damage, dilute it with cold-pressed jojoba oil and apply it towards the conclusion of your skincare routine. Essential oils should never make up more than 1% of the whole composition, according to our recommendations. Always perform a patch test to see if you are allergic to orange oil.
Works Well With Other Ingredients
Sweet orange oil pairs well with other citrus essential oils such as lime, lemon, grapefruit, bergamot, and mandarin.
Share it on Social Media: