The world of organic skincare is an interesting one, yet a bit complicated. And since you have landed here, you must be having some basic knowledge about natural and organic ingredients.
We are here to break it down further in the simplest words. Going on, you will come to know everything about waxes used in cosmetics, their types, and also how they are used in cosmetic formulation. Let's carry on.
Natural Cosmetic Waxes – Introduction
So what is so special about these waxes used in cosmetics?
What is this buzz around them? If you are someone interested in the organic skincare industry, you will hear about them quite often.
These are a diverse class of organic compounds used in personal care products. They are hydrophobic in nature, which simply means they do not mix with water. The waxes used in cosmetics are solid at room temperature.
These can be natural, synthetic, or semi-synthetic, based on the derivation of the wax. 
Why are waxes used in cosmetics? 
Natural waxes are derived from bees, plants, leaves, fruits, and peels. This process of derivation is simply known as de-waxing! As you can guess, no chemical reactions are involved in this process, and hence are safe to use.
They are an important part of any cosmetic formulation as they: 
1. Improve texture
Waxes used in cosmetics improve the touch-feel of the product. Different waxes can make a formulation smooth or granular, as per choice.  
2. Add shine 
Cosmetic waxes are also used to add shine to the product. Waxes derived from different sources can provide different amounts of shine.
3. Increase shelf life 
Wouldn't it be absolutely amazing if your cosmetics could last even longer? Well, one of the uses of this versatile ingredient is to increase the shelf life of the products. So now you can not only be carefree about the chemical formulation, but also the longevity! 
4. Improve hardness 
Products like lip balms, face balms, lipsticks, blushers, eyeshadows require a certain level of hardness. Being so versatile, the waxes used in cosmetics increase the hardness of the organic product. 
5. Waterproof the product 
Because of their hydrophobic nature, cosmetic waxes are used in products to make them waterproof.
Does all this seem a tad bit heavy to you? We understand. That is why we have come up with a Certificate in Organic Skincare Course. It is designed especially for enthusiasts like you.
Not only you can extensively learn about organic skincare, but also open establish your business!! You will learn step by step how to design, formulate and manufacture your own range of products.
Do you know what this means? You can learn about your skin and the products that suit you and moreover, help others with the same!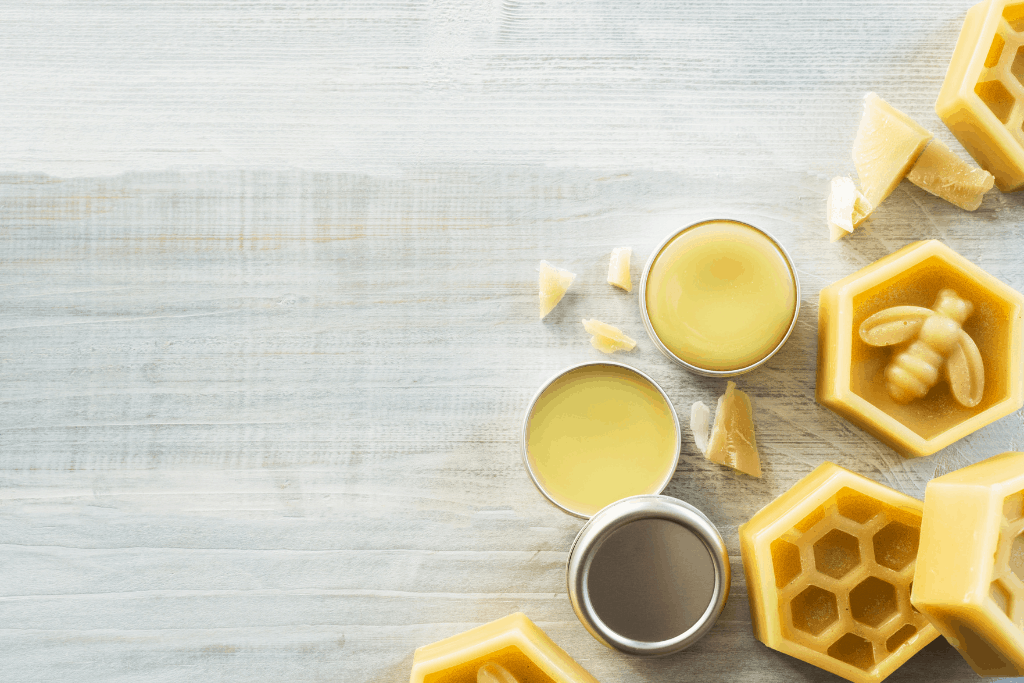 Waxes used in cosmetics: the various types
If you've come so far in this article, then we are sure you want to learn about the different types of cosmetic waxes out there, isn't it? So, based on their derivation, there are three types: 
Derived from animals 
Beeswax:
Please bow down to the king of natural waxes!! Not only because it is very, very popular in the organic skincare community but also because it was the first-ever wax to be used for cosmetic purposes.
Beeswax is a natural material that honey bees produce and secrete. When cold, it is hard and breakable, but when heated, it is soft and pliable. It is found in the glands in the abdomen of the bees. While it is natural, it's obviously not vegan(oops!).
There are three primary types of Yellow, White, and Total Beeswax. They differ in their techniques, advantages, and uses for manufacturing. It moisturises the skin, conditions it, soothes it, and calms it.
It exfoliates, restores damage, encourages the regeneration of the skin, reduces the appearance of signs of ageing, relieves itching and discomfort, and provides a moisturising, long-lasting protective barrier against contaminants from the atmosphere.
Beeswax, used in hair, nourishes, conditions, and softens the strands while promoting the lustre of the hair.
The formulations having beeswax create an impermeable layer on the skin and prevent it from drying out. It is also used for longevity and shine in eyeliners, eye shadows, and blush. 
Derived from plants – To all our vegan friends, your list starts here!
What are plant waxes?
Plant waxes are complex mixtures of, and variations of, hydrocarbons, alcohols, aldehydes, ketones, esters, acids, which are stored outside the epidermal cells in a layer.
In the epidermal cells of most plants, this complex blend of lipids is likely to be synthesised and exuded onto the surface. Plants usually have cutin, a film of cross-esterified hydroxy fatty acids that are often accumulated on the epidermal cells' surface.
Waxes are impregnated with this layer. Not only does the combined lipid covering protect the plant against invasion by foreign species, but it also helps to suppress transpiration.
Here are list of some plant waxes:
Candelilla Wax
INCI Name: Euphorbia Cerifera (Candelilla) Wax
It derives from the leaves of small candelilla shrubs native to northern Mexico and the U.S. Southwest. By submerging the whole plant in acidified boiling water, the wax is extracted from the shrub leaves.
The wax is released from the leaves, floats and is deposited at the top of the boiling water. Candelilla enriches creamy goods such as cream foundations, rich lip balms, curly hair conditioners and pomades for smoothing wax.
In order to harden the blend without raising the melting point, candelilla wax is also blended with other waxes.
Known as a family of flowering plant plants, it is sometimes referred to as Euphorbia antisyphilitica.
This wax is detectable by its yellowish-brown texture, brittle shell, aromatic nature and opaque, transparent appearance, often marked as Euphorbia Cerifera wax or Euphorbia Cerifera.
Carnauba Wax:
INCI Name: Copernicia Cerifera (Carnauba) Wax
Carnauba Wax is a natural "vegetable" wax derived from the botanical leaves of Copernicia cerifera, more commonly referred to as the Carnauba Tree.
This palm, which also goes by the name 'The Tree of Life,' protects itself against moisture loss by secreting a coating on both sides of its leaves during Brazil's dry season.
Carnauba Wax is this coating.
This one's especially used for stiffness and glossy purposes.
So, you may find this cosmetic wax in products ranging from lip balms, mascara, and even hair styling products! It has a high melting point. 
Berry Wax:
INCI Name: Rhus Verniciflua Peel Cera
Berry Fruit Wax is made in China from the berry fruit peels of the Rhus Verniciflua tree. Until processing into the final wax product, the freshly collected berries are boiled and filtered. It is a smooth, readily emulsifiable wax extracted from plants.
It comes in a comfortable pellet shape and smells of berries subtly with a low melting point. From cleansing balms and butters to hair care products, decorative cosmetics and emulsions, berry wax is used in all cosmetic materials.
Green Tea Wax:
INCI Name: Camellia Sinensis Cera
Where there is health, there is Green Tea! A dark green solid consisting mainly of esters, fatty acids, and fatty alcohols is Green Tea Wax. It also includes phospholipids and polyphenols that, in topical systems, can confer some active benefits. It is used in moisturizers and as a colorant in cosmetics.
While not an actual wax, Green Tea Wax is usually known as one.
It acts as a natural colourant at low percentages and can impart a subtle fragrance of green tea. It is compatible with most vegetable and mineral waxes, as well as vegetable oils and mineral oils. It is also helpful in the production of products for natural cosmetics and personal care. Green Tea Wax can give some antioxidant properties in skincare applications.
Synthetic derivation 
Synthetic waxes are derived from petroleum and hence find no space in the organic skincare community. The use of natural and vegan options is always encouraged!
We won't burden you with an overload of information, promise! When you enroll in our Certificate in Organic Skincare Course, you will get in-depth knowledge of organic skincare and how to actually put that knowledge to use. Then maybe you can write back to us with some newfound info?