Today we are coming to you with a blog on Best Weighing Scales For Skincare Ingredients that can be used while formulating our skincare recipes.
Go through the following arguments to understand the importance of good weighing scales and then come to a conclusion of which one is best for you.
When formulating skin care recipes, we have to be sure of the amount of ingredients that we are adding. Hence it becomes impertinent that we are equipped with the correct tools and understand the importance of such tools.
People use a variety of ingredients for skincare formulations. Some very common ingredients are used in bulk quantities, while others are very expensive ingredients that are rare and worth as much as some precious metals.
Whether you are making your product in bulk or making it according to the client's requirements it is important that all the ingredients used in a recipe are weighed accurately.
Understanding the problem of not using scales:
Most formulators fall in love with the easy to make DIY's to start their experiments on skincare recipes. Most of these recipes are in approximate measures which means they are not precise.
They are given in equivalents of spoons, cups or drops. It is convenient to follow them and not many resources are needed, these are tools which you easily find at hand.
But if you are intending to start as an organic skincare formulator and want to scale your formulations to a commercial level, then you have to change your approach and be a pro.
You need to shed those approximation skills and reach an accurate precision level. And to achieve this you must understand the importance of being sure of how many ingredients you are actually adding to your product.
As your passion for formulating and making your own cosmetics grows, and you see yourself somewhere in the near future as a successful formulator who is making larger and larger batches of your favourite formulations you will realise how difficult it is to scale production and still depend on counting ingredients in cups, spoons or drops.
You will soon realise that it is next to impossible to be accurate with this medieval way of measuring.
If you want your,
Lotions
Creams
Balms
Serums or oils
Soaps
Bath salts
To be reproduced each time with the same effect you first need to standardise your measuring techniques.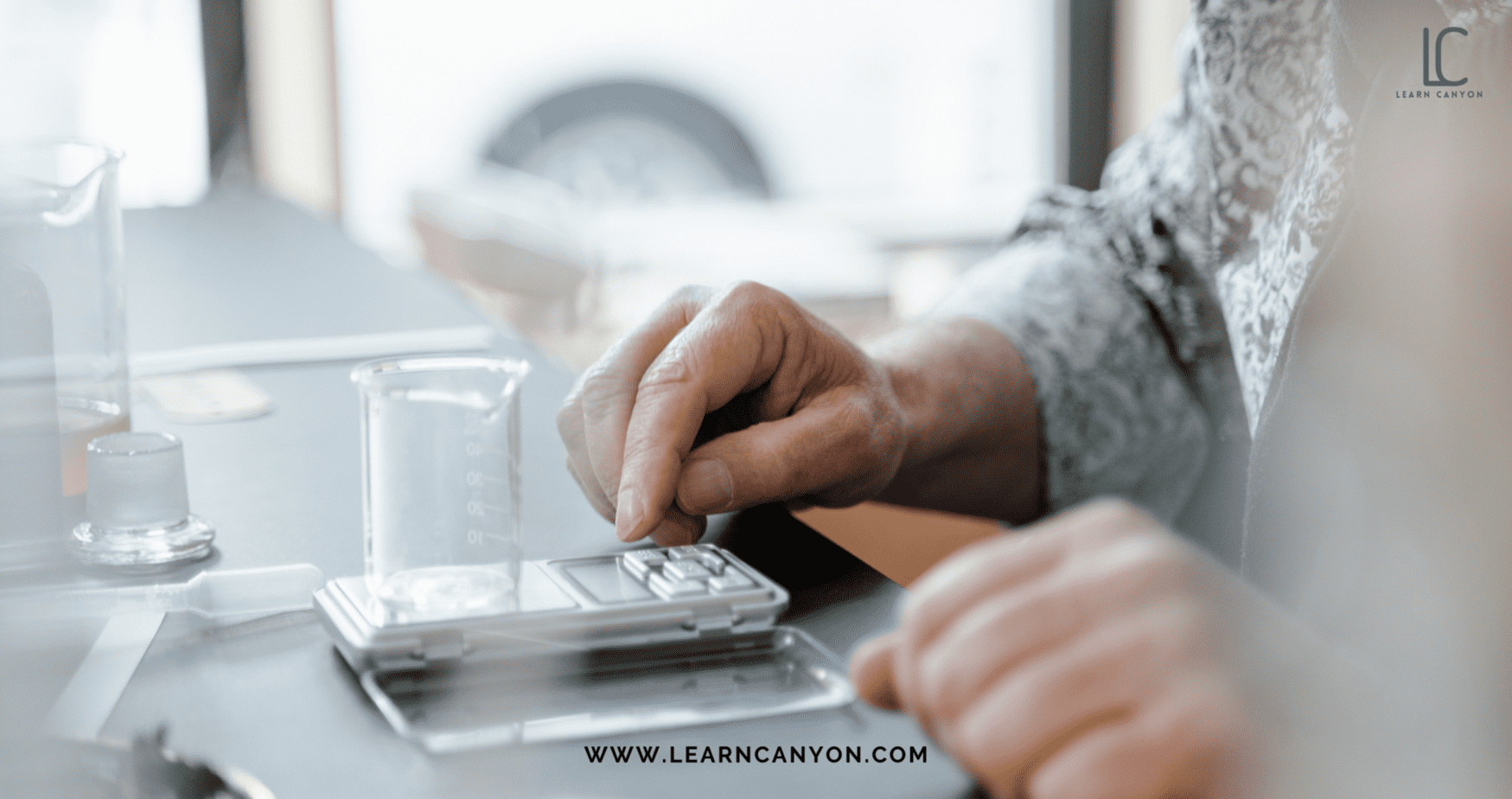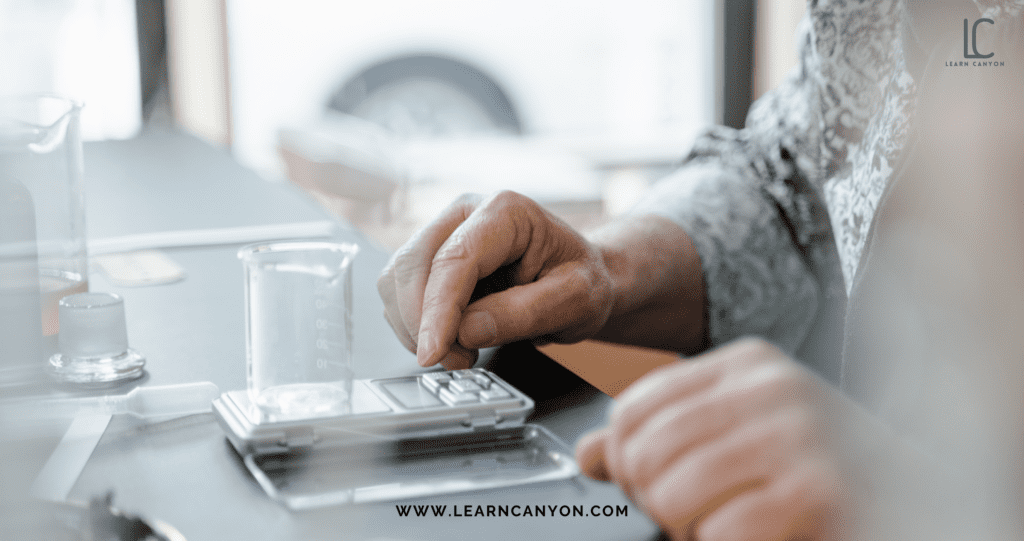 Finding a solution:
Being exact and preparing reproducible formulations (that means products that are similar in looks and effect each time), you need exact equipment.
An electrical scale with suitable accuracy is the most essential tool for being perfect. You as a formulator and creator need to purchase a scale for weighing your skincare ingredients.
Investing on a precise scale is quite affordable nowadays.
As compared to a decade or more back it was a different scenario when the scales were very pricy. But now these equipment's like electrical or electronic scales with the desired accuracy are available from a wide variety of suppliers and at competitive rates.
It is now a problem of plenty, as the range of products in the market is quite confusing, especially when you are at the start of the road at a carrier in formulating and production.
Here I have some suggestions and tips to help you perform through research and then come to a conclusion to buy a suitable scale.
Know more about scales and understanding its importance:
Before we move to the importance of scales for a formulator, let us first learn a little background of scales from a development point of view.
Earlier when electronic or electrical scales were not in existence our ancestors started their trade by using mechanical scales and balances.
Later these scales were known as the instruments which worked on a spring moving a pointer like the spring balance that is used even today.
The balances were instruments that had two pans. The working principle was very simple. With the use of standard weights in one pan, the balance was achieved with the item to be weighed being placed in the other pan.
Today both words are used interchangeably for modern digital instruments.
As I said earlier formulation is all about precision. And to be precise all you need are some good scales or weighing and measuring tools. Now we first need to answer a few questions…
What are the characteristics required in a good scale by the formulator in a skincare laboratory?
When you are starting your formulations from a basic level or even if you are a pro to start with you can always use the basic electronic weighing scales as those used commonly by the jewellery seller or the one used by a chef.
It is not important how much money you spend in buying these scales as in the starting all you need is an accurate and easy to use device.
The two most important features that are required in your lab scales are:
Precision
that means how accurate the reading of your scale is or put in other words, precision is defined as the smallest increment it can distinguish and display; and
Capacity
that means what is the maximum weight it can measure or put in other words capacity is defined as the approximate maximum weight a balance can measure
To start with, having a precision of 0.01g is acceptable and the capacity can be anything from a few hundred grams to kilograms depending upon the batch size.
But when we are starting and experimenting, we do not make big batches so the maximum capacity can be around 200 to 5kgs. The general trend is to make batches of 50 grams.
So, if you are making any product like a balm or a cream or a body oil and you need to add ingredients like preservatives, essential oils or any herbal actives which are in a range of quantities which may be as less as 0.01 gm or 5 grams this scale is sufficient to give you an accurate amount of the ingredient.
But now if you need to make a smaller batch with the same formula, say a 25gm sample then the same weights become half. Now in the formula you need to add a preservative in the quantity of 0.005 gms, it will not be possible to weigh this quantity on your scale which is with a precision of 0.01gms.
For this you will require a more sensitive scale which will have a precision of 0.001 grams.
As seen earlier the capacity of your scale can be anywhere in the range 200 gms. to 5 kgs. and so will be the accuracy (to as low as 0.001 grams.).
The fact should be borne in mind that the higher the capacity, combined with a 0.01gms. precision, the higher will be the cost of the scale.
It will be my advice to go for a moderate scale having a capacity of 500gms.
Another reason why choosing the right scales is so massively important is the problem encountered when following recipes that state the liquids in the number of drops. This is seen in many easy to make DIY's.
Here I would like to remind my readers of the courses offered by us, where you get an opportunity to learn the intricacies of formulation by studying in detail about the ingredients it's properties and uses and understanding the importance of using exact % instead of imitating blindly what others are doing. To know more visit our site
Enrol Now for Our Certificate in Skincare Formulation Course
Counting drops for your formulation is always a no-no action.
This is simply due to the fact that every time you count the drops of any liquid, the size of the drop will not remain the same.
The drop size of liquids varies a lot as it depends on many parameters like the weight/viscosity of the ingredient, the container in which it is stored.
The type of dispenser or dropper that is used, and many such factors. Some liquids are easily flowing as they are less viscous like water and others may be thicker like oils or honey for example.
Some may become thick due to temperature like coconut oil in winters is semisolid and in summer it is free flowing. Some have more volume, whereas others have less.
Here we should know that 1 drop of water doesn't have the same weight as 1 drop of any vegetable oil. This is due to the difference in their specific gravities.
Or, think about this: what is heavier, 1kg of stones or 1kg of feathers? Now visualise both quantities.
So, when understanding the importance of precision, it would be nice to observe the weights of 1 drop of different liquids like vegetable oils, essential oils or carrier oils and also water.
After performing this activity for yourself you will realise the importance of a 0.001 gm precision scale.
Taking a decision on which scale to buy:
The first things to decide when we are out to buy a weighing scale is the required capacity and the precision.
Here I would like to suggest that you first calculate your work requirement and then may decide to buy 2 or more scales. From experience, it is often seen to be affordable and smart to break up your scale requirement.
Let us assume you make samples in batches of 50gm or less and then upscale it to about 5 kgs.
Then it would be much better to purchase a 100 gram scale with milligram precision for your test batches and the additives you add in very low percentages, and a higher capacity balance (10 kg) with 1 gram precision for the bulk batch.
Many times even a good kitchen scale serves the purpose. The combination of the two scales serves the purpose of accuracy and is not heavy on the pocket too.
Be aware: Most countries regulate the design and servicing of scales used for commerce. Your production scale might be "Legal For Trade Scales" according to your regional legislations. That should be considered before purchasing the scale.
Points to look for when shopping for the required scales:
The following tips will help you make a decision when you finally go shopping for some scales for your skincare lab:
Power mode:
Most precision and laboratory scales are available as both battery and power operable where you can use standard batteries or an AC-adaptor.
The biggest drawback when using battery-operated scales in the laboratory can be the auto power off mode to save battery life.
These scales are designed to turn off automatically after a few minutes of idling but this can spoil your entire batch if such a thing happens to you in the middle of weighing a long list of ingredients.
Check if you can turn off the auto-off mode in such scales. It is very important that the weighing scale performs consistently while you weigh your ingredients.
Physical Dimensions and material used:
As you're selecting your balance, it is important to keep in mind the physical dimensions of the scale and how you can place it on your work table or while in storage.
Also, when you are working with solids and liquids and sticky materials they are bound to spill. Make sure the scale you choose has a pan which is easy to clean and non-corrosive.
Ideal Place to put your scale:
In your working area make sure you place your scale on a solid surface which is stable and will not vibrate when the other equipment is used. These surfaces can be of granite preferably.
Of course, you don't necessarily need any granite surface but take care that you put the balance on a fixed position, the scale should not be exposed to direct sunlight, noise or vibrations to give you a hassle-free experience.
Make sure that you do not unnecessarily move the scale from its position to avoid resetting it every time.
To summarise all my points, we can say that a good scale keeps the measurement accurate and the results do not variate often. It is always a good practice to calibrate the equipment once in a while.
A good and consistent scale also makes measuring quick and easy.
Lastly with a good precision scale you can be sure of accurately adding even your minuscule ingredients like thickeners, emulsifiers, essential oils and other similar ingredients.
Precision is very important in the formulation as adding excess of some ingredients can be toxic or irritant.
Now that we know the basics of selecting a good scale go ahead and buy yourself a good scale and enjoy weighing!