Before we even start to think of formulating a serum, we must first understand what a serum is and then comes the next step of formulating one. In this topic today we shall try to understand a serum, its types and composition and the work on how to make one.
In this article, we will be discussing how you can formulate a simple Caffeine & Hyaluronic Acid Serum at your home to make a better skin tone. but first to start with we shall try to understand,
What is a facial serum?
Let me tell you that not only you but people working in the cosmetic industry and belonging to the community world over have the same question.
Let us now get this issue sorted and clear some confusions about the behaviour and functioning of the serums.
In this sense the word 'serum' defines a product that is supposed to deliver higher concentrations of actives to the skin or hair. The industry today uses the word serum widely in the context of natural skincare products.
The term serum can mean different things to different people.
Some may associate the serum to the type of formulation as that being a lotion, solution, gel or a fine emulsion, while others may think it to be meant either for the skincare or hair care only as the hair serums that were popular in the early 2000s.
To get a complete understanding let us first understand the types of serums that can be formulated.
Download your Free facial serum ebook
different types of facial serums that can be formulated are
Oil based serum
Water based serum
Gel serum
Emulsion based serum
Balm serum
Oil Based Serum
One of the easiest ways to formulate a serum is the oil-based formulation. Facial serums that are formulated as oil serum are based on the concept that the product foundation contains high-end specialised carrier oils that are fast-absorbing.
Carrier oils are also commonly known as 'dry' oils as they moisturise the skin without making it oily as it dries out faster on the skin. These oils are also known to act as barriers and have excellent skin repair properties.
Due to the presence of polyphenols, essential fatty acids and other secondary metabolites they are absorbed better by the skin.
Along with the carrier oils these serums are also known to contain extracts and aromatic compounds that benefit the skin and offer antioxidant properties which improve its effect on the skin.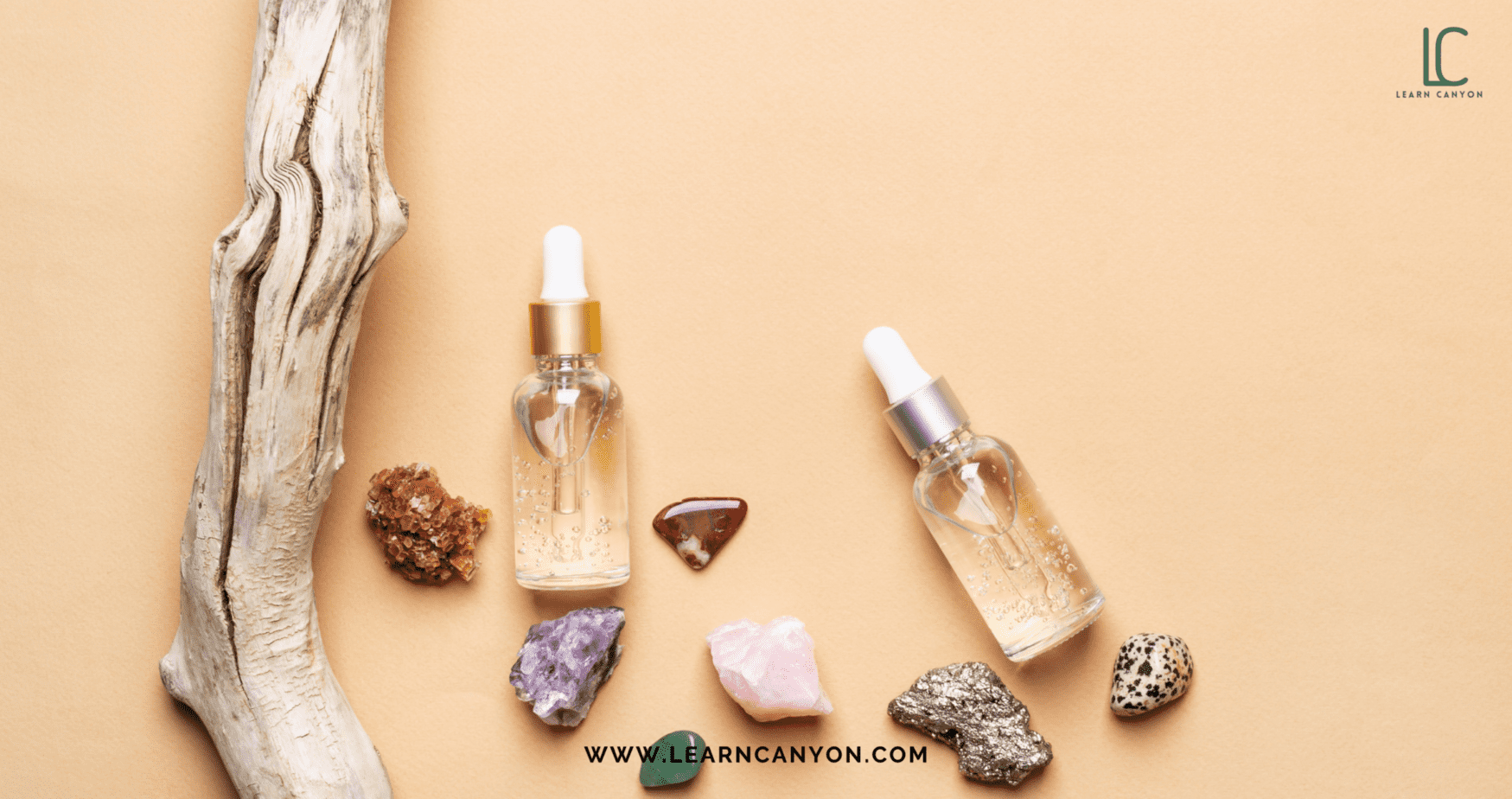 Water-Based Serum
Water-based are essentially gel serums minus the thickeners or gelling agents. Though some water-based serum can contain trace amounts of thickeners to adjust the thickness or viscosity of the final product.
The water-based serums are designed to provide hydration to the facial skin and hence contain a lot of hydrophilic ingredients preferably from the natural origins.
These hydrating botanical ingredients act by entrapping the skin's natural moisture factors and reducing the trans epidermal loss. These are then covered with a layer of cream or lotion.
Gel Serum
Gel serums are popular amongst users as they are known to impart an instant tightening on the skin. The gel serum is a water-based formulation.
This gives you the formulator an opportunity to incorporate some effective and wonderful plant extracts that are water-based also known as hydrophilic extracts.
Emulsion Serum
A facial serum that is similar to a moisturiser that replenishes the skin with ingredients that provide hydration, nutrients, protective barriers and are high performing.
The emulsion serum is similar to an emulsion which is essentially a mixture of two immiscible phases like oil and water and stabilised by a third ingredient which is known as a emulsifier to stabilise the system.
An emulsion is possibly the best and most effective route for delivering high performing active ingredients deep down into the skin's tissues.
Getting down to the dermis is very challenging for any cosmetic ingredient, given the skin's barrier function, but a blend of oil and water is best suited for achieving this impressive task.
The emulsion will also deliver moisturising properties to the skin, strengthening the barrier function.
Balm Serum
It is only natural to think how come you have a balm as a serum in the list. Let us see what this balm serum is all about.
A balm serum is a typical cosmetic formulation, made up of oils, butters and waxes and also contains some oil-soluble or oil loving lipophilic active ingredients that are beneficial to the skin.
The oil phase comprising the oils, butters and waxes all or together or some combinations help by creating an occlusive layer on the skin which keeps the skin hydrated and hence moisturises the skin.
The butters and oils also provide the required nourishment to the skin. one can use a combination of exotic butters and waxes of the numerous available in skincare and can be paired with some useful oil extracts from the botanical source that can be used in a balm serum, paired with hundreds of wonderful botanical oils.
The biggest difference between the balm serum and all of the others is that this serum takes on a solid form, whilst all of the others are liquid.
So now that we have seen the various types of bases for serums let us now also list a few of the other ingredients that are a part of the serum's performance.
To achieve an effective performance in a serum it must also contain some of these to get a soothing, toning and balanced product.
The formulations will contain
Hydrosols
Humectants
Aroma ingredients
Actives
Preservatives, etc.
To learn more about the different serums and other skin care products visit
Learn Canyon and find out about our courses: Certificate In Organic Skincare Formulation Course
how to Formulate a simple Caffeine & Hyaluronic Acid Serum:
A simple Caffeine & Hyaluronic Acid Serum is essentially used for the property of depigmentation or skin lightening provided by the caffeine extract and the hydrating effect provided by the hyaluronic acid.
A facial serum can be an excellent addition to any skincare routine, when they provide you with the desired effect. Serums are essentially included in the skin care routine with products that contain the most trending and popular ingredients.
Today we are going to discuss the formulation and making of one such serum containing ingredients like hyaluronic acid and of course caffeine that not only help replenish moisture in the skin, but also brighten the skin by lightening its texture.
Serums can be formulated in such a manner that they are suited to most skin types.
Serums are potent blends that means they contain high concentrations of many different active ingredients, such as exquisite oils and blends of extracts from natural sources.
(We have done in-depth research found Hyaluronic Acid is among 8 Skincare Ingredient that will Trending)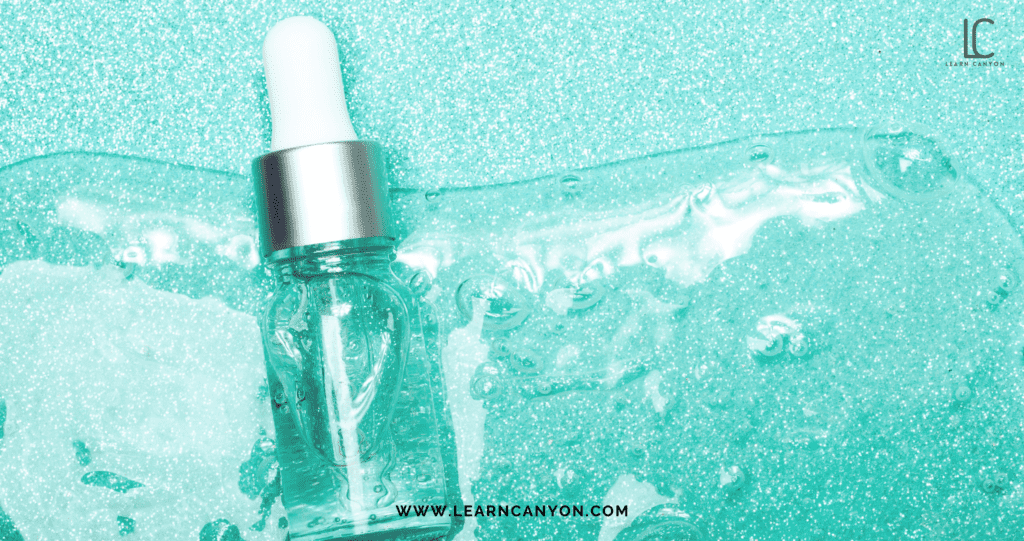 As discussed earlier they can have an emulsion base, a completely anhydrous (water free) base, a gel or water base or may be even formulated as balm.
The many different textures and ingredient combinations possible, make serums an interesting product for formulators to experiment with.
Before moving ahead with the actual formulation let us first understand the correct way of using a serum. The effectiveness of the serum depends upon the way it is used and also on its order of use.
Serums should be applied after effective cleansing and before applying a moisturiser. Some oil based serums can be used just after cleansing and the moisturiser can be skipped as they are very nourishing.
Take one or two drops of the serum on to your palm and massage the serum into cleansed skin with your fingertips. Follow this with your favourite moisturiser after massaging the serum for a minimum of 30 seconds.
essential ingredients to formulate Caffeine And Hyaluronic Acid Facial Serum?
We are going to make 50ml of the product.
Ingredients:
Phase A
Rose Water – 45gms
Panthenol – 0.5gms
Caffeine – 0.2gms
Phase AA
Glycerine – 3gms
Xanthan Gum – 0.3gms
Hyaluronic Acid – 0.5gms
Phase B
Cosgard – 0.5gms
This Caffeine and Hyaluronic Acid Facial Serum is a water-based product.
So we can say it is a water-based serum. Due to its high content of hydrophilic ingredients it will have a very light texture and will be easy to apply.
It is a very simple formulation to make and follow. Pay attention to the steps and tips or bottlenecks given to finetune this formula.
The key ingredient in this hydrating facial serum is hyaluronic acid. Hyaluronic acid is known to hold up to 1000 times its own weight in water, making it a very powerful hydrating ingredient in skincare and is often referred to as humectant.
Hyaluronic acid is naturally found in the skin and its main function is to keep the skin supple and plump which is possible only when the skin is well supplemented with moisture and does not face dehydration.
The skins hyaluronic acid level decreases with increasing age and this is also one of the reasons why we see signs of aging like wrinkles on skin and particularly dry skin.
Right diet and some high-performance skincare products can help the skin stay hydrated and plump.
Hyaluronic acid is mainly used in anti-ageing products. It can be added to any product that contains water.
Hyaluronic acid is available as high molecular weight and low molecular weight hyaluronic acid. The high molecular weight hyaluronic acid creates a gel and it is super effective for hydration. If you want to compare it to the most commonly used humectant, glycerine, hyaluronic acid can actually be 10 times more effective than glycerine.
On the other hand, the low molecular weight hyaluronic acid is more suited for its anti-ageing benefits as it is said to penetrate further into the skin.
In this formula, we would prefer the first that is one with high molecular weight as we are looking for a hydration effect.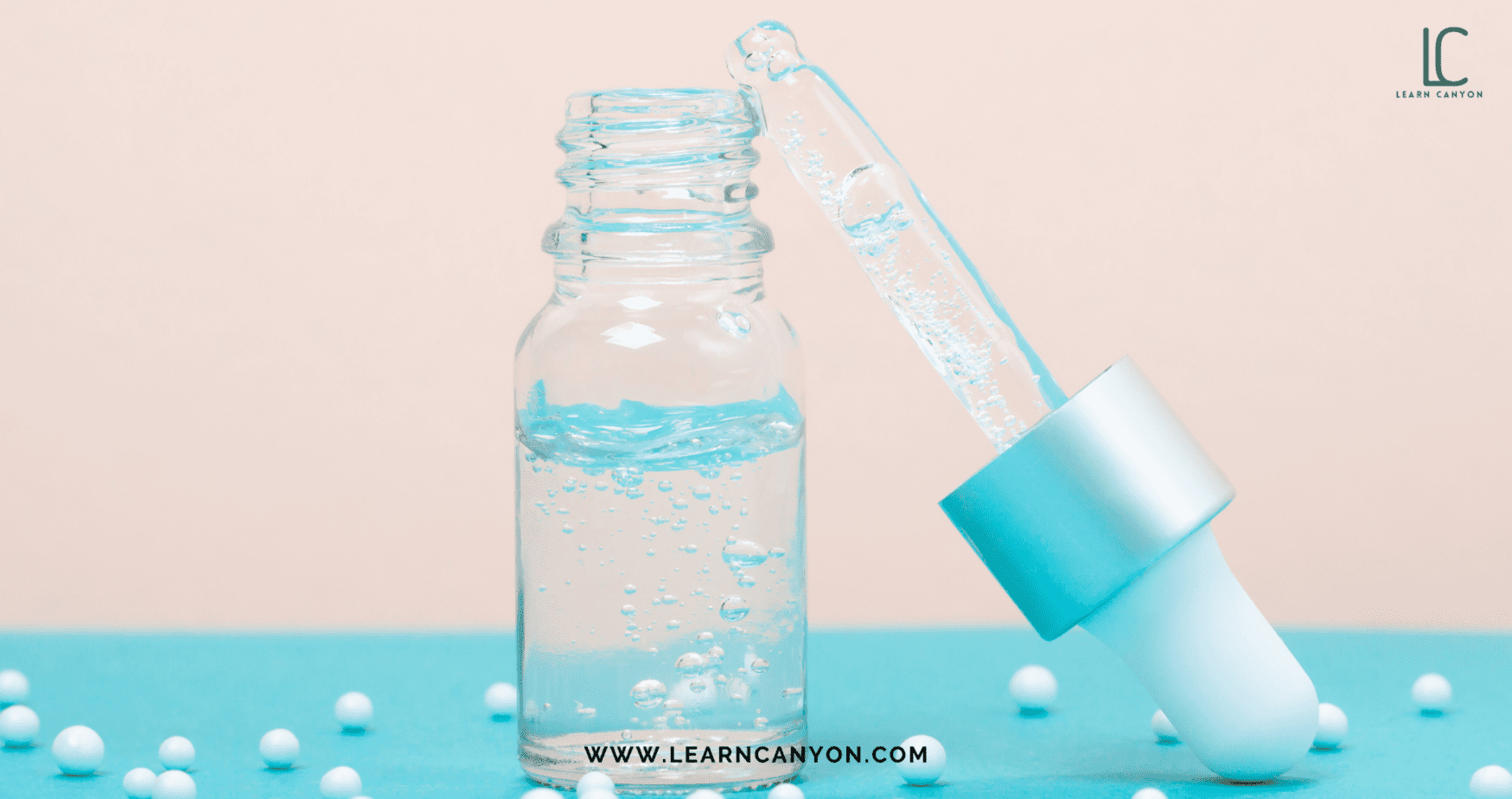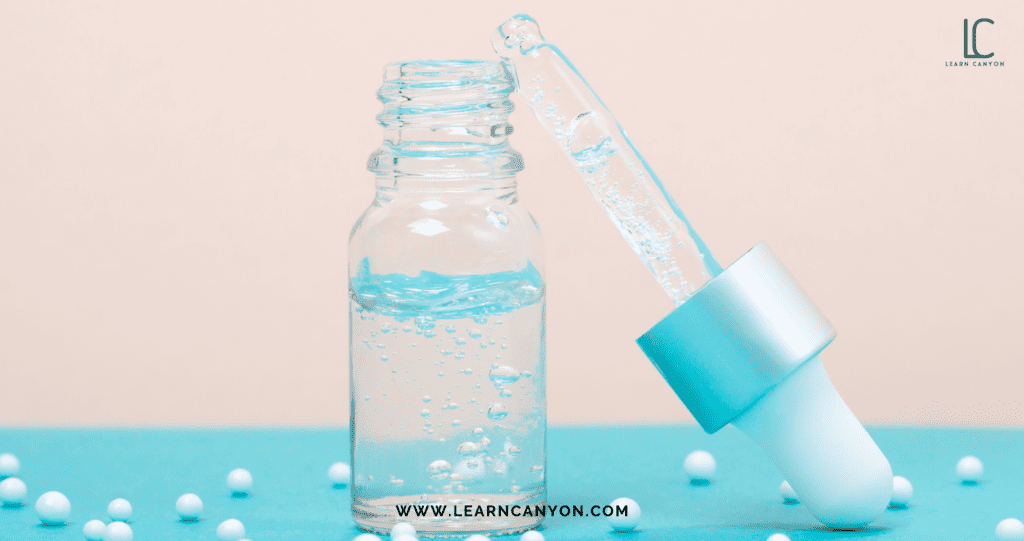 Types of hydration effect?
Panthenol
Panthenol is a stable form of vitamin B5. B5 can bind and hold on to water effectively, resulting in skin that's soft and moisturised.
Hence, panthenol is known for its repairing, soothing and moisturising properties. Panthenol is used in this formulation as it can help in effortlessly spreading the serum and achieve complete coverage.
Another advantage that panthenol holds over other common moisturising ingredients is that it acts as both an emollient and a humectant. Emollients seal any cracks in the skin, and humectants attract water to the skin.
Caffeine
The addition of caffeine is done to help de-puff and brighten the appearance of dark circles under the eyes and to brighten the skin in general by effective depigmentation.
Glycerine
It is used as a common humectant which helps in maintaining the moisture levels.
Xanthan Gum
It is used as a thickener as it is widely available and relatively easy to work with. We can achieve clear serums with beautiful transparency.
Method to Preserve them?
Cosgard – It offers effective broad-spectrum protection against gram-positive and gram-negative bacteria, yeast and mould. It is used in most cosmetic formulations like lotions, serums, emulsions, creams, etc.
Procedure or Method of preparation:
Phase A:
In a disinfected glass beaker weigh around 30gms of the rose water.
Add the Panthenol and caffeine and dissolve it by stirring.
Set this blend aside.
Reserve the remaining 15 gms rose water for the thickener.
Phase AA:
Weigh the glycerine in a small beaker.
Add the xanthan gum and the hyaluronic acid at the remaining rose water and keep itseparate. Once the thickener swells and the hyaluronic acid dissolves completely set it aside.
Stir the blend thoroughly.
Slowly, in portions, add the gum blend to the water base and stir well.
Phase B:
When the blend is clear and have no particles from the gum, add the preservative cosgard.
Check the pH and adjust it to around pH 5.0 – 5.5 if needed.
You can now decant it into a pretty bottle and label.
How Do You Use This Facial Serum?
This caffeine & hyaluronic acid facial serum is a formulation containing higher percentages of active ingredients than most of the regular skincare products and hence only a small quantity is enough to be effective.
So, this serum is used only in small quantities, usually only a few drops.
This facial serum is generally applied just after cleansing your face and before applying any other product except maybe a toner. This is so that the product is 'locked' between the skin and other products.
A facial serum is generally applied daily after cleansing and toning.
A facial serum is massaged onto the skin with one or two fingers to avoid wasting serum.
This caffeine and hyaluronic acid facial serum is formulated to target specific skin issues, which is why you will see brightening, illuminating, soothing and hydrated skin after applying the serum.
Get your Free Facial Serum Ebook Now