Beautifying benefits of: Natural Cocoa Butter
Cocoa butter is the fat extracted from cocoa beans.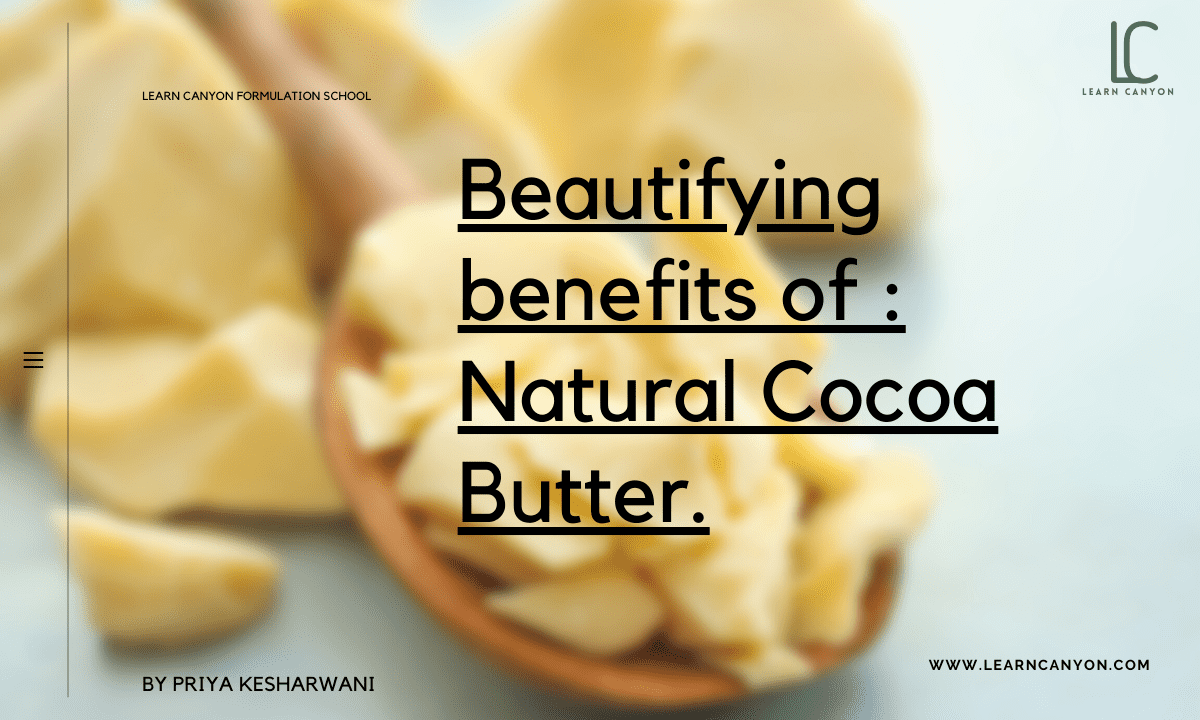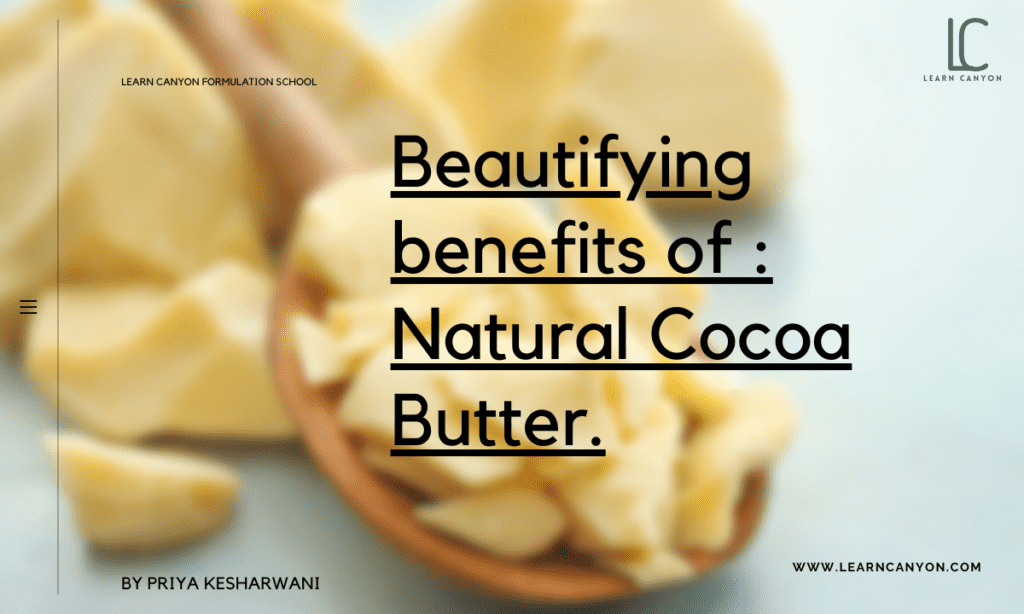 Add a header to begin generating the table of contents
Chocolate bars, fudge layer cake, and chocolate chip ice cream may all come to mind while thinking of cocoa butter, if we had to guess. This delicious component, on the other hand, is commonly found in skin creams and other health and cosmetic products.
Unlike the one in your dessert, the cocoa butter in your skin care routine will not cause you to gain weight. Is it, on the other hand, capable of assisting you in improving your appearance?
Cocoa Butter is a healthy natural fat made from the cacao beans found inside the Cocoa/Cacao Tree's pods. Cacao refers to the raw, unprocessed beans found in the fruit pods, whereas Cocoa refers to the beans that have been picked and processed. After that, the scraps are ground into cocoa powder.
Cocoa Butter vs. Cacao Butter
Raw cacao butter and cocoa butter are nearly identical, with the exception that raw cacao butter's manufacturing process is slowed to guarantee that the temperature does not surpass 115 degrees Fahrenheit (about 46 C).
The variation in spelling between cacao and cocoa is most likely due to what is printed on product labels—"cacao" has always been the term of choice for raw food goods to distinguish them from the roasted bean.
| What is it? | Cocoa butter is the fat extracted from cocoa beans. |
| --- | --- |
| INCI | Theobroma Cacao Seed Butter |
| Appearance | Beige chunks |
| Texture | At room temperature, it is hard and brittle. The oil is thin and smooth when it melts, and it quickly penetrates into the skin. |
| Recommended Usage | 0-90% |
| Solubility | Oil miscible |
| Melting point | 34°C/93°F |
| Boiling point | NA |
| pH | 5.3 to 5.8. |
| Aroma | Deliciously chocolatey. |
| Why do we include it in formulations? | Without adding a wax, cocoa butter will thicken the mixture (and even solidify if used in high enough concentrations) |
| How to work with it? | Add cocoa butter to your formulation's oil phase. Melt it with the rest of your ingredients in a water bath over low heat. |
| Applications | Cocoa butter is used in a variety of cosmetics. Cocoa butter-infused skincare products build a protective barrier around the skin and aid in the retention of moisture. |
| Absorption rate | Fast |
| Strength | It's a rare brittle butter with an amazing smell and silky texture. |
| Weaknesses | The fragrance isn't for everyone. |
| Substitution | Kokum butter or tucuma butter |
| How to store it? | Stored in a cool, dark and dry place. |
| Shelf life | Cocoa butter should last at least two years. |
| Type of ingredient | Hydrator |
| --- | --- |
| Main benefits | Heals chapped skin, moisturizes, fights aging |
| Who should use it | Anyone who needs a body moisturiser in general however, if you have a lot of body acne, you might want to avoid this one. |
| How often can you use it? | As much as you want, really. |
| Works well with | Vitamin E oil, shea butter |
| Doesn't work with | - |
| How to use it in formulations | Added in the oil phase of formulations |
Because cocoa butter is abundant in fatty acids, it's typically promoted for its capacity to moisturise, nourish, and improve skin suppleness. Cocoa butter's fat produces a protective layer over the skin to keep moisture in. Phytochemicals are natural plant components found in cocoa butter. By protecting the skin from the sun's harmful UV rays, these chemicals may enhance blood flow to the skin and reduce skin ageing.
Benefits of Cocoa Butter for Skin
Almost everyone has eaten cocoa butter at some point, and many people use it to moisturise their skin. But what exactly is it about this delightful element that makes it so beneficial to your skin? Cocoa, whether in the form of a bean, butter, or powder, is high in essential nutrients and antioxidants.
As a result, they provide instant benefit to the skin, assisting in the prevention of sun damage and early signs of ageing. Anti-inflammatory properties of cocoa butter aid in the relief of dry skin and irritation. Scars, wrinkles, and other skin marks are some of the most prevalent uses for cocoa butter.
Many women believe that cocoa butter creams and lotions can help prevent and reduce the appearance of stretch marks during and after pregnancy. Cocoa butter is also thought to have healing properties.
Side Effects of Cocoa Butter
Cocoa butter, according to Dr. Greenfield, should be gentle on the skin while yet being rich and moisturising. Cocoa butter is actually quite hard at lower temperatures. When you place a piece of cocoa butter in your palm, it quickly melts, making it an excellent ingredient for lip balm.
It keeps goods thick, but they dissolve when they come into contact with the body. Of course, you won't have to worry about the melting point if you buy it in whipped or cream form.
How to Use it in formulations?
Cocoa butter is a lipid made only from cocoa beans. Cocoa butter has a wide range of nutritional benefits for skin, according to early research. Cocoa butter is sometimes used in lotions, but it should not be used on the face since it might clog pores. Comedogenic ingredients are those that have the ability to cause acne (pore-clogging).
Work well with other ingredients
Cocoa butter with vitamin E is beneficial to your skin since it is a rich natural moisturiser that leaves skin soft and silky, changing even the roughest and driest areas into buttery soft skin. Vitamin E is a potent antioxidant that reduces the appearance of scars, stretch marks, and other skin flaws, resulting in a more even and toned appearance.
Share it on Social Media: