Face oil serums are our favourite when it comes to a skincare routine! They give a nourishing feeling, make the skin look supple and youthful, and just smell so nice!
Different facial oil serums give different benefits, and today we will tell you about this amazing one called wild rose facial oil serum.
For this, we will first learn what is rosehip oil best for and how to make one for yourself!
Rosehip oil or wild rose oil is a powerful brightening ingredient used in organic rosehip face oil.
This luxurious and soothing oil helps to diminish the signs of ageing like fine lines and wrinkles. The botanical properties leave the skin feeling extra glowy and moisturized!
Not only this, the subtle smell and aroma of the oil help calm the mind and body, especially enhancing skin texture.
The oil also helps to maintain elasticity and bring back the original skin color. Now we have an idea about what is rosehip oil best known for.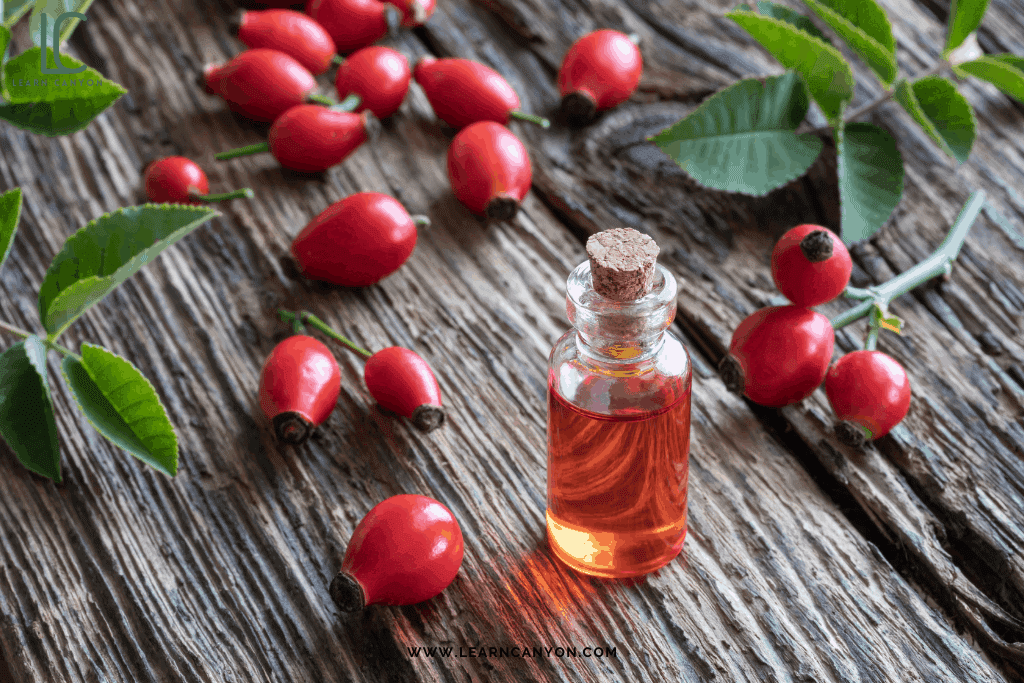 It is also a good time to introduce you to the Certificate in Organic Skincare course. 
This course is designed to make you aware of the skincare practices, namely- types of skin, types of skin concerns, organic ingredients, how to grow the ingredients, how to formulate your own organic skincare products, how to set up your own lab, and establish your line of products!
That is a LOT you can learn from this course in a feasible way!
So circling back, Wild Rose has high levels of vitamin C and is rich in oils and proteins.
These help keep skin moisturized and soft. Interestingly, rose oil is the only vegetable oil that naturally contains retinol, known to help treat signs of aging, acne scars.
Wild Rose oil prevents pigmentation and increases radiance.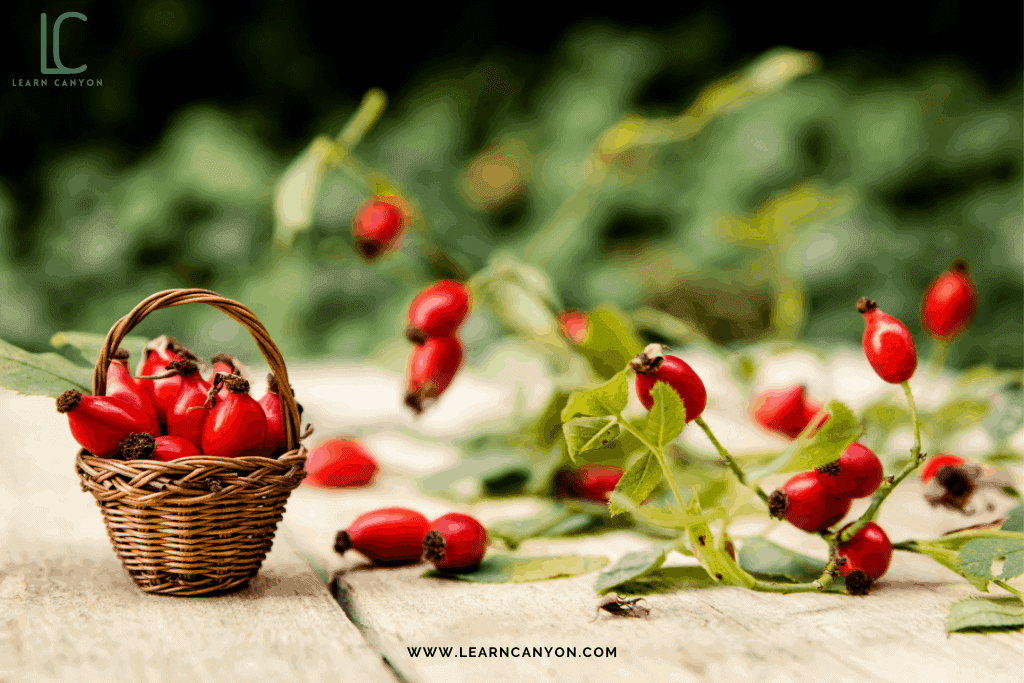 What is rosehip oil best for? 
Anti-wrinkle action: 
Rosehip oil, as we discussed earlier, has anti-ageing properties.
It has retinol which decreases the signs of aging over time, like wrinkles, fine lines, dark spots, and blemishes. When used in a face oil serum, it serves as an organic age-defying agent.
Restores Elasticity: 
Organic rosehip face oil along with other ingredients restores the elasticity of the skin. It boosts collagen which further helps in retaining elasticity, resulting in youthful skin.
Treats dry skin: 
It nourishes and locks in the moisture of the skin. Serums are anyway known to make a layer over the skin to keep it hydrated. It is even better for dry skin because it prevents flaky, itchy skin.
Even skin tone: 
When the anti-aging properties of rosehip oil are in action, they also work to reverse the discoloration of the skin. In other words, it removes dark spots and blemishes to reveal an even skin tone.
Nourishes and hydrates skin: 
As we said earlier, facial oil serums formed with rosehip oil help lock in the moisture. They keep the skin hydrated and hence less irritated and inflamed.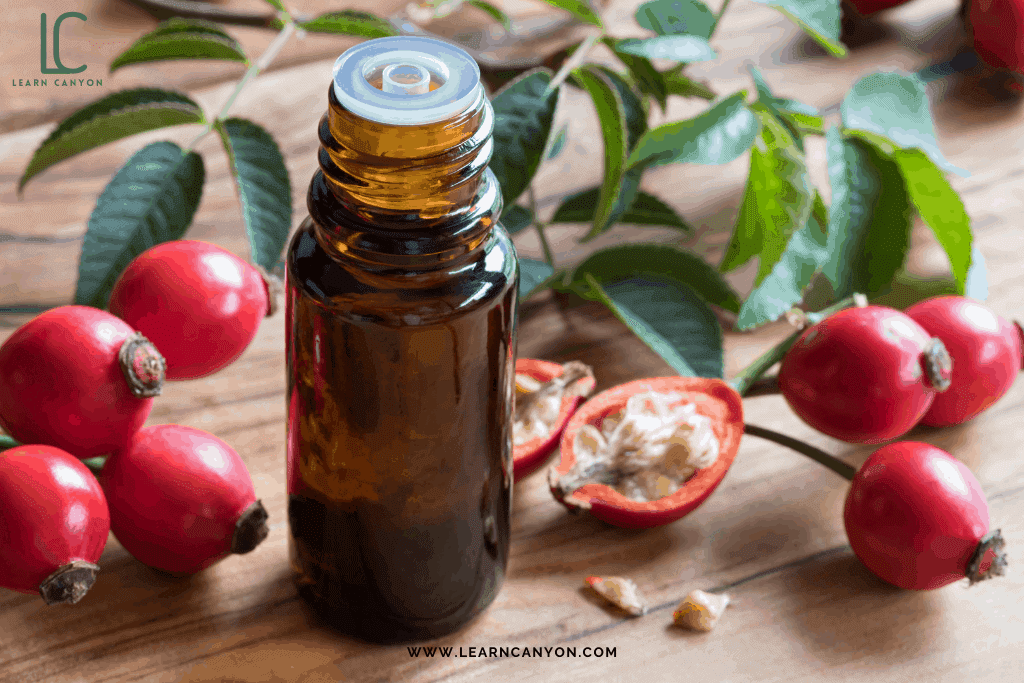 Benefits of other ingredients in face oil: 
Sunflower Oil: 
Sunflower oil has uh-mazing properties for skin, correction, literally all types of skin. For dry skin, sunflower oil provides moisture and allows the skin to retain water.
For sensitive skin, it helps provide protection, gentle moisture, and also a soothing feel.
For combination skin, sunflower oil balances by providing moisture and the oils in areas that need it. For oily skin too, it helps by not clogging pores.
For mature skin, sunflower oil adds hydration and minimizes the signs of aging like lines and wrinkles!
Argan Oil: 
Argan oil is extracted from the argan trees found in Morocco. It is commonly sold as unadulterated oil Argan oil is one of those oils which can be directly applied topically (clearly to the skin) or ingested to give a couple of clinical benefits.
It can be blended with things like shampoos, chemicals, and conditioners.
Argan oil has usually been used both topically and orally to improve the strength of skin, hair, and nails.
 It contains different properties and supplements that structure a fantastic mix to help skin prosperity.
Apricot Kernel Oil: 
Apricot oil is light and rapidly makes skin delicate and smooth (that is because of its Vitamin A substance); it goes deep into the skin and gives dependable moisturization.
Its unsaturated fats go about as non-oily emollients to nourish dry skin
Vitamin E: 
Vitamin E is a vitamin your body needs to help your immune system and help your cells to actively regenerate.
It is best known for its antioxidant and anti-inflammatory properties that help your skin in various ways.
It is most generally known for its benefits for skin appearance and health.
It very well may be applied topically to your face to reduce irritation and make your skin look younger.
Many people additionally swear by the effects of vitamin E when it's applied to the face overnight.
Helichrysum essential oil: 
Helichrysum is mostly and traditionally used medicine because it has anti-inflammatory, antifungal, and antibacterial properties.
Combined with rosehip oil for making face oil serums, it repairs the skin cells from within and helps in healing.
Chamomile essential oil: 
Involving amazing mitigating and calming properties, Chamomile Essential Oil is a magnificent solution to help alleviate your appearance.
 Regardless of whether it's rosacea, disturbance, skin break out, or some other skin concerns, Chamomile Oil is an extraordinarily common solution to soothe your skin.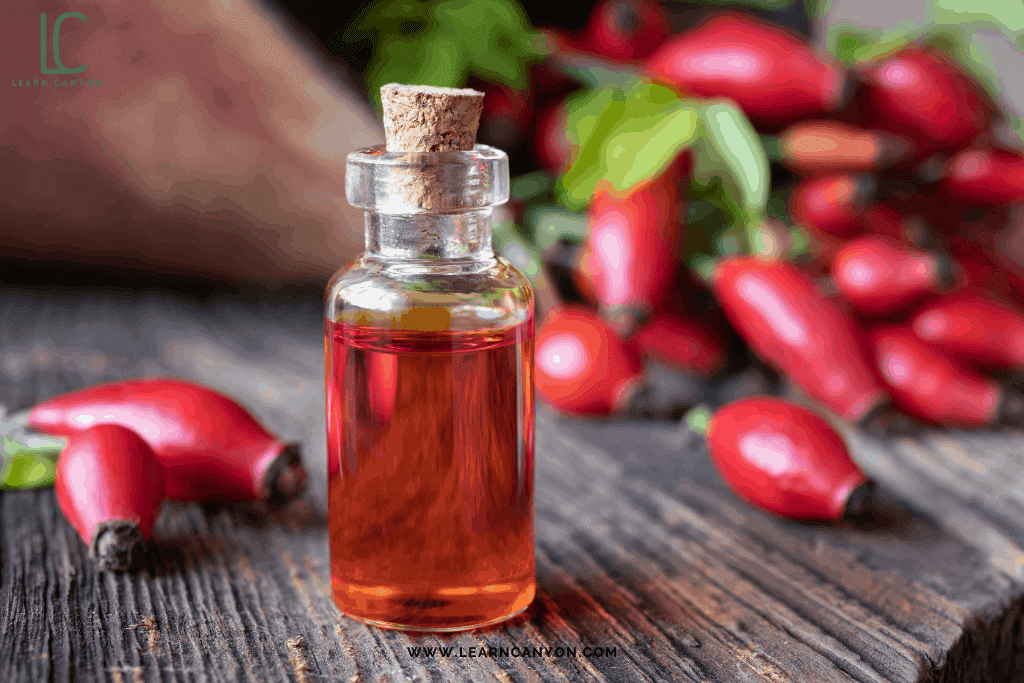 Here is our formulation for a high performing Rosehip face Oil:
Equipment you will require for the formulation are:
Digital Scale which weigh up to 0.01grams
A Beaker
A Glass rod
A dropper bottle
We are going to formulate 100ml of the product:
Phase A
Rosehip Oil – 55 ml
Sunflower Oil – 15 ml
Argan Oil – 15 ml
Apricot Oil – 14 ml
Vitamin E – 0.5 ml
Helichrysum Essential Oil – 0.3 ml
Chamomile Essential Oil – 0.2 ml
Procedure:
In a beaker start blending the ingredients from Phase A. Weigh all the ingredients and add the essential oils one by one using a glass rod gently.
Transfer the blend in a suitable container.
Now it is your turn to formulate your own Rosehip Facial Oil.