You might be wondering what Clean Beauty is? Also, where does this term comes from? And does this term hold any real meaning, or it's just a cliche? Is this just a scare tactic to increase sales?
Well, "Clean" is the current beauty buzzword and the movement. Other terms are referred to as ''green" and "natural."
FTC and FDC regulation guides followed by many cosmetic companies marketed the term GREENWASHING AND CLEAN-WASHING, as they greenwashed several harmful products – "eco," "natural," "green," for example, showing signs of no clear definition.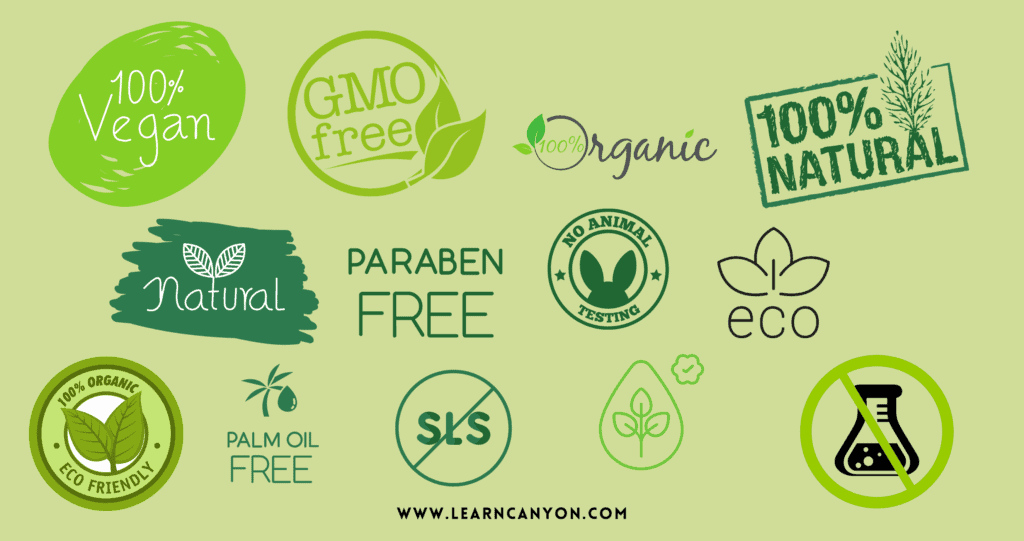 When it comes to being a balanced diet properly, we all recognize the significance of making good choices.
Have you ever considered the things you use on your skin? Because up to 60% of what you put on your skin gets into your bloodstream, adopting safer cosmetics is one of the most critical health decisions you can make.
Healthy, nurturing components are found in clean beauty remedies that offer incredible aromas, sensations, and experience and work exceptionally effectively.
People worry more than ever about their health and environment, prompting them to wonder what is actually in the items they apply directly to their skin.
Clients are gradually asking for beauty products free of potentially dangerous substances, and retailers are aware of this.
So, before diving more into it, first, let's understand;
What does "Clean Beauty" actually mean?
Clean beauty is a broad word that refers to beauty suppliers free of toxic substances that damage humans or the environment. It's also frequently linked to eco, organic, or natural beauty initiatives.
The primary issue with understanding "clean beauty" is that it has no actual meaning. Because there is no regulation governing the term, it is difficult to define it practically to showcase what exactly it is.
Clean beauty is a word used mainly by beauty brands to indicate that their cosmetics are healthier than everyone else on the market.
Sulfates, petrochemicals, synthetic perfumes, parabens, artificial colourants, and other additives are generally excluded.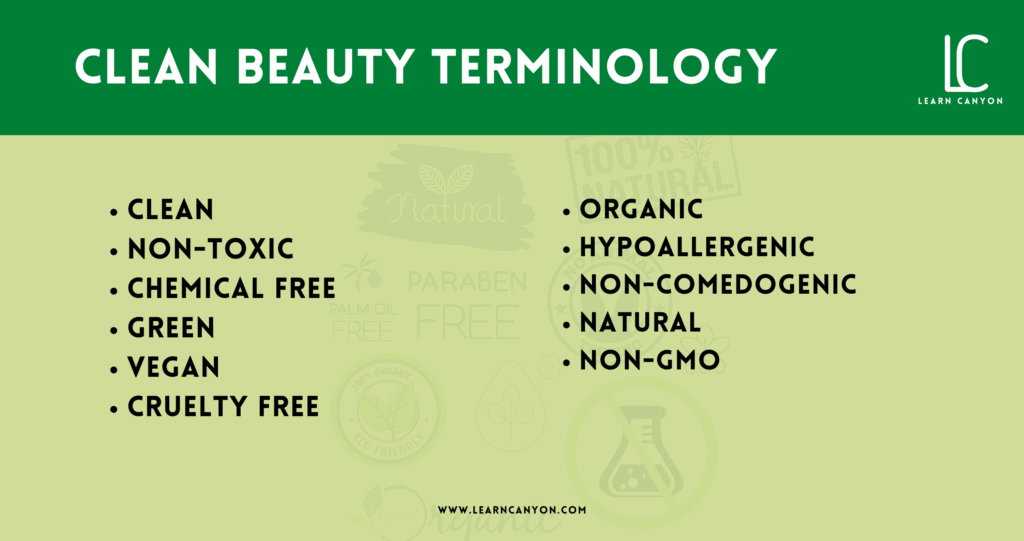 What is the history behind this clean beauty?
When we try to understand from a glance why it originated, we can identify that there was some typical revolution that happened during the '90s that exaggerate the reasons and meaning of clean beauty till this date, that grew and grew so faster to be said as "paraben-free."
1990; Alongside our sustainably-grown kale, Whole Foods grows beyond Austin in the 1990s, and its beautification shelves allow us to pick up aluminum-free cologne rocks and lavender-sprig-studded cleansers.
1991; Burt's Bees' presently beeswax lip lotion debuts in department stores two decades prior; clean beauty became a household term.
2008; Gwyneth Paltrow sends out a small message with a fantastic banana-nut cupcake technique, and Goop quickly transforms its "clean living" image from crusty to cool.
2010; After partnering with microbiologists, dermatologists, and pharmacists to develop their Clean Code, Allure unveils the Clean Best of Beauty Award seal during this decade.
2019/2020; Several nations have progressed further in monitoring substances than many others: More than 1,300 components are prohibited in beauty products in the European Union, 500 are prohibited in Canada, and only 11 are prohibited in the United States.
For the time being, it's up to us to hang companies responsible for keeping their formulae as safe as they are successful.
And even this was not enough, as if you adjust your historical facts about clean beauty, there were these regulatory oversights of cosmetics conducted by the FDA before,
where the clean beauty movement appears just to have sprung from dissatisfaction with cosmetics and personal hygiene market access (lotions, toiletries, shampoos, etc.).
Thus, In 1938, the FDA established the Federal Food, Drug, and Cosmetic Act, where, Makeup materials, on the other hand, are excluded from FDA regulation (with perhaps the exception of color additives).
Campaigners such as the Natural Resources Defense Council and the Campaign for Real Beauty took the matter into their own hands, categorizing certain compounds contained in mainstream cosmetic and beauty products as toxic and unsuitable for topical application.
Online and brick-and-mortar firms have jumped on board, with some selling just clean commodities and others developing specialty clean product categories. In this way, clean beauty continued ON.
Now, let's try to understand its importance.
Why is clean beauty Important?
More than 80,000 toxins have been added to supermarket shelves ever since. Only 10% of these were subjected to human safety studies.
Chemicals linked to cancer, such as paraben, phthalates, formaldehyde, lead, methane, arsenic, and others, are allowed to be used in goods we apply on ourselves and our family often by the FDA.
According to a study, it's no surprise that 1 in 2 men and 1 out of 3 women will be diagnosed with leukaemia.
Pneumonia, attention deficit hyperactivity disorder (ADD/ADHD), infections, and autism are always on the upsurge.
While it is tough to attribute the rise in significant health problems to something like a single factor, evidence demonstrates that harmful substances play a role.
Our physical environments (home, businesses, schools, and parks); water and food; and cleaning supplies, upholstery, and cosmetics all contribute to our contact with "toxic substances."
Consumers might be readily misled about what to buy due to cosmetic companies' extensive freedom in terms of ingredients, labeling, and advertising campaigns.
The cosmetic you bought to "beautify" yourself may be negatively affecting your health, which is why it's essential to identify companies you can trust, who formulate and innovate clean or green cosmetics,
that gives vital nutrients to your skin to heal and breathe along with a long-term support system for your skin and health maintenance.
How To Get Started With Clean Beauty?
It takes years to understand more about components to avoid and redesign our skincare and cosmetics products. Here are several simple adjustments recommended for you if you're just getting started with clean beauty:
Cleansers:
Sodium lauryl sulphate (SLS) is a foaming agent found in traditional face cleansers and body washes. However, this foaminess is ineffective for your skin, and SLS might irritate it. This is a critical shift to make because you use cleansers all over your skin.
Deodorants:
Numerous deodorants are actually antiperspirants, which means they prevent you from sweating, which is what your body was created to do to cool down and remove pollutants.
Aluminium zirconium, which is commonly found in antiperspirants, has been associated with breast cancer. Green deodorants use non-toxic substances like essential oils, clays, and baking soda to help destroy germs and keeps you smelling fresh.
Moisturizers:
These frequently contain inexpensive filler chemicals (paraffin and artificial emulsifiers) and additives, whereas the clean options are packed with healthy natural elements.
Moisturizing creams are used all over the body, so they're an excellent starting point.
In addition to this, the best takeaway will be about clean beauty ingredients used to make clean beauty products.
It is considered vegan if a beauty product does not contain any animal by-products or substances derived from animals.
Beeswax, honey, lanolin, and tallow are generally non-components included in clean beauty products. Most people mistakenly believe that being vegan means being healthy;
however, this is not the case. Even if a product is vegan, it may include potentially harmful chemicals.
Also, to filter out both toxic and non-toxic, one can start by avoiding toxic ingredients mixed in cosmetics.
Skincare Ingredients that are needed to avoid:
Parabens:
Preservatives called parabens can be found in various products, including soap, lotion, and cosmetics.
If it contains water, it is likely to contain a paraben, which inhibits the formation of germs and mildew while also extending the item's storage life.
If an item's label includes words like
Methylparaben
Propylparaben
Butylparaben
You may be sure it carries parabens.
Reasons to avoid: Endocrine disruptors are chemicals that mimic oestrogen in the body, causing hormonal abnormalities and reproductive problems. Parabens permeate the skin, build up, and linger in the body, according to studies.
Sodium Lauryl Sulfate:
Surfactants such as sodium lauryl sulphate (SLS) and sodium Laureth sulphate (SLES) provide soaps, shaving gels, and shampoo their foaming effect.
Reasons to avoid: Skin irritation is a common side effect of SLS use. It might deplete the natural oils in your skin, causing dryness, irritation, and redness. Eczema, dermatitis, and acne are all possible side effects.
Oxybenzone (and different types of chemical sunscreens):
Chemical and mineral sunscreens are two types of sunscreens.
Synthetic sunscreens, which use molecules like oxybenzone to block UVA and UVB radiation, seem to be the most widely used sunscreens on the marketplace.
Mineral sunscreens use zinc oxide as a buffer zone between your skin and harmful radiation.
Reasons to avoid: Because of its potential to imitate oestrogen and disturb immune function, oxybenzone is one of the deadliest compounds found in chemical sunscreens.
Formaldehyde:
As chemicals like bronopol, quaternion-15, DMDM hydantoin, imidazolidinyl urea, and Diazolidinyl urea decompose, formaldehyde is released, and the lengthier a product that contains these ingredients rests on a shelf, the more formaldehyde is released.
Reasons to avoid: It's a well-known carcinogen connected to asthma, neurotoxicity, and developmental damage.
Fragrance:
"Fragrance" is a blanket term that refers to any of the 3,000 inorganic or organic chemical products a beauty product smells nice.
Most traditional skincare and beauty products (even those labeled "unscented") contain artificial scents, and producers aren't obligated to disclose the individual compounds that help compensate for the fragrances.
Reasons to avoid: If you've seen the word "fragrance," you have no idea what you've been putting on your skin. That could be entirely safe or contain a combination of carcinogens, allergies, endocrine disruptors, and allergies.
After coming across all these necessary outlines, can you go "clean" or "green" with your skin-care beauty routine?
Well, Although the term "clean beauty" is a misnomer, there are a few buying choices you can adopt that are environmentally friendly and your wellness.
The very best recommendation can be given based on building awareness about sustainable clean beauty and brand choices, and those are:
Do an INGREDIENT check;
Less Packaging.
Choosing Dye and Fragrance-free products.
Investing in the beauty that gives back.
Learn How to Start Your Organic Skincare/Haircare Product Line
Frequently Asked Questions
Are clean beauty products safe for skin?
Clean Beauty products are developed with eco-friendly components which are skin-friendly, but there is not enough evidence regarding how safe it is. 'Clean' or 'natural' is a marketing term used by many cosmetic suppliers or brands, which doesn't necessarily mean safe or effective. 
Which vegan ingredients are considered safe?
Honey, Beeswax, Gelatin, Tallow, Lanolin, Albumen, Collagen, Guanine, Cochineal Dye, and many more are primarily extracted from plants and animals. 
What is the term "paraben-free"?
Beauty & health products that are toxin-free, having no additive chemicals or synthetics in them, are called "paraben-free." They are also termed vegan or organic.
Are mineral sunscreens safe? 
There are both pros and cons to using mineral sunscreen. As per FDA recognition, titanium dioxide & zinc oxide are safe and effective components but can contribute to acne breakouts and forms a white film on the skin. 
Is Green-Washing necessary in the clean beauty industry?
The green-washing term was invented by few health care brands, which explained the company to be environmentally friendly, but it is misleading information to gloss over bad behaviour. 
To date, it is considered to deceive consumers into believing that a company's products are eco-friendly. There is no true evidence of its necessity.
Conclusion
One can adopt clean beauty to fully experience the previous factual concerns of building an organic beauty routine. However, there is still not enough proof of its effectiveness despite its importance in the beauty industry.
No matter how long the research was, the truth still seems out of reach from ordinary people struggling with skincare products, skincare issues, and their health.
Though many are aware of cutting off toxic cosmetics as per whatever cosmetic brands have to say, they have no clarity on its WHY!
Also, many beauty brands are not exposing any proper scientific evidence of those products, no matter skin-friendly or not.
So after all of the do's and dont's, one must still try to incorporate a habit that can contribute to our environment & healthy lifestyle.
Our Courses
If you are wondering where to start your cosmetic formulation journey, you have landed in the right place, where you can become an expert cosmetic formulator and start your cosmetic business with our certification courses.
Our courses included step-by-step procedures to understand formulation techniques to learn to implement and create cosmetics from scratch quickly. To get started you can go through our courses and certification programs here.