Global organic skin care market size was valued at USD 3.56 billion in 2015.
North America was the largest organic skincare segment, accounting for around 31.6% of the global market share in terms of revenue.
Europe was valued at over USD 929.9 million in the same year. Asia Pacific has expanded at a CAGR of over 25.0% from 2016 to 2022.
To Start Your Organic Skincare/Haircare Product Line is like entering a low-risk market.
Start Your Organic Skincare/Haircare Product Line
The rising need for products free of parabens and other harmful chemicals, which have zero side effects, and do not affect the skin texture is expected to have a positive impact on the market in the forthcoming years.
Likewise, the US is the largest market for organic hair care products worldwide.
It has grown and is expected to grow at a rate of 10.2% from 2015 to 2022. 
Please note that these percentages of Compound Annual Growth Rate are a ballpark taken from various market research reports' synopsis and these numbers are their estimations.
Now we know that the market is booming! If we also know how to make a difference by starting our own organic skincare/haircare product line then this is our time and this is the right article you are currently surfing through.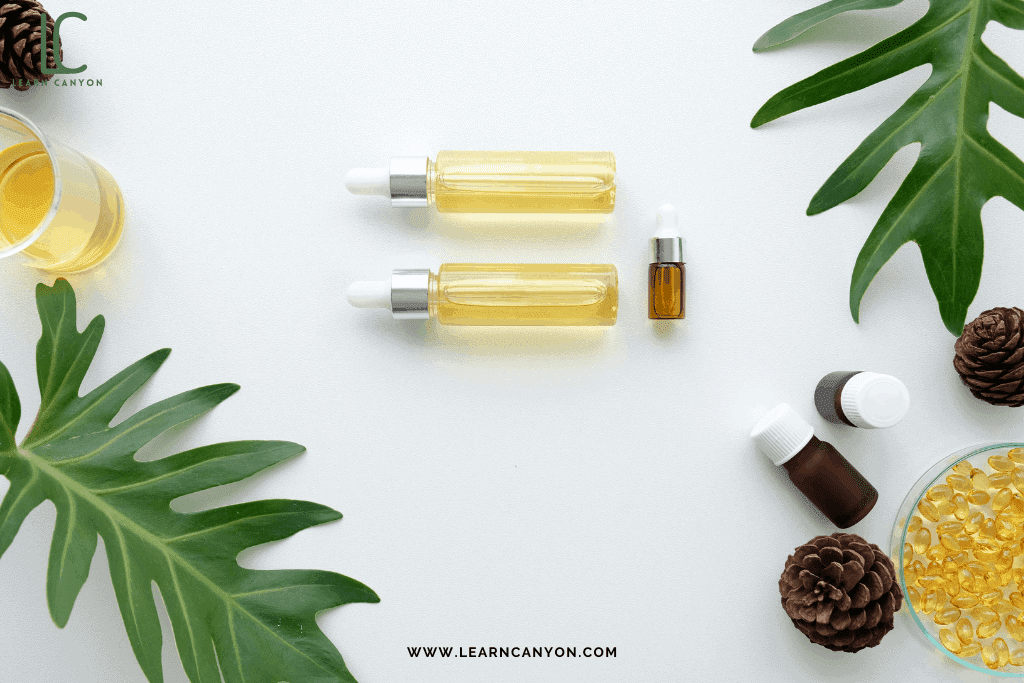 Step 1- Learn how to formulate organic skincare/haircare products (that solves problems) 
Learn Canyon would like to ask one simple question from a business perspective. Are we solving problems?
If you aren't then there's your problem. If we aren't solving problems then we are not taking the right path yet.
Are you writing down the problems? Did you research? Are you looking for a solution around?
Are you asking the people in your circle or in the same industry what was their biggest mistake and try to avoid them instead of making your own?
With a perspective of formulating organic skincare and haircare, what are the problems you are intending to resolve?
 There are so many problems that the consumers complain about when it comes to their skincare/haircare products like acne, dry skin, ageing and hair loss, dry scalp, dandruff, etc, etc.
Step 2- Develop your niche
Do you want to go abroad with your product line or would you prefer to find your niche and settle to it?
You can decide your niche as per your interests, as per the problems you identify, the time you can take out, and the money you can spend.
It depends on such and many other factors.
 You can also determine the profitability of your niche which will eventually help you decide how far you can go to develop your niche.
Step 3- Pricing your skincare/haircare products
You need to consider a few important factors before pricing your skincare/haircare products like examining the cost to set Retail and Wholesale prices,
what would be the cost components like the raw materials + packing + overhead, what would be the profit margin.
When you set your prices after understanding your product's costs and your market, you will know what the price of your product could be.
But do remember, if you price the product too low then your customers might neither trust you nor believe your claims regarding the value that your product offers.
 If you price the product too high then make sure that your consumers ain't feeling wrong about it because you will not be able to sell enough products if they feel so.
Step 4- Build your brand 
While you build your brand, it is important that you
Chose your brand name very diligently
Research your target audience and your competitors
Create an emotional impact with the consumers through your purpose
Through your mission and vision
The slogans or subtitles,
Tthe look of the logo, the other such factors
Meeting the expectations of yourself first and then your consumers too!
Then lastly, the face of yours spamming the consumers' social media feed is all you need to build your brand.
Consumers connect easily when they know the person who has founded the business or they tend to give respect to the one who has started the business from the scratch.
This is why the face of the owner is very important while building your brand.
Step 5- Organise Packaging and Labelling
A common use of packaging is marketing so don't take this on a light note.
Packaging and labels can be used by marketers to encourage potential buyers to purchase the product. Packages and labels usually communicate with the consumers.
Are you the one who stands for recycling or the one who simply disposes of it?
These small things affect the end consumer especially these days where global warming is a serious concern. Also, the labels of the products should connect with the consumers.
 It shouldn't be a copy and paste formula written down with an expiry of the product. Bring some creative thoughts and use your content writing talent which might come in handy in these situations.
Step 6- Scale your business
Building a successful company isn't just about growth – it's about scaling your business. Growth means adding resources at the same rate that you are adding revenue.
Scale is about adding revenue at a rapid rate while adding resources at an incremental rate.
For example, growth is when there are 50 new customers to which you have hired 20 employees.
However, scaling your business is when you have 75 new customers to which you have hired only 10 employees.
Disclaimer – Scaling your business is not as easy as it sounds!!!
Step 7- Register your business
We will go very short on this as different countries have different official platforms where you can register your business.
 Research! Research! Research! Otherwise, a bit of free advice would be to hire a lawyer. Please note that the advice is free but a lawyer isn't! 😉
Step 8- Comply with the law
There are several business structures that comply with different laws. There are several legal requirements that are needed to start a new business.
There are agreements, licenses, taxation and accounting laws, labour laws, etc, etc.
Reach out to us so that we can guide you in the best way as we have gone through all this melodrama. Oops, the law, we mean!
Step 9- Create your marketing strategy
We have a different section for 'Digital Marketing'. So here we are referring to only a simple and plain marketing strategy where you are collaborating with your consumers.
Making them aware of your product's features, benefits, the cause and the whole purpose of your business's existence. Effective marketing helps you get ahead of your competitors.
To do this, you need to be aware of your target audience, demographics, attitude and their buying behaviour. Is your focus Business to Business (B2B) or Business to Consumer (B2C)?
Are you only into Paid advertising? Or do you also focus on relationship marketing, cause marketing, word of mouth, testimonials, organic and affiliate marketing?
Tapping into all these strategies is neither one man nor one woman's job. It takes a team and this is where your team comes into the picture.
We are talking about the real efforts here, but folks, it will be worth it!
Step 10- A website
We haven't created this content stepwise. Please apply these randomly. I'm saying this because all the above-said things are important but the website can be created in the initial stages itself.
If you don't want to hire a web developer then you have websites like Wix, Godaddy, WordPress, please feel free to explore.
A website is known to be the home of your business. Without it, today's generation will not trust to spend a single penny on you. So please create a website as soon as you start selling!
Step 11- Market your line via social media
What are we talking about here? Instagram? Facebook? Snapchat? Pinterest? Tiktok? We will not be surprised if we have missed naming anything.
These are your family members who will help you grow, scale, and apart from sales, also used simply for brand awareness.
But don't dream of your posts going viral. We label this as 'high hopes'. It is a struggle to maintain a balance between the quality and quantity of your posts, videos and so many other different features that can be used via social media.
Plan out to start with organic and if you are ready to opt-in for paid marketing then go ahead! We are here only to push you so that you can achieve your dreams with flying colours but make sure you are spending wisely.
Step 12- Digital Marketing
Marketing has comparatively become easy since the newborn baby has gone digital! This doesn't mean it is as easy as a pie.
You need a team of people who have digital marketing expertise.
The services that include digital marketing are online consultations, SEO, Video, SEM, PPC, Social media, Website / App, Content marketing, Influence marketing and so many other digital media platforms to promote your skincare/haircare products and services.
Benefits of the course:
Learn how to make natural and organic skincare products, totally free of chemicals
Get one-on-one training with certified mentors. Clear your doubts anytime you want
Learn 30+ formulations, that too at your own pace
Get access to high-quality content
Be your own master!
At the end of this course, you will know exactly what to do to make organic skin care products for yourself! Get ready to say hello to beautiful skin!