Being in charge of cosmetic Laboratory production and research and development laboratory has been one of the most valued professions for me which allowed me to make great cosmetic Laboratory formulations for various companies that I worked for.
I used to write everything down, no matter how minor the process was.
I used to note down details such as shifting raw materials to another beaker, weight of transfer paper or weight of measuring cylinder after the transfer, etc.
Do you understand what I'm about to say?
I've been thinking for years that I won't reveal what I've written in my diary, and it's not about a love story or anything else personal; it's about my cosmetic formulation diary and how I've done R&D for the same. 
Initially, I prepared a large number of cosmetic products but failed to keep track of them.
I began to lose figures from my mind as a result of various things going on in my thoughts. Then I began writing it down in a notebook, never allowing anybody else to see it through.
I never considered informing anyone about all of this because I truly believed it was a top-secret or rather something personal to me.
Now that I'm older (and maybe wiser ), I want to share my experiences with you, and I'd like to tell you about my diary, which I always kept inside a lock in the laboratory.
There were four sections in our company where Ayurvedic medicines, nutraceuticals, home care products, and cosmetics were produced.
I was in charge of the Cosmetic section, and it was my responsibility to develop and produce skin care, hair care, and herbal cosmetics.
When we make a cosmetic to sell in the market, we must follow specific stages like planning and performing it. This is true, even if the batch size is modest, as a result, we should not overlook them.
Let us start noting down our tasks….
New product formulation and development planning
Planning is necessary for the formulation and development of a new product that meets the customer's demands, and we do not lose our goal, because each change results in a change in the product's behavior during its development.
The more the research and experiments for the progress of a new product the greater is the confidence in its development, production, and marketing.
Writing all such information is useful and significant in studying during the development stage.
1. The first stage of planning involves deciding:
The product's type: One of the first things to examine is the product's physical form, which ranges from m aqueous liquids to anhydrous compacts.
2. draw an Outline of steps in formulating and manufacturing a product within safe limits:
(a) Planning the formulation
(b) product type
(c) raw materials
(d) choice of preservatives & perfumes
(e) choice of instruments & utensils
3. Good  Laboratory practices
(a) Ingredients, and water testing
(b) Finished product testing
(c )  Writing what is performed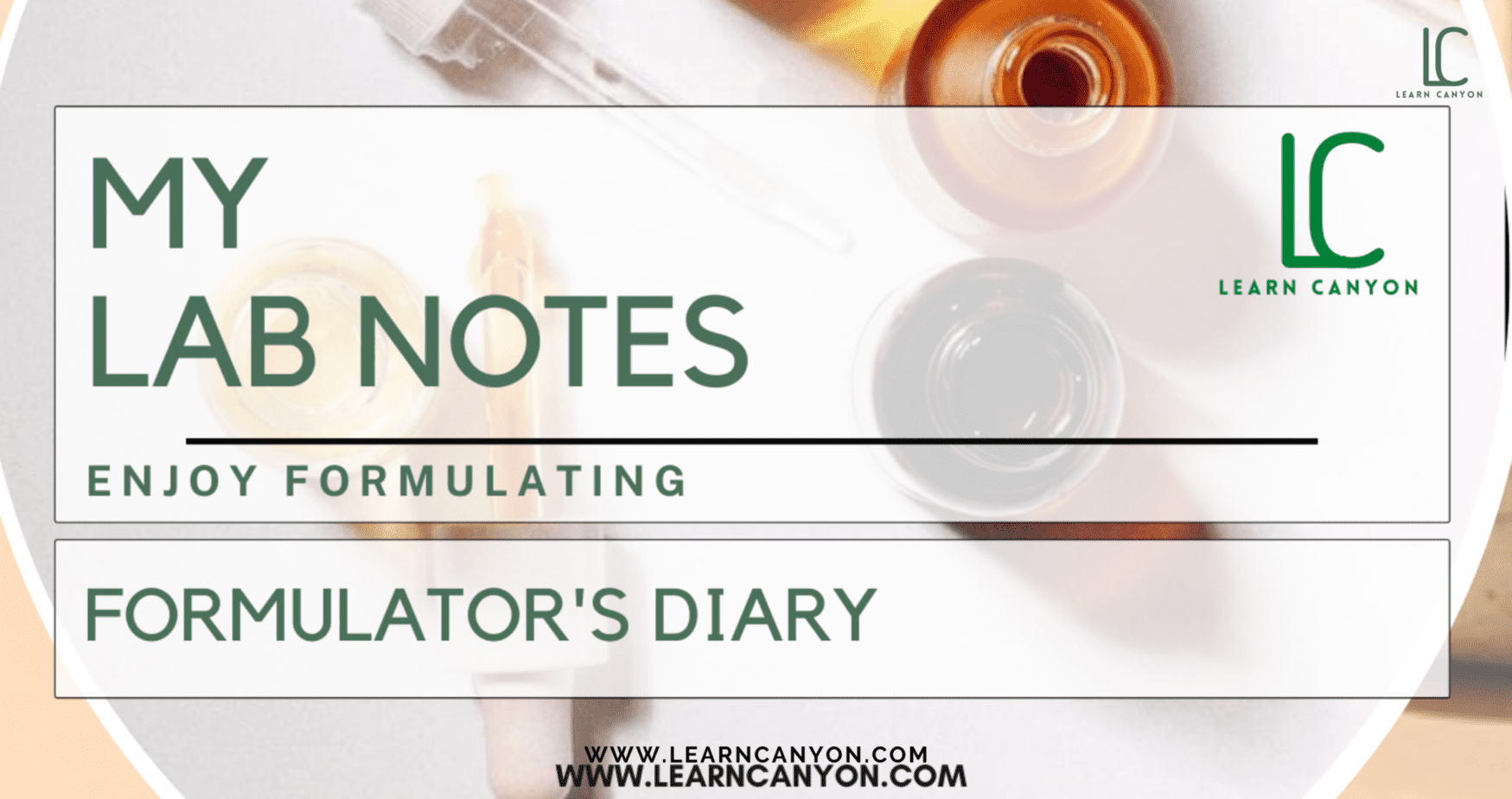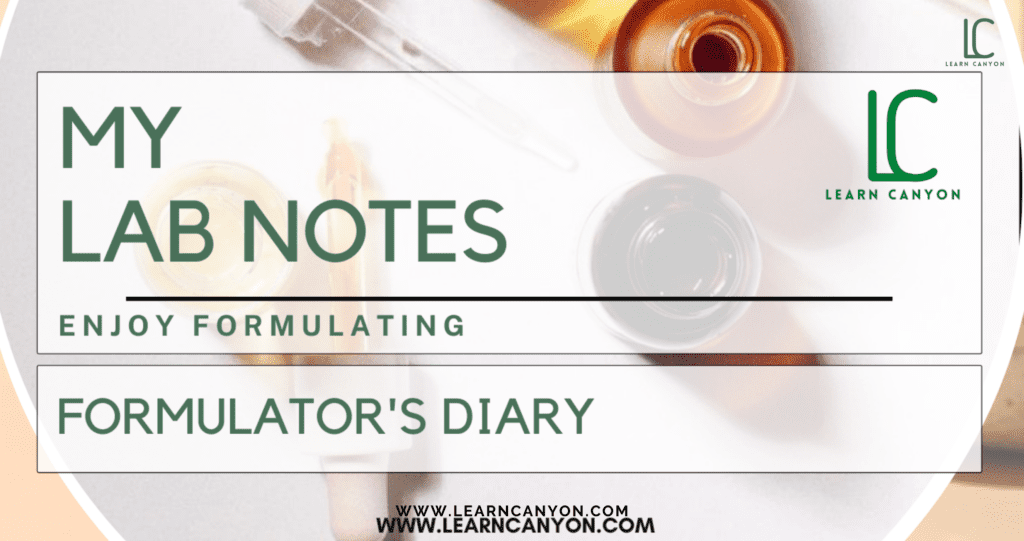 what's inside the diary?
Each page in the laboratory notebook should include a serial number, which can assist you to identify if a page is misplaced. Every single test or batch has a serial number.
Each batch should, of course, have a date of preparation and then the name of the product with the active component.
I used to prepare a list of substances that could be put into the product. I always made mistakes, but never applied white ink or erased it off, instead of drawing a thin line over written matter thinking that I might require the same in the future helped me.
Maybe because I believe mistakes are typically indicators of future success.
In a cosmetic formulation, an active ingredient is a material that is included in a very little amount for a specific action; in other words, an active constituent's minor presence creates a significant impact on the product's specific properties.
For instance, Shikakai is used as an active ingredient in Herbal Shampoo. As shown below
ExperimentNo:008 PageNo.11
Na Name of Product: Shikakai shampoo Batch Size: 200gms
Date of Preparation:22/02/2022                           Start time:10 am
| | | | | | | | |
| --- | --- | --- | --- | --- | --- | --- | --- |
| Sr.No. | Ingredients | % required | Quantities used gms/ml | Control Ref.No | Analytical Ref.No. | Details of adding | Part A/B/C |
| 1 | Shikakai extract | 10 | 20 | 6/22 | 6/22 | Added at 500C with20 rpm | A |
| 2 | emulsifier | 1 | 2 | 15/21 | 15/21 | | A |
| 3 | Coconut oil | 2 | 4 | 38/21 | 38/21 | | B |
After finalizing all the ingredients (considering the compatibility & stability of the active constituent with other chemicals, as certain materials lose their activity when mixed, while others have a synergistic impact.) listed in column no.2 of the table.
The selection of appropriate materials is always a critical step and is noted in as much as a structured way as possible can help you in the long run.
The percentages of each ingredient & the quantity taken (according to the batch size, the quantity is calculated and weighed) are written in columns 3 & 4 respectively.
Control ref. no. (column No.5) is a one-of-a-kind identification number.
The purchaser generates the reference number, which is used to identify the item's source, receipt date, and quantity received. It aids in the identification of an institution's records.
Analytical report number (column No.6) for each raw material, packaging material, formulation, or any other sample is a system that helps in identifying the sample analyzed of a quality control laboratory.
Column 7 is used for noting the temperature, revolutions per minute used at the time of commencement of the batch whereas column 8 is for dividing raw materials as per their solubility and is important for the method of preparation.
Laboratory preparation techniques involve the following steps and are mentioned in the diary.
Weigh accurately all ingredients.
Divide them as per their solubility i.e. oil soluble in one beaker and water-soluble in another beaker.
Heat them simultaneously on a hot plate or in a water bath.
Mix them at a proper temperature, stirring in only one direction.
Remove the beaker from the heat.
Let the mixture homogenize properly.
Cool the batch.
Add ingredients that are thermolabile, mix again.
Keep it protected from direct exposure to air.
Stand it for 24 hrs.
Stir well and
Fill in a container
It's critical to keep track of the steps taken:
Even if the same batch is repeatedly prepared, you'll notice a reduction or increase in viscosity or a change in color, texture.
Written parameters could assist you to figure out what's causing the discrepancy. It happens to me all the time that I add a new ingredient, adjust the temperature, stir in speed, or replace an ingredient with another, and when I look back at my notes, I can't remember why.
When I wanted a better consistency and the sample was stored on the shelf without any alterations, and I checked the sample after 4/5 days or a few weeks, I was surprised to find that it had achieved the consistency that I was seeking when I finished the batch.
Noting Temperature
Everything you've done should be listed, including the temperature, stirring method and speed, cooling temperature and method of manufacturing, and the order in which I mixed the ingredients.
Noting Modifications or changes
Throughout the experiment, I kept track of everything I noticed. I Consider things as if I am doing them for the first time. "+1ml spearmint oil, +1ml lavender oil to increase the perfume" or "+1g isopropyl myristate to increase spreadability."
Noting almost all parameters
The instrument, the time, and the RPM (revolutions per minute) stirring are all mentioned there. In the laboratory, I normally number all my instruments.
It makes reporting easier and less tedious: 15 minutes on No.2 at 30-35 rpm + 10 minutes on No.5 at 12-15 rpm with Impeller at room temperature.
I recommend keeping track of the room temperature and humidity. Humidity plays a huge impact in the appearance, consistency, and functionality of the product, especially when creating shaving creams, hand wash, soaps, shampoos, and dried powders. In preparation of powders, I had noticed the formation of lump clogs when batches were prepared in the winter or rainy season.
Noting the temperature and humidity in the space may assist you in keeping track of all conditions.
Noting Precautions at the end of the batch manufacturing helps keep track of safety measures like hot oil is added in hot water and not vice versa or Stirring only in one direction.
Noting with variation in batch size
The appearance, texture, and stability of your items could all be affected by the batch size. Perhaps your mixer or homogenizer performs best in 1-kilogram batches, but when you produce the same sample in 500 grams, you'll notice a reduction in viscosity or a change in texture.
Knowing the batch size could assist you to figure out what's causing the discrepancy. I had sometimes even noted about cups, beakers, soap molds, and other items, and kept which ones I've used.
I always consider that I'm designing a method for a complete beginner who has no prior knowledge of cosmetic preparation, formulation, or mixing.
Noting observations
After completing the batch, we should not forget to write the observations examples are "turbid " and "extremely low viscosity at first, the viscosity increased after 12 hours."
Mentioning color, odor, description, or observations obtained after testing such as pH, viscosity or microbial load, etc is important as they are required for stabilizing the product.
Making sure you note down your observations after each important step will help you to troubleshoot if you face any problems in future batches.
Where do we go from here?
I always mentioned a note of the next steps to be followed after recording all procedures and observations, e.g. "decreasing the glyceryl monostearate from 0.7 to 0.5 percent, may reduce the viscosity."
Writing down the next step for each experiment will help you stay on track and know how to proceed further.
This is especially vital if you have any assistants or workers working for you, or if you are working on multiple projects at the same time.
It was my rule that whenever I failed in preparing a perfect /up-to-the-mark product I changed only one parameter at a time.
Because whenever I tried to change various elements to increase the viscosity, stability, or any other factor I got confused & could not reach any conclusion.
Therefore, the worst thing you can do is change the percentage, temperature, stirring method, or concentration of many ingredients all at once.
Either it works or it doesn't, but maximum chances are losing time and money over research and development.
Conclusion:
In conclusion, it is of utmost importance to keep tracking whatever steps you are performing and noting it down as it might help, and you will have all the required information handy with you any time you might need it.
To Summarize, You Need To Mention These Particulars In The Formulator's Diary –
Serial Number Of The Batch
Name Of The Product
Batch Size
Batch Number
Date Of Commencement Of Manufacture And Date When Manufacture Was Completed
Names Of All Ingredients
Quantities Required For Batch
Actual Quantity Used
Control Reference Number In Respect Of The Raw Materials Used In The Formulation
Reference To Its Analytical Report Number
Packing Including The Size And Quantity Of The Finished Product
Temperature, Stirring Method And Speed, Cooling
Method Of Manufacturing
Download the ebook Now: My lab notes formulators diary