When you think about skincare routines and products that are trending in the last few years it seems as if we are missing a lot of knowledge.
Any serious conversation about skin care involves words like body butters, body yogurts, natural ingredients, sustainable cosmetics which are highly trending in the industry and also all the content in beauty magazines mentions it.
When you go to think about it do you really know, what is body butter, and how can it benefit your skin?
To know more about the Body butter and how to formulate it and also use it keep reading this blog to learn more. In this blog, we are going to talk about this type of moisturizer and how it can help you and your skin.
So, Let's discuss
what is Simple Body Butter?
Simple Body butter is a deeply hydrating skin moisturizer. It is typically a thick cream made of cocoa butter, shea butter, and mango butter, coconut oils, olive oils, jojoba oils, etc.
Some butter are also infused with essential oils for an added indulgence for your skin. These essential oils may offer aromatherapy or just give you a pleasing fragrance.
Body butter's unique formula means that it can help protect your skin from dryness and help you recover from rough or dry skin. It does so by locking in moisture.
It can also help ageing skin that is losing its ability to stay moisturized, healthy-looking, and bright and luminous.
Some formulas may also contain special ingredients that address specific skin issues, such as emollients, to soften the skin or humectants to add a dose of moisture.
So, if body butter is acting as a moisturising lotion by providing the missing moisture, then
what is the difference between such butter and traditional moisturizers?
BODY BUTTER VS BODY MOISTURISING LOTION
Body butter is thicker than lotion and hence is a good deep moisturiser.
Since body butter is a heavier product, it is more effective when applied before bed or during a relaxing spa day. On the other hand, lotion is effective as a long-lasting daily moisturiser.
Body butter tends to contain thick butters and oils—such as shea butter, coconut oil, and cocoa butter—compared to lotion which contains more of the water phase.
All in all, you need to choose the right moisturizer formula for your needs. Try using a mixture of body butter and all-day body lotion in your daily skincare routine to find the perfect regimen for you.
Now let us see which are the different options available in the ingredients which make up body butter.
Types of Body Butter Ingredients
Body butter typically contains one of the following: cocoa butter, shea butter or mango butter. Here are some of the most important differences between these three ingredients:
Cocoa Butter: This butter is high in Vitamin E and natural antioxidants that help hydrate and soothe your skin.
Shea Butter: It is made out of nuts from the African shea tree. It is high in Vitamins A and E and also contains fatty acids.
Mango Butter: Like cocoa butter and shea butter, mango butter contains more fatty acids, making it one of the most useful moisturizers of the three. It is a natural emollient that can help you keep your skin soft and soothe it when irritated.
Somebody butter formulas use a blend of all three ingredients for even more skin-enhancing action.
If you're in the northern hemisphere, it's the time of the year when the skin needs fat-rich products like butters to protect it against the cold and dry weather.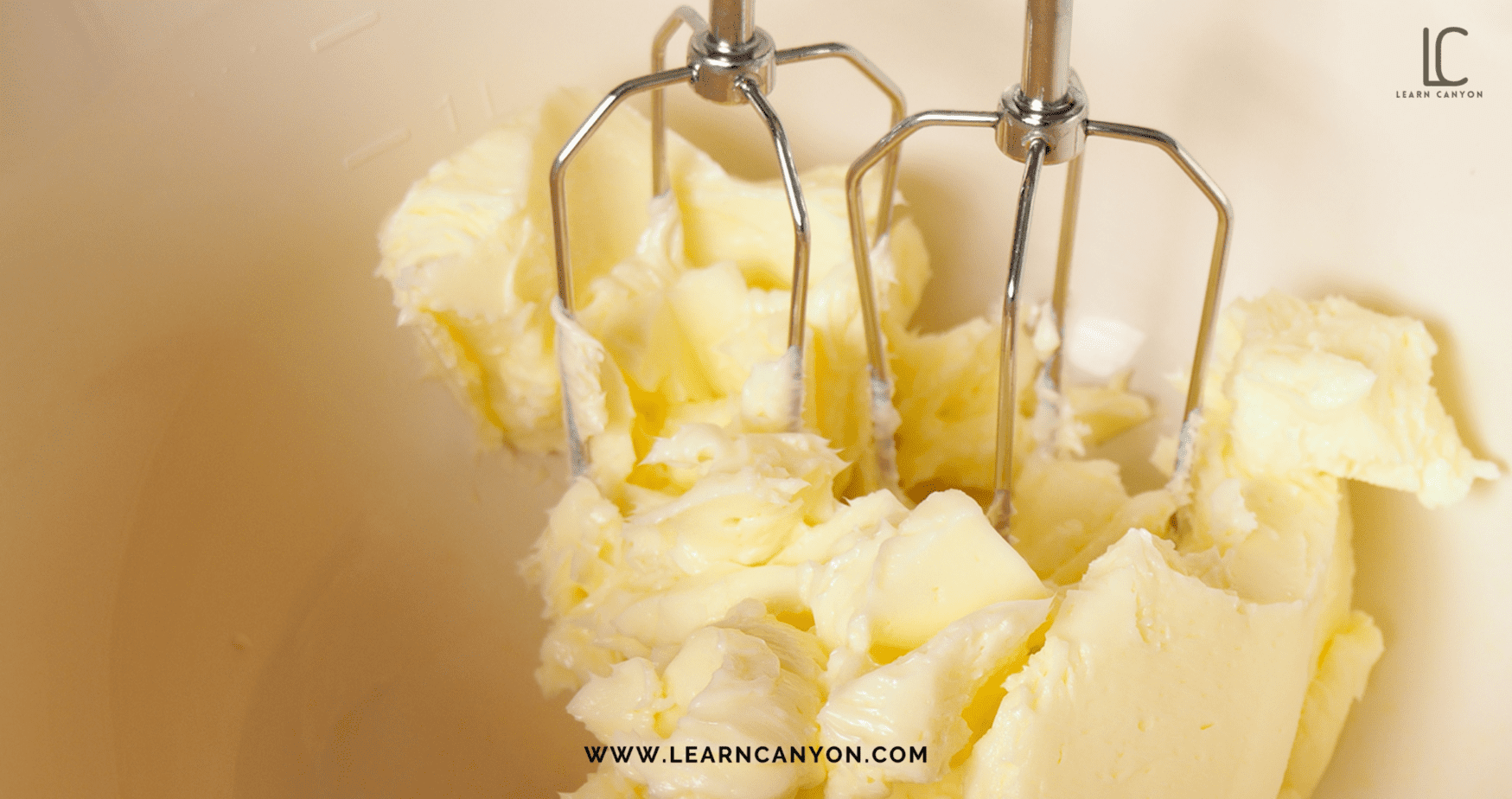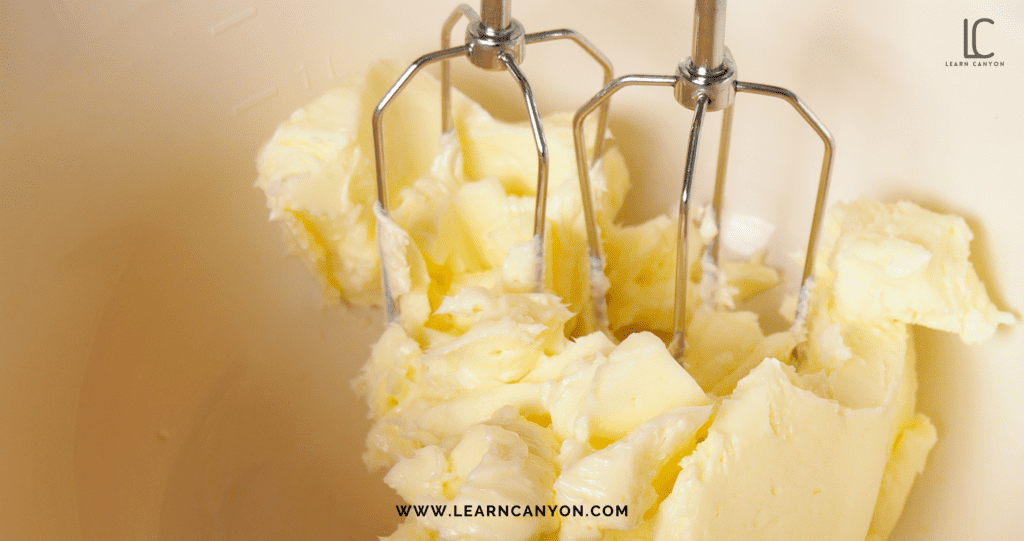 How to Formulate Body Butter?
Now you must be thinking if it is so useful to me will it be easy to make it by myself! Why not? Be confident and read on with care…
Basic Body Butter Formula:
here we are trying to make 100 gms of the product
| | |
| --- | --- |
| Shea Butter | 50gms |
| Coconut oil | 25 gms |
| Sweet Almond oil | 25 gms |
| Essential oil | 10 to 12 drops |
White chocolate Body Butter(whipped) Formula:
Again for 100 gms of finished product
| | |
| --- | --- |
| Shea butter | 25gms |
| Cocoa butter | 25gms |
| Coconut oil | 25 gms |
| Sweet almond oil | 25gms |
| Essential oil | 10 to 12 drops |
How To Make a Body Butter?
Now let's look into the detailed steps required when learning how to make a body butter.
How to make simple body butter with the first basic formula?
Step 1:
In a suitable vessel preferably a glass beaker or a suitable jar add the approximately weighed amounts of Shea butter and coconut oil.
Though shea butter and coconut oil will have different melting and boiling points it is safe to add them together. Now place the beaker or jar in a double boiler. You can use a thicker vessel like a sauce pan filled half with water and place it on medium heat.
Now with constant gentle stirring melt the shea butter and allow it to blend with the coconut oil. Since the heating phase is really short, there is no damage in heating Shea butter with other solid fats and butters or oils.
Step 2:
After this blend is melted, stop heating and add the almond oil and blend gently.
Step 3:
Continue gentle blending as the blend cools down. At about 35 degrees Centigrade. Add the essential oil.
Step 4:
As the butter cools down, the viscosity increases. Continue stirring until the butter reaches a consistency where you can make traces with your spatula. This is the consistency of our butter.
At this point pour the butter into the jar and place it in the fridge and allow it to cool down simultaneously. This reduces the chances of the shea butter forming crystals and giving grittiness to the product.
Now, if you want your butter to look fluffy and attractive you can make a whipped butter.
How To Make A Whipped Body Butter?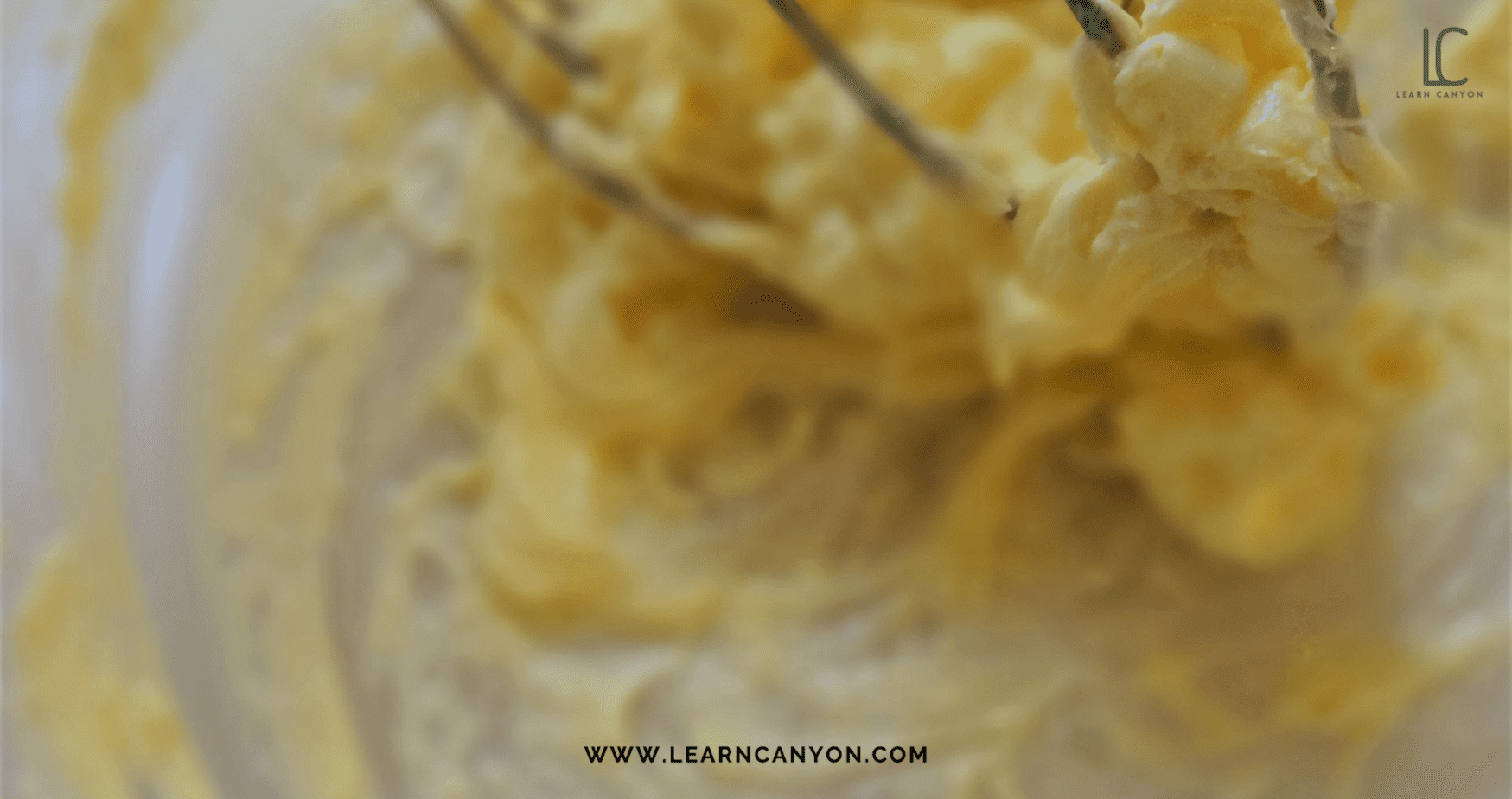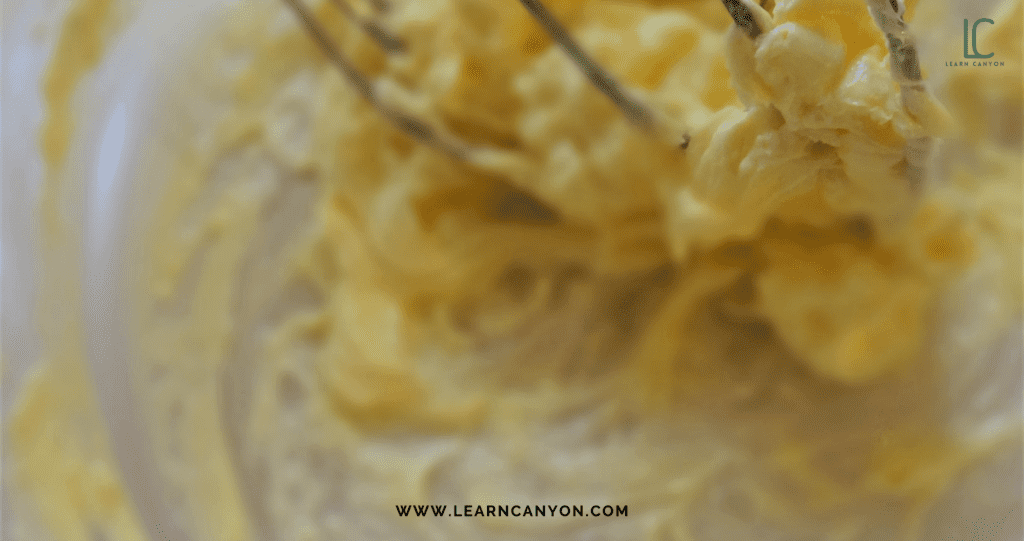 Step 1:
With the butter in the step 4 in the previous method where you had it in the fridge on cooling for 40 to 50 mins remove the jar and check if the butter is soft to touch.
Step 2:
Now with a good hand blender whip up the butter till it forms peaks in the similar manner as you whip the cream for your desserts.
Step 3:
Place this back in the fridge and allow it to set.
Leave both butters for some 12-24 hours in the fridge. After that, take them out and leave them at ambient temperature. Compare their appearance, texture and skin feel after another 24-48 hours.
A variation that can be used for the body butter is to replace the basic coconut oil or almond oil with an oil infusion. An oil infusion can be made with a lot of spices like Cinnamon, clove buds, cardamom or lemon grass with a carrier oil like avocado oil and adding this infusion for added fragrance and effect.
Some Bottlenecks To Look For:
It's really important to allow the body butter to set in the fridge, otherwise it won't whip. I've found it's ready to whip when I can stick my finger in the middle and it will hold the indentation. However, if you accidentally forget about your body butter in the fridge or freezer and it gets too hard, all is not lost. Simply allow it to thaw at room temperature until it reaches the proper consistency.
You can easily store your whipped body butter at room temperature. However, if your house is very warm, it may melt. But if this happens, you can simply re-whip and you'll be good to go.
Want unscented body butter? No problem! The essential oils are completely optional.
My favorite essential oils for this recipe are Bergamot, Frankincense, Geranium, Wild Orange, Lavender, Ylang-Ylang, rose oil, Peppermint–especially peppermint combined with the white chocolate body butter recipe.
Some tips to follow when using Body Butter
Now we are well aware of the fact that the body butters have various qualities which are beneficial for the skin.
Another great quality of all body butters is that they are easy-to-use and serve many purposes. You can also follow some of these variations in your formula to achieve the best possible product to fulfill your personal skin goals!
1. If you're looking to wash away all the tensions of the daily grind and looking forward to relax, try a body butter infused with lavender essential oil.
This type of body butter can give the benefits of aroma therapy and help relax your senses while you drift off to sleep and deeply moisturize your skin overnight.
2. One must always make it a point to use body butter immediately after you shower to allow it to penetrate the skin when it is soft and supple right after the shower. This will help deeply moisturize your skin and prevent moisture loss.
3. If you shave, applying body butter to your skin afterward so that it can heal the roughened skin and can also help moisturize your skin and prevent dryness.
4. If you are the one who is troubled with extreme dry skin conditions and are facing dryness more commonly in areas like the elbows, knees, and ankles—regularly apply body butter to these areas. This can help to improve your skin's texture and prevent future dryness.
Are you pregnant? That is good news. Do not worry about possible stretch marks. Regularly apply body butter to keep your skin moisturized and reduce the chances of itching or stretch marks throughout your pregnancy.
Who should or should not use Body Butters?
Now if you are among those who are always trying to hide their hands and feet as they are very unattractive due to excessive dryness, do not hide anymore.
Just, apply a thick layer of body butter to your hands and feet and leave it overnight, covered with gloves or socks to prevent the moisturizer from rubbing off.
Remove your gloves or socks in the morning and rinse off any excess product that is left over.
If you an athlete and spend your days outdoors, apply body butter after your return home and your day in the sun is over. This can help you to avoid dryness from everyday exposure to the outdoors.
For an invigorating boost, try a citrus body butter that may remind you of summer.
One last thing, if you are someone with a oily skin and facing acne or breakouts, then you must avoid using very oil heavy products. Avoid using body butter on your face in either of these cases.
Since body butter tends to be very thick, it can clog your pores if you have acne-prone skin.
How Long Can I Store This Body Butter? What Will Be Its Shelf life?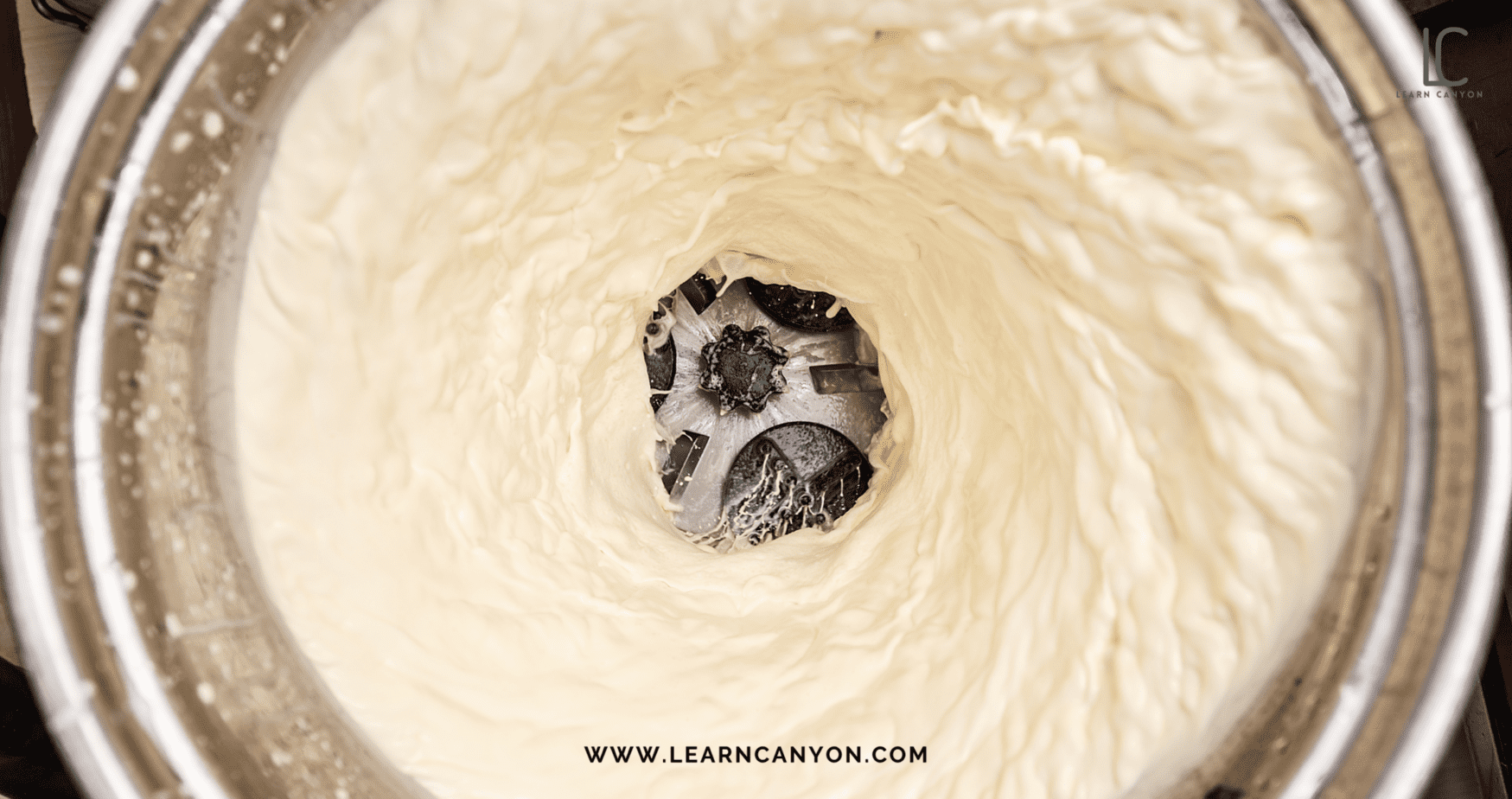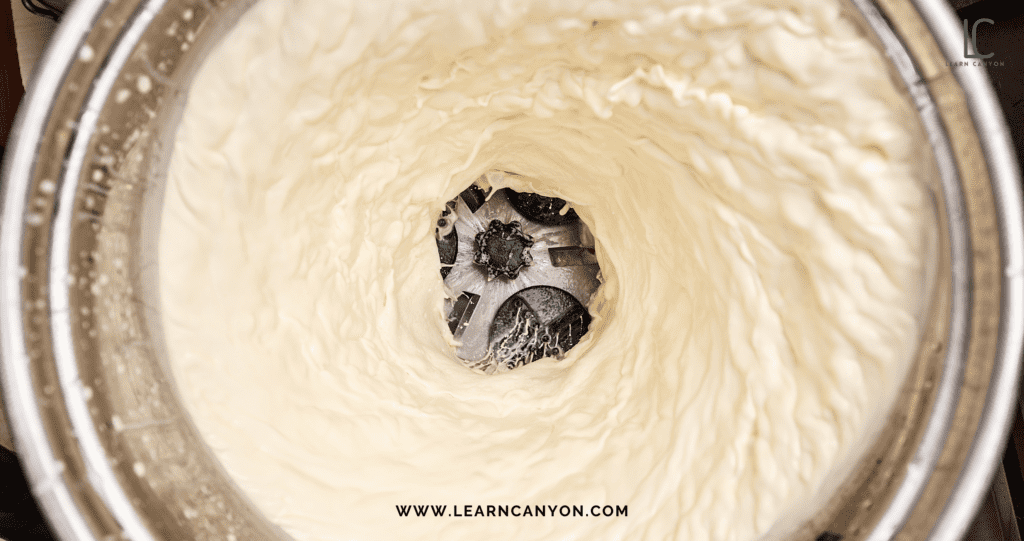 Let us now find solutions to these niggling questions. Though they may sound irritating they are very important to be left unanswered.
It is kind of difficult to predict the shelf life of these formulations but one can easily use it for around 3 months or more if stored properly. By this i mean
Keep it in a cool, dark place (like in a cupboard).
For extra safety, you can store this in the fridge.
Keep in mind that, because it's made of oil and doesn't contain any added ingredients, it is susceptible to melting if left out in the heat (just as coconut oil turns from a solid into a liquid when heated). So do try to keep it at room temperature or below if possible.
Final Thought
Body butter is a thick cream that is deeply moisturising. It can help you protect your skin from dryness as well as rough or patchy skin.
Body butter typically contains a combination of naturally derived butters like cocoa butter, shea butter, or mango butter.
Body butter is thicker than lotion, making it great for nighttime application. Since lotion is lighter than body butter, you may prefer it for daily use.
---
At learn canyon, We offer 3 Amazing courses that can transfer your hobby into a live cosmetics business from scratch.
All the course comes with lifetime course access with personal mentor support for 1-2 years.
There are many bonuses included (Please check them on our website).