In this article, we will be discussing How to make a Body Melt using Shea Butter And Lavender Bath Melt ? How difficult can it be? What are the constraints?
Our skin is the body's largest organ, and it serves as a detoxification pathway for the liver as well as an interface between the outside world and our internal environment.
Because our skin reveals information about our interior health, it's critical to provide healthy self-care rituals for our skin to assist guide, balancing, and maintaining these manifestations.
How can we maintain the sanctity of our skin?
One major ritual that we can follow is bathing. Bathing not only helps cleanse the skin surface but it does a number of things:
1. It is relaxing
2. It acts as a mini workout.
3. Helps get a sound sleep.
4. Soothes the dry skin
5. Makes the skin environment alkaline as most bath products are alkaline
6. This also helps keep infections away
7. Helps to heighten our mood.
To achieve these objectives through a bath, various bath products are available in the market like the very basic bath soap to scrubs, foams, shower gels to the exotic Bath Salts, Bath Bombs or the Bath Melts.
To maintain your skin health, we may opt for the marketed products or learn to make our own skin care products.
Creating new products is an art that needs careful planning and execution of the various processes involved right from taking time to evaluate the needs of the product, visualizing and gathering ideas, arranging ingredients, carefully designing formulations and then getting the finished product as a reward that makes us proud.
Did You Know……

According to marketresearch.com: The Bath Bomb demand is expected to grow at a CAGR of 14.27% from 120.61 million USD in 2017 to reach 350.68 million USD by 2025 these figures only state the picture of the projections in the United States market. Imagine the prospects similar products like Bath Melts have on the global scene.
In Today's formulation blog we are dealing with a Bath Melt.
So, first things first
we need to first understand what is a bath melt?
Bath Melts are small bars of hydrating body butters formulated with different actives and used as bath additives. They're thrown into a hot bath to melt, creating a scented and skin-softening bath experience.
They are made of skin friendly ingredients including various butters from the plant sources like cocoa butter, shea butter, mango butter and kokum butter, some vitamins and essential oils.
There are numerous bath and body products to choose from. Bath melts and bath bombs are the two most popular phrases for bath products these days.
Bath melts are a more modern invention than bath bombs, which have been around for a while.
Before we brood any longer on the bath melts let us first understand a little more about bath bombs and bath melts.
So why not compare them…
| Bath Bomb | Bath Melt |
| --- | --- |
| A bath bomb fizzes and hence AKA bath Fizzies. | bath melt is a more subtle release of ingredients into the bath water AKA tub truffles and tub treats |
| The main ingredients of a bath bomb mix together and produces fizz when comes in contact with water because of a chemical reaction. | The warmth of the bath water melts the main ingredients that go together to make up a smooth and luxurious bath melt |
| Bath bombs are not always easy to make because you have to combine just the right amount of water with the other ingredients to make it fizz when added to the bath | A premixed formulation easy to use. |
Did you know that kokum butter could be used in bath melts?
The butter we use must not be very hard and should almost be without scent.
The choice of butter to be used is very important as if it is too hard, we need to add a soft wax or butter like shea butter but if it is too soft then we need to incorporate a hard butter or a wax like beeswax.
Kokum butter is a soft lustrous butter obtained from the fresh pulp of the kokum fruit Garcinia indica and has a lot of skin benefits.
As we have different skin types even our bath products need to be designed according to them. Hence our bath melts also need to be formulated depending on the different demands of the skin and the mood of the user.
The different types of Bath melts are:
Calming Bath Melts:
This emollient based bath melt can be made with soft butters with higher emollience like lanolin, shea or mango butter and can be hinted with a subtle dash of calming essential oil like lavender, Ylang Ylang which will help to soothe the mind and relax the body. Will help to relieve the tension and give a calming sense. It is a great pre-bedtime bath melt option.
Wound-Soothing Bath Melts:
These bath melts are specifically used to aid the healing of topical wounds faster. They are composed of anti-inflammatory actives in a butter and waxes base. They are used to soothe the inflammation and pain.
Foaming Bath Melts:
Bath melts are essentially a combination of thick, rich, plant butters with herbal powders and/or essential oils.
This is a very simple bath melt which can be made with carrier oils like coconut, grapeseed, jojoba or safflower. To this a tint of essential oil can help elevate your spirits.
For foaming this bath melt can incorporate a natural surfactant and an emulsifier. The base can again be a butter like cocoa butter.
It is a simple process of making these melts. We just need to melt the butters, add the powders and oils and pour in moulds.
Voila, your butter is ready.
Let us look at a simple formula and understand the procedure to make a good Bath Melt.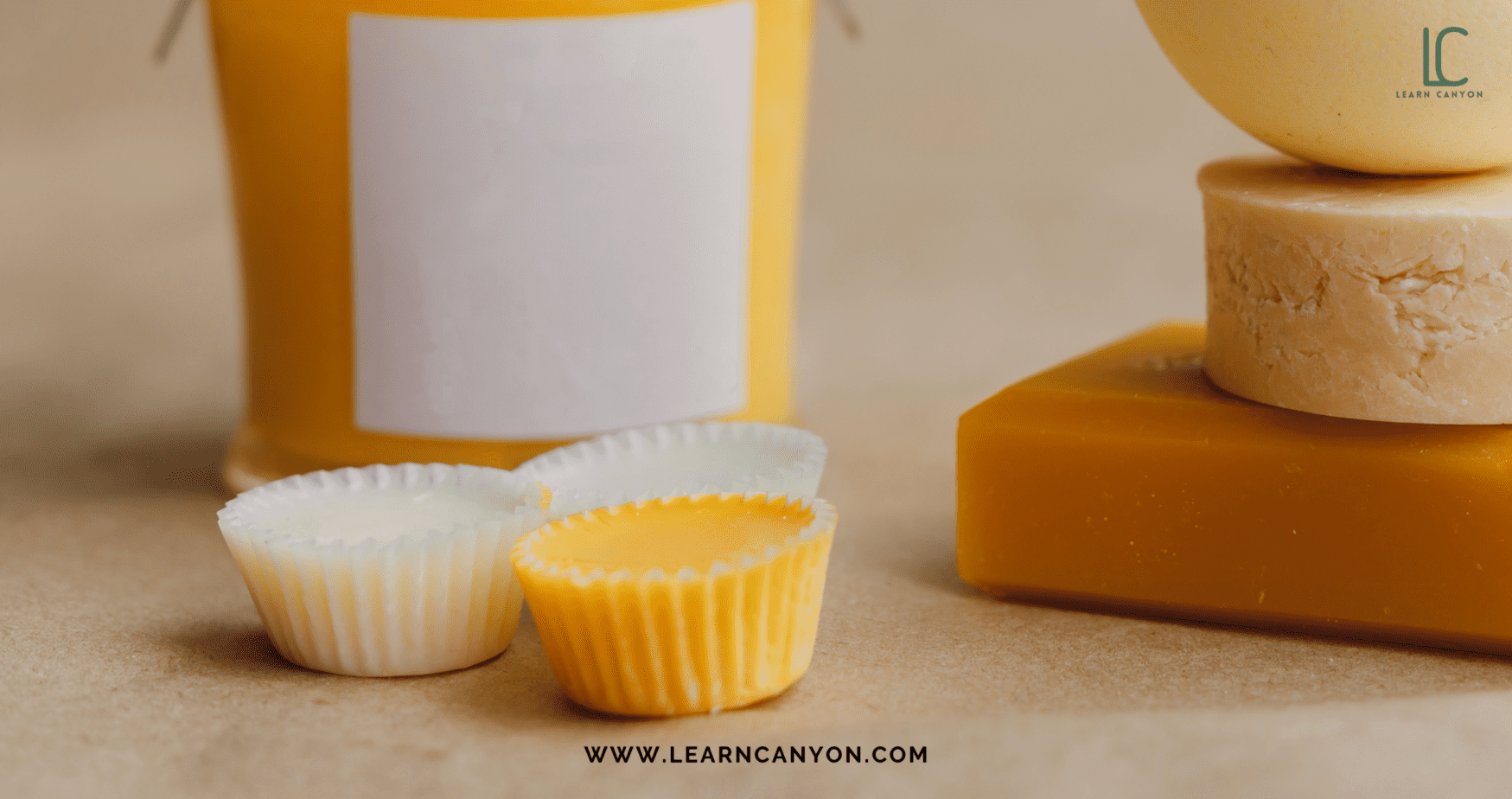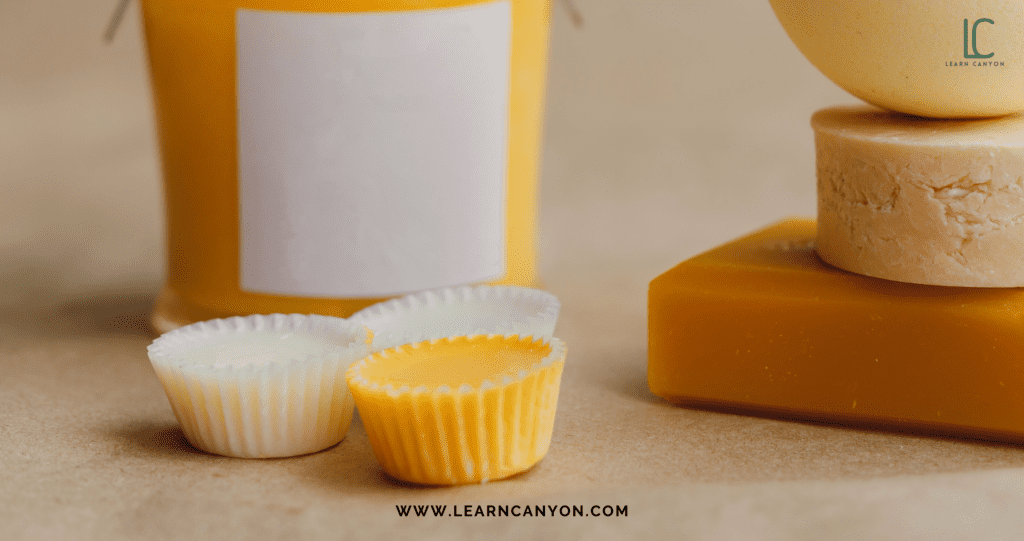 Ingredients to Formulate Bath melt:
Ingredient
Quantity in %
Phase A
Shea Butter
49
Mango Butter
37
Carnauba Wax
5
Phase B
Epsom Salt
7
Phase C
Lavender Essential Oil
1.5
Vitamin E
0.5
Understanding the importance and action of each ingredient in the formula
Shea butter:
Also known as Shea Nut Butter is scientifically named as Butyrospermum parkii. Shea butter is actually the fat from the nuts of the shea tree.
Shea nut butter is an excellent moisturizer with super healing properties. It is rich in vitamin A. It is especially good for dry and damaged skin. It acts by Conditioning and Soothing the SKIN.
In the bath melt the oleic acid in the shea butter acts as an effective moisturiser and aids in protecting the skin against excessive drying. It is readily absorbed and is said to help in the absorption of other active ingredients.
It also contains vitamin E, a natural antioxidant that helps protect the skin from free-radical damage.
It is a natural emollient that locks moisture in and provides rich nourishment for the skin.
Mango butter:
Mango seeds are the source of the fruit's numerous health benefits. The substance of the mango seed is extracted and cold-pressed into a creamy butter to make mango butter.
Mango butter is a fat made from mango seeds that comes in both refined and unprocessed versions. When mango butter comes into contact with the skin, it becomes semi-solid and melts.
Mango butter provides the skin an abundance of antioxidants, vitamins (C, E, A), and minerals. When applied topically to the skin, mango butter has good hydrating properties. This helps in nourishing the skin. The high proportions of Vitamin C regenerates the skin's collagen which acts as an antiaging agent and protects the skin from sun damage.
Carnauba Wax:
Carnauba wax is often used as a hardening agent, thickener, and emulsifier. In the bath melt it helps as a hardening agent and keeps the moulds from crumbling or melting at room temperatures.
Epsom salt:
Epsom salt is magnesium sulphate, a magnesium, sulphur, and oxygen combination that is easily absorbed through the skin and is commonly used as a bath soak. Epsom salts can aid with muscle pain and joint inflammation.
Lavender Essential Oil:
The essential oil is obtained from the fresh or dried flowers of Lavender (Lavandula angustifolia). Lavender is the most flexible and extensively utilised of all the essential oils, with a pleasant, relaxing scent.
Its regenerative function on the skin encourages the creation of healthy new cells, quick healing, and scar prevention.
The flower water and essential oil have calming and balancing effects. In this bath melt the Lavender oil encourages restful sleep and acts as a calming agent by reducing stress levels and anxiety.
Vitamin E:
Also known as Tocopherol acetate Vitamin E is naturally available in Sunflower seeds, sunflower oil, safflower oil, almonds, sesame oil, peanut oil, corn oil, wheat germ, peanuts, olive oil, etc.
It is an antioxidant and helps the formulation by protecting the high amounts of butters and waxes from becoming rancid.
Check out Our Ingredient Library to get an in-depth understanding & Quick Insight Into Organic Skincare And Natural Beauty Solutions To Help & Develop Your Own Business Model.
Method of manufacturing Shea Butter And Lavender Bath Melt: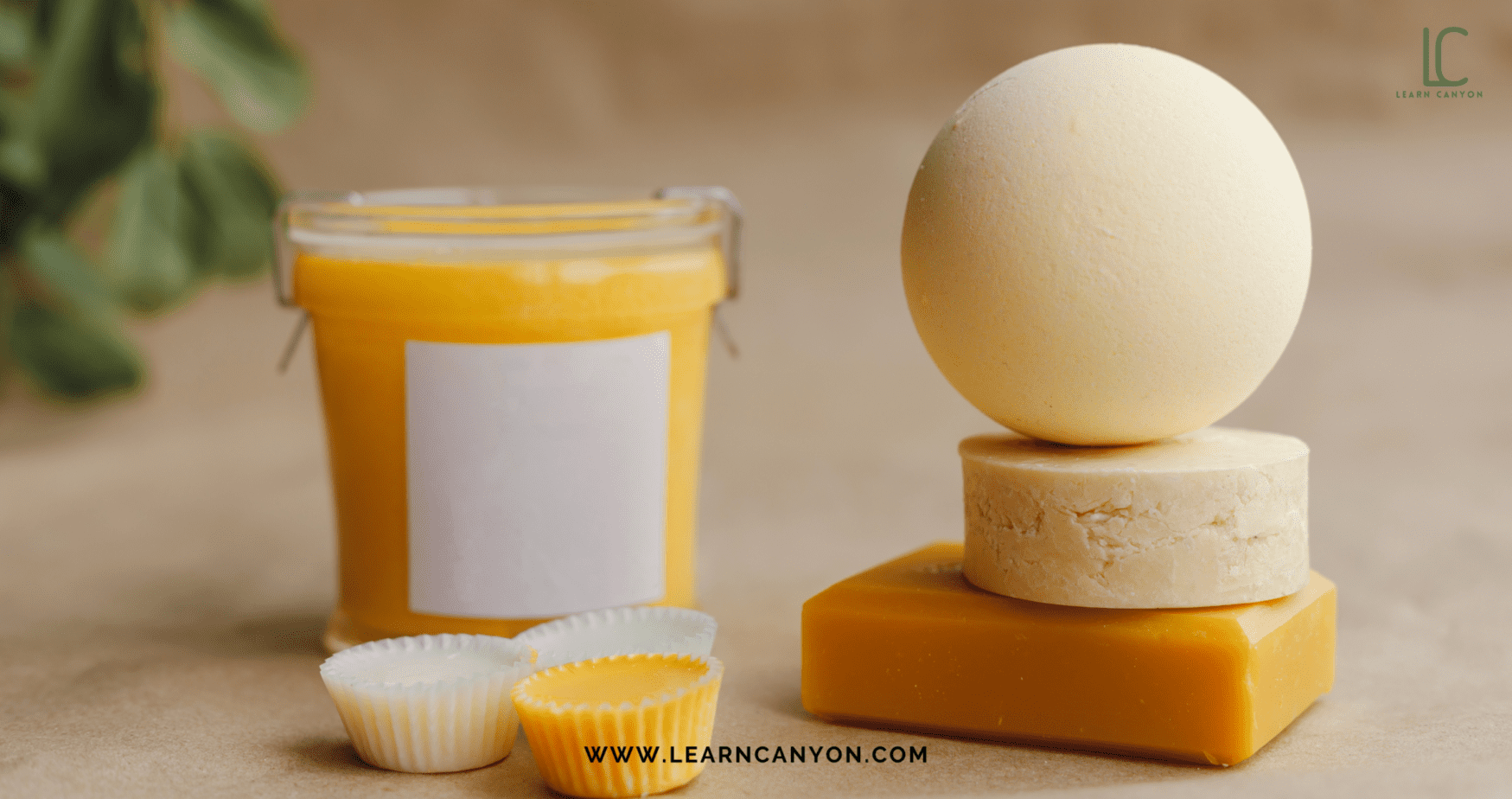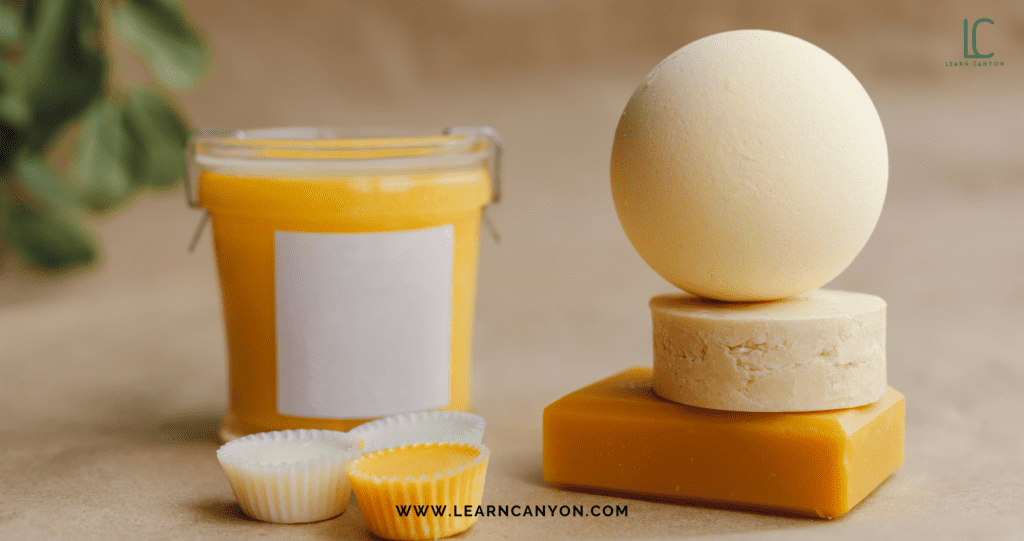 The procedure to make the Shea + Lavender Bath Melt is pretty simple. You have to arrange all the ingredients in groups as given in the formula.
Step 1- In a beaker measure shea butter, mango butter and carnauba wax that make the Phase A. Place it in a water bath and heat to 85 Degree C with constant stirring.
Step 2- Remove this blend from the water bath and add the accurately weighed Epsom salt (Phase B). Mix thoroughly.
Step 3- Allow the temperature to cool down with stirring. As it reaches 45 degree C. Add Lavender Essential Oil and Vitamin E (Phase C), blending it thoroughly.
Step 4- Pour into the mould while the blend is still warm.
Step 5- Let the bath melt cool to room temperature before demolding.
Tips in Manufacturing Shea butter & Lavender Bath Melt:
When you are melting the butter, care must be taken and overheating must be avoided as overheating will cause the butters to deteriorate.
Add essential oils and vitamins below 45 Degree to avoid the volatile oils from evaporating and the Vitamin E will also heat sensitive and may lose its antioxidant property.
Storage of the Bath Melts:
Once cooled the bath melts can be individually wrapped or put in a glass jar. The containers should be airtight. Care must be taken while storing in hotter climates. They should be placed in cool and dry places away from direct sunlight.
How to use a bath melt:
With a warm bath running, add 1 bath melt to the tub. When you add the bath melt to your bath while it's filling up, the oils will disseminate more evenly throughout the water.
The bath melt will melt and coat the skin's surface, and your skin will suck in the hydration while the hot water opens the pores. However, exercise caution when entering and exiting the tub because the oils will make it rather slippery!
Summary
This bath melt is a relaxing formulation and can be used by anyone who is tired and experiencing body aches, anxiety or stress.
Bath melts are the recent additions to the luxury bath section and provide an exotic experience.
The growing population of working women and their inclination for aromatherapy and cosmetics for relaxation is expected to be the key driver affecting bath additives market and the trend towards relaxing and aromatic products will give a push to the demand for Bath Melts by the consumers.