Our body skin may appear to be similar to the skin of our face, but it differs in several ways, necessitating special attention.
The skin on our face is thinner than the skin of our body. Of course, this change depends upon which area of the body you're talking about, but in general, the fat layer beneath the skin on the body is thicker than it is on the natural face cream. 
Another distinction is that some parts of our body, such as the hands and soles of our feet, have an extra layer of the epidermis (the top layer of skin) covering them.
The skin on the body has a naturally slower skin cell turnover rate, which results in drier, thicker, and scalier skin.
Because it takes longer for existing skin cells to be replaced by new ones, dead cells can linger on our body for longer, making it appear dry, dull, and flaky.
The skin on the body has fewer oil-producing sebaceous glands than the skin on the face, with the largest concentration in our t-zone, open pores, whitehead, blackheads, acne, pimples are more of a problem.
Body creams are not the same as facial creams.
A face cream has more active ingredients and is tailored to specific needs such as brightening or moisturizing the skin. Body lotions, on the other hand, are mostly used to address issues about firming or deeply moisturizing your skin.
Creams have been made since the dawn of time by combining fragrant gums, resins, roots, flowers, and other ingredients with fats and oils. Creams and lotions are emulsions, which are oil, fat, and water mixes that are relatively stable.
Oil-soluble and water-soluble chemicals are mixed together in the presence of an emulsifier to make these.
Initially, only two types of creams were developed and sold in the market: the first was cold cream, which was made specifically for dry skin, and the second was vanishing cream, which was made specifically for oily skin.
Anti-pimple creams, anti-wrinkle creams, BB creams, CC creams, cleansing creams, and many other facial creams are available today.
In today's blog, we'll talk about a cream that will provide nutrition to the face (Whatever the skin type may be).
 You can try making this formulation: Rose & Almond Face Cream
| | | | | |
| --- | --- | --- | --- | --- |
| Sr.No | Ingredients | Percentage(%) | Weight in grams (to make 50g) | Purpose in short. |
| | Phase A | | | |
| 1 | Distilled water | 15 | 7.5g | vehicle |
| 2 | Rose hydrosol | 15 | 7.5g | Vehicle supporter |
| 3 | Glycerine | 3 | 1.5g | Humectant |
| 4 | Dermofeel pa3 | 0.4 | 0.2g | chelating agent |
| 5 | Panthenol | 0.8 | 0.4g | Nutrient |
| | Phase B | | | |
| 6 | Beeswax | 2.5 | 1.25g | Viscosity modifier |
| 7 | Sweet Almond oil | 40 | 20g | Oil phase |
| 8 | Calendula infused in jojoba oil | 14 | 7.5g | Emollient |
| 9 | BTMS 50 | 5 | 2.5g | Emulsifying agent |
| 10 | Cetyl alcohol | 2 | 1g | Emollient |
| | Phase C | | | |
| 11 | Vitamin E | 0.5 | 0.25g | Nutrient |
| 12 | Sea buckthorn oil | 1 | 0.5g | Antioxidant |
| 13 | Preservative eco | 1 | 0.5g | Preservation |
| 14 | Geranium EO | 0.3 | o.15g | Perfume |
How to use:
Use after bathing and at night. Take an ample amount and place it on six points of the face (each cheek, forehead, nose, neck, and chin). Use more if required. Massage smoothly in a circular manner till the cream vanishes.
Properties and qualities of Rose & Almond Face Cream 
From the very first use, this cream immediately reveals pearlescent skin that glows.
Hydrates skin overnight for bright, radiant-looking skin
Non-peel, Gel-Moisturizer cream absorbs into the surface of the skin while you sleep
The formula works overnight at the surface cell level for brighter-looking skin
Formulated with Almond, Rose water & Calendula infused in jojoba oil helps hydrate and brighten your skin's appearance.
Formulated with natural vitamins, and humectants.
Works at the surface cell level to even skin tone over time.
Ability to be better absorbed by the deeper skin layers.
Faster regeneration of skin cells and removal of dead skin cells.
Makes the skin soft and supple, and soothes the surface by deep nourishment.
Who is this cream suitable for?
This cream with Rose & Almond is appropriate for the individuals where they notice dull lifeless skin, black spots, freckles,pigmentation, clogged pores, or signs of aging, such as wrinkles.
This cream is also suitable for extremely damaged and dry, flaky skin caused by pollution, cold or dry weather, sun damage, harsh soaps, overbathing, excessive use of makeup products, or extreme environmental factors such as UV rays, extreme cold climates, or occupational hazards such as exposure to harsh chemicals, etc.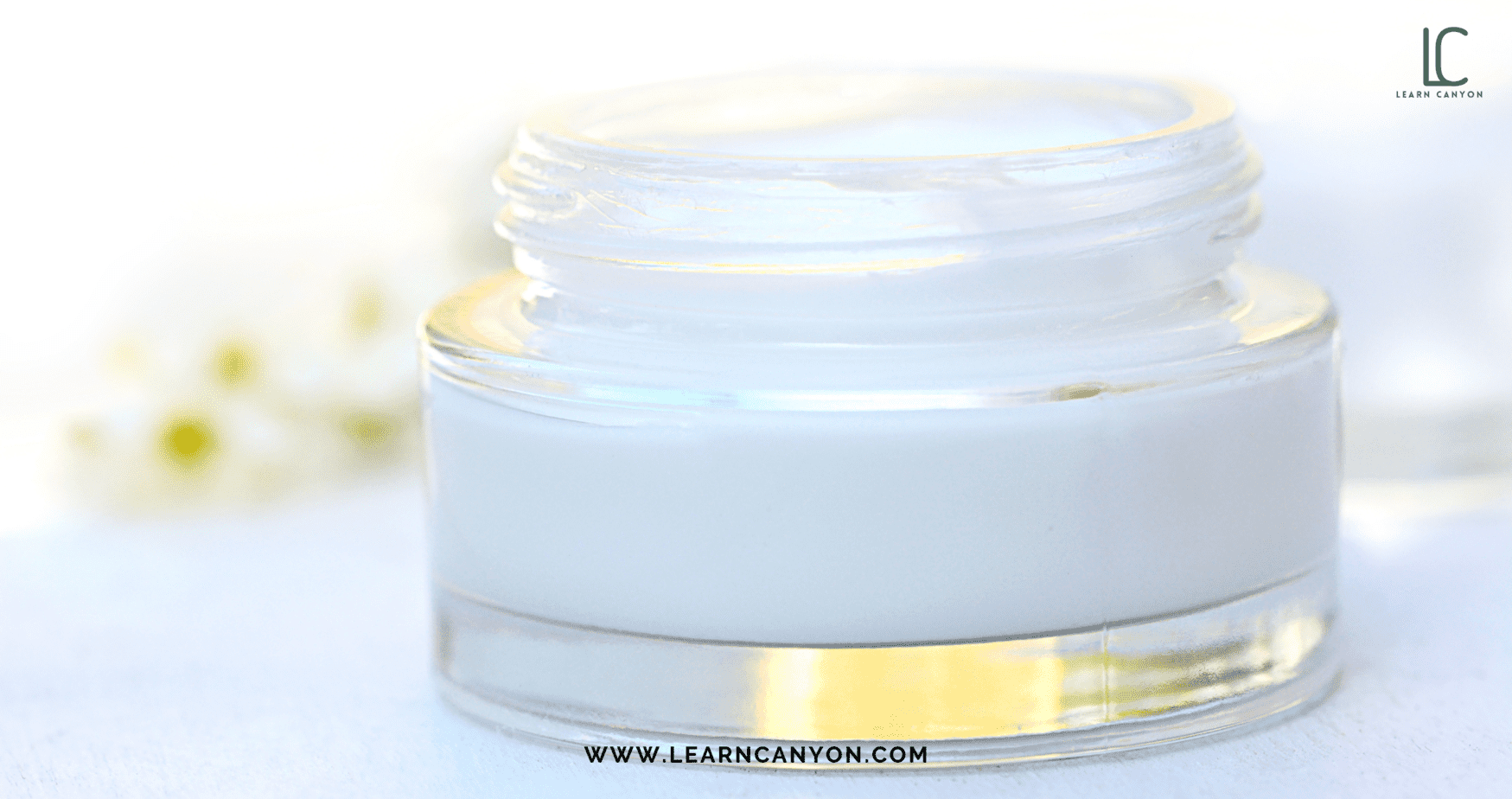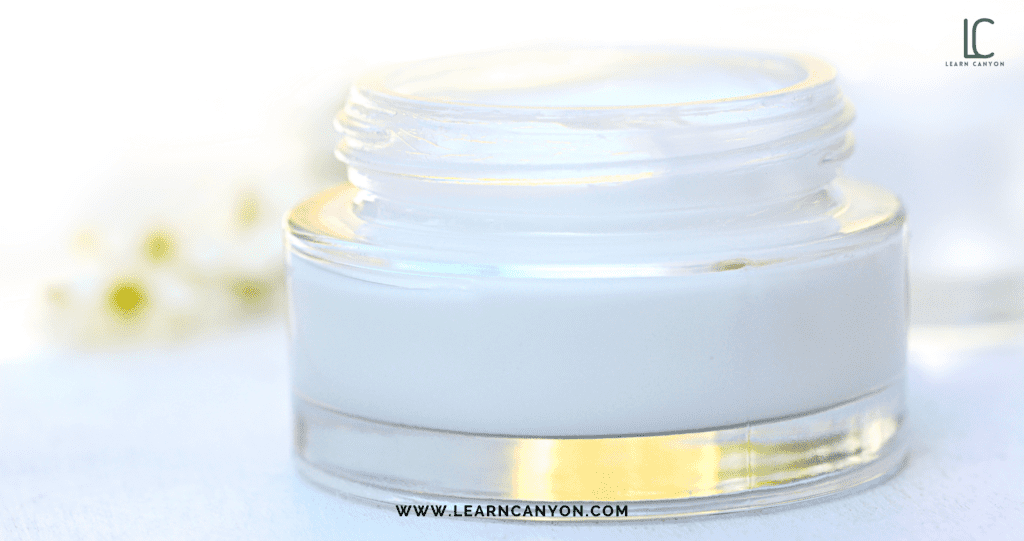 Which ingredients does it contain and why?
The raw materials included in the formulation are listed below, along with their purposes and distinctive features, as well as the rationale for their inclusion.
Distilled water:
It acts as a major solvent for the water-soluble components of the formulation. We only use water that is free of toxins, pollutants, and microbes in the formulation of cosmetics and personal care products.
We all know by now that distilled water has exceptional purity and has had all impurities removed from it.
Rose hydrosol:
Rose hydrosol is the water soluble fraction of rose distillate, which is obtained during the manufacture of rose essential oil.
Rose hydrosol is known for soothing the skin and making pores appear smaller. The anti-inflammatory benefits of rose hydrosol are well-known.
 Glycerin: 
Glycerin is a humectant. Glycerin helps in the retention of moisture in the skin. It can help to hydrate the skin, reduce dryness, and rejuvenate the skin's surface.
It's also an emollient, i.e it softens the skin.
Glycerin moisturizer, creates a calming sensation, tightens and firms the skin, provides protection by creating a barrier, smooths the skin, exfoliates, brightens and improves the complexion, can be combined with other ingredients, is anti-aging, and can be used on all skin types including dry, sensitive, dry and chapped/cracked, oily, and combination skin.
Glycerin also has antibacterial qualities, thus it can help to keep the skin healthy. Glycerin prevents the product from drying out during its lifespan.
Panthenol: 
Panthenol is a stable form of vitamin B5. B5 can bind and hold on to water effectively, resulting in skin that's soft and moisturized.
Hence, panthenol is known for its repairing, soothing and moisturizing properties. Panthenol is used in this formulation as it can help in effortlessly spreading the serum and achieve complete coverage.
Another advantage that panthenol holds over other common moisturizing ingredients is that it acts as both an emollient and a humectant. Emollients seal any cracks in the skin, and humectants attract water to the skin.
Dermofeel PA3 – 
It is a natural chelating agent that can be used instead of EDTA. When used with cosmetic antioxidants, it has a synergistic effect.
The pH of the partially neutralized substance is 3. For ease of application, the substance is diluted to a liquid state.
Chelating agents are substances that bind with metal ions and are essential for cosmetic stability and efficacy.
Chelation is a method of stabilizing metal ions by preventing them from interacting chemically with other compounds.
Rose extract: 
The pleasantly fragrant extract absorbed into the skin is soothing, softening, and moisturizing dry skin. Like rose hydrosol, the extract is said to reduce signs of aging like fine lines and wrinkles.
Beeswax: 
The function of beeswax is to thicken the formula. It binds the other ingredients together.
On the skin, beeswax can form a protective coating. It's also a humectant, attracts moisture, and does not allow it to dry. Both of these characteristics might aid in keeping the skin moisturized.
Makes skin soft by removing dead skin cells.
Making a cream out of beeswax can serve double duty in terms of keeping your skin soft and nourished.
Sweet Almond oil: 
The dried kernel of the Almond tree is used to make Almond Oil. It is a light oil that is high in vitamins A, E, and B, as well as Oleic and Linoleic essential fatty acids.
Almond oil is a popular emollient because it absorbs quickly into the skin. This oil is known for its ability to relieve itching, dryness, and inflammation in the skin. Reduces puffiness and under-eye circles.
Almond oil Improves complexion and skin tone. Due to its emollient properties, almond oil has the potential to improve both complexion and skin tone.
Treats dry skin. Almond oil has been used for centuries to treat dry skin conditions, including eczema and psoriasis.
Improve acne condition. The oil's fatty acid content may help dissolve excess oil on the skin, while the retinoid in the oil may reduce the appearance of acne and improve cell turnover.
Helps reverse sun damage, vitamin E, one of the nutrients in almond oil, helps reduce damage to the skin caused by UV exposure.
Reduces the appearance of scars. . The vitamin E content may contribute to helping smooth the skin.
Calendula infused in jojoba oil:
This is obtained by covering the dried calendula flowers with Jojoba Oil. This calendula-infused jojoba can be used straight for dry or blemish-prone skin, or it can be included in creams, balms, and other products as an ingredient.
Calendula has antibacterial and anti-inflammatory effects, as well as the ability to hasten wound healing. These characteristics make it particularly useful in creams and mixtures for problematic skin.
BTMS50: INCI: Behentrimonium Methosulfate (and) Cetyl Alcohol (and) Butylene Glycol
This BTMS 50 product is a pelletized quaternary ammonium conditioning agent with 50% active Behenyl (produced from rapeseed oil), 40% Cetyl alcohol, and 10% 1, 3-Butylene glycol.
BTMS 50 is a high-performance cationic self-emulsifying wax. It's employed as a strong conditioning agent, as well as an antistatic and softening agent. It gets along well with both cationic and nonionic surfactants.
It forms electro-neutral salts when it combines with anionic surfactants.
It has a wonderfully smooth, powdered skin sensation. This lotion is extremely gentle, non-irritating, and suitable for use as a leave-on moisturizer.
Cetyl alcohol:
Cetyl alcohol, like beeswax, is an occlusive ingredient that acts as an emulsifier or thickening in skin-care creams. It's "excellent at keeping the skin barrier moist and reducing water loss."
Vitamin E:
Vitamin E in the form of alpha-tocopheryl acetate (ATA) is commonly found in skin care products. Tocopheryl acetate, tocopheryl acetate, and vitamin E acetate are some of the other names for Vitamin E.
The antioxidant properties of vitamin E are well-known. Antioxidants help to protect your body from free radicals, which are harmful substances.
Tocopherol, especially when combined with vitamin C, helps to protect the skin from UV damage.
Sea Buckthorn oil:
The Siberian pineapple (Hippophaes rhamnoides) is a blooming shrub or tree that produces berries that can be cold pressed into pulp or oil. Because of the flavonoids, vitamins, and omega fatty acids in it, it is high in vitamin C and antioxidants.
Improves skin elasticity, aids skin regeneration, lowers inflammation, prevents dryness, and removes skin toxins while providing hydration, evening out skin tone, and improving the appearance of fine lines and wrinkles.
Preservative eco:
After preparation, preserving the product, the skin is protected from microorganisms, a foul and obnoxious odor, and the risk of irritation or discomfort gets reduced. For example,
Geogard Ultra™ (Patented)
INCI Name: Gluconolactone & Sodium Benzoate
Key Product Benefits:
– Has a wide range of global regulatory acceptance
– Broad spectrum activity
– ECOCERT/COSMOS-accepted, NATURE-approved and Soil Association-approved
– Wide applicability
The synergy between the two components is what distinguishes this preservative, allowing for its broad spectrum activity.
Organic acids are typically too weak on their own and require the addition of a co-preservative or booster to operate at their best.
This blend's gluconolactone works in tandem with sodium benzoate to provide an effective preservative enhancer that is also non-GMO.
The gluconolactone in Geogard UltraTM works by gently releasing gluconic acid over time, which aids in preservation.
Geranium EO:
Geranium oil contains antibacterial, antimicrobial, and antiseptic properties that aid in the healing of wounds and the soothing of inflamed skin. This can also be used as a natural cleanser to remove dead skin cells, restore the skin, and renew it.
Geranium Oil's astringent properties and anti-aging properties help to decrease acne breakouts, balance oily or congested skin, and tighten skin.
Geranium increases the contractions of the skin muscles and tissues, so the skin does not droop, the facial skin tightens, resulting in fewer fine lines and wrinkles, and it keeps the skin toned and firm. It promotes the health of skin cells and a uniform complexion.
Geranium essential oil has a relaxing impact and the capacity to relieve anxiety and stress due to its sweet, uplifting flowery aroma.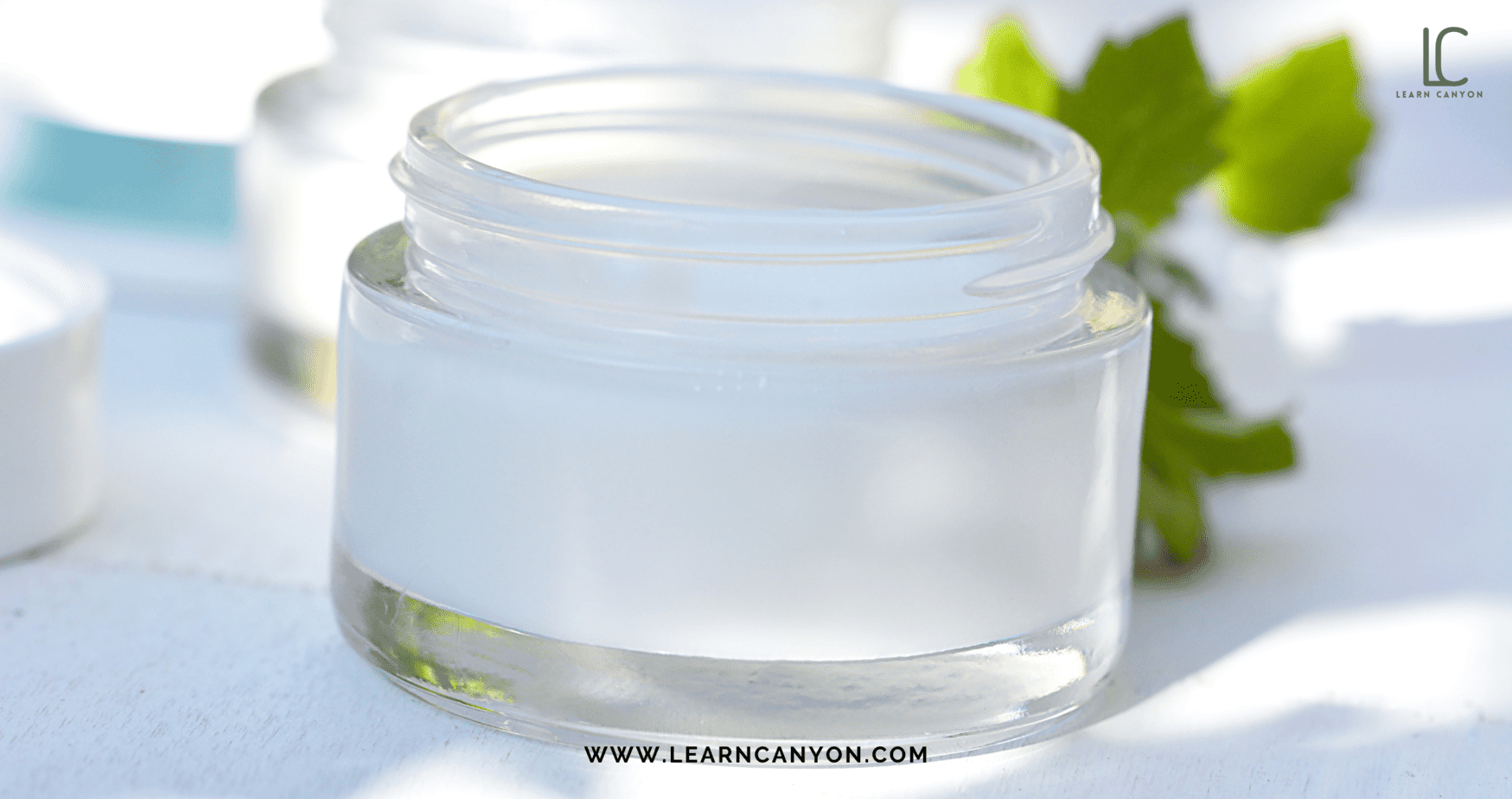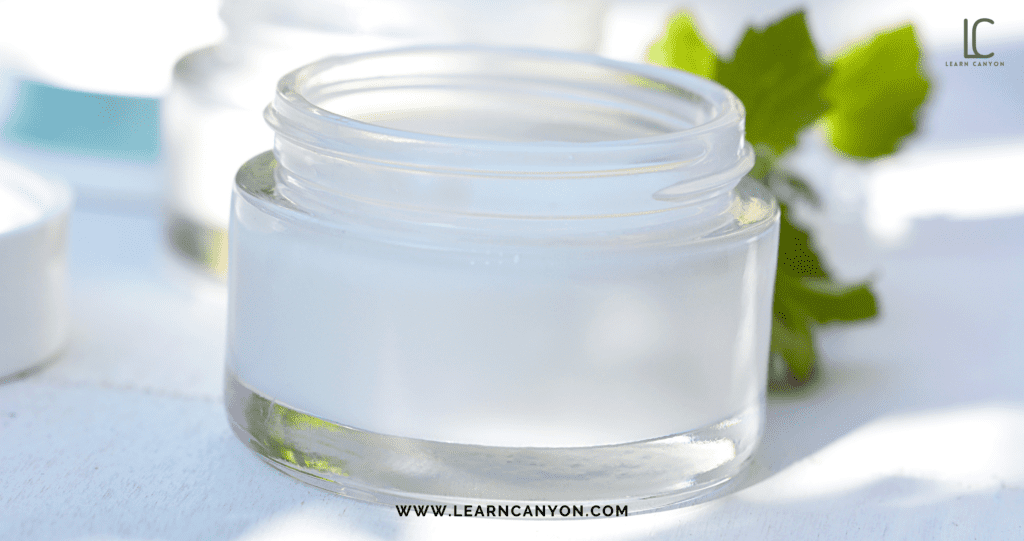 What is the correct procedure for preparing Facial Cream?
Calculate the ingredients as per batch size.
Collect all the ingredients required in the formulation.
Using an appropriate weighing scale accurately weighs the ingredients separately.
Now add the ingredients of phase A & phase B into different kettles.
Heat them simultaneously in a water bath with gradual stirring using a spatula.
At 720C stop heating.
Mix Phase A & B ingredients together with constant stirring in one direction (either clockwise or anticlockwise) .
Keep the kettle in a cold water bath
At 450C add phase C
Mix well.
Fill in a wide-mouth glass jar with a tight lid.
Store in a cool, dry place.
 Frequently Asked Questions
1.  Is it possible to make this cream without using preservatives?
Yes, you may make this cream without preservatives, but you must use it within a week. By omitting the preservative, you are shortening the shelf life of the product and increasing the danger of misuse.
 2.  What is the difference between Moisturizing Cream and Cold Cream?
The Moisturising creams are made with low oil content,mostly oil in water type whereas cold creams contain high percentage of oil and are water in oil type.
3. Where can I learn to formulate natural skincare products? 
You are welcome to join us at Learn Canyon, where thousands of students and followers take our free and paid online courses to learn how to formulate organic skincare and hair care for themselves or to sell, as well as how to establish a beauty brand and business.
4.What are different types of creams? 
Because no work on cosmetics could hope to include the entire range of creams, it would be worthwhile to categorise the creams broadly as under
1.Cold Creams
2.Vanishing Creams
3.All purpose Creams
4.Emollient Creams
5.Hand & Body Creams or Protective Creams
  6.Cleansing Creams
7.Foundation Creams
8. Moisturising Creams
9. Night & Nourishing Creams.
5. How to check whether prepared cream is perfect even in storage?
Cream or any other product  which was prepared should be properly labelled,containing its date of manufacturing.
In your diary you should note the details about the physical parameters of the product such as colour, texture,odour, pH, consistancy etc. and you should compare with those parameters every month.
Any change in colour,odour or texture will indicate spoilage.
(Any parameter  of prepared product should not change in storage). 
6.  For how much time I have to stir the cream?
When you start heating both phases you have to simply mix slowly to transfer heat from bottom towards top of kettle, Then after adding water phase in oil phase you have to stir vigorously till the temperature reaches 450C, at this stage the cream will start solidifying, then you can stir slowly till the temperature reaches to normal room temperature.