Juniper (Juniperus recurva) leaf essential oil
Juniper essential oil is extracted by steam distillation of leaves.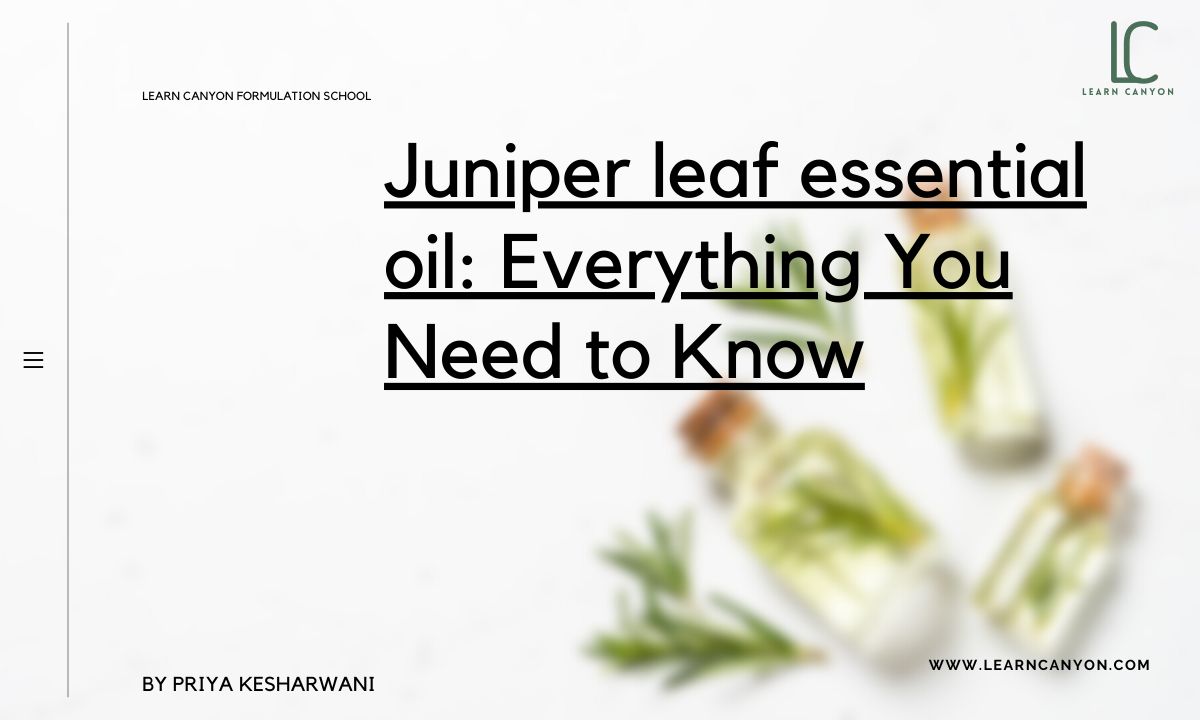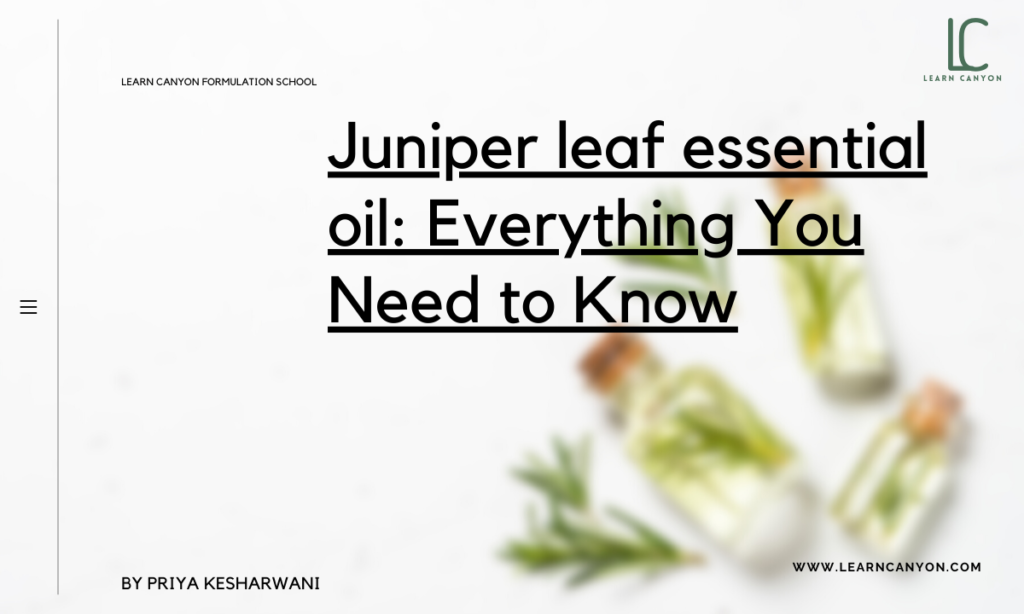 Add a header to begin generating the table of contents
What is juniper leaf essential oil?
Juniper is a pine-family evergreen plant native to North America, Europe, and Southwest Asia's mountains. Juniper tree wood, berries, and leaves are steam distilled to extract the essential oil.
Juniper has long been associated with spirituality. It's also been charred to keep sickness at bay. The most well-known use of juniper berries is as a gin ingredient.
| What is it? | Juniper essential oil is extracted by steam distillation of leaves. |
| --- | --- |
| INCI | Juniperus communis fruit extract |
| Appearance | Blue, red, or copper colour, |
| Texture | Thin and soft |
| Recommended Usage | 1-10% |
| Solubility | Insoluble in Water |
| Melting point | NA |
| Boiling point | 131-172 °C(lit.) |
| pH | NA |
| Aroma | Fruity and peppery with a hint of pine. |
| Why do we include it in formulations? | The essential oil of Juniper Berry is peaceful and centering. |
| How to work with it? | Include during the formulation's cool down phase, and prevent heating if as all possible. |
| Applications | Antibacterial, antiseptic, and anti-inflammatory effects are found in juniper berries. |
| Absorption rate | Slow |
| Strength | To shield cells from the harmful effects of free radicals. |
| Weaknesses | Irritation and burning: Before applying oils to the skin, dilute them with a carrier oil. |
| Substitution | Gin, Rosemary and Bay Leaves |
| How to store it? | Stored in a cool, dark and dry place. |
| Shelf life | The essential oil of juniper leaves has a two-year shelf life. |
| Type of ingredient | Essential oil |
| --- | --- |
| Main benefits | Antiseptic and astringent are two words that come to mind when thinking about this herb. Juniper is energising, purifying, and revitalising. |
| Who should use it | Suitable for oily skin |
| How often can you use it? | Use two times each day. |
| Works well with | The majority of oils and oil products |
| Doesn't work with | It's advisable to avoid using it with alcohol-based products because it can be drying. |
| How to use | When the formulation is cooling down, this ingredient is added. |
Its primary elements are: Alpha-pinene, camphene or linalool, linalyl acetate, borneol, and nerol are the main constituents of juniper essential oils. Linalool is used in skincare mostly for its aroma.
Linalool has a light, floral aroma that can help skincare products smell better. Anti-inflammatory qualities may aid to soothe and calm the skin. Linalool can also serve as a bug repellent.
Benefits of juniper leaf essential oil
Who doesn't want their skin to be healthy and radiant? A healthy glow is impossible to achieve without optimal skin oxygenation, which means that good blood circulation is essential for maintaining that glow.
Not only is proper oxygenation required for healthy and radiant skin, but it also has an impact on general wellness.
Juniper essential oil has astringent and antibacterial characteristics, making it an excellent toner. Eczema, psoriasis, and acne are among the skin conditions for which it is commonly used.
It also aids in the unclogging of skin pores, which is excellent for those with oily skin. It also contains a number of beneficial elements that aid in the strengthening of collagen fibres, making it a potential anti-aging treatment for fine lines and wrinkles.
Side effects of juniper leaf essential oil
Juniper Leaf essential oil provides a lot of benefits, there are a few things to keep in mind when using it. Long-term topical application of Juniper oil can cause redness, burning, skin irritation, and swelling, so it's not suggested for major wounds.
How to use it in formulation?
Internally and externally, it can be used as a tonic to strengthen the immune system.
To prevent skin sagging, use this essential oil with body oils and butter. To control acne, dilute 1 percent of the product in a skincare base. To give the active components in your face cleanser or mask an extra clarifying push, add juniper.
Works well with other ingredients
Bergamot, Black pepper, Lavender, Frankincense, and Sandalwood are just a few oils that work nicely with Juniper.
Share it on Social Media: