Lemon myrtle (Backhousia citriodora) leaf essential oil
Lemon Myrtle essential oil comes from a plant in the myrtle family, not a citrus fruit, and is renowned as the "queen of lemon herbs."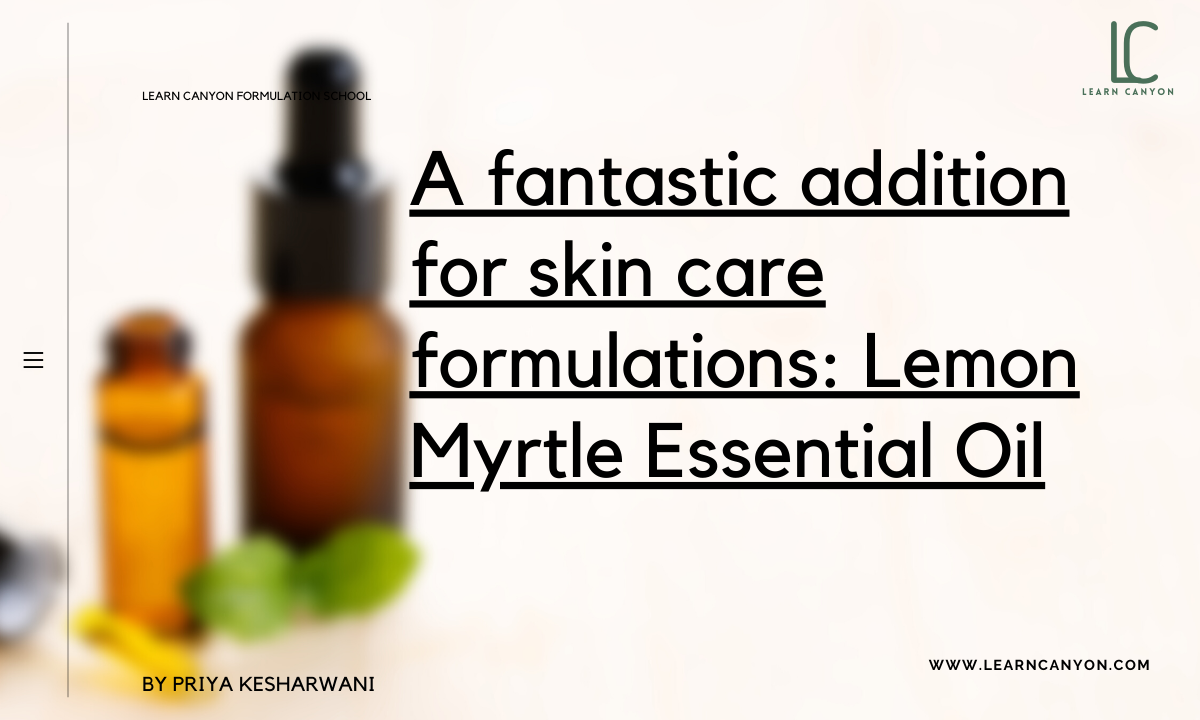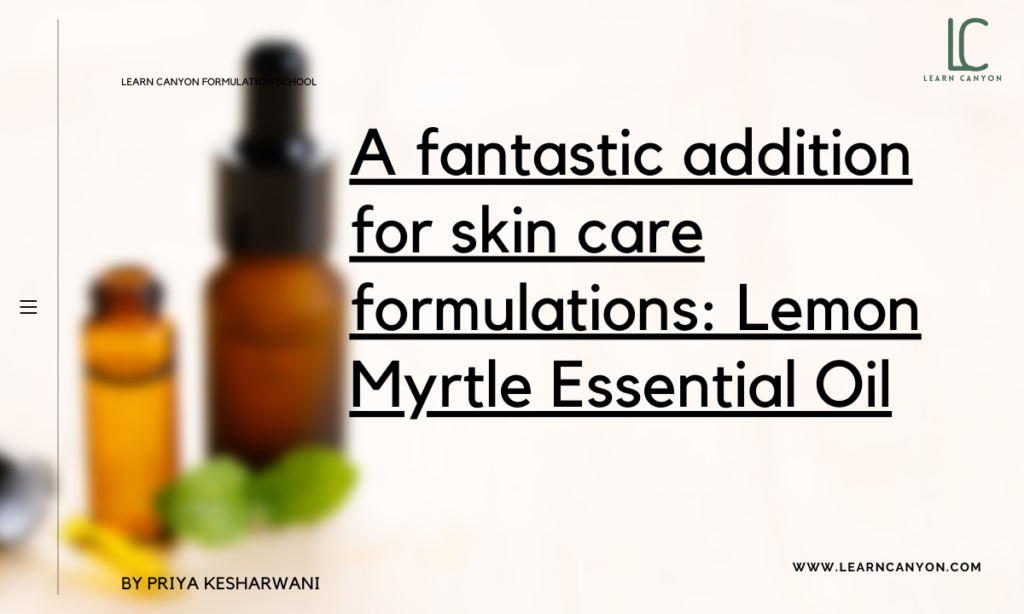 Add a header to begin generating the table of contents
What is Lemon myrtle leaf essential oil?
The essential oil of lemon myrtle leaf is produced by steam distillation of leaf components. Lemon Myrtle is an Australian native that may be found growing in South East Queensland.
The aldehydes citral and citronellal are the two main chemicals responsible for its citrus scent. Lemon Myrtle is a flowering plant belonging to the Myrtaceae family. This plant has large, glossy green leaves that are evergreen.
| What is it? | Lemon Myrtle essential oil comes from a plant in the myrtle family, not a citrus fruit, and is renowned as the "queen of lemon herbs." |
| --- | --- |
| INCI | Backhousia citriodora |
| Appearance | Pale to dark yellow mobile liquid |
| Texture | Thin, watery viscosity |
| Recommended Usage | 1-10% |
| Solubility | Insoluble in water |
| Melting point | NA |
| Boiling point | NA |
| pH | NA |
| Aroma | strong bright lemony scent. |
| Why do we include it in formulations? | Lemon oil has astringent and detoxifying properties. Its antibacterial qualities aid in the treatment and cleansing of skin. Lemon oil also helps to keep the skin from becoming too oily. |
| How to work with it? | Include during the formulation's cool down phase, and prevent heating if as all possible. |
| Applications | Lemon oil contains natural citric acid, which is one of the most powerful skin bleaching agents. It progressively lightens skin tone and reduces acne scars. |
| Absorption rate | Fast |
| Strength | Antiseptic, antibacterial, and expectorant properties of lemon myrtle essential oil |
| Weaknesses | Irritation and burning: Before applying oils to the skin, dilute them with a carrier oil. |
| Substitution | Geranium or Chamomile. |
| How to store it? | Stored in a cool, dark and dry place. |
| Shelf life | Lemon oil has a minimum two-year shelf life. |
| Type of ingredient | Essential oil |
| --- | --- |
| Main benefits | Antibacterial, antiseptic, and relaxing qualities |
| Who should use it | Oily Skin |
| How often can you use it? | If used consistently and during the day, the use of lemon essential oil in leave-on products should be minimised to reduce the risk of a reaction. |
| Works well with | Woody, spicy, floral oils. |
| Doesn't work with | Because lemon essential oil makes your skin more sensitive to sun irritation, it's recommended to avoid direct sunlight when using it. |
| How to use | When the formulation is cooling down, this ingredient is added. |
The citral content of lemon myrtle ranges from 90 to 98 percent. It also has a good number of minerals including calcium, zinc, and magnesium, as well as vitamins A and E. Lemon Myrtle oil provides wonderful skin care advantages for mature or oily skin.
It works as an astringent to constrict pores and minimise irritations, and it also has antibacterial characteristics that can help with skin infections, wounds, and acne.
Benefits of Lemon myrtle leaf essential oil
Antimicrobials are commonly used in products to kill and or inhibit the growth of microorganisms that can be crucial in controlling and fighting diseases in the body or on the skin, as well as kill germs that can cause significant illness on non-living surfaces.

Lemon Myrtle's main chemical component, Citral, is known for its cleaning effects. Lemon Myrtle can be used to cleanse the skin, clean surfaces, and purify the air.

Lemon Myrtle's aroma is sweet, lemony, and slightly herbal, and it's both calming and energising.

Lemon myrtle, like tea tree oil, has an anti-acne action. Acne can be caused by an excess of oil on the skin, which clogs pores and increases bacteria development. A swollen mark appears on the skin as a result of this. Lemon myrtle has been demonstrated to fight acne-causing germs while also calming the skin around the affected area.
Side effects of Lemon myrtle leaf essential oil
Sensitive skin may be irritated.
How to use it in formulation?
Citral, the main component found in lemon myrtle leaves, has potent antimicrobial and antifungal capabilities that outperform terpene hydrocarbons found in tea tree oil.
That is, it benefits your body, skin, and hair in a variety of ways. Because essential oils can be strong enough to induce a reaction, it's usually advisable to dilute them before applying them directly.
You blend essential oils with a carrier oil to dilute them. When the formulation is cooling down, this ingredient is added.
Works well with other ingredients
Lemon Myrtle essential oil is wonderful on its own or in a blend with woody, spicy, flowery, but not citrus scents.
To avoid overwhelming a combination, use Lemon Myrtle sparingly. Combine Lemon Myrtle with Australian Blue Cypress, Emerald Cypress, Eucalyptus types, Niaouli, Rosalina, Sandalwood, or Tea Tree essential oils.
Share it on Social Media: