We have already begun a blog series in which we introduce our students to simple herbal cosmetic recipes that can help them improve the condition of their skin and eliminate any type of skin problem.
As you are aware, these blogs are published as part of the "How To" series. The best part about this series is that it contains not only simple recipes, but also a wealth of scientific knowledge.
We require an effective formulation that will assist us in keeping our bodies clean. It is important to note here that cleaning does not only mean being free of dirt and grime, but it also means looking fresh and healthy. Impurities and dead skin are removed by scrubbing (Body wash or body gel is frequently used. We must understand the distinction between a body wash and a body scrub.).
It also removes excess oil from the skin's surface, which is a major cause of acne.
We all are aware that, for healthy- and fresh-looking skin we need to follow a stringent skincare routine. In this routine exfoliation or removal of the dead skin cells is an important part and one should not miss out on it.
A healthy skin routine will generally include a number of steps right from cleansing, toning, moisturizing, sunscreen, etc.
In general, a cleansing product such as soap or a body wash is used to cleanse the body. However, when we need to cleanse our back, neck, hands, legs, or other parts of the body that have been neglected, we prefer to use products designed specifically for cleansing the body's skin.
Body wash or body gel is frequently used. We must understand the distinction between a body wash and a body scrub. Definitely, a body wash is a product that is usually smooth and textured and is used to remove oil and dirt from the skin's surface. It cleans the skin on the body's surface.
It is not abrasive and does not irritate the skin. A body scrub, on the other hand, is a product that contains gritty particles that are specifically used to exfoliate dead skin cells and then wash them away.
So, what should you do to keep your body skin clean and free of oil and dirt?
It is critical and necessary for a good skincare routine to include products that are both effective and safe for the user.
So, one option is to use a body scrub that has a good exfoliating effect and removes oil and dirt from your skin while not damaging it.
Now is the time to start creating your own body scrubs.
Today we are going to learn:
How to make a body scrub at home?
What exactly is a body scrub?
Body scrubs are a type of skincare product that exfoliates the skin. It aids in the removal of dead skin cells from the skin's surface, reducing the likelihood of clogged pores and acne breakouts.
The coarse particles in facial scrubs aid in exfoliation. When you use a body scrub, the granules rub against your skin, removing all of the debris that has built up in your pores. It also removes dead skin cells, leaving your skin smooth and soft.
By incorporating a good body scrub into your weekly skincare routine, you can achieve healthy, beautiful skin.
Why use Body Scrub?
A body scrub is used basically for the following benefits it gives to the skin;
· It helps to remove the dead skin cells by exfoliation and hence also improves the skin's absorption capacity.
· Improves the skin texture and makes it soft and smooth.
· Extremely effective in treating suntan and protects skin from further damage
· If your skin gets dull, lifeless, and oily quite soon in the day, then use this scrub to control the oil.
· Body scrub is a gentle exfoliator and is perfect for sensitive skin too.
Who can use the body scrubs?
If your skin gets dull, lifeless, and oily quite soon in the day, then use this scrub to control the oil. If there are signs of suntan, dirt, grime deposition due to outdoor workplace or even if you are tired working in front of the computer.
Body scrubs can be used by individuals with any skin type like dry, oily, combination, sensitive or normal skin types.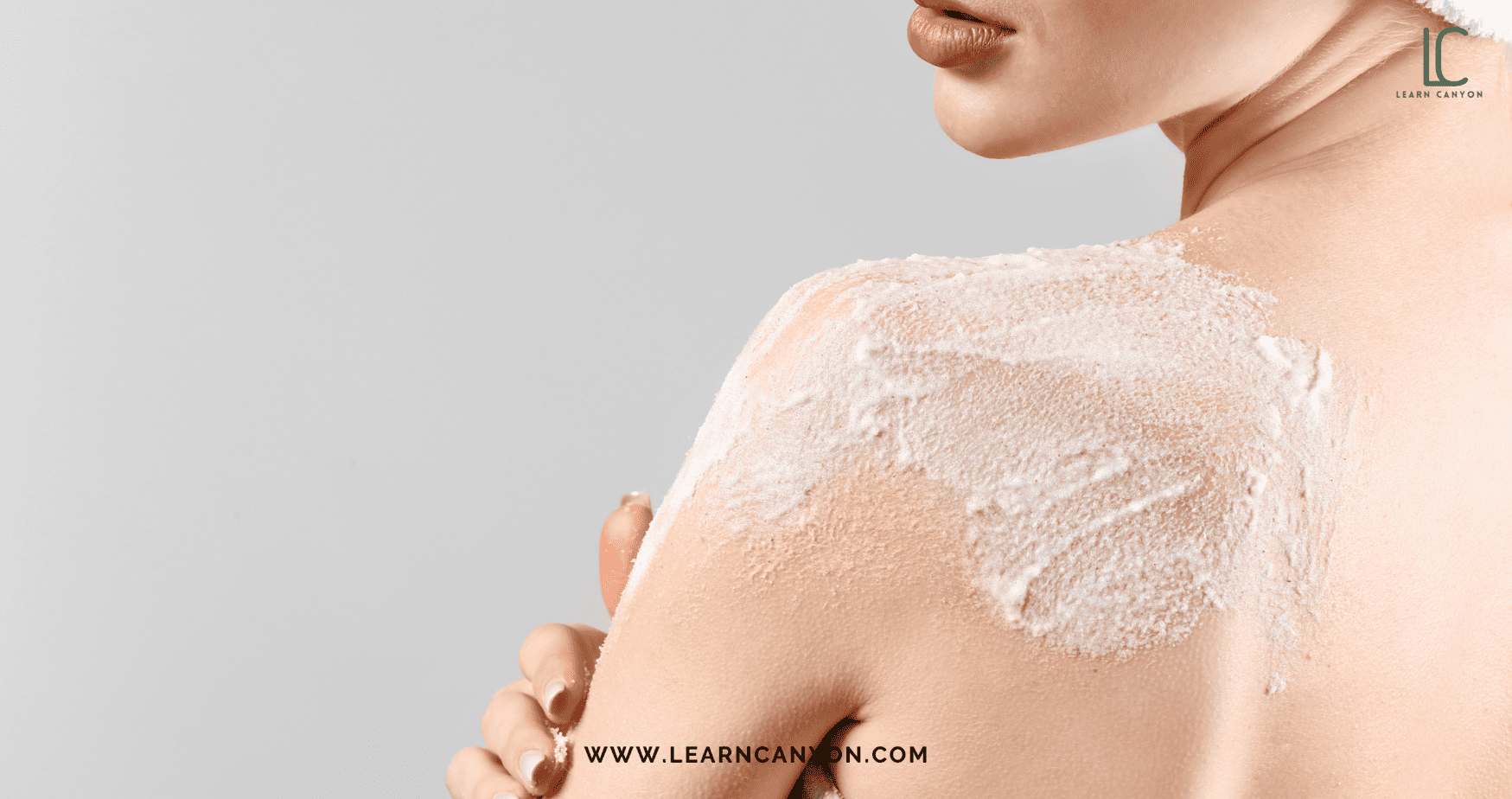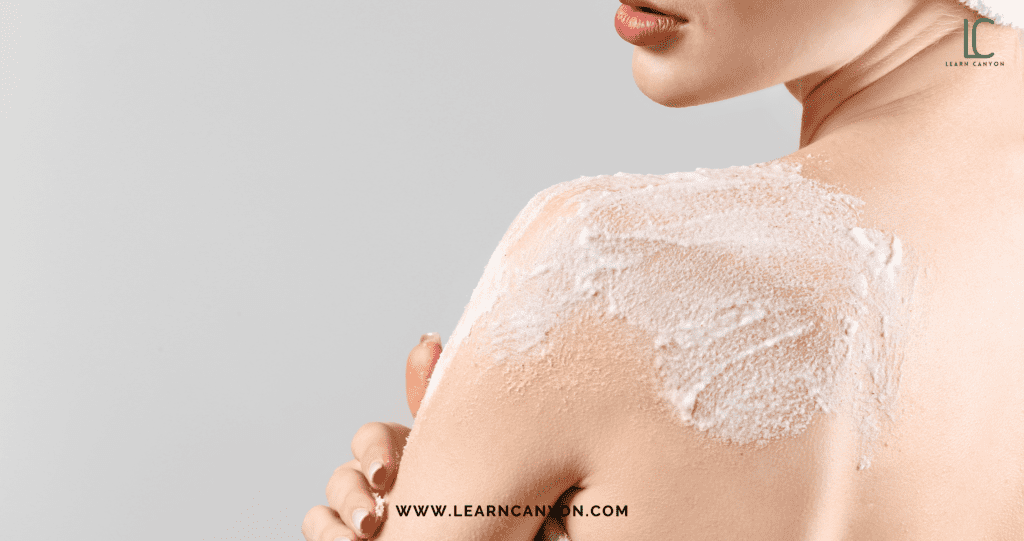 What are the basic ingredients in a body scrub?
Any scrub is formulated with a combination of a few basic ingredients like
Carrier oil: 
Carrier oils include sweet almonds, coconut, jojoba, safflower, rosehip, sunflower, grapeseed, argan, evening primrose, and others. Carrier oils used should be light in nature and do not leave a heavy or oily film on the skin's surface. They are easily absorbed by the skin and contain a variety of active ingredients.
Exfoliant:
There are two major types of exfoliants. Physical (sometimes known as mechanical) and chemical exfoliants. Physical exfoliants use particles or granules, as well as equipment like washing brushes, to remove dead skin cells. Exfoliants that use chemicals (such as salicylic acid and retinoids) to weaken the links between dead skin cells so that they can be dislodged exfoliate the skin. A chemical exfoliator unclogs the pore by going deep into it.
Body scrubs can be formulated in different ways and forms. Some may be dry powders, some suspensions, gels, cream, etc.
Cleansers:
These are emulsifiers and possess an affinity for both oil & water. They are excellent cleaners for body wash and Scrubs.
we are going to Formulate Super Buttery Body Scrub
| | | | | |
| --- | --- | --- | --- | --- |
| Sr.No | Ingredients | Percentage(%) | Weight in grams (to make 50g) | Purpose in short. |
| | Phase A | | | |
| 1 | Mango Butter | 10 | 5g | Nutrient |
| 2 | Cocoa butter | 10 | 5g | Softener |
| 3 | Almond oil | 20 | 10g | Nutrient |
| 4 | Coconut oil | 20 | 10g | Base |
| 5 | Olivem 1000 | 4.5 | 2.25g | Cleanser |
| 6 | Cetearyl alcohol | 4 | 2g | Thickener |
| | Phase B | | | |
| 7 | Vitamin E | 0.5 | 0.25g | Nutrient |
| 8 | Iscaguard Oil-soluble preservative | 1 | 0.5g | Preservation |
| | Phase C | | | |
| 9 | Granulated sugar | 30 | 15g | Abrasive |
What is the correct procedure for preparing Body Scrub?
Calculate the ingredients as per batch size.
Collect all the ingredients required in the formulation.
Using an appropriate weighing scale accurately weighs the ingredients separately.
Now add the ingredients of phase A & phase B into different kettles.
Heat phase A kettle in a water bath with gradual stirring using a spatula.
At 650C or till every ingredient melts well, stop heating.
Mix them with constant stirring.
Keep the kettle in a cold water bath, at 500C slowly add phase B ingredients with constant stirring.
At 400C add phase C
Mix slowly..
Fill in a wide-mouth bottle with a tight lid.
Store in a cool, dry place.
Let's take a look at each ingredient and see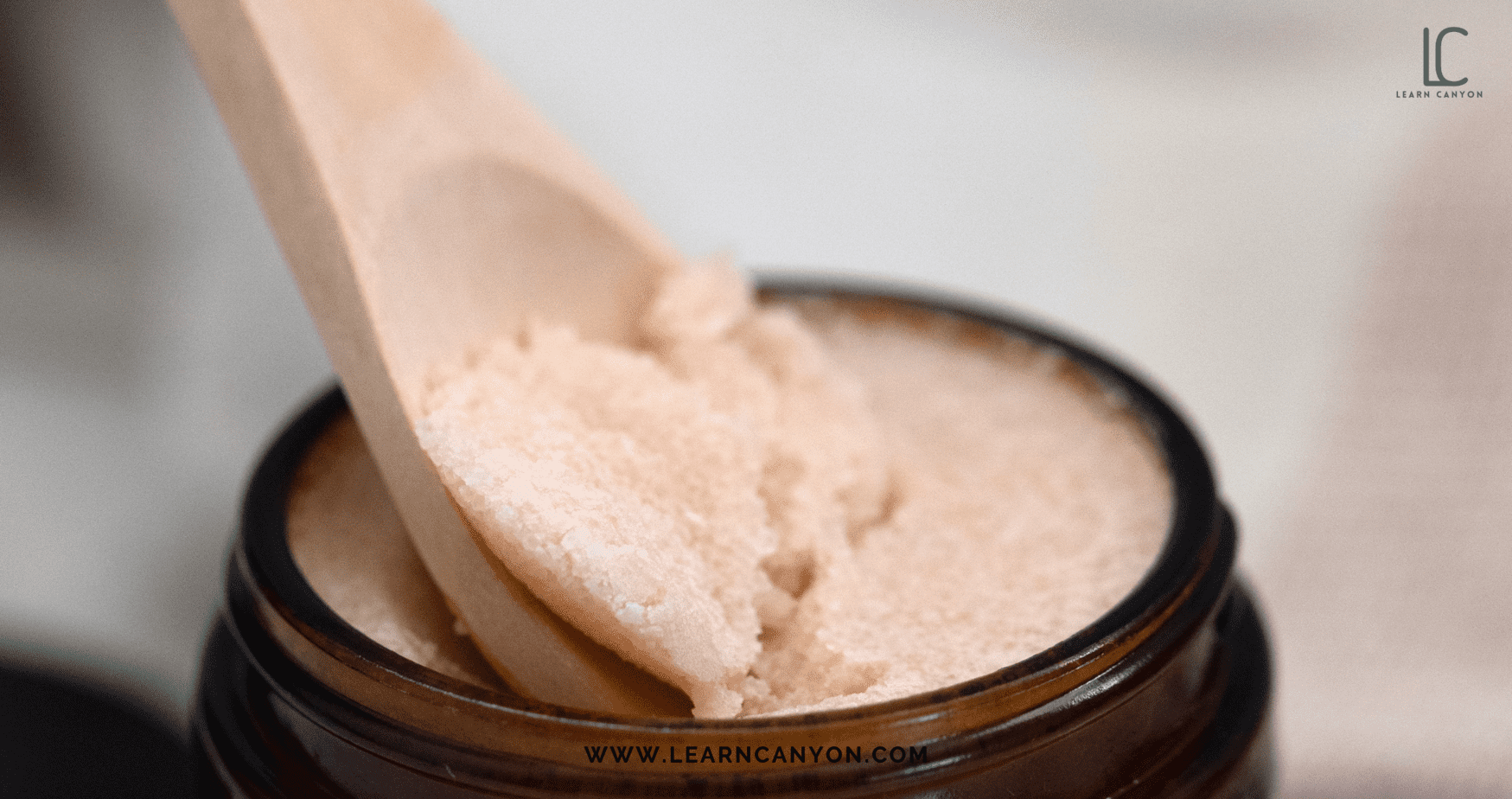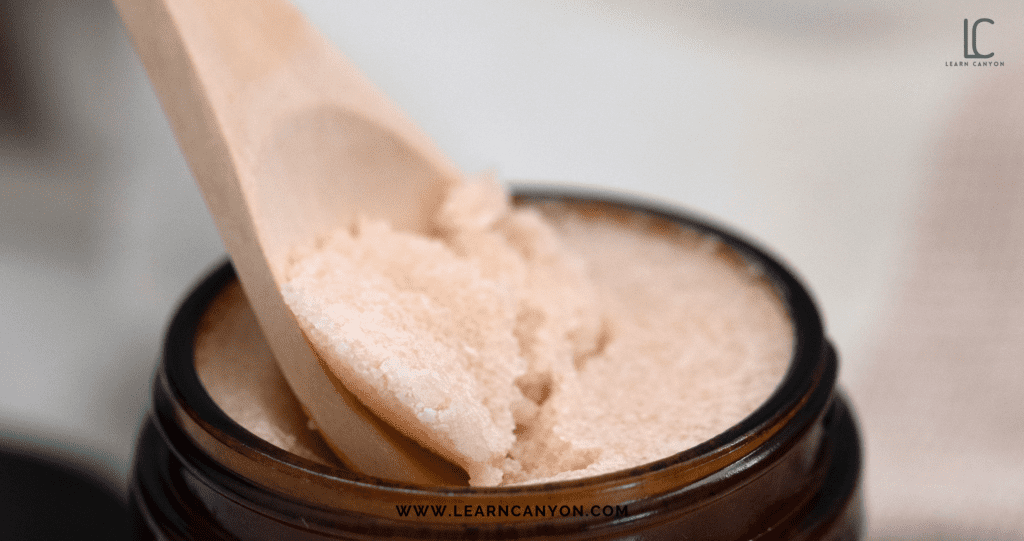 How important it is to the formulation of body scrub
Mango butter:
INCI Name: Mangifera Indica (Mango) Seed Butter.
It is a conditioner, emollient, and emulsifier used in cosmetic products.
Mango Butter is a natural, renewable emollient obtained from the Mangifera Indica tree's fruit, which is high in C18 fatty acids and triglycerides.
It contains a little quantity of tocopherol to prevent rancidity, gives stability to emulsions and softens the skin, has less drag and longer shelf life, and comes in the form of a soft solid that melts at room temperature.
Cocoa butter:
It is a potential hydrator and helps heal chapped skin. It acts as a moisturizer and prevents signs of aging.
It is rich in fatty acids and antioxidants which act as the free radical scavenger and prevents wrinkles and fine lines, dark spots, and dull skin. It helps reduce stretch marks and scars.
It is good for sensitive skin.
check out the benefits of: Natural Cocoa Butter
Almond oil:
The dried kernel of the Almond tree is used to make Almond Oil. It is a light oil that is high in vitamins A, E, and B, as well as Oleic and Linoleic essential fatty acids. Almond oil is a popular emollient because it absorbs quickly into the skin.
This oil is known for its ability to relieve itching, dryness, and inflammation in the skin. Almond oil reduces puffiness and under-eye dark circles, the appearance of stretch marks and scars.
Due to its emollient properties, almond oil has the potential to improve both complexion and skin tone.
Almond oil has been used for centuries to treat dry skin conditions, including eczema and psoriasis.
The oil's fatty acid content may help dissolve excess oil on the skin, while the retinoids in the oil may reduce the appearance of acne and improve cell turnover.
Helps reverse sun damage, vitamin E, one of the nutrients in almond oil, helps reduce damage to the skin caused by UV exposure.
Coconut Oil:
The advantages of using coconut oil for the skin are numerous, and may include:moisturizing dry skin, including in people with eczema; reducing inflammation caused by UVB rays; promoting wound healing; and possessing antibacterial, antifungal, and antiviral properties.
Olivem 1000:
INCI name Cetearyl Olivate & Sorbitan Olivate
Olivem 1000 is a natural emulsifier made from extra virgin olive oil. It binds oil and water molecules to form emulsions such as creams, lotions, body butter, and conditioners. It's heated with your formulation's oil phase and then blended with the water phase to generate a cream or other emulsion.
It's a white flaky wax that works best when the pH is between 3 and 12. It increases thickness and increases its spreadability.
Olivem 1000 moisturizes cosmetic products and increases their hydration rate, in addition to its functions as an emulsifier and thickening. It's gentle enough to use on sensitive skin.
Cetearyl alcohol :
Cetearyl alcohol is a flaky, waxy, white solid that is a combination of cetyl and stearyl alcohols, which occur naturally in plants and animals. Cetyl and stearyl alcohols are often derived from coconut, palm, corn, or soy vegetable oil, typically from coconut palm trees.Used as thickener, and an emollient.
Vitamin E:
Vitamin E in the form of alpha-tocopheryl acetate (ATA) is commonly found in skincare products. Tocopheryl acetate, tocopheryl acetate, and vitamin E acetate are some of the other names for Vitamin E.
The antioxidant properties of vitamin E are well-known. Antioxidants help to protect your body from free radicals, which are harmful substances.
Tocopherol, especially when combined with vitamin C, helps to protect the skin from UV damage.
Iscaguard Oil-soluble preservative :
INCI declaration Phenoxyethanol, trimethylene glycol
Iscaguard Oil-soluble preservative is a versatile, widely used preservative for personal care formulations. The addition of triethylene glycol increases its
effectiveness by lowering its surface tension in order to enhance its activity in the cell membranes of microorganisms.
Iscaguard PEG has a broad, balanced spectrum of activity against bacteria, yeasts, mold, and fungi.
Granulated sugar :
Sugar is a great natural beauty ingredient for exfoliating your skin. Sugar scrubs are gentle and aid in the removal of dead skin. 
They also help to rejuvenate the skin by removing dirt from the pores. After removing all of the dead skin and dirt, the new skin is more radiant and you have a healthier glow. Sugar has an anti-aging effect on the skin that is natural.
It prevents toxins from attacking your skin cells, which helps to slow down the aging process.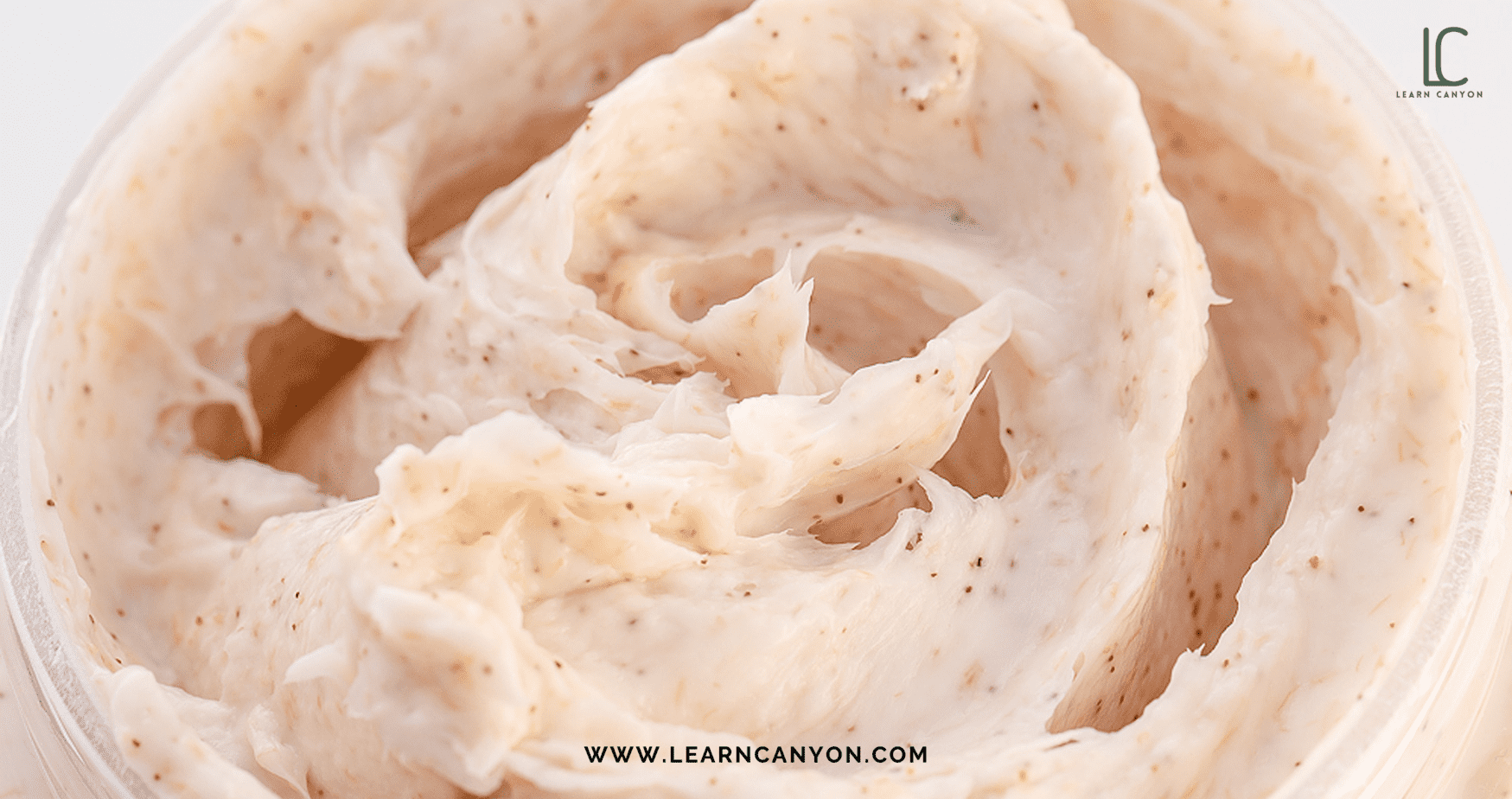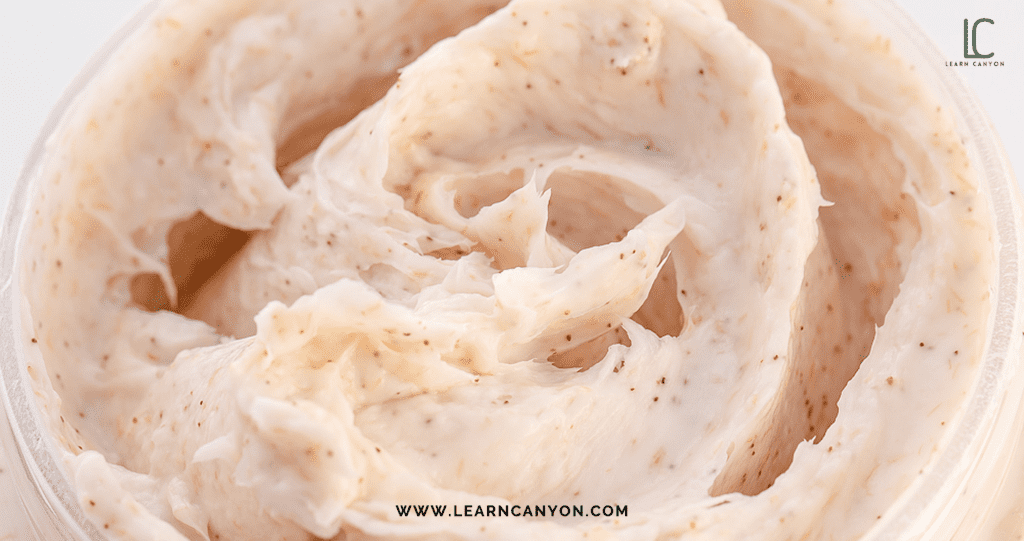 Directions for use:
· In a mixing bowl, add 1 tablespoon of body scrub.
· With wet fingers, apply the exfoliating herbal scrub to your body, gently massage it in, and leave it to work for about 5-10 minutes.
· Then, rinse thoroughly with lukewarm water.
· Apply any light moisturizer or toner.
Frequently Asked Questions
1. Is it safe to use granulated sugar Scrub after 6 months of manufacturing?
Sugar granules are going to dissolve in the product and it will not serve the purpose of abrasivity or scrubbing, so it will be better if you prepare small batches as and  when required.
OR You can prepare the rest of the batch and store in a cool, dry place without adding sugar granules in the whole batch and mix sugar granules at the time of use.Then there will not be any problem of it getting dissolved.
2. When and how should you use a face scrub?
Scrubbing your body once or twice a week is a good routine to follow. After a complete day outing or work, it is best to scrub your face & body clean.
3. After rinsing Body Scrub can I apply other cosmetic products?
After rinsing, pat dry the skin with a towel. You may follow your daily skincare routine after this.
4. Does Scrubbing Damage the skin?
It is a myth that scrubbing causes skin damage. Scrubbing will not harm your skin if you use the right product and apply it correctly.
Only if the exfoliant is too coarse or has sharp edges, or if excessive pressure is applied while massaging, is there a risk of skin surface tears.
 5. Can we use the scrub on a daily basis?
Yes, if you use a mild Mango Butter, Cocoa butter, Almond oil, Coconut oil, sugar granules based scrub. Because the scrub particles are gentle and will not over-exfoliate, you can use it on a daily basis.
NO: If you're using a walnut/apricot or dermabrasion-based scrub, you should only use it once a week.
6.  How to Calculate the ingredients as per batch size?
To calculate the ingredients as per batch size, you must write the formula in percentage, ensuring that it adds up to 100%.
Then you must decide how much you want to make, for example, 200g. (batch size is 200 g.).
You must then convert your percentages to grammes. For example, if you need Cocoa butter:4.5% as per the formula and you're making a 200g product, you'll need to cross multiply to figure out how many grammes of cocoa butter is needed to make 200 grammes total, i.e.
If 4.5 grammes of cocoa butter is needed to make 100 grammes of product, then X grammes of cocoa butter will be needed to make 200 grammes.(You have to calculate the value of X)