The haircare market is continually developing and evolving, which means there are plenty of opportunities for enterprising individuals to start a hair care line product who are dedicated to ensuring that everyone in the globe has a wonderful hair day.
As chemical-based hair care products are hampering hair quality, the world is trying to go for complete natural based hair products to protect hair from getting damaged.
Thus the organic beauty industry is taking over and millions of beauty entrepreneurs are coming up with 'Green' or 'Natural' based products that encourage healthy hair & lifestyle.
There is a slew of new organic beauty and hair care businesses springing up these days.
Launching your own line of hair care products, like any other business, entails a significant amount of work and risk.
However, if you have a clear vision of the business niche you want to fill, a passion for making that vision a reality, and good product ideas that will help people look and feel their best, you might just have a winning recipe.
You must have the appropriate start-up cash to assist you to obtain the raw materials and ingredients for your natural hair care products, as well as the packaging. You'll also need to decide whether to use conventional or organic components.
But, beginning a hair product line is not low-hanging fruit, and without a well-known brand name to back you up, competing against pharmacy store goods and other salon items will be difficult.
And a failed product line may result in angry and disappointed customers, jeopardising your brand's reputation.
So, how can you grow your hair product line without jeopardising your company's reputation?
You've come to the perfect place if you're wondering how to start your own hair product brand. We've covered everything you need to know about starting a hair product line from scratch in this post.
Understand The Industry & Find A Mentor
Industry Stats:
According to Mintel research, more blacks in the United States of America are flocking towards natural hair care products, resulting in a 26.8% growth in hair styling product sales between 2013 and 2015, totalling $946 million, or more than 16% of the overall hair sector. Relaxer sales have decreased as a result of the switch to naturals.
Do You Know? The global market for natural hair care products was valued at USD 8.74 billion in 2019, and it is predicted to increase at a CAGR of 4.7% from 2020 to 2027.
The approval of the US Department of Agriculture (USDA) and the Food and Drug Administration (FDA) has driven the growth of organic and natural hair care products. Consumers' changing lifestyles have spurred a desire for chemical-free hair products, which has fueled demand in this business.
According to the Asia Cosmetics survey, due to a growing awareness of chemical-free products, close to 56 % of millennials and Gen X actively bought natural beauty and grooming products in 2017.
Furthermore, the natural component labelling on the package has influenced about 40% of the change in consumer purchasing decisions.
Consumer perceptions of natural ingredient-based goods in cosmetics and personal care are predicted to shift, resulting in increased demand for natural hair care products in the market.
Although there are new entrants into the natural hair care product line of business, according to IBISWorld, the market is not likely to develop significantly because larger companies will continue to buy smaller ones.
Furthermore, due to the fierce competition in this industry, new entrants have a difficult time breaking through. So doing understanding the market in a practical sense is important before you plan out your haircare business.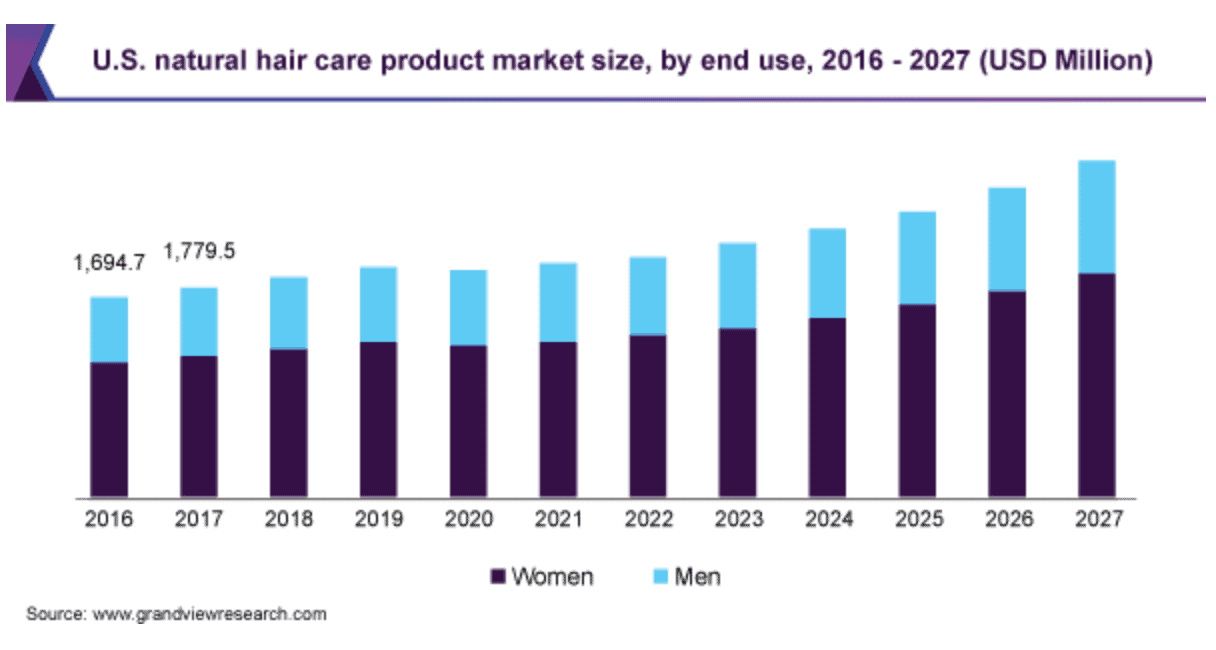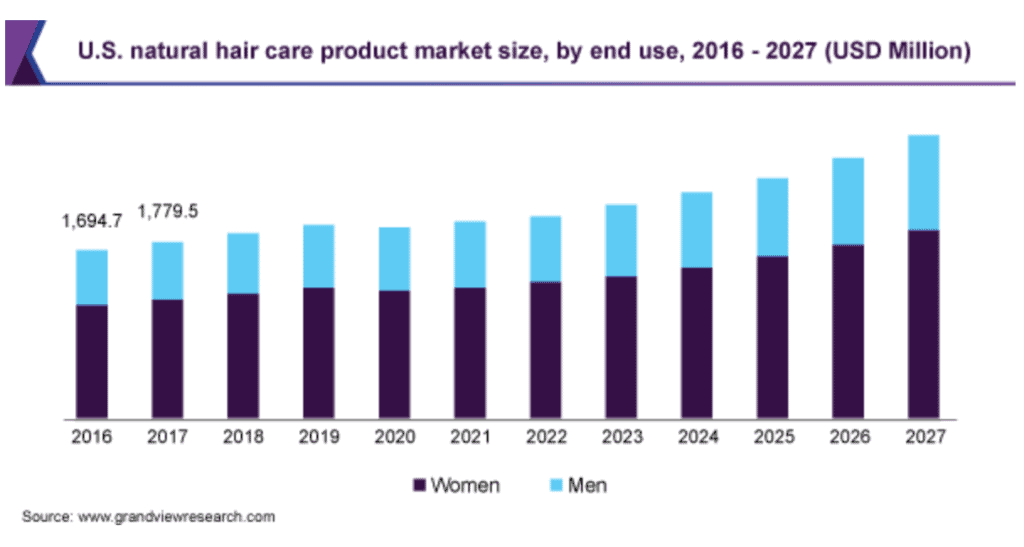 Finding A Mentor:
A mentor will be able to explain the ins and outs of the company you're interested in joining.
When it comes to hair care, you'll need to find someone knowledgeable about the market, including the newest trends and what customers want.
A mentor isn't someone who can offer you all of the answers but can guide you through your path.
When it comes to beginning a new product line, relationships and networking are critical because it will be much more difficult to get your foot in the door without them.
We also highly suggest joining our certification programs, where you will be learning haircare formulations and being mentored by us effectively to understand the haircare start-up process.
Understand Pros & Cons To Start A Hair Care Line
Pros:
You don't need a real store or office space to market your hair product brand if you work from home. To store your inventory, you don't even need a warehouse (we'll get to that later).
Depending on your life circumstances and ambitions, you can devote as much or as little time to your business as you choose.
It is an alternative source of income. Especially those who own a salon, a hair product line will keep the money pouring in if your salon is having to cancel appointments or can only accept a limited number of clients at any given time.
Low initial investment. For your first batch of orders, you could spend as little as $2,500. If you go it alone, you'll save money on labour until your company becomes large enough to justify hiring someone.
Cons:
Lots of competition. Because the haircare industry is so busy, you'll need to pick a major area to focus on, learn what customers want, and give exactly what they want.
Dependence on a supplier. Most hair care companies do not manufacture their products. Instead, they contract with a manufacturer to produce the product line to their specifications.
You'll need to pick the correct supplier because you'll be completely dependant on them.
Time commitment. Building a successful hair product line involves a significant amount of time spent promoting your products, delivering excellent customer service, and engaging with vendors and workers.
However, if you're certain you'll be able to complete it, you should begin planning
13 Steps to start a Hair Care Line by yourself
Identify Your Target Market (Demographics & Psychographics)
Individuals who require natural hair care products are demographically and psychographically diverse, including those who have natural hair, those who are transitioning to natural hair, and even those who do not have natural hair but use the products nevertheless.
So, this is primarily for ladies in various adult age groups, with a few men thrown in for good measure.
Therefore, consider the market you want to target and how you want to approach it. Because your market is so important to your business, you must conduct thorough research.
Make certain you understand your target demographic.
Are you interested in creating items for people with kinky hair, curly hair, or both? Do you want to reach out to everyone who appreciates haircare products?
Are you also hoping to carve out a niche for your haircare line?
Hair growth, hair moisture, and hair rejuvenation are all promoted by some product lines.
Other hair care manufacturers recommend that you add shine and lustre to your hair.
This is something you should think about. You'll be able to decide what kind of products you want to manufacture once you've identified your target market.
Create An Action Plan
You will need a deliberate and strategic plan to get started.
Take the time to research how other brands have handled similar situations. We'll go over the actions you'll need to take to get started in this section.
First and foremost, you must consider the costs that will be incurred. This will be determined by a variety of things. As you promote a hair product line, keep the following expenses in mind:
Check out the 6 Step Guide To Writing A Perfect Business Plan For Skincare Brand
Licenses and business formation:
Depending on your location, you may be required to register your product with the proper office (such as the FDA), then pay for a business licence and other taxes.
Payment processing:
You need to know about different types of payment processing. Internet transactions will require a separate payment processing system.
Equipment:
You will need to pay for laboratory and industrial equipment if you decide to manufacture your products in-house. In most cases, collaborating with a supplier is a superior option.
Liability Insurance:
Liability insurance is always a good idea in case a customer makes a complaint about your product. The annual costs range from $500 to over $2000. Liability insurance is required by law in several places.
Payroll:
While you may be able to launch the product line and process the initial orders on your own, you may need to recruit staff at some point.
Website and Inventory:
You'll need your domain name if you want to appear reputable as a seller. You should also set up a separate Gmail account for this business from your one.
Check out How To Find Your Beauty Brand Name That's Epic
You may be required to purchase a particular amount of stuff in advance by your supplier. The initial inventory cost could be the determining element in your decision to work with a particular supplier.
What are your plans for funding your new venture? You could take out a bank loan, find an investor who believes in your product, enlist the aid of friends and family, or turn to Kickstarter for seed money.
To persuade consumers to invest in your product, you'll need a compelling business strategy, thus a strong unique selling proposition (USP) is critical.
To put it another way, what distinguishes your range from the rest of the hair care products on the market?
Mark to have a clear action plan on these necessary points.
Research Products You Want To Create
You might consider the types of things you'd like to manufacture now that you know your target market & action plan.
For example, if you were to establish a haircare line, then it's better to concentrate on natural and organic ingredients.
You'll almost certainly need to find a wholesaler if you want to make products utilising chemicals.
You can still find a wholesaler if you decide to produce organic products, but you'll almost always be able to eliminate production and make the items yourself. As previously said, when selling things, it is critical to understand your niche.
If you want to concentrate on reducing frizz, do so. Are you concentrating on reducing dryness? That's what you should aim towards. Before extending your hair care line, it's critical to have a speciality that you're renowned for.
Test Your New Hair Products Before Selling
You'll need to test your products before you start promoting them to paying customers.
You don't need to spend hundreds of dollars on testing as other hair product companies do.
Check to see if your sample products pass the sight and smell test when you receive them from your supplier. If something doesn't appear or smell like what you expected, you may need to speak with the source. If everything appears to be in order, it's time to begin testing!
When it comes to your items, this is essential. You won't know how people will react unless you test your products before you start selling them.
Naturally, if you know what components are in your items, the reactions should be minimal. Haircare products, on the other hand, don't always work for everyone.
When promoting your products, keep this in mind, and be open about everything in your hair care range. Check the FDA's regulations first. If you do not follow FDA requirements, you may face severe consequences.
Price Your Haircare Products
If you want to find a distributor, you must price your products correctly.
You should look at the prices of various hair care products. After you've checked their prices, find out how well they're doing and whether or not customers trust them.
You can set your pricing for your goods, but if you want people to buy them, you must be reasonable. When it comes to price, it's critical to consider your target audience.
Regardless of your price, you will be more successful if you have a trusting audience.
Your customers may not consider your goods to be good value if you overprice them.
On the other hand, charging too little may cause customers to see it as low-cost and thus of lower quality. Both alternatives have the potential to harm your business's reputation and bottom line.
Check out the article on How Much Does It Cost To Start A Beauty Business?
Do Your Marketing Right (Hair Product Marketing)
When it comes to launching a haircare business, the final step is to focus on marketing.
Your brand's long-term viability depends on marketing. You risk losing your audience, which is crucial to your success if you do not market properly.
Social media marketing, influencer marketing, and in-store presentation are some of the most important marketing tools you have.
Consider how you want to convey your brand and start there.
Consider how you can identify influencers who best represent your brand the best.
Marketing is influenced by a variety of things, so do your homework before diving in.
Get Your Legal In Order
The legality of your company will be the most critical aspect to consider. If you have a designated specialist to consult with, the legal aspect is usually straightforward.
Obtain the services of an accountant or a business consultant and follow their instructions.
You risk being penalised for behaviours such as tax evasion if you don't pay attention to these details.
Even if it isn't purposeful, it has the potential to deplete your entire firm. Make sure you've covered all of the necessary bases.
Check out the in-depth article on Do You Need A License To Sell Skincare & Haircare Products
Frequenlty Asked Questions (FAQS)
Is Hair Care Business Profitable?
It is and it also depends on how good quality hair care products you sell, how you sell and how you do your branding to solve problems in society when it comes to hair care by identifying your target market and so on.
 How Can I Make My Hair Care Products?
If you are passionate about creating your hair care products to start a business, then we highly recommend you to join our Diploma certification program in skincare & haircare formulation. You will learn how to make hair care products from scratch in a professional way from this program by our skilled formulators in Learn Canyon.
How Do I Advertise My Hair Care Products? 
There are several ways to do it, such as you can utilise the power of social media, create video tutorials, google & FB ads, sponsor a local fashion show, have a local publication showcase your hair care products, by creating an e-commerce website, creating promotions in various platforms and so on.
How Much Does It Cost To Start A Haircare Business?
Although, it is based on how much volume you need in this business. But strategically, a hair product line's minimal launch costs are $2,879. A hair product line's maximum launch costs are $46,523. The average cost of launching a hair product line is $24,776. 
Apart from this, it doesn't cost much if you start from your home. It all varies on how and where you want to start your hair care business, quality ingredients, packaging, retail distribution, manufacturing location & promotion/PR. 
Check out the article on Step-By-Step Guide To Start Your Organic Skincare/Haircare Product Line
Conclusion
Starting a hair care line is exciting yet time-consuming. You must be organised if you want to be successful. Find a mentor who can assist you and whom you can trust.
Determine the market you want to pursue and get your marketing in place. To avoid manufacturing something that customers don't like, test all of your products before selling them.
Make sure you've covered all of your legal bases. If you let it, your hair care line can be huge! Don't be apprehensive about taking that first move.
If you start as a haircare entrepreneur, make sure you follow those above points and don't miss anything that is needed to start your haircare business.
And if you feel we have missed out on some necessary points then do let us know in the comment section below.
Also, feel free to ask anything you want to know to start this particular business, we would be glad to answer your questions.
---
If you are passionate about creating your own product or brand,
Enrol in our course on the website to get hands-on experience. Learn to create a product from scratch. Learn everything you need to be a formulator and to build your own skincare or haircare brand.
The best part about enrolling with Learn Canyon is we don't just tell you what to do. We support and guidance you throughout the journey.
Start building a brand today! Learn Canyon is here for you.
Keep watching this space for more videos. We have planned some fantastic things for you!